If you have a Samsung smartphone, you might sometimes encounter the "Samsung cloud something went wrong. Try again" error. Now, this can be frustrating as all of us prefer to take a backup of our personal and private data to the Samsung cloud. It is a built-in service that is available for Samsung Galaxy phones and Galaxy Tabs, which lets you backup and restore data stored on the device. It can be used for files such as calendars, contacts, the history of messages and calls, the clock home screen, app settings, voice recorder, music, and even documents.
If you want to restore or back up your data, the error message may appear on the screen when you sign in, signaling that your phone did not recognize your password. Let's look at how to quickly get rid of this issue.
Error 1. Cannot Backup To Samsung Cloud
As with any other app that you have installed on your phone, Samsung Cloud can cause malfunction because of bugs or errors. If you are worried, do you try these easy solutions for your Samsung device?
Way 1: Check if storage is enough on Cloud
Backup and synchronization will fail if there isn't enough storage space available in the Samsung Cloud account. Each Samsung account comes with 15 GB of storage. You can determine the amount you're using by logging into your account via the Samsung Cloud website. If you're in need of deletion, erase any backups or data that are using up too much space.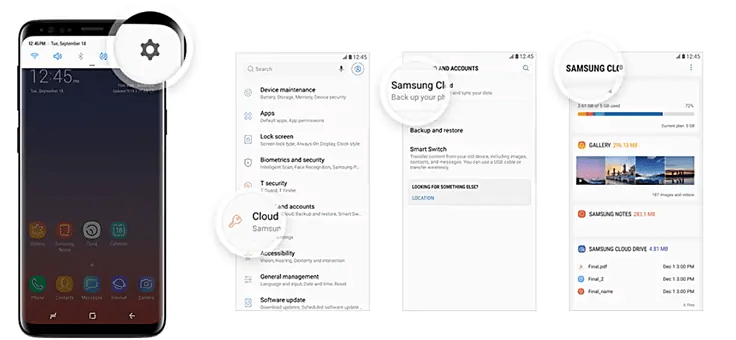 Way 2: Update Samsung Cloud
It's possible that Samsung Cloud is not functioning correctly because it has not been up to date. If you've received an email advising you of an update, you should install it right away. If not, go to the Samsung app store and see whether there's an update for Samsung Cloud. You can download the most recent version.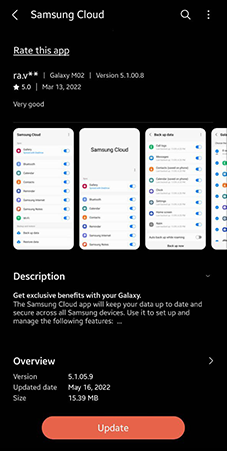 Way 3: Clear data
Clearing out the caches and the data stored on your Samsung account as well as Samsung Cloud will let you free up some space and provide access to your important files. To do this, you need to follow the coming steps:
First of all, go to Settings.
Then, click Applications.
Click on the three dots to Show the System Apps.
Search for Samsung Account and tap storage › Clear Data › Clear Cache.
Follow the same steps for your Samsung Cloud.
Way 4: Allow all Permission
After clearing all the cache data, if the problem is still not get resolved, then next go to Permission and allow all permissions. After that, restart your Samsung device, and you will have successfully solved your Samsung cloud something went wrong issue.
Error 2. Cannot Restore Backup from Samsung Cloud
Now, what if have tried everything but still cannot restore backup from Samsung Cloud? In this section, we will let you know in a step by step guide about how to deal with this problem.
Step 1: Factory Reset Samsung Device
If you are seeing the "Something went wrong" error while trying to restore data from Samsung Cloud, then first of all, you will need to factory reset your Samsung device. To do that:
Open the Settings App on your phone.
Tap General Management.
Tap Reset.
And finally, select the Factory Data Reset option.
Step 2: Setup Samsung Device
After doing the factory reset on your Samsung device, the phone will get turned on automatically and you need to setup your Samsung device. And for that, if you already have signed in before resetting your device, then you will need to enter username and password for your Google account.
Step 3: Sign in Samsung Account
To sign in to your Samsung account, If you're using Samsung devices running Android 7.0 and up, go to Settings and then tap Cloud as well as accounts to open Samsung Cloud. Select the icon with three dots, then click Settings. Choose remove account. After successfully deleting the Samsung Account from your phone, sign back in and verify that you are able to make the backup.
Step 4: Allow Universal Switch Button
In this step, you will have to allow Universal Switch button on your phone. For this, go to Settings from your Samsung device and select Accessibility option. In this tab, head over to Interaction and dexterity and select Universal switch button. Now, hit Next option 6 times, and then, switch on Universal switch shortcut. Turn off Palm swipe and enable Tap accessibility button.
Step 5: Restore Data from Samsung Cloud
In this step, go to Accounts and backup tab from the Settings and tap on Restore data option and Accessibility button instantly. Now, press Cancel on Add a Select item switch notification. Lastly, just select the items you'd like to recover and hit on Restore button. Allow to Install backed up apps and the restoring process will begin instantly. Once it gets completed, simply hit the Done button.
Video Guide: 5 Steps to Fix Samsung Cloud Went Wrong
Extra Tip: Bypass Samsung FRP without Cloud Error
There are FRP apk tools available in the market that Samsung users can download to easily bypass Samsung FRP. If you want to bypass Samsung FRP without Cloud error, then there is not any better way to do it than using UnlockGo.
iToolab UnlockGo (Android) is specialized program for Windows 11/10/8/7 that make unlocking every Android smartphone a piece of cake. The Samsung FRP bypass tool is widely available for Android 5-13. Moreover, it can remove literally all kinds of Android phone locks easily, whether it's a PIN, pattern, fingerprint, or simple or complex Password, the tool is able to get through it easily.
Final Thoughts
Samsung Cloud can be reliable in storing backups of your most important information. However, mistakes are bound to happen. As it uses external servers to store your data, it also comes with a security concern. If you ever get a "Samsung cloud something went wrong. Try again" error, your best bet is to install UnlockGo Android software and unlock Google FRP lock without any cloud error.