As we all know, FRP is a built-in security feature that comes with all the latest Android devices these days. Likewise, Samsung J5, which is quite popular among the users due to its more vivid and richer media experience, also safeguards data security from access by unauthorized users using the Factory Reset Protection feature. On the other hand, users can face quite a problematic situation if they lose the most recent active Gmail account after the factory reset.
For this, many users keep on searching the ways that will allow them to access their smartphone. If you're one of those users, then look no further! In this write-up, we will show you how to perform Samsung j5 FRP bypass easily with simple methods.
Fact of Google FRP Lock on Samsung J5
Google has various security patches for every Android update, which means that even if you're on the same device, different solutions will be required based on your Android version. Therefore, you'll be in a tizzy situation. Always remember your Gmail account information to prevent from triggering FRP lock.
The FRP will turn on automatically when you set up a Google Account on your Samsung J5 Phone. After you have reset your phone but not taken out the Google Account, you need your exact Google ID along with the password you created earlier on the device to unlock the Google account verification in the Samsung J5.
Now if you don't remember, this can be a problem. However, don't worry! Here is a perfect bypass tool to remove Google FRP lock on Samsung J5.
Latest Methods for Galaxy J5 FRP Bypass with PC
Starting with the best, this is the safest yet most effective method for Samsung J500f FRP bypass with no talkback. iToolab UnlockGo (Android) can simply be described as a user-friendly software that allows PC users to easily remove previous sync Google account, get rid of Samsung FRP on Galaxy J5 or any other related Android device.
It's also a simple way to unlock an Android smartphone without using any passwords, fingerprints, or face recognition. For certain phones, like the older Samsung Galaxy S7 models, this application can take away screen locks without even erasing data.
Samsung FRP Bypass 10 Min
Bypass Google account FRP lock on Android 5-12 with the easy steps
Compatible with Samsung Galaxy J5, J5 Pro, J5 Prime, J5(6)
Clean and User-friendly interface, which enables the users to regain full access
Allow to unlock all type of screen locks on Android phones/tablets
Custom Business Plan for multiple devices
Steps for Galaxy J5 FRP Bypass with the Help of iToolab UnlockGo
Step 1 Connect Samsung J5 to PC
Start by installing UnlockGo Android in your personal PC. Then join to your Samsung smartphone to your computer via the USB cable. Then, click the option "Remove the Google Lock (FRP)".
Step 2 Select OS Version of Android Device
It is important to remove the Google Lock (FRP) by pressing the "Start" button, and then choosing the OS Version of the device.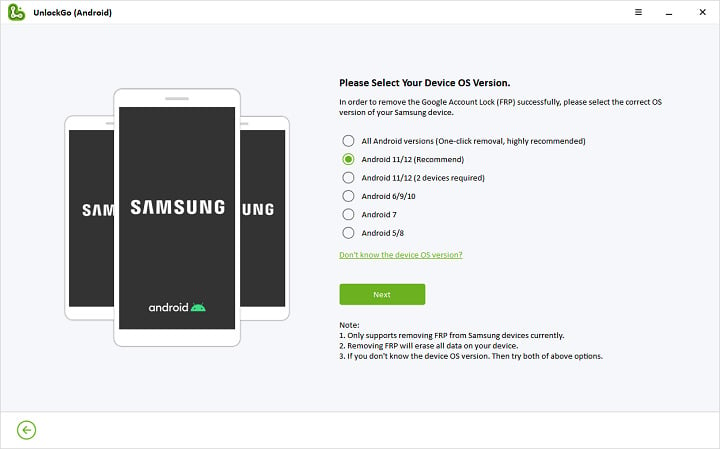 Check that you've selected your correct version, or the process of removing your account could not succeed.
Step 3 Send Notification to Samsung J5
Presently, UnlockGo for Android will send emails directly to you Samsung phone. Make sure to connect your smartphone and your mobile while going through the procedure.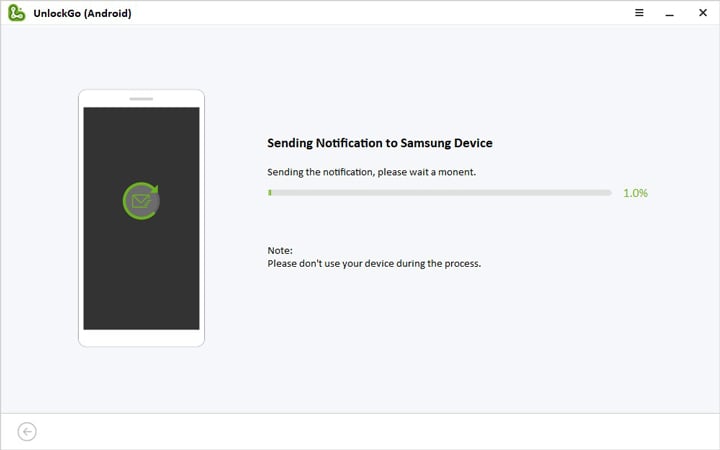 Step 4 Set Up Galaxy J5
Now, the last thing you need to do is to set up your Samsung J5 device for bypassing FRP lock.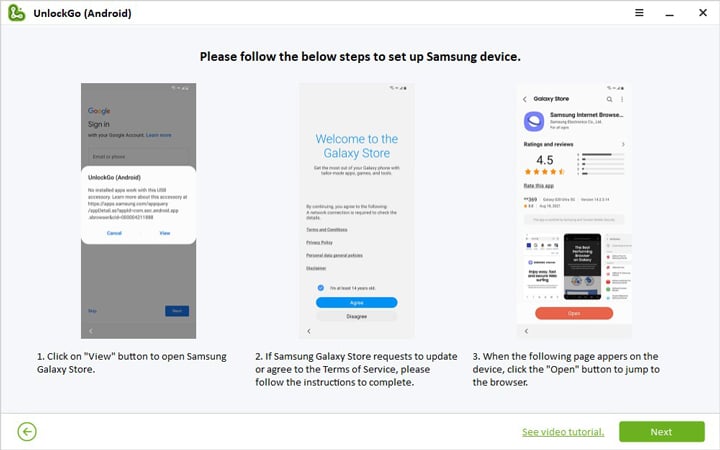 Step 5 Samsung J5 Google account bypass without OTG
When the device reboot, you will be able to set up your phone without any hindrance.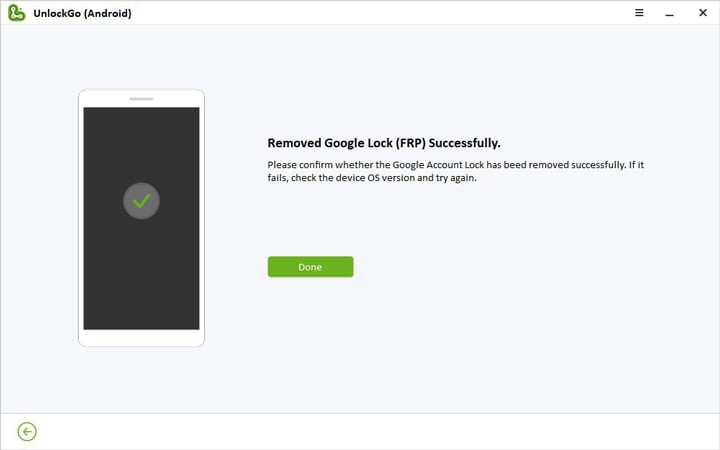 Bypass Google Account on Samsung J5 without PC or OTG
If your Samsung Galaxy J5 is running on Android 8, just follow these easy steps to bypass FRP.
Step 1: Access to the Internet via Talkback and YouTube
Connect your Samsung phone with WiFi connection and go back to the Welcome screen.
To enable the talkback feature, press the home screen button three times to activate the talkback tutorial.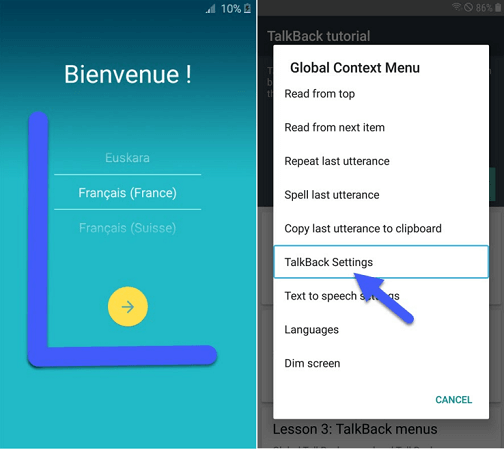 Draw an L shape on your tutorial screen, a popup screen will open and you need to select the Global Context Menu.
Now, tap on settings and next hit the home screen button again to disable the feature.
Tap on Help & Feedback option, and then, select the "Get Started With Voice Access" option. You will be redirected to the "YouTube video" screen.
Click on play icon, and you will get the video title, tap on it. You will be redirected to the official webpage of YouTube.
Long press on the video and drag it down. Tap on profile, and then, press Settings > About > Google Privacy Policy.
Next, you will see the Samsung internet screen. Click on Start and press cancel if you see a update pop-up window.
Step 2: Download FRP Tools
Next, you will need to download 2 FRP bypass APK on the internet.
Quick Shortcut Maker
Google Play Services
When they have been downloaded, you could easily find them in Bookmarks > History > Download History. Here, you will be able to see all of the downloaded applications. If the Samsung Account sign-in pop-up window appears, just tap on the Cancel option.
Click on Quick Shortcut Maker and launch the installation process.
If your installation gets blocked, simply go to Settings and enable the "Allow From This Source" option. Then, tap on back key and install the app.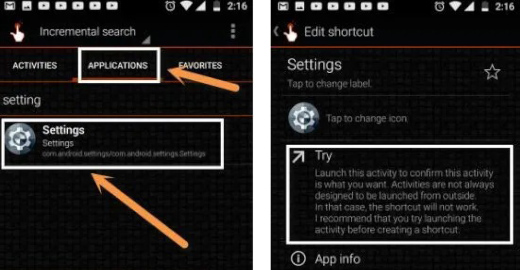 Open the app and tap on "Application" option from the top bar of the Quick Shortcut Maker app.
Type "Settings" in the search bar and select the Settings tab.
Tap on "Try" and you will get redirected to the Settings app of your Samsung J5.
Go to Biometrics and Security, and then tap on Other Security Settings option.
Continue selecting the Device Admin Apps > Find My Device > Deactivate options.
Tap on back key twice or thrice go back to Settings window.
Step 3: Disable Particular Apps from Settings
You will also need to disable some apps from the Settings in order to bypass FRP on Galaxy J5.
Go to Settings > Apps.
Tap on three dots and select the Show Systems option.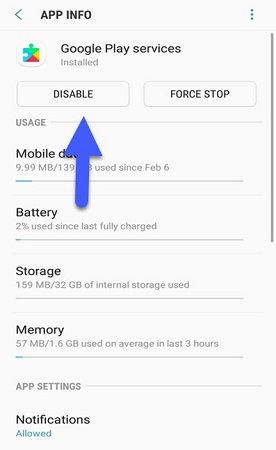 Go to Google Play services, and Disable it.
Go back to the app list, select Google Services Framework to Disable it as well.
Step 4: Install Google Play Services and Quick Shortcut Maker
Tap on back key and go to Download Folder.
You will see the downloaded apk Quick Shortcut Maker here. Install it just like you have done.
Access to Settings menu once more by tapping on Applications > Settings > Try.
Go to Cloud & Accounts > Accounts > Add Account > Google.
Now, add your valid Gmail account credentials to sign in. Tap on the "Next" and "I Agree" options.
A pop-up window will appear, just ignore it, and go back to Settings.
Step 5: Enable the Disabled App
Go to APPS, and from the top left corner, tap on ALL APPS and select Disabled.
Tap on three dots and select "Show Systems." You will see both of your disabled apps i.e. Google Play Services and Google Services Framework. You simply need to enable them here in this section.
Go back to Settings, where you will also need to activate the Android Device Manager.
Go back to the Settings window by pressing the back key multiple times, and then, long press the power key to restart your phone.
Step 6: Soft Reset Your Samsung J5
In the last, you will need to enable OEM Unlock and USB Debugging, then reset your Samsung J5 device to factory settings.
This can take several minutes to reset your Samsung J5 device. Please wait and when your phone gets turned on, complete the initial setup and add your valid Gmail account details to freely use the device.
You might be interested in How to Bypass FRP with OTG on Android
The Final Verdict
Now, we hope you succeed in Samsung J5 bypass Google account without Talkback or OTG. You can also do this with the help of a reliable FRP bypass tool and you won't have to perform complicated steps as in the other methods.