When looking for a solution to unlock an iCloud locked device, you are likely to come across 3Unlocker. In fact, it is one of the most recognizable tools that you can use to unlock an iOS device.
But does it work? Most importantly, will it work for your particular situation? In this review, we take a look at some of the aspects of the program to help you decide if it is ideal for you or not.
Let's get started.
What Is 3Unlocker?
3Unlocker is a basic iCloud Activation Lock removal solution that can be used to unlock iOS devices including iPhones, iPads, iPods, and even Apple Watches. Its function is very simple; all you have to do is install 3Unlocker on to your computer, connect the locked device, and follow the on-screen instructions to unlock it.
3Unlocker is a fairly lightweight program and although it doesn't use an intricate algorithm, it can remove some locks. It is also completely free to use.
Pros
It is very easy to use, making the unlock process very simple
It supports the removal of iCloud Activation Lock on all iOS devices and all versions of iOS
It is also fully compatible with all versions of the Windows Operating system including Windows 7, 8, 8.1 and 10
It is completely free to download and use
Cons
Because there is no official website for 3Unlocker, it can be very difficult to find the download link
Most of the websites that offer a download link are fake and full of security threats like malware and viruses
You may have to jump through numerous hoops and take a lot of surveys to get the download link
There is little proof that 3Unlocker actually works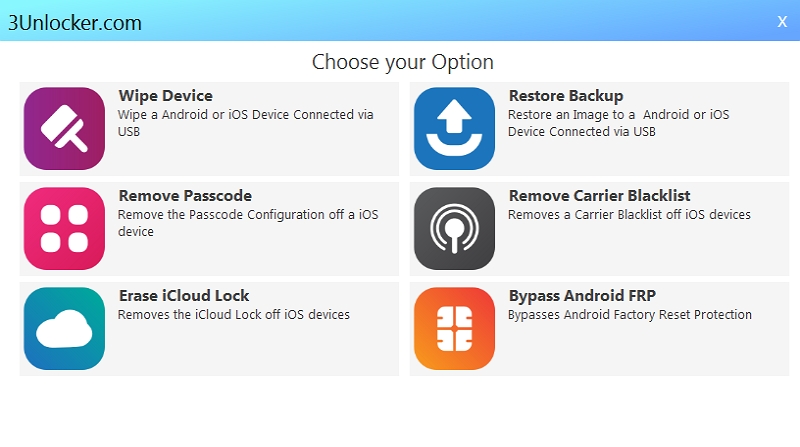 Does It Really Work
Although 3Unlocker is a popular tool and you may have heard about it from numerous sources, there is no clear evidence that the tool actually works. In fact, the evidence that we could gather indicates that 3Unlocker doesn't work at all. We have tested it using different iOS devices running various versions of the iOS firmware with the same result; none of the devices were unlocked.
All the devices we tested were stuck on the "uploading 3Unlocker to device" screen of the process. It is therefore our conclusion that 3Unlocker is not a reliable solution when it comes to unlocking iOS devices.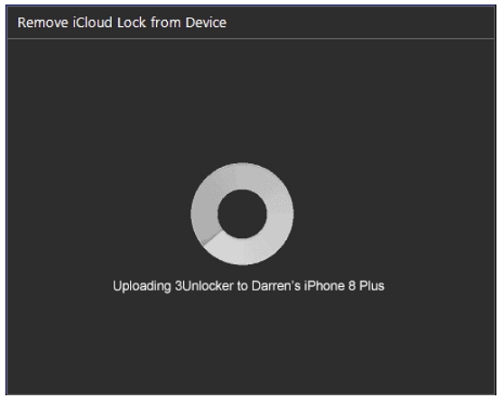 How to Download 3Unlocker
Since 3Unlocker doesn't have an official website, it can be difficult to get a copy of the program. If you do a Google search for the tool, you will come across a wide range of websites that offer you a download link for the program. But you will have to take a lot of surveys to get the file. This makes the file you download from these sites less safe and unlikely to be the legitimate program.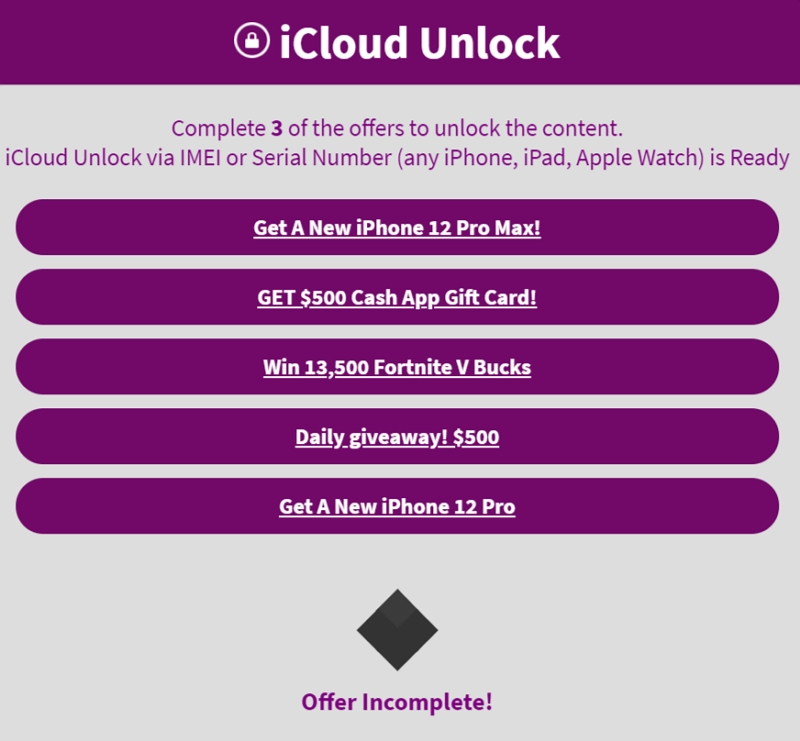 How to Use 3Unlocker
While it may not be a good idea to download and use this program, of you do choose to give it a try, the following simple steps show you how;
Step 1: Download the 3Unlocker tool on to your computer. Once installed, open 3Unlocker and then select "Erase iCloud Lock" from the options on the home screen.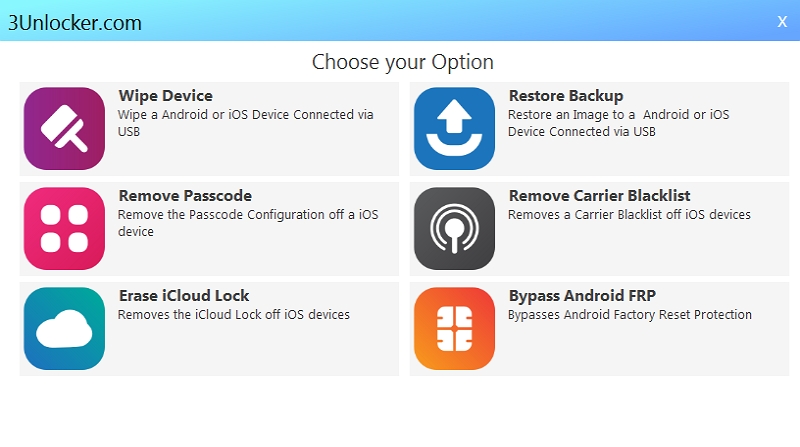 Step 2: Then connect the locked iOS device to the computer using USB cables. The program should detect the device. If it doesn't, restart it.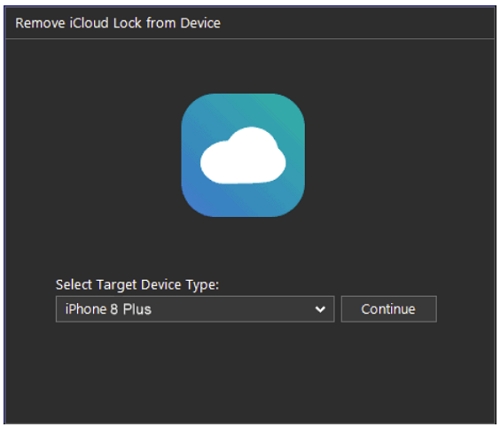 Step 3: Click "Continue" and then "Upload" and keep the device connected to the computer while 3Unlocker is uploaded to the device.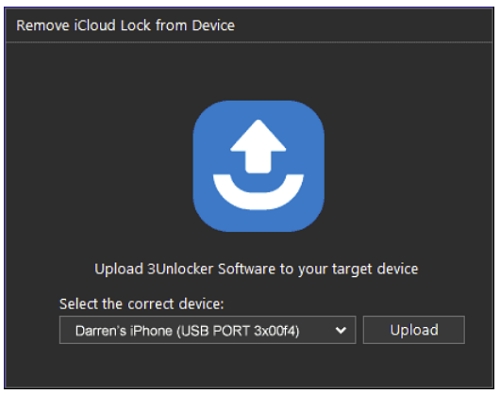 Unfortunately, this is where most of our devices got stuck. The uploading screen remained stuck for more than 24 hours and we were forced to seek an alternative solution.
Alternative to 3Unlcoker
Like us, you probably don't have the time to wait more than 24 hours for 3Unlocker to upload to your device, especially when you're unsure if the program will work or not. It is, therefore, necessary to have a solution that you can prove works and one that will unlock the device in minutes.
The only tool that meets these criteria is iToolab UnlockGo. It is very easy to use, as we shall see below, but above all, it works. But let's begin by taking a look at some of its most notable features;
It can be used to remove the 4-digit/6-digit passcode from the device and even Touch ID and Face ID in just a few minutes.
It will also very easily remove iCloud Activation lock without the password, allowing you to gain access to the device.
The program can be easily used at home. You don't need any tech expertise or help from a professional to unlock the device.
To use UnlockGo to remove iCloud Activation without the password, follow these simple steps;
Step 1: Download and install UnlockGo on to your computer.
Step 2: Open the program after successful installation and then select "Remove iCloud Activation Lock" in the main window.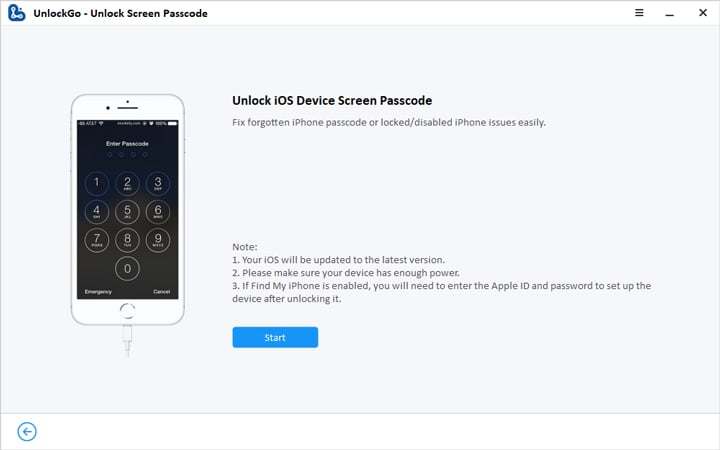 Step 3: Click "Start" and then connect the device to the computer using USB cables.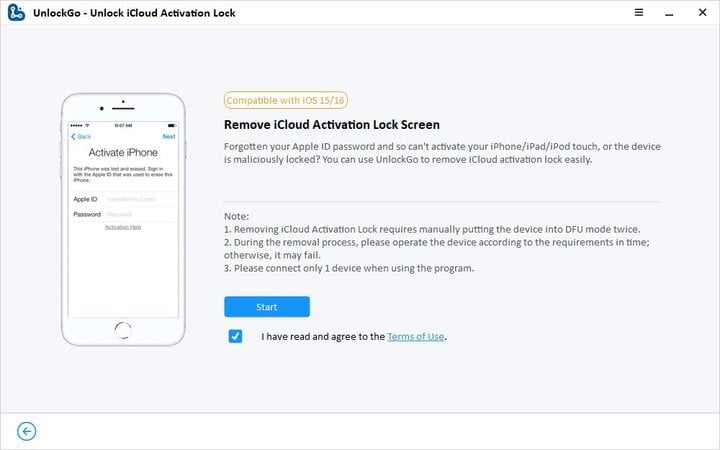 Step 4: To bypass the iCloud Activation, the program will need to jailbreak the device. UnlockGo will then begin downloading the right jailbreak package for your device. As soon as the jailbreak process is complete, click on "Remove" and UnlockGo will begin removing the iCloud Activation Lock on the device.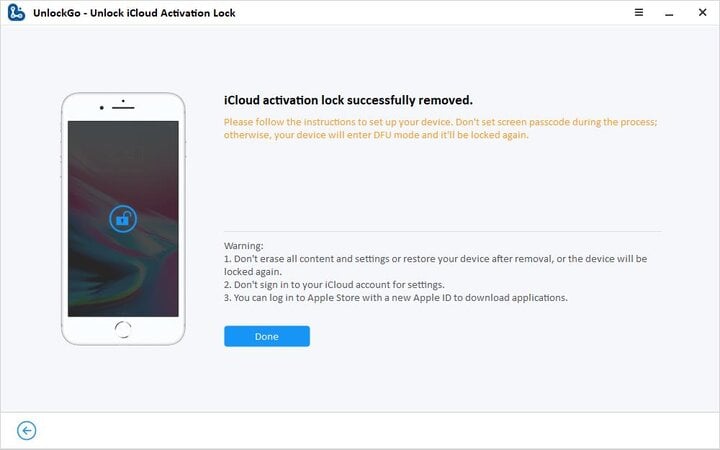 Ensure that the device remains connected to the computer until the program notifies you that the process is complete. Your iOS device will now be unlocked and you should then be able to access and use the features, data, and apps on the device.