Removing iCloud is often considered "shady" as there are way too many tools and service providers that make ridiculous claims.
However, as long as you do your own research and you find a reputable tool that gets updated often, you might solve your solution.
Being stuck behind the iCloud Activation Lock is not only frustrating but if you don't find a solution for it – you are left with a useless device.
And if you've been looking for a solution, the chances are that you've come across 4MeKey. But what is 4MeKey, how does it work, and how will it help you solve your problem?
Keep on reading as that's exactly what you'll find out!
What is Tenorshare 4MeKey?
4MeKey is a famous tool designed and provided by Tenorshare. This is a tool that allows a safe and quick iCloud Activation Lock removal which claims to be the easiest solution ever.
If you've been left with a locked iCloud iPhone after purchasing a second-hand iPhone and you can't get in touch with the seller – 4MeKey can help you remove the iCloud without even requiring the password of the existing iCloud on the device.
After bypassing the activation, you can use the iPhone as you normally except the phone call, cellular, and log in iCloud of your new Apple ID.
Besides, 4MeKey can also help you turn off Find my iPhone from all supported iOS devices without requiring the password.
The "Remove iCloud Activation Lock" feature of 4MeKey works only with iOS devices running from iOS 12 to 14(iOS 14 for 6s ~ iPhone X, iPhone SE ) and iPad 5/6/7; iPad Mini 4/iPad Air 2/iPad Pro 1/Pro 2; iPod touch 7.
The "Turn Off Find My iPhone" feature currently only supports iPhone 6S – iPhone X with iOS 13-iOS 14.
But how does this safe and quick solution work? Keep on reading as that's exactly what you'll find out below!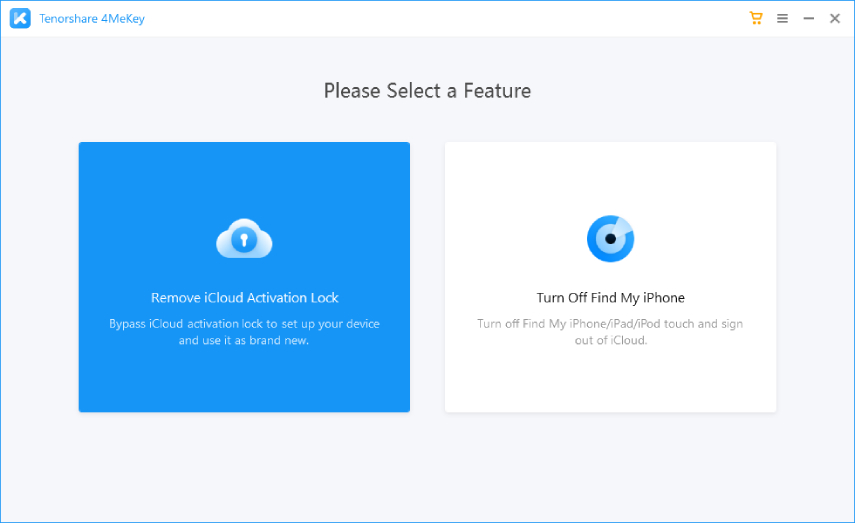 Is 4MeKey Free to Use?
The chances are that 4MeKey got your attention because of one important aspect of the software.
Yes, 4MeKey is indeed free to download and even use, however, there are some restrictions you should be aware of.
The free version of 4MeKey can only help you learn if your device is compatible and suitable for iCloud unlocking with the 4MeKey.
However, to unlock the iCloud Activation Lock or turn off the Find My iPhone with 4MeKey, you will need to purchase the software.
On the bright side, 4MeKey offers 3 great pricing plans that will fit everyone's budget and won't break anyone's bank.
Here are the available 4MeKey pricing plans:
1 Month License – Suitable for up to 5 devices – $35.95/month
1 Year License – Suitable for up to 5 devices – $39.95/year
Lifetime License – Suitable for up to 5 devices – $49.95/one-time payment
Is 4MeKey Safe to Use?
Other than the available free software version, Tenorshare could catch your attention by claiming that they provide one of the safest solutions to unlocking the iCloud Activation Lock on the device.
But how safe is 4MeKey to use?
4MeKey is safe to use as it comes from a well-reputable and trusted source and the software is easy to download (and find the official link) without any harmful viruses or malware to be afraid of.
However, keep in mind that this only applies if you download the software directly from the company.
No one knows what might be included in the software from third-party sources so this is something to keep in mind!
How to Use 4MeKey to unlock the iCloud Activation Lock?
To solve your problem and finally unlock the iCloud Activation Lock from your iPhone – here's what you should do.
Step 1. Download the free version onto your computer first as this will allow you to learn whether or not your iPhone is compatible with the software.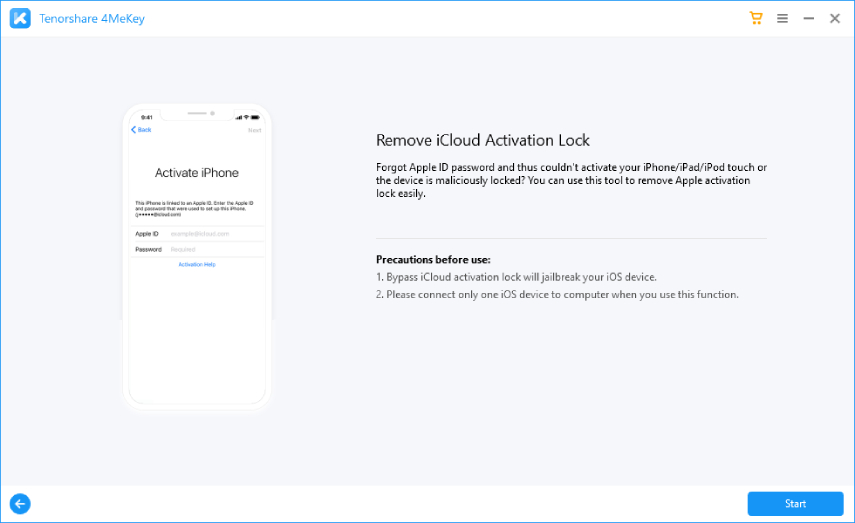 Step 2. When you confirm that your iPhone is compatible with 4MeKey software and that iCloud Activation Unlock is a possibility, get a paid version.
No matter which pricing option you go with, the paid version will help you unlock all features which will increase the success of the unlocking process.
Step 3. Open the 4MeKey software and connect your iPhone to the computer via USB cable. When your iPhone is recognized by the 4MeKey software, all you have to do is hit the Start button.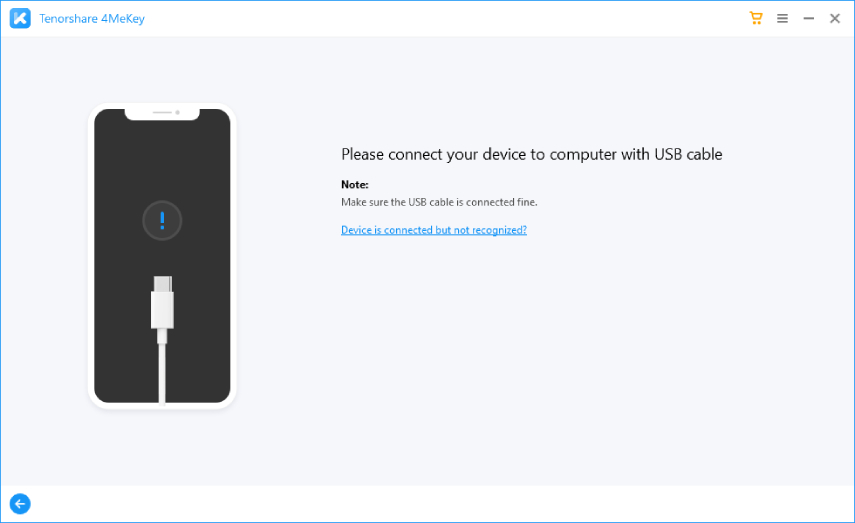 When you hit the Start button, an agreement note will pop up which we highly recommend you read and accept. Therefore, when you accept the agreement note, 4MeKey will start downloading the jailbreak tool.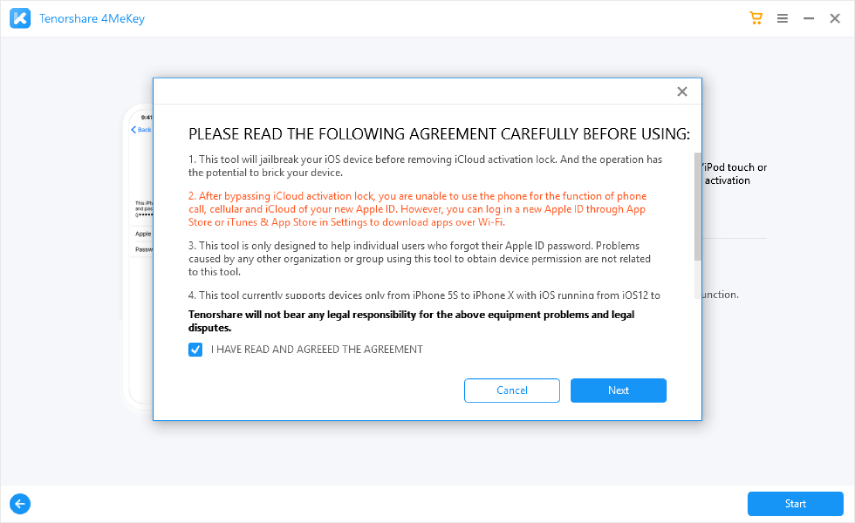 Step 4. When the jailbreak tool is downloaded, hit the Start Jailbreak button to jailbreak your iPhone. This is an important step as iCloud Activation Unlock won't work on an iPhone that's not jailbroken.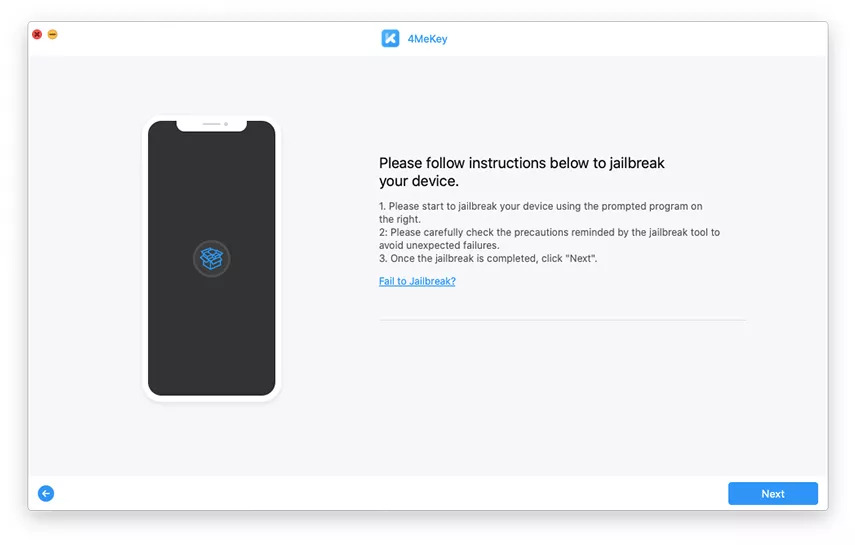 Step 5. When you see the CheckRa1n window pop-up, press Start as this is the tool that will help jailbreak your iPhone (so there's nothing to worry about).
Your iPhone will go into recovery mode and you'll have one more Start button to press before you follow the on-screen instructions to put your iPhone into DFU mode (required for jailbreaking).
When you press the required buttons by following the on-screen instructions, 4MeKey will automatically recognize it and the jailbreaking process will begin.
When the process bar is finished, close the CheckRa1n window and click next in the 4MeKey software.
Step 6. After clicking Next, you'll have one final button to press which is named Start Remove.
Step 7. The iCloud Activation Unlock process will begin and you will be able to follow the process via the progress bar and percentage rate.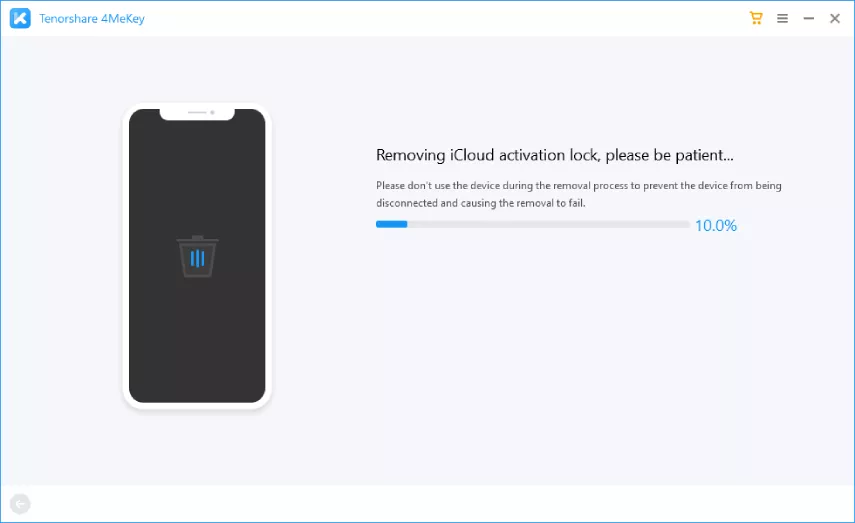 If the process is successful, a new window will open with the successful message.
You can check your iPhone and see if you can set it up. However, one thing you should not forget to do is to skip the Apple ID login in the setup screen.
When you set up your iPhone, the process is complete and your iPhone should be free of the iCloud account and the lock.
Drawbacks of 4MeKey
Relying on the iCloud Activation Lock software is the final destination that doesn't come without sacrifice.
However, a couple of disadvantages aren't as bad of an option in comparison to owning an iPhone that you can't use, right?
4MeKey will remove the iCloud Activation Lock, but here are some disadvantages of the process:
After removing the iCloud activation lock, you will be unable to use the iOS device's phone call and cellular.
You won't be able to use the iPhone with another iCloud account ever again.
Certain iCloud features will be unavailable due to the inability.
If you restart, factory reset, or flash firmware on your device after removing the iCloud lock, the device will be locked again.
Jailbreaking your iPhone is risky.
Any Better Choice than Tenorshare 4MeKey?
UnlockGo is a great alternative to Tenorshare 4MeKey as it has more advanced features with competitive price. Here's a quick competition between the 2 tools.
Features
UnlockGo
4MeKey
Remove iCloud Activation Lock
Yes
Yes
Turn Off Find My iPhone witout password
Yes
Yes
Remove Screen Passcode
Yes
No
Delete Apple ID witout password
Yes
No
Price

1-Month Plan: $29.95
1 Year Plan: $39.95
Lifetime Plan: $49.95
1 Year Business Plan: $355.95

1-Month Plan: $35.95
1 Year Plan: $39.95
Lifetime Plan: $49.95

Support
Free Technical Support
Free Technical Support
It can unlock the iCloud Activation Lock on iPhone 5S to 12 Pro Max running iOS 12 and later with a lot fewer steps to go through.
Even though 4MeKey might be considered simple by some, others will find UnlockGo a lot simpler.
UnlockGo is very simple to use and all you have to do is:
Step 1. Download and install UnlockGo onto your computer.
Step 2. Connect your iOS device via USB cable. Choose the "Unlock iCloud Activation Lock" feature from the interface.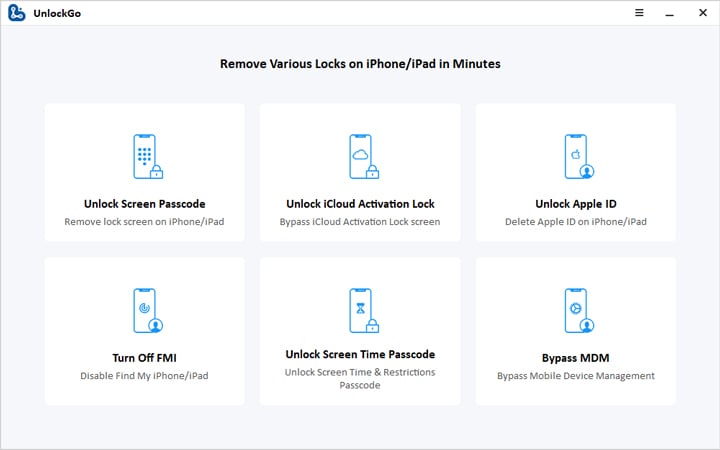 Step 3. Download the jailbreak tool & start the jailbreak process.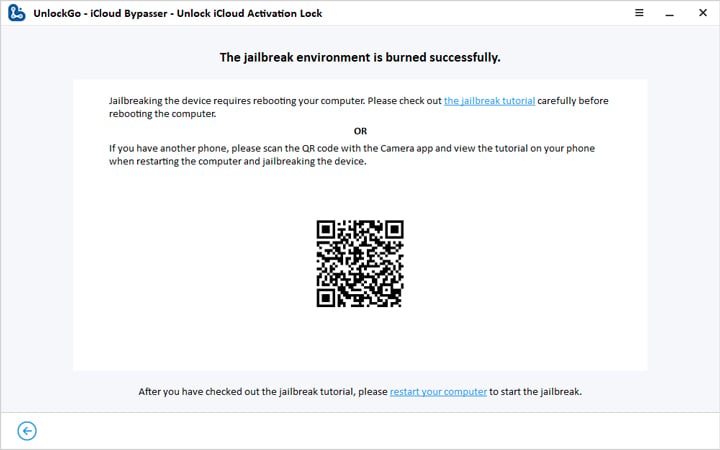 Step 4. Once the jailbreak is finished, UnlockGo will start to remove iCloud activation lock.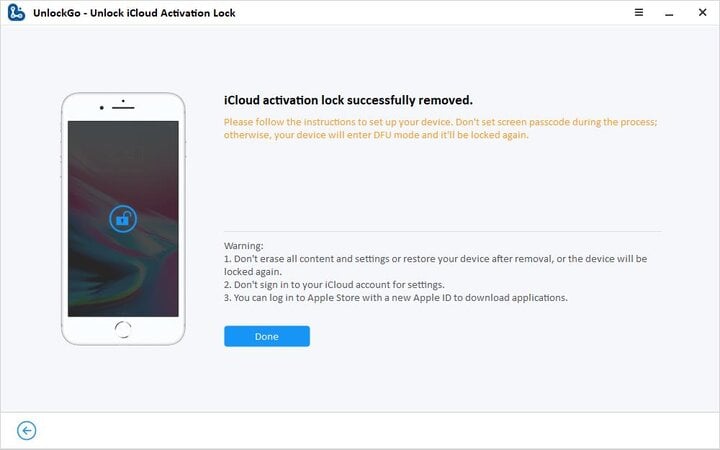 Even though UnlockGo is very similar in operation to 4MeKey, it has fewer steps to go through but there's one thing to keep in mind.
UnlockGo comes with the same flaws as iCloud Unlocking software.
Conclusion
There's no perfect software but having a device that you can actually use rather than a device that will be sitting in your desk drawer is a far better option.
Not all iCloud Unlocking Software are as efficient, but the chances are high that at least one of these two options will work on your device.
Considering the price that will cost you to unlock your iPhone, this is a very decent price that will solve your issue at a very small cost.
How did you get your iCloud Activation Lock? Did you ever try unlocking it by yourself?