It is possible to manage iOS devices remotely using Mobile Device Management (MDM). MDM mainly restricts security features and precise applications if set up by your organization. It is also possible for MDM to track daily performance on your device.
To acquire full access to your device, you should at least bypass MDM on it. This will enable you to avoid supervision by your company. In this article, we will explore three options you can consider to bypass remote management on your iOS device for free.
Use Fiddler Software
Fiddler is a debugging tool that you can employ in bypassing MDM on your iPhone 11.x for free. The software has been in operation since 2003 and has acquired a reputation of being one of the best MDM bypassing tools in the industry. Fiddler supports all platforms, browsers, and frameworks.
It comes with exciting features including:
Decompressing web sessions: If you use HTTP compression, you can decrease the transmission of bytes between the server and client.
It enables the security testing of web applications.
Fiddler records traffic between the internet and your iOS device.
It carries out effective performance testing.
It is easy to customize.
To bypass your iOS device using Fiddler successfully, follow the following steps:
Step 1. Download Fiddler on your computer and install it.
Step 2. You can then open iTunes on the computer and 'Restore iPhone'. You shouldn't update your iOS device at this time.
Step 3. On your computer, open the Fiddler application and head to the tools tab. From the list of options displayed, choose 'Telerik Fiddler Options'.
Step 4. From the HTTPS window, select 'Capture HTTPS Connect' and then "OK".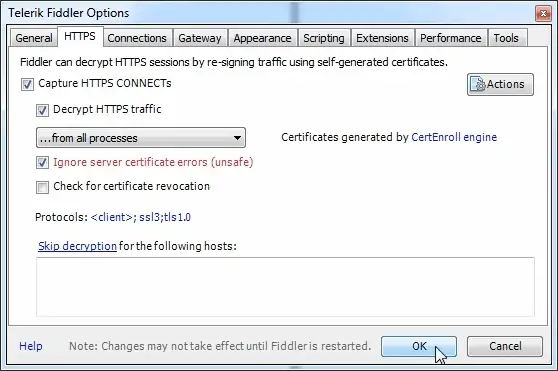 Step 5. At this point, you need to connect your iOS device to your computer's iTunes. Then launch iTunes and go back to the Fiddler interface. Click on the Rules > Automatic Breakpoints > After Responses.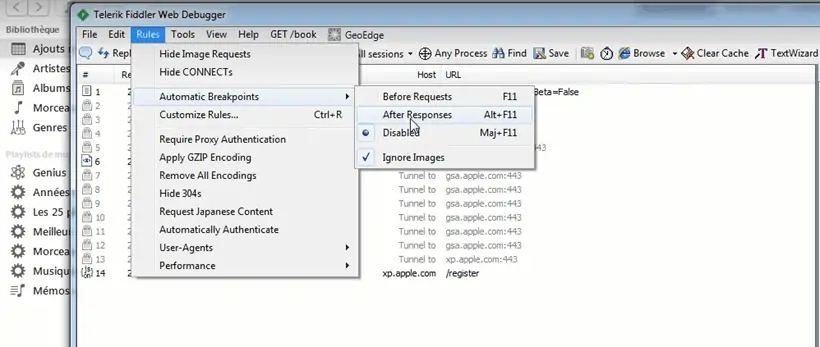 Step 6. Now, insert a SIM card into your iPhone. And select your iPhone icon on iTunes.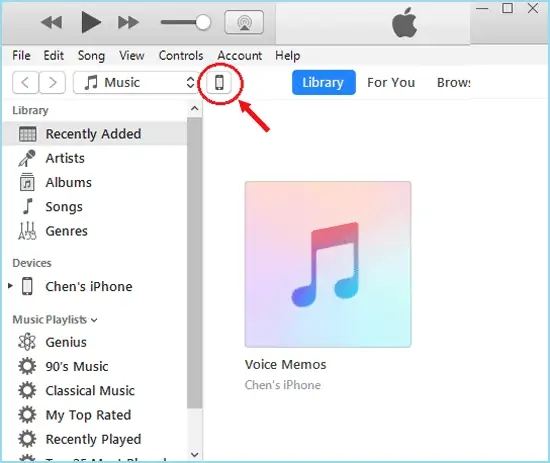 Step 7. Fiddler will display connection logs. Select on albert.apple.com.
Step 8. You will see a yellow button on the right panel that says, 'Response body is encoded. Click to decode.' You should select this option.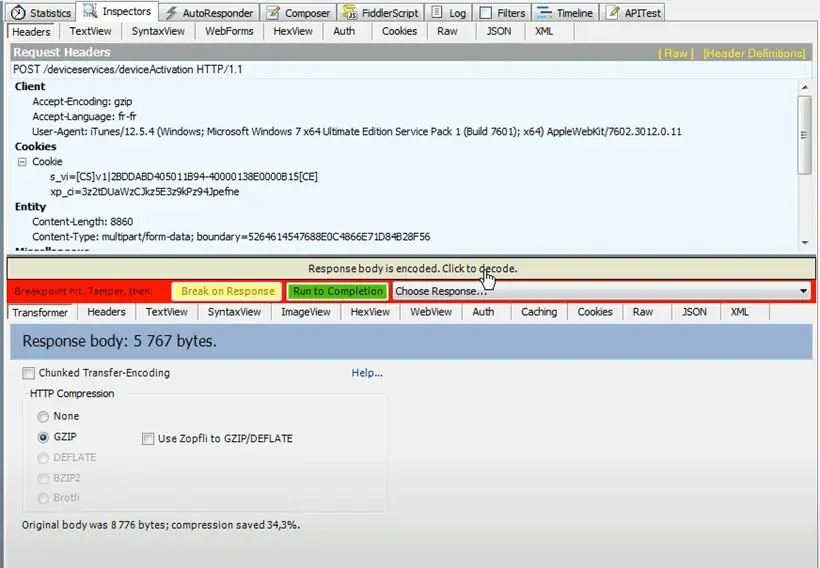 Step 9. At the bottom of the tab on the TextView, find the line 'Flag = 1' by searching for it. Adjust the value on the line to 'Flag=0'.
Step 10. After you are through with all the editing, select a green button that reads 'Run to Completion'.
Note:
The use of Fiddler is only applicable for iOS 11.x. If your iOS device runs on other versions, you should not try this option.
Many people have pointed out that this method, iTunes, doesn't obtain the activation information from your iOS device. When this happens, you should try 'Activation Information Could Not be Obtained'.
Use 3utools
This is a one-in-all tool for iOS devices that is available for free. 3utool enables management of data along with jailbreaking and flashing your iPhone. Moreover, it also functions as a tool for bypassing activation locks, backups, and MDM locks.
All you need to bypass your iPhone is a USB cable, 3utool installed on your computer, a reliable computer, and a locked iPhone. 3utool comes with the following exciting features:
It supports setting and viewing HEIC files.
It is possible to download applications in a backup view.
Supports restoring icon layouts.
Before you bypass MDM on your iPhone, you should first follow the instructions below:
First, you should boot into your iPhone and select your preferred language.
You can then follow up and select your region or country and then continue.
At this point, you should select on set up manually and then proceed.
You can also select your Wi-Fi networks and then input your password to establish your connection.
When your phone boots, you can manage the manual installation. You should wait for about 10 seconds for your iPhone to manage the setup. You can attach the iPhone to your computer through a USB and then follow the following steps:
Step 1. Download 3utools on your computer using the attached link and install it. The installation process is very and will take less than one minute to complete.
Step 2. Check the lock screen on your phone. It should appear exactly like the image below.
Step 3. Connect your iPhone to your computer immediately when you get on the 'Remote Management' page. To open 3uTools, you should double-click the executable file. Wait for the software to recognize the computer. Confirm the details and proceed to the next step.