Welcome to our in-depth guide on iPhone 4s iCloud bypass. Whether you've forgotten your iCloud credentials or acquired a second-hand device, we've got you covered. In this article, we'll explore three easy and effective methods to regain access to your iPhone 4s.
From simple tricks to advanced techniques, we'll walk you through each step to help you unlock your device and restore its functionality. Say goodbye to iCloud activation hurdles and take control of your iPhone 4s again. Join us as we uncover the secrets to bypass iCloud on your device effortlessly. Let's get started!
Way 1. Contact the Previous Owner
If you purchased or inherited a second-hand iPhone 4s with iCloud activation lock, the easiest method to fix it is to contact the previous owner.
Option 1
Follow these 6 steps if you can meet up with the previous owner, and they remember the Apple ID password for the iPhone 4s:
Hand the iPhone 4s to the previous owner and have them complete the setup process until the Activation Lock screen appears.
Ask the previous owner to enter their Apple ID and password when prompted.
Complete the device setup.
In "Settings," tap on the previous owner's [Apple ID].
Select "Sign Out" and enter the original owner's Apple ID credentials.
Hand the device back to the previous owner to input their Apple ID and password.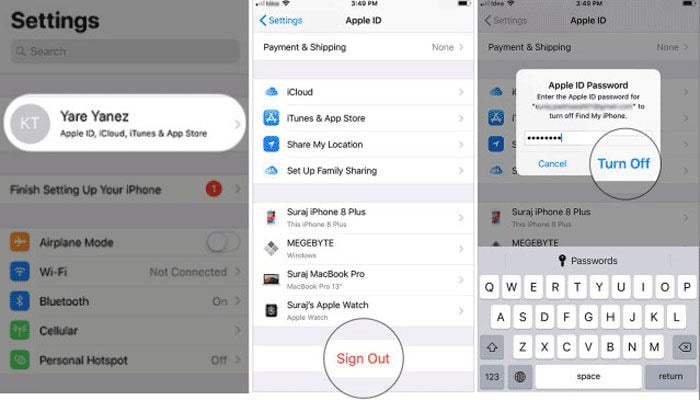 By collaborating with the previous owner and following these 6 steps, you can bypass iCloud activation on the iPhone 4 and use the device normally.
Option 2
If you're unable to meet face to face with the seller and the previous owner knows their Apple ID and password, follow these step-by-step instructions for your iPhone 4s iCloud bypass:
Ask the previous owner to visit https://appleid.apple.com/ and sign in using their Apple ID and password.
Once signed in, they should access the iCloud website.
In the Devices section, they need to locate and select the iPhone 4s from the list of devices.
Click "Remove from account" to unlink the iPhone 4s from the seller's iCloud account.
After this step, you can set up the device without encountering the Activation Lock screen.
Way 2. Unlock iPhone 4s iCloud Online Free
unlocking-iphone.com is a trusted iPhone 4s iCloud unlock tool with over 10 years of experience. With their expertise, they provide a reliable solution to unlock locked iPhones or iPads. By using their unlocking service, you can minimize the waiting time to unlock your iPhone or iPad. Following these steps, you can get your iPhone 4s iCloud bypass: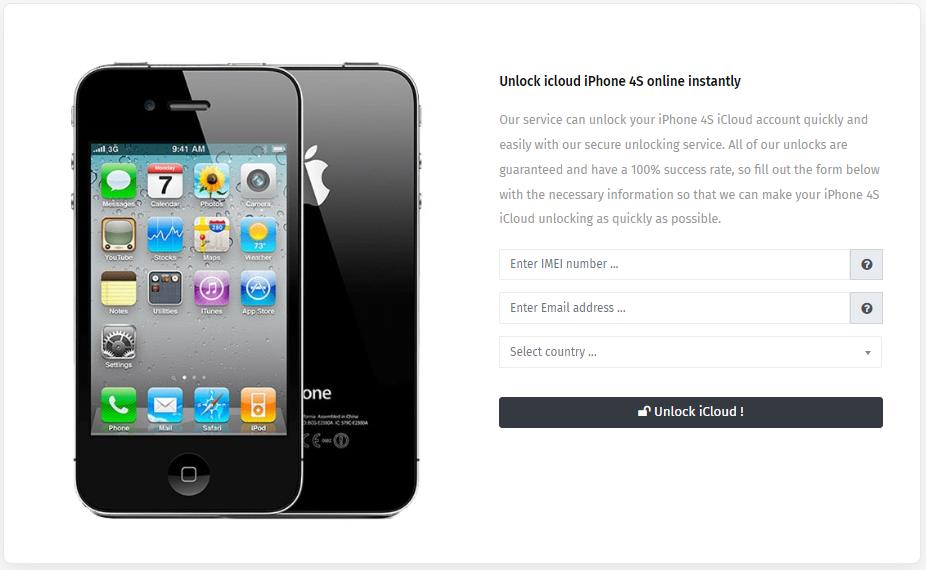 Fill out the form on the website with the necessary information, including the IMEI number of your iPhone 4S, your Email address, and country.
Once you submit the form, unlocking-iphone.com initiates the iCloud unlocking process by adding your iPhone 4S IMEI to Apple's database. This step ensures that your device is permanently iCloud unlocked and approved.
You will receive a confirmation via email within 24 hours, notifying you that the unlocking process is complete.
With unlocking-iphone.com services, you can enjoy the convenience of bypassing the iCloud activation lock on your iPhone 4S efficiently and securely.
Way 3. Bypass iPhone 4s iCloud with Activation Lock Removal Tool
iRemove Tools is a software tool that offers a free solution to bypass the iCloud Activation Lock screen on any iPhone 4 or 4S using a Windows PC. It's important to note that this method is a tethered bypass, meaning it provides temporary unlocking during a one-time boot. However, after the bypass, you will be able to use your device without the ability to make outgoing and incoming calls. Here are the steps to get iPhone 4s iCloud bypass using iRemove Tools: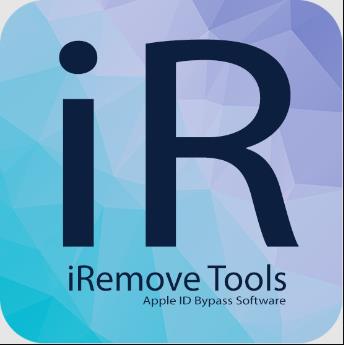 Download and install the iRemove Tools software on your Windows PC.
Launch the iRemove Tools software on your PC.
Follow the on-screen instructions provided by the software to connect your iPhone 4S to the PC.
Once connected, the device information will appear on the screen. Then click on the "Start Bypass" button.
Wait for the software to complete the bypass process.
After the bypass is successful, you can use your iPhone 4S without the iCloud Activation Lock. However, please note that this tethered bypass only works for iPhone 4/4s running iOS 7..
Question: Can I Bypass iPhone 4s iCloud with Checkra1n?
It should be noted that the iPhone 4s is not compatible with Checkra1n. The hardware exploit utilized by Checkra1n is not applicable to the iPhone 4s, rendering it unable to gain root access through this tool. Furthermore, Apple has ceased signing iOS 9 for the iPhone 4s, effectively preventing the use of Checkra1n or any other jailbreak method on this particular device, even if it were susceptible to the exploit.
Checkra1n remains a semi-tethered jailbreak solution designed for iOS devices ranging from the iPhone 5s to the iPhone X, offering the unique capability of DFU acquisition on locked devices with an unknown passcode.
Extra Tip: How to Factory Reset iPhone 4s without a Passcode?
There are many situations where you need to factory reset your iPhone 4s. This can be easily done if you have the screen passcode. You may wonder whether there is a way to factory reset iPhone 4s if you forgot the screen passcode.
We are here to help. iToolab UnlockGo is a highly regarded professional tool designed specifically for removing iPhone passcodes. With its comprehensive functionality, it offers the capability to remove various types of passcodes, including 4-digit and 6-digit passcodes, as well as those associated with Touch ID and Face ID.
Here are the steps to bypass iPhone 4s screen locks and factory reset it without passcode.
Start by free downloading and installing it on your computer.
Step 1: Connect your Device to the Computer
Ensure your iPhone 4s is securely connected to your computer using a reliable USB cable. Our program will automatically detect the connected device. From the program's main interface, select the "Unlock Screen Passcode" option to proceed with the unlocking process.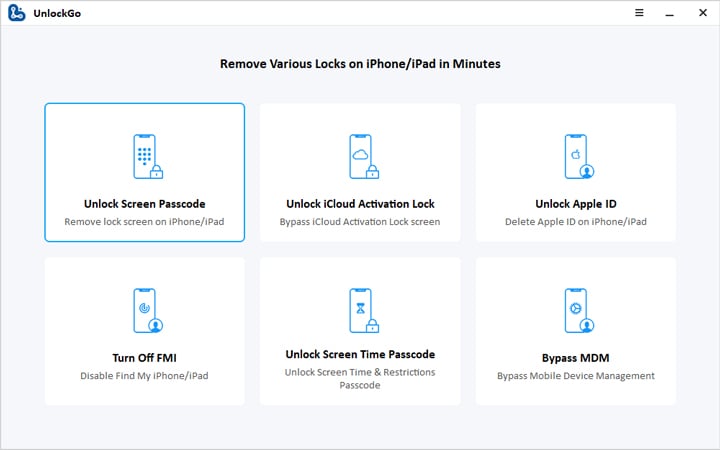 Step 2: Download the Latest Firmware
To proceed, it is essential to download the latest firmware package. Choose a suitable save path on your computer and click the "Download" button. If you have already downloaded the firmware package, simply click "Select" to import the firmware into the program.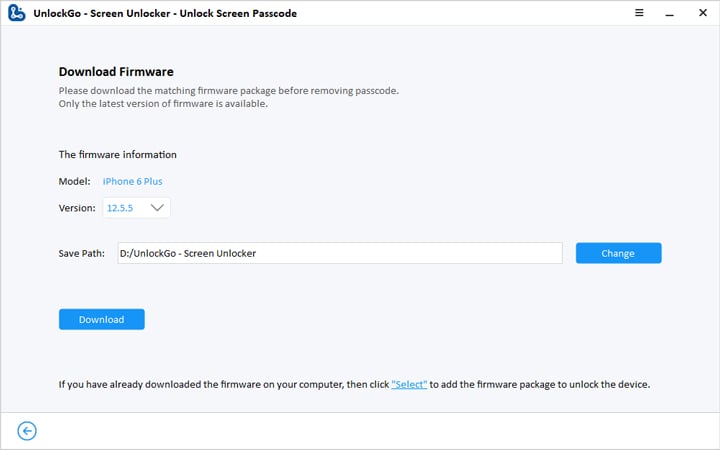 Note: The firmware package is typically a large file, so the download process may take some time. Having a stable and fast internet connection will help expedite the download.
Step 3: Initiate the Unlocking Process
Once the necessary firmware package has been downloaded, you can now commence the removal of your iPhone password. Simply click on the "Start Unlock" button to initiate the unlocking process.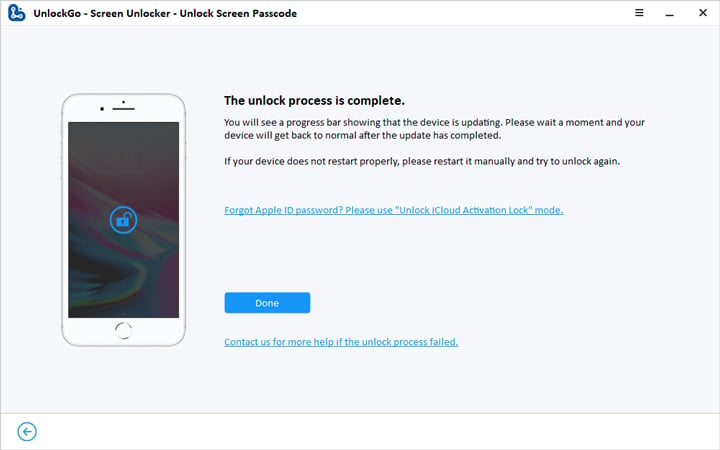 By following these professional step-by-step instructions, you can effectively utilize iToolab UnlockGo to remove the screen passcode from your iPhone, ensuring a seamless unlocking experience and restored access to your device.
Conclusion
This article has explored three simple yet highly effective methods to get an iPhone 4s iCloud bypass. Whether through contacting the previous owner, utilizing remote removal, or leveraging professional unlocking tools, users can regain control of their device and overcome the iCloud activation lock.
Additionally, iToolab UnlockGo stands out as a reliable and user-friendly solution for removing iPhone passcodes, providing a seamless unlocking experience for individuals seeking to bypass iCloud on their iPhone 5s to iPhone X. With these solutions at hand, users can unlock their devices and enjoy full functionality once again.