Most people seem to think that they can use iTunes to bypass Activation Lock. This article will examine this common belief and share with you more effective ways to bypass Activation Lock on your iPhone.
Can You Use iTunes to Bypass Activation Lock?
Activation Lock is a security feature that Apple introduced in 2013. Its main purpose is to protect the data on your iPhone in case the device is ever lost or stolen. When Activation Lock is enabled on the device, anyone else without the Apple ID and password will not be able to activate or use the device.
But while it can be a very useful solution, Activation Lock may keep you from accessing your own device if you lose or forget the Apple ID or password. It is also a very common problem for people who purchase second-hand iOS devices only to find that they are still connected to the previous owner's Apple ID account.
If the Find My iPhone is not enabled on your device, then you can simply use the recovery mode to reset the iPhone's screen passcode and all the data on the device to get a brand new device.
But if you haven't turned off Find My iPhone, then you cannot use iTunes to bypass the activation lock.
Activation Lock is often linked to your iCloud account and if you don't turn off Find My iPhone before you put the device in recovery mode and restore it in iTunes, the Activation Lock will be activated, and you may still need to use the Apple ID and password that was used to set up the device.
How to Bypass Activation Lock Efficently
The following are the most effective solutions when you need to successfully bypass the Activation lock on your iPhone:
1. Ask Apple to Remove Activation Lock from Your Device
The first thing you can try when Activation Lock is enabled on your iPhone and you don't have the Apple ID and password is to ask Apple support to remove it. You will need to provide Apple with adequate proof of ownership.
If you purchased the device, this can be the device's receipt, which must include the device's serial number and your name. If the device's serial number was replaced at the Genius bar, then you need to provide a Service Confirmation that shows both the old and new serial numbers.
If you inherited the iPhone, then Apple may require that you provide a Death Certificate and proof of your relationship with the deceased as well as the original proof of purchase.
Once you have all the proof that you need, go to https://support.apple.com/ to contact Apple for help removing Activation Lock from your iPhone.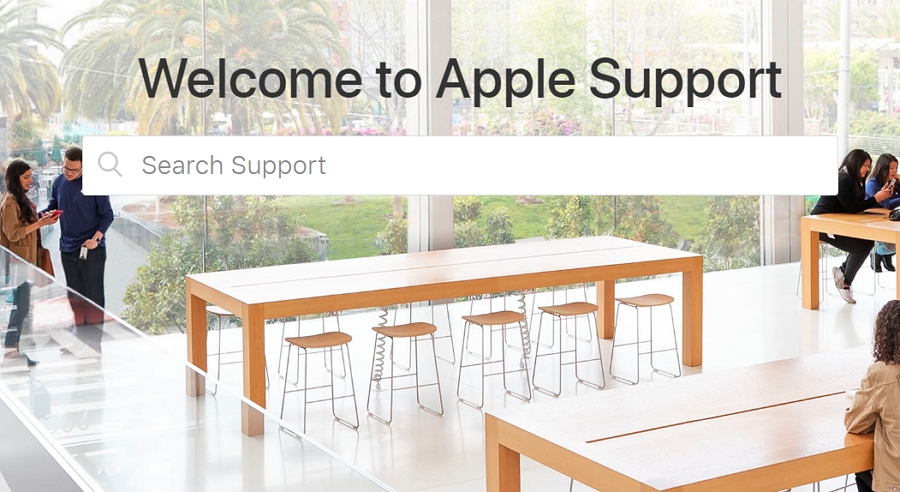 2. Ask the Previous Owner to Remove the Device from iCloud
If you purchased a second-hand device, you can ask the previous owner to remove the device from their iCloud account. Ask them to follow these simple steps to do it:
Step 1: Go to https://www.icloud.com/ and sign in with the Apple ID and password associated with the device.
Step 2: Click on "Find My".
Step 3: Click on "All Devices" to select the iPhone from the dropdown menu.
Step 4: Click "Erase [Device] and follow the on-screen prompts to erase the device.
Step 5: Click "Remove from Account."
You will then need to restart the iPhone and then finish the setup process to activate the device.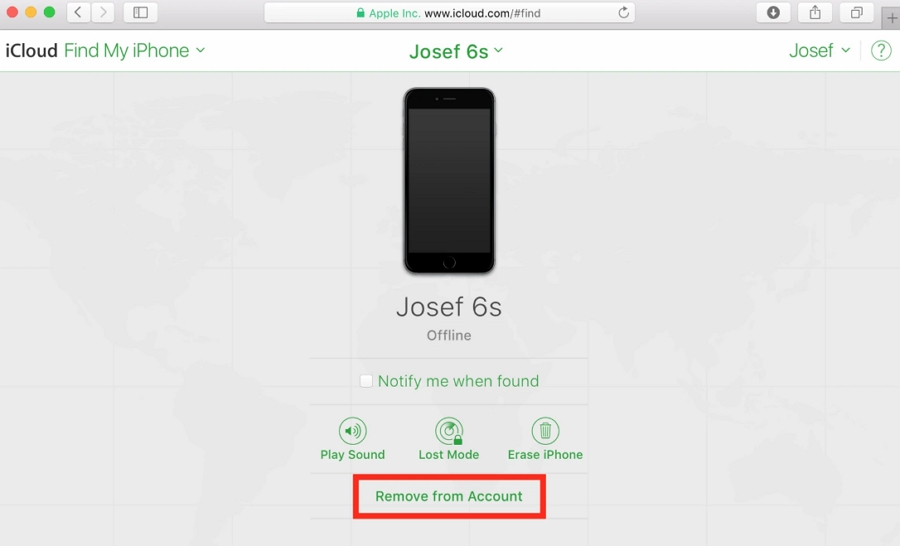 3. Bypass Activation Lock with A Different DNS
This is a method that can help you temporarily bypass Activation Lock on your iPhone. It involves connecting the device to Wi-Fi using special DNS tricks. But it will only work on older versions of iOS and removes Activation Lock for only a short period of time. Follow these simple steps to do it:
Step 1: Follow the on-screen instructions to set-up the iPhone until you get to the Wi-Fi page.
Step 2: Select the Wi-Fi network and then tap on the "I" button next to it
Step 3: Change the DNS to one of the following options depending on your region:
North America: 104.154.51.7
South America: 35.199.88.219
Europe: 104.155.28.90
Asia: 104.155.220.58
Australia and Oceania: 35.189.47.23
Complete the setup process and your device should be temporarily activated.
4. Use UnlockGo to Unlock iCloud Lock without Apple ID and Password
If you are unable to contact Apple Support or the device's previous owner, your best option would be to use UnlockGo. This software is designed to help bypass iCloud Activation Lock on any iPhone when you don't have the Apple ID password. Its main features include the following:
It can be used to remove iCloud Lock Activation in just a few simple steps.
It can also be very useful when you want to remove the device's passcode since it can remove all types of passcodes including Touch ID and Face ID.
It is also very easy to use and you will not need any technical expertise to use this program.
Follow these simple steps to use UnlockGo to easily bypass Activation lock:
Step 1: Download and install UnlockGo on to your computer and then run the program after successful installation.
Step 2: In the main window, select "Remove iCloud Activation Lock" and then click "Start". Connect the device to the computer.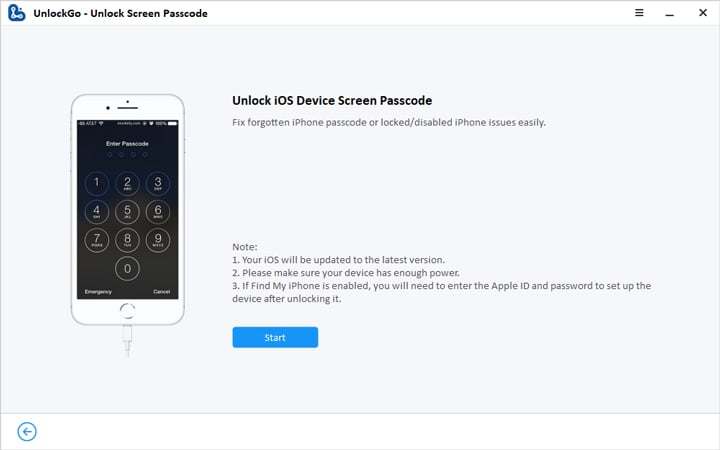 Step 3: UnlockGo will need to jailbreak the device in order to unlock it. There is nothing that you need to do here, the program will begin downloading the jailbreak package that you need. As soon as the download is complete, click "Jailbreak" and then follow the on-screen instructions to put the device in DFU mode.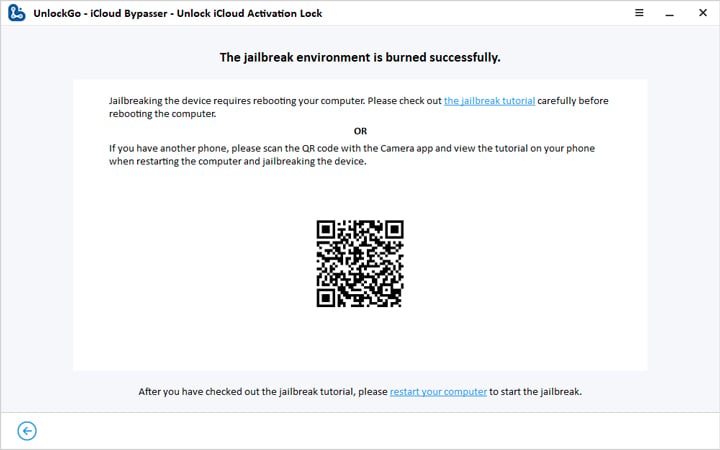 Step 4: UnlockGo will begin jailbreaking the device. When the jailbreak is complete, click "Remove" and UnlockGo will begin removing the Apple ID.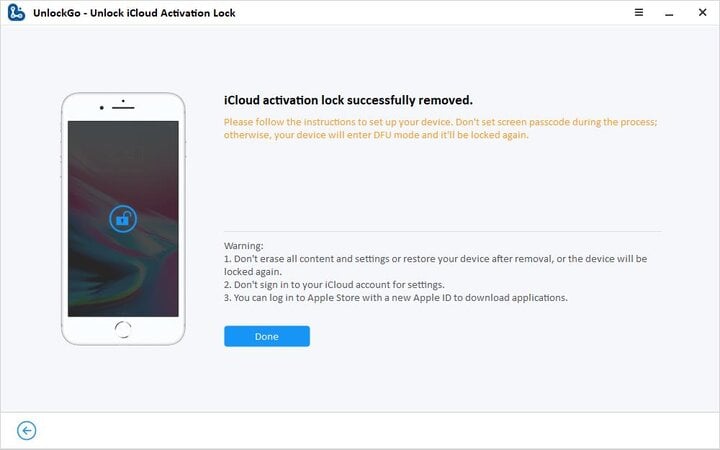 When the process is complete, UnlockGo will notify you and you can then disconnect the iPhone from the computer and continue setting up the iPhone. You should now be able to access all the features on your iPhone.