WhatsApp has been in the market for many years and has been used for sharing videos, photos, audio files, and much more. But what if we tell you there is another application that provides more features than WhatsApp. Yes, we are talking about GBWhatsApp. This application has exciting features, such as changing themes, setting online status, etc. How to download this application? Is it available for both iOS and Android devices? In this article, we will guide you on everything about how to download GBWhatsApp APK and much more. Continue reading the article for some interesting information.
Part 1. What is GBWhatsApp?
In this section, we will discuss everything about GBWhatsApp. We will also guide you on which devices it is available and whether you can download it for iPhone or not.
Basic Introduction of GBWhatsApp
GBWhatsApp is the alternative Mod of WhatsApp and consists of amazing features. On this application, you can change themes; add icons & stickers, adjust profile settings, and much more. You can also adjust the language according to your requirements. What's more, it has a user-friendly interface. You can also find different privacy options in it.
What's more, it allows users to set up an auto-reply, just like in a WhatsApp business account. Hence, if you are looking for something more interesting, you can definitely download GBWhatsApp.
Can I Use GB WhatsApp on iPhone?
Yes, GBWhatsApp is not available for iPhone as well. Developers have created the GBWhatsApp Plus Apk for iPhone, which you can find on iTunes. For that, you don't have to do much, just go to iTunes, search for GBWhatsApp and click the "Install" button and you are good to go.
Part 2. Pros and Cons of Using GB WhatsApp
The pros and cons of GBWhatsApp are as follows.
Pros of GB WhatsApp:
It allows using dual WhatsApp on the same device
You can easily lock the chats
Just like the WhatsApp business account, you can set the auto-reply option
It consists of various privacy options to secure your chats
You can customize themes, stickers, icons, and much more
It consists of various privacy options
Cons of GB WhatsApp:
It is not illegal to use
It is not 100% secure
There are chances of getting banned
The chat option is fake
These were the pros and cons of this application. However, if you still want to download this application, you can check the information below and get an idea about how to download it on iPhone or Android.
Part 3. GB WhatsApp Download 2022 New Version
To download GBWhatsApp APK, click the following link and get your latest version. Don't forget to check the system requirements before downloading the application. You can also check the websites below, where you can download GBWhatsApp in one go.
Other 5 Websites for GB WhatsApp APK Download
To download GBWhatsApp 2022 version, below are the websites that you can check. From there, you can easily get the APK and download it on your iPhone or Android devices.
https://gbapps.net/download-gbwhatsapp-apk/
https://softgoza.com/gbwhatsapp/
https://androidapksfree.com/gb-whatsapp/com-gbwhatsapp/download/
https://websitepin.com/gbwhatsapp-apk-download/
Part 4. What's New for GBWhatsApp 2022 Version
GBWhatsApp 2022 is more powerful and has more features. Plus, developers have updated the version, and here are the new things you can find in this application.
✅ Status Downloading feature
✅ Dark theme
✅ More Animated Emojis
✅ New stickers
✅ Custom theme option
✅ Backup chats
✅ Dark themes
✅ Hide privacy terms and chats
✅ Download and save stories
✅ New Stickers
Extra Tip: How to Transfer WhatsApp Data from Android to iPhone
Transferring WhatsApp data from Android to iPhone is possible with the help of a third-party application. And for that, you can download the iToolab – BEST WhatsApp Transfer Tool application. This software is the best and helps move data with one click. Plus, it is 100% safe and makes sure that anyone can move data without worrying about anything. Using this app, you can transfer messages, contacts, pictures, and more. In this section, we will guide you on how to transfer WhatsApp between Android and iPhone. Without wasting any time, let's discuss the details.
Step 1. Launch WatsGo On Your PC. First, download iToolab WatsGo software on your PC and click the "WhatsApp Transfer" tab.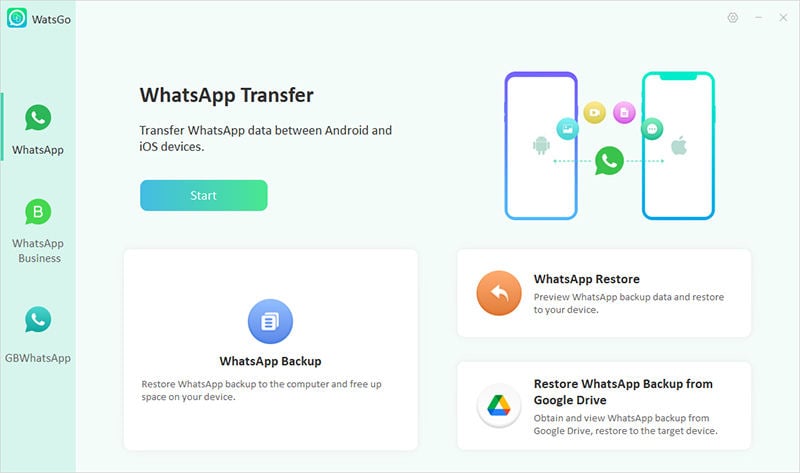 Step 2. Connect Your Mobile with the PC. To start the process, you must connect your two phones so that the data can be transferred from source to destination.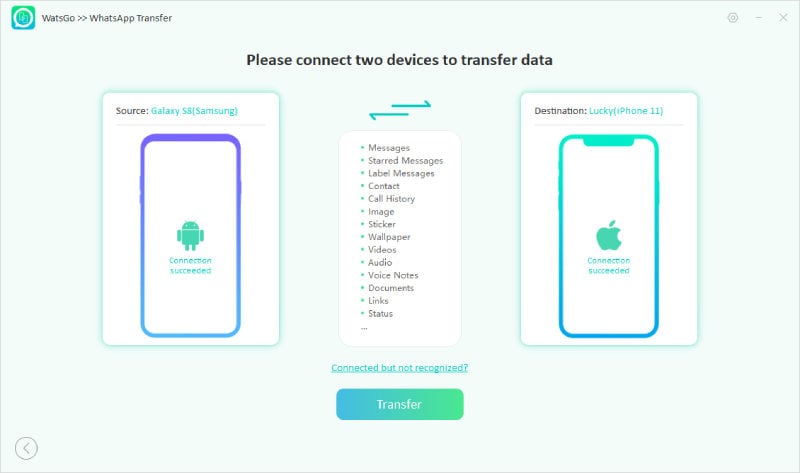 Note: Druing the process, you need to back up WhatsApp manually and activate the WhatsApp account.
Step 3. Transfer Successfully. You have finally transferred the data from Android to iPhone. Don't disconnect the phones during the process; otherwise, you have to repeat the process again.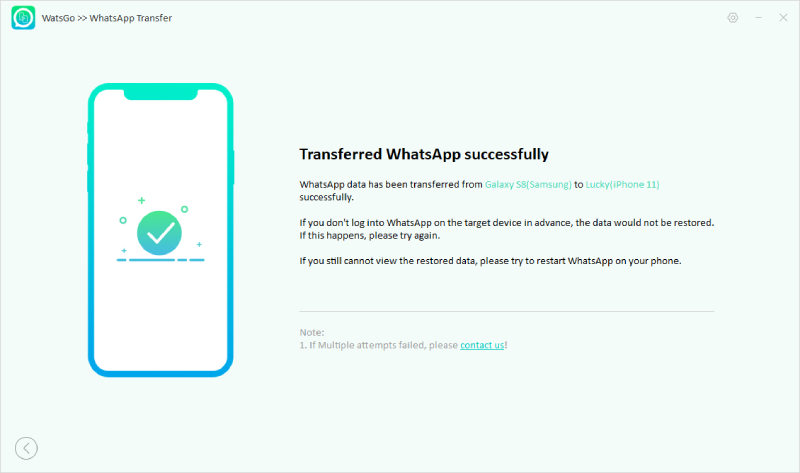 Summary
This was the complete information about GBWhatsApp and how you can download GBWhatsApp on your devices. We have also mentioned everything about its features and how users can transfer WhatsApp from Android to iPhone using iToolab WatsGo. This application is available for both Android and iPhone. Now go and download the latest version of GBWhatsApp and enjoy all its wonderful features.