When it comes to WhatsApp web, there are many issues that users have to deal with. Among them, the top issue is WhatsApp web not working on Chrome. There can be many reasons of it, such as incompatible browsers, slow internet, and much more. If you are also facing WhatsApp web problems and don't know the exact cause, this article is for you. In this guide, we have mentioned 8 different ways that you can try to fix this problem. Let's discuss these methods one by one.
Question. Why Is My WhatsApp Web Not Working?
As mentioned above, there can be many reasons why your WhatsApp web is not working. However, the top reasons are mentioned below.
Your internet connection is not stable, or your browser is not compatible.
You didn't clear the cache of your browser.
There are chances that your app is outdated.
This might be a server error.
So, these are the top reasons why your WhatsApp web is not connecting. But don't worry; we have some simple techniques that you can try to fix this issue.
Situation 1. Fix WhatsApp Web not Working/Opening
Here are 8 different ways to try if your WhatsApp web is not opening. Without wasting any time, let's discuss these methods.
Way 1. Make Sure If WhatsApp is Unavailable/Down
If your WhatsApp desktop is not opening, then it is possible that your WhatsApp server is down. To fix this problem, go to downdectore.com and check the WhatsApp server. If it is down, you will see the error on the screen. You can also check the WhatsApp business server. In case the server is fine, we recommend checking the other methods below.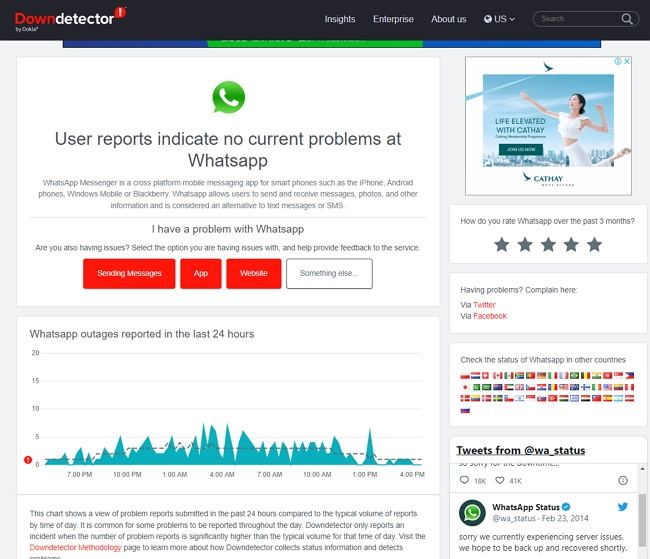 Way 2. Try it on Incognito Mode
The second method you can try is opening your WhatsApp in Incognito mode. Since Incognito mode doesn't affect URLs, you can easily open WhatsApp. Below are the steps which will help you open WhatsApp in Incognito mode.
Open your Chrome browser and click the three dots.
Now from the option, choose the "Incognito Mode" option.
Enter the WhatsApp website, complete the login process and see if it is working or not. If the issue is still there, it means there is something wrong.

Way 3. Set up WhatsApp Web on Your Computer Again
Sometimes setting up your WhatsApp again can also fix the issue. So, if the above methods are not working for you, don't worry we have another solution for you which is logging out of WhatsApp and trying again in a while. Hopefully, this will fix your problem.
Way 4. Clear the Browser's Cache and Install the Latest Update
Sometimes browser cache and cookies can be the main reason why WhatsApp Web does not open on a PC. In this case, clear the browser cache first and try again. Here is how you can do it.
Click the Three-dots icon and open the Settings page.
Select the "Privacy and Security" option and hit the Clear browsing data button.
Click the Cookies and other site data option and hit the "Clear data" option. Make sure you clear the cookies in the basic mode.

Once done, open WhatsApp again and see if it is working or not. If the issue is still there, download the latest WhatsApp application on your PC and check again.
Way 5. Reset the Browser to Default Settings
Resetting the browser settings is also an ideal way to fix WhatsApp not working on chrome. In this way, you can easily open WhatsApp on Chrome. Let's see how this method works.,
Click three dots and open your "Menu." Once done, choose the "Settings" option.
Scroll down and look for "Reset and Clean Up" and hit the "Restore Settings to their original defaults" option.
You will see a pop-up, so click the "Reset Settings" to continue the process.
Way 6. Change to Another Browser to Use WhatsApp Web
If your WhatsApp web is still not working on Chrome, then there are chances that it is because of your browser. So, we recommend changing the browser. You can open web.whatsapp.com on Firefox, Edge, Safari, and Opera.
Situation 2. WhatsApp Web Scanner Not Working
If your WhatsApp web is not working, then it means your device is not scanning the code properly. To fix this issue, you can try the method below.
Zoom in to Scan Again
Is your WhatsApp web scanner not working? Or your WhatsApp web QR code is not loading properly. There are chances that your phone camera is blurry, which is why WhatsApp is not scanning the QR properly. To fix it, zoom in and increase the web page size. You can also use Ctrl and + keys to increase the page size on Chrome, Firefox, etc. Hopefully, this will resolve your issue.
Or, If WhatsApp Computer not Connected?
If the WhatsApp computer is not connected, it means the issue is with your computer's internet. So, first, check your internet speed to see if it is fast, then disconnect your internet and reconnect again with the PC. Now, again check your WhatsApp Web.
Extra Tip: How to Export All WhatsApp Messages without WhatsApp Web
If you want to export your WhatsApp messages to a PC without using WhatsApp web, then iToolab WatsGo – Best WhatsApp Transfer, Backup & Restore is the ideal choice. Using this app, you can quickly backup and restore your WhatsApp data. What's more, you can also send your data to the PC with one click. Here is how this app works.
Step 1:Launch the app and click the "WhatsApp Backup" option.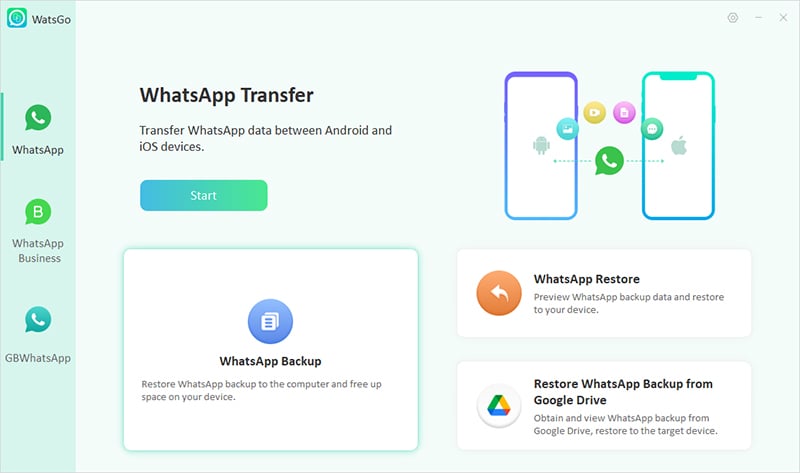 Step 2:Now, connect your Android device, and select the device that you want to backup.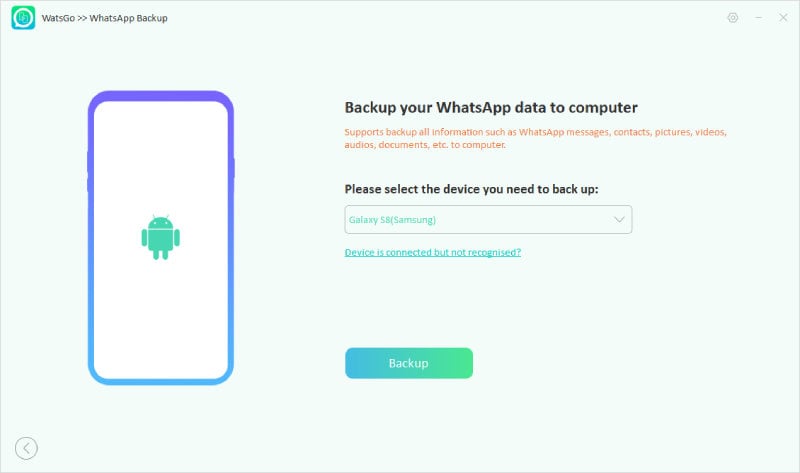 Step 3:Next, turn on End-to-End encryption and let the app generate the WhatsApp data.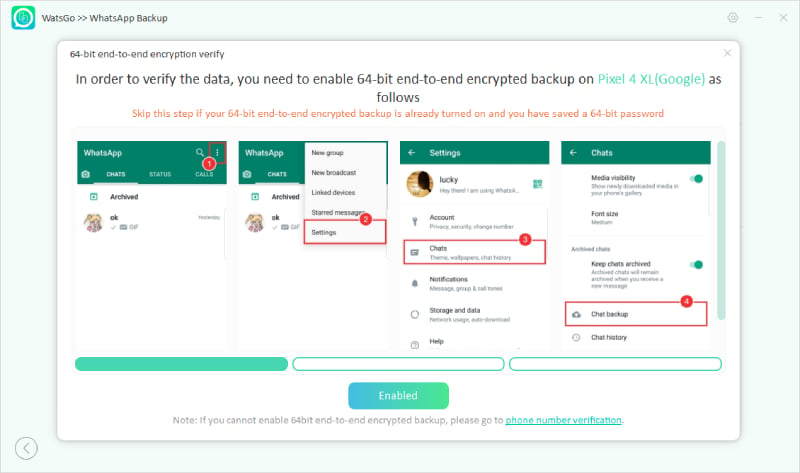 Step 4:Soon WhatsApp will backup your data, and you can easily transfer it to your PC. Also, you can click the "View Backup List" option to check your backup files.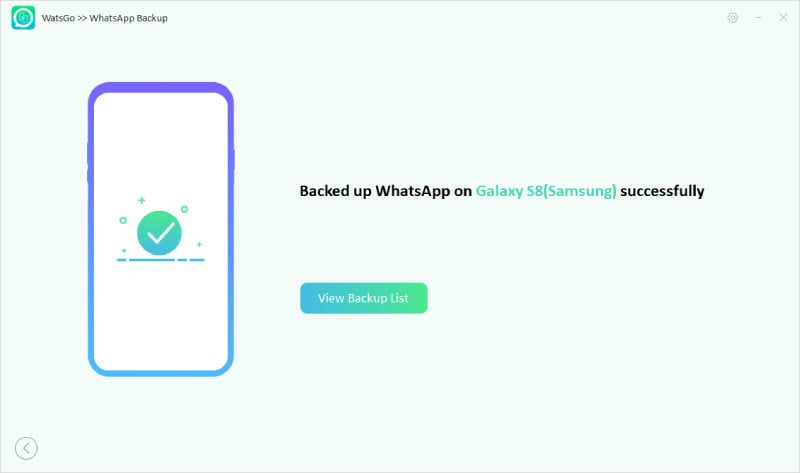 In this article, we have covered all the possible ways that you can use if WhatsApp web is not working. You can try these methods and fix the problem in no time. Also, you can download the iToolab WatsGo app for backing up and restoring your WhatsApp data.