GBWhatsApp is the latest WhatsApp messaging application with modified features. This application has lots of features, including a dual WhatsApp option, the ability to hide online status, last seen status, blue ticks, and double ticks. You can also use it to schedule messages, customize the app's user interface, and more. So, if you are impressed by the features and looking for ways how to restore GBWhatsApp backup to GBWhatsApp? We got you covered. In this article, we will guide you on how you can restore GBWhatsApp to GBWhatsApp with simple steps.
Where is GB WhatsApp Backup File?
GBWhatsApp backup data can be found easily in the local storage of your device. Once you have the file, you can easily copy the folder and paste it to other devices. The process of doing that is simple and straightforward. Without wasting any time, let's see how this method works.
Common Questions When Restoring GBWhatsApp Backup
👉 Q1. Can't find a backup in '/sdcard/gbwhatsapp'? How to Fix
If you can't find the backup, it means it is stored in a different location, so search the folder and send it to the '/sdcard/gbwhatsapp' folder. Second is checking GBWhatsApp backup settings, making sure that the backup is set to 'Local Backup.' If these techniques are not working, then check your backup feature to see if it is enabled or not. In the end, you can reinstall the application to fix the issue.
👉 Q2. How to restore GBWhatsApp messages without backup?
You can use different third-party tools to restore GB WhatsApp messages without backup. In case you are looking for the best tool, then you can download iToolab WatsGo. It is easy to use and helps restore GBWhatsApp messages on both Android and iPhone devices.
👉 Q3. How to restore GBWhatsApp backup from SD card?
Step 1. Open your GBWhatsApp application on your phone.
Step 2. Now, click the menu and hit the 3 dots.
Step 3. In the next step, look for Settings – Chats – Chat Backup to find the backup option.
Step 4. Now, open the Google Drive setting option and click the backup up to Google Drive option. From there, choose Never from your drop-down menu.
Step 5. By following the above steps, your GBWhatsApp will automatically restore the backup from the SD card.
How to Restore GBWhatsApp Backup to GBWhatsApp with One-click?
iToolab WatsGo – GBWhatsApp Transfer, Backup and Restore is the perfect tool for restoring GBWhatsApp without Google Drive. This application is compatible with almost all Android devices, including Samsung, Huawei, Xiaomi, Samsung, Oneplus and so on. What's more, it can transfer WhatsApp from Android to iPhone, iPhone to Android, Android to Android, or iPhone to iPhone. Here are the steps that you can follow: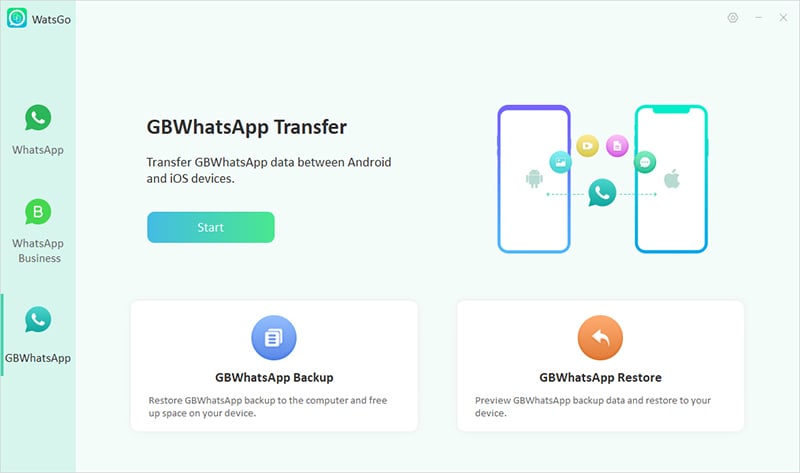 Step 1. Install and launch the iToolab WatsGo, thend click the " GBWhatsApp Transfer to GBWhatsApp" option. Next, connect both your Android devices.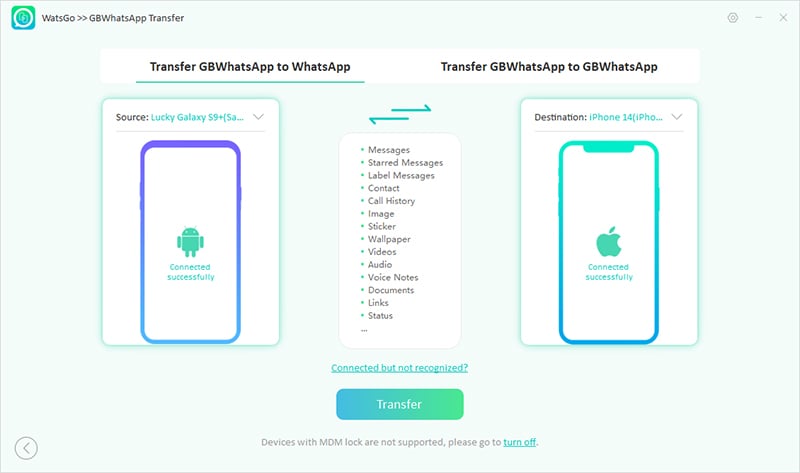 Step 2. Now you're going to choose the data which you want to transfer, such as images, photos, and more.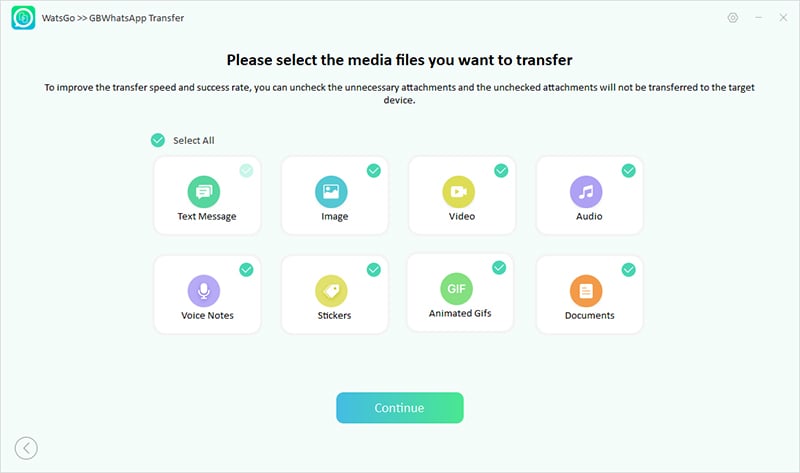 Step 3. Once done, backup the data on the source device and follow the instructions on the screen.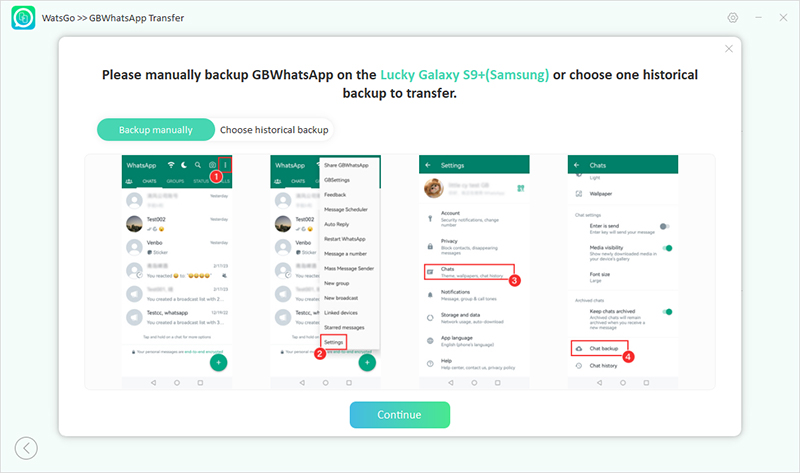 Step 4. Just wait for the program to initiate the transferring process and verify your GBWhatsApp account with phone number text verification.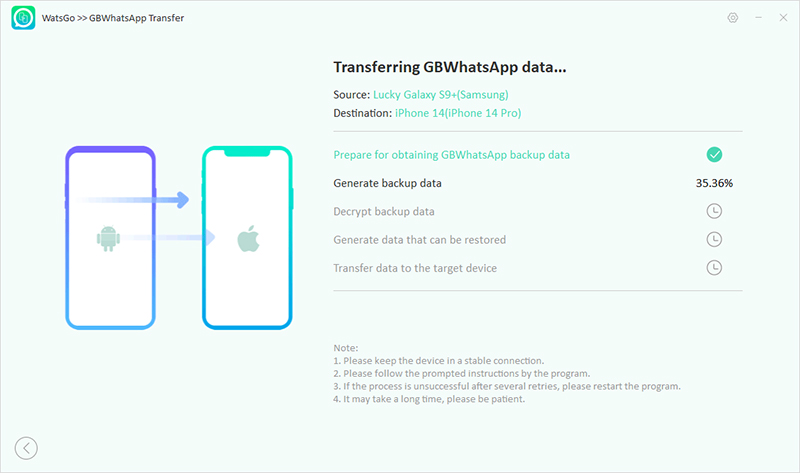 Step 5. Soon the program has restored all the data to the target device.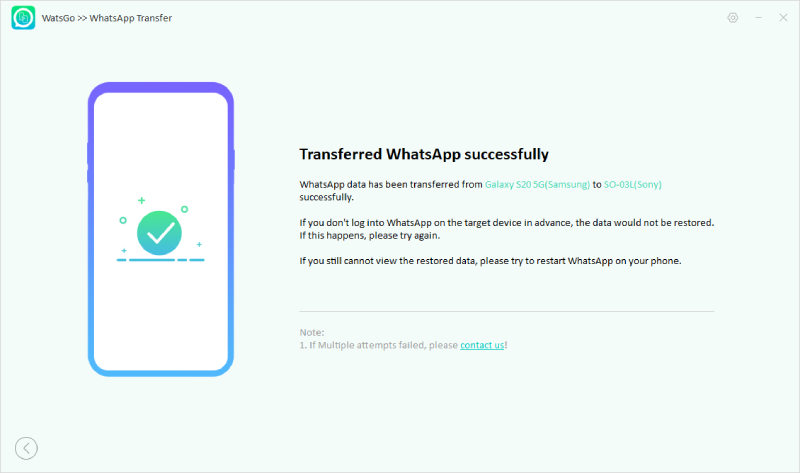 Until now, you've done excellent👍! Don't forget to open GBWhatsApp on your target device to check if all has been migrated successfully.
How to Restore GBWhatsApp Backup to GBWhatsApp Manually?
How do I restore GB WhatsApp to a new phone? If you are planning to purchase a new phone and want to restore it from Android to another new Android, this guide is for you. In this section, we will discuss how to restore the GBWhatsApp backup manually.
First, you have to look for the backup file of GBWhatsApp chats. You can find the backup file in your phone's internal storage in the folder named "GBWhatsApp." Most probably, the name will be "GBWhatsApp backup [Date] [Time].crypt12".
Next, Install GBWhatsApp on your phone; once it is installed, open your GBWhatsApp app and click the three dots menu on the top right side of the screen.
From the menu, choose "Settings" and then hit the "Chats" option.
In the "Chats" section, click on the "Chat Backup" option.
From there, you can see the "Restore" option. Click on "Restore" to start the restoration process.
The GBWhatsApp application will now look for the backup file. If the backup file is available, it will be automatically detected by GBWhatsApp. If not, you can also choose the "Select backup file" option.
Once the backup file is detected, click on "Restore" to start the restoration process. Soon your chats will be restored.
Note: Make sure to use the same phone number which you used for the backup file. Also, if you made any changes to your app's name or the folder, then it will not be detected by GBWhatsApp, so don't make any changes before restoring the file.
Conclusion
So, these are the methods that you can follow to restore GBWhatsApp backup to GBWhatsApp. Remember that it is easy to restore the data, but you have to keep some things in mind, such as your phone number should be the same as the backup, and you must have backup available in the local storage. Apart from that, you can use iToolab WatsGo, which is the best tool for transferring data from one device to another.