The method of restoring WhatsApp backup by uninstalling WhatsApp has been complained about by many WhatsApp users, especially for those who have changed their phone number and verifying the login is a real hassle. So, is there any way to restore WhatsApp backup without uninstalling? The answer is Yes!
From this article, you will learn how to restore WhatsApp local backup without uninstalling from Android and iPhone. Please continue reading the guide below for more information.
How to Restore WhatsApp Backup without Uninstalling on Android
Restoring data by uninstalling WhatsApp is actually restoring data through a local backup. However, there is no official way to restore WhatsApp backups from Google Drive without uninstalling. Luckily, you can still restore WhatsApp backup by using a third-party tool: RecoverGo (WhatsApp) and don't need to reinstall WhatsApp. Please follow the steps below to get started.
Why Can't Restore WhatsApp Backup on Android without Uninstalling Directly?
Because WhatsApp will only show you the RESTORE option when you reinstall WhatsApp. No matter you want to use Google drive backup or local backup to restore WhatsApp, you have to uninstall WhatsApp to get this job done.
How to restore WhatsApp backup without uninstalling on Android
Before you start, download and install RecoverGo (WhatsApp) on your computer.
Step 1. Launch RecoverGo (WhatsApp), select the feature "Recover deleted WhatsApp data from device".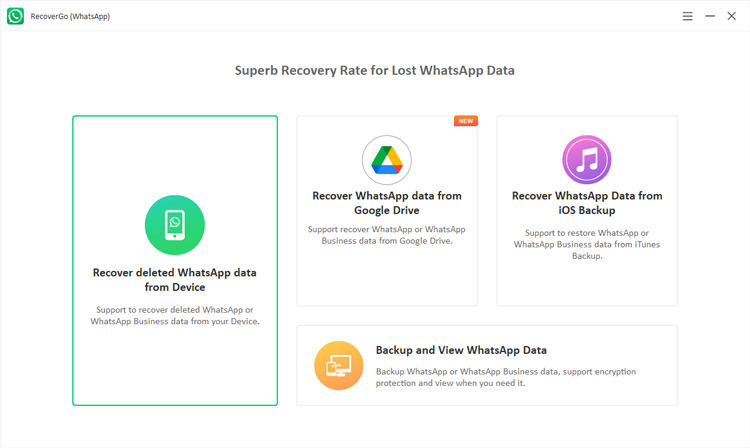 Step 2. Connect Android device to computer with an USB cable, and then select the option "Recover WhatsApp" to move on.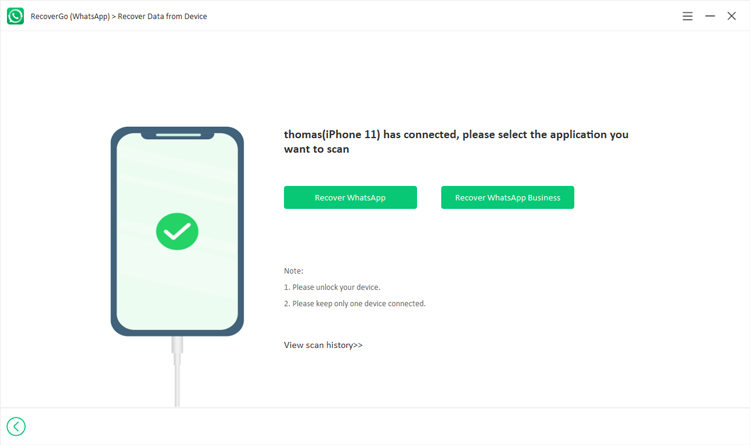 Step 3. Once the scan is complete, you can now select all your WhatsApp messages, including backup files.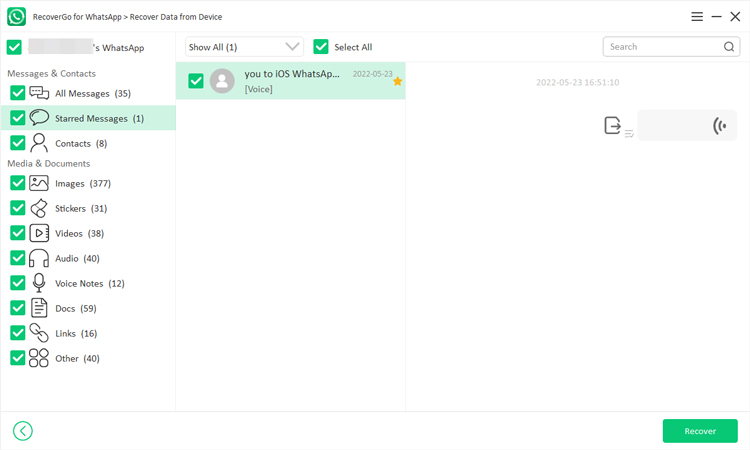 Step 4. Select a path to restore WhatsApp backup to finish the steps.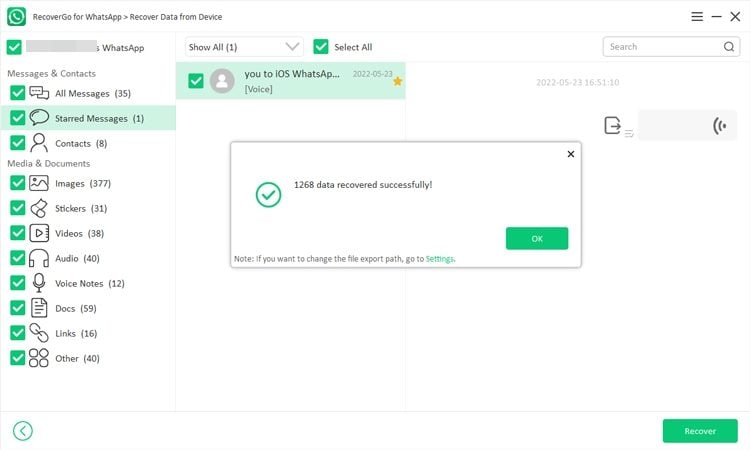 This is a useful way to restore saved WhatsApp backup or deleted WhatsApp backup on Android device. Especially for those who have accidentally deleted their WhatsApp backup, RecoverGo (WhatsApp) will be the best choice.
How to Restore WhatsApp Backup without Uninstalling on iPhone
iTunes is among easy-to-understand methods to restore Whatsapp without uninstalling it on iPhone. This method is preferable if you've already taken the backup of Whatsapp data. Implement the following easy steps to know how to restore Whatsapp backup on iPhone:
Step 1. Connect your iPhone to your computer using the USB cable. The iTunes app will automatically open; if it doesn't, then open it.
Step 2. Now, you need to click on the "Summary" tab on the left side. Then, click on the "Restore Backup" option.
Step 3. Select the most recent Whatsapp backup file. Now, click on the "Restore" button to start restoring Whatsapp. After completing the restoration process, all Whatsapp data will be back on your device.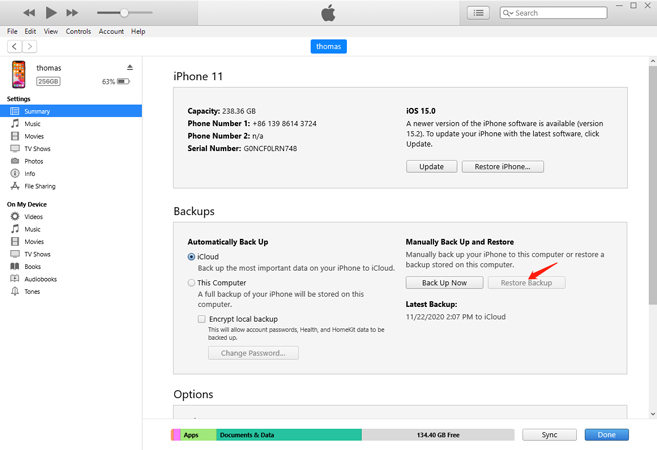 While restoring Whatsapp, you should know the following things:
You won't be able to restore the data selectively as you're unaware of the exact backup file.
Make sure to have a lot of space to make a full backup.
The restoring process will take some time to complete as you deal with full Whatsapp backup.
The backup will overwrite the former data on your device. Therefore, you may lose some data that isn't backed up already.
Conclusion
We've discussed a wide variety of solutions to restore WhatsApp backup without uninstalling. However, there are fewer chances of restoring WhatsApp without uninstalling it. You'll require a third-party tool like RecoverGo (WhatsApp) to restore data. The tool can help you backup, restore, and transfer WhatsApp backup between android and iPhone. If you're an iPhone user and want to know how to restore WhatsApp backup without uninstalling, then iTunes is also a helpful resource to get the job done.