Hello there. I have just learned from a pal that you can also Transfer WhatsApp from Android to iPhone without PC? See I don't have a PC or laptop with me right now and I'm clueless how I can make it happen. Also, if I use a third-party app, will it allow my WhatsApp chats to be transferred too because I don't want my conversations to be left behind so if some tool can make that happen I would call it a day. Please tell me about the easiest ways for Android to iPhone WhatsApp transfer that does not involve a PC. I'd be grateful, thanks."
Hi, well there are some ways that allow WhatsApp to transfer from an Android to an iPhone without involving a PC. We have jotted down some methods that would help you.
Question: Can I Transfer WhatsApp Chats from Android to iPhone without Computer?
Yes, you can transfer WhatsApp messages from Android to iPhone without PC. However, we must also tell you that there isn't an official way to transfer WhatsApp chats due to its high end-to-end encryption so you have to rely on third-party applications to get your WhatsApp conversations from Android to iOS.
Usually, such types of third-party apps are used as PC software but since some users don't have a PC so they can opt for third-party Android apps as well.
Here are the two most convenient apps that can help you transfer your WhatsApp messages from Android to iPhone without the use of a laptop.
The Easiest Way to Transfer WhatsApp from Android to iPhone without PC
As I have mentioned before, the most effective way is to take full advantage of apps from Apple Store or Google Play. Here, I would list 2 of them to show how to realize that.
1. Wutsapper
The best way to perform an Android WhatsApp to iPhone transfer without PC is through the help of a mobile app named Wutsapper.
What is Wutsapper?
It is an Android app that allows you to seamlessly migrate your WhatsApp data across various platforms particularly from Android to iOS and iOS to Android without requiring a PC.
No data is left behind.
You can transfer chat history, videos, images, emoji, attachments, and almost everything.
Easy transfer using USB-OTG adapter.
Supports iOS 9.0 or higher and Android OS 7.0 or higher.
Procedure:
First of all, connect both your Android and iPhone using a USB OTG adapter and authorize it. Once done, click on "Yes, I have an OTG cable."
A backup tutorial video will show on your device, view the video and once you understand it, click on "Completed" to proceed.
Allow parsing to be completed to 100% and then click "Next" to connect iPhone for data transfer
Your data will transfer within a few minutes.
2. WhatsTrans – WhatsApp Transfer
WhatsTrans app also allows WhatsApp transfer from Android to iPhone without PC. It helps you clone your WhatsApp data from one device to the other.
First of all, open the "Switch Phone" app for WhatsApp on both sides.
Select the "WhatsApp data" you want to clone on the "Sender" device and click "Send."
A QR code will be generated on the source phone, you have to scan it on the receiver device through the app.
After scanning, the data will start cloning from source to destination.
WhatsApp Android to iPhone without Computer Using Email Chat
You can also email your WhatsApp chats without using a PC.
Launch WhatsApp and go to the Settings and navigate through the Chats option.
You will find the "Chat History" options. Tap on the "Export Chat" option to send chats through email.
Enter the recipient email and the contact whose chat is going to export. Send it and be done.
I Don't Think This is a Great Idea
The email method for WhatsApp backup from Android to iPhone without computer is a bogus idea because:
❌Chats don't show on WhatsApp.
❌ They become read-only.
❌ They are pretty useless.
If you want to transfer WhatsApp data from your Android to your iPhone without a PC then you can use Android apps like Mobile Trans Whatsuper and WhatsTrans transfer apps. Moreover, you can also use Email transfer as a last resort. However, the email option has many drawbacks and is pretty useless.
Also Read: How to Import WhatsApp Chat from Email
How to Transfer WhatsApp from Android to iPhone Using Computer?
If you think that transferring WhatsApp data from Android to iPhone without a PC is way too complicated for you then we would suggest asking a friend for help and borrowing a PC to perform the actions.
You can use applications like iToolab WatsGo that can transfer both your WhatsApp messages and media from Android to iOS or the other way around. It is fast, easy to use, and requires the least amount of time.
Here is how to use iToolab WatsGo on a Windows PC/Mac:
Step 1: First of all, launch WatsGo software on your PC or Mac. Once you launch it, click on the "WhatsApp Transfer" option to continue.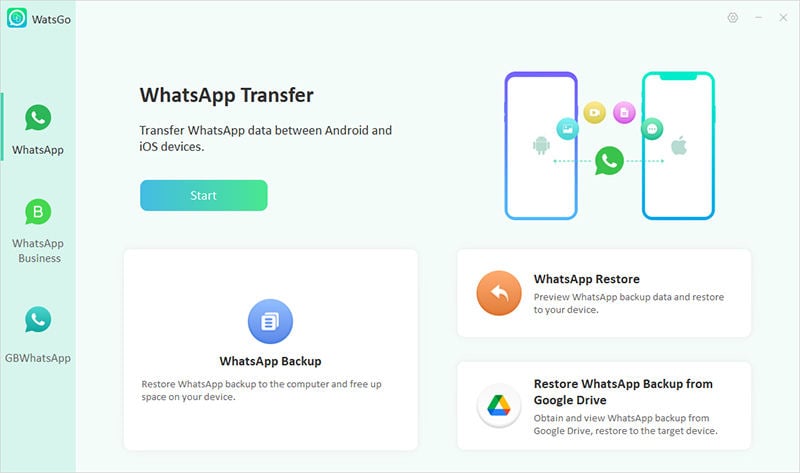 Step 2: Now is the time to connect both source (Android) phone and destination (iPhone) phone to your PC. The tool will start loading the media and chats from WhatsApp from the source phone immediately.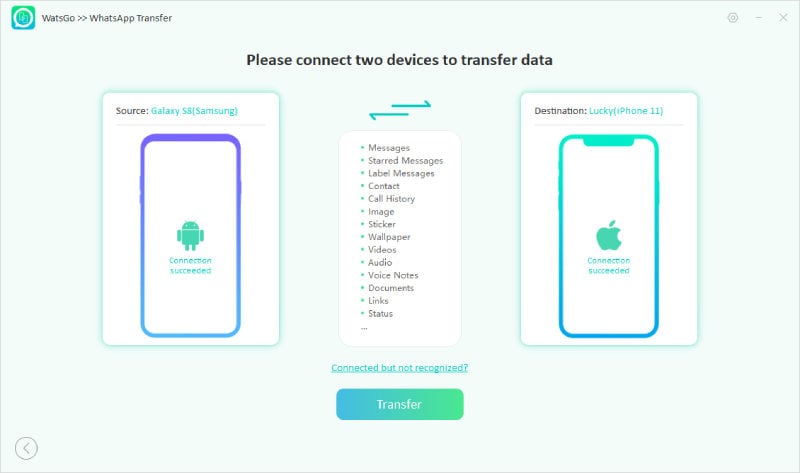 Step 4: Click on the "Transfer" option and wait until all the data is sent to the destination phone. It's better not to move or use your phones during the transfer.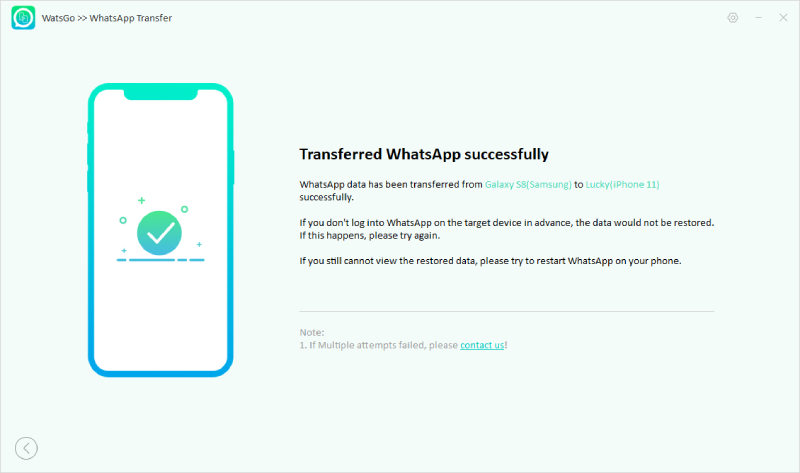 Once the transfer concludes, you will be notified and you can then safely remove both phones and check if you can view the transferred chats on the target device.
Final Words
If you want to transfer WhatsApp messages from Android to iPhone free without PC then this blog is right for you. You can also opt for iToolab WatsGo software for more ease of use and access, which helps you to transfer from iPhone to Android, Android to Android, or iPhone to iPhone.