Based on so many requests, WhatsApp Messenger has now allowed iPhone users to move their chat history to an Android device. One of the major factors that had always served as a stumbling block when trying to achieve this has been the end-to-end encryption feature in WhatsApp. With the recent advancements in technology, you can now transfer WhatsApp from iPhone to Android in an easy, convenient, and reliable way.
Can I Transfer WhatsApp from iPhone to Android?
Of course! As so many users have been trying to find a solution to the common problem of trying to transfer WhatsApp from iPhone to Android for free, so many companies have come up with unique approaches to solve the problem. Among them, the one that stands out is by using iToolab WatsGo, which is a very reliable software that helps users to transfer, backup, and restore data between phones.
Also Read: How to Move WhatsApp Chats from Android to iPhone
[All Phones]How to Transfer WhatsApp from iPhone to Android Using iToolab WatsGo
In a world where users seek how to migrate WhatsApp from iPhone to android, ease of use and reliability are the key features to look out for in the software that will help in achieving that. iToolab WatsGo – WhatsApp Transfer, a software that was built with that in mind. With just a few clicks, you can get your WhatsApp data on the new phone without breaking a sweat.
1. Provides room for backing up and exporting WhatsApp Data to a Computer:
Because WhatsApp might include crucial chats and media files, it's always a good idea to back it up to your computer with WatsGo. The app works on both Android and iPhone, ensuring that you don't lose any important data.
2. Gives you the tools to easily restore the WhatsApp Backups data back to your iPhone/Android:
You may restore WhatsApp data to your phone at any time after backing up your WhatsApp using WatsGo. You may use any device to restore your WhatsApp backup (it could either be the same or an entirely different phone).
3. Allows you to transfer WhatsApp between Android and iPhone with ease:
Are you getting a new iPhone and need to move your WhatsApp conversations over? It's now as simple as swiping your finger to transfer WhatsApp from Android to iPhone. On your new phone, your full WhatsApp chat history will be duplicated and integrated.
The bigggest advantages are as below:
✔ Every WhatsApp data Is transferred & backed Up:
This includes WhatsApp messages, photos, videos, and every other attachment sent or received.
✔ Multi-Device Transfer is supported:
WatsGo can migrate your WhatsApp data across other phones, irrespective of the device operating system they run on because it supports as many devices as possible. It is compatible with all major smartphone brands, such as Apple, Samsung, LG, Motorola, and others.
Steps to Transfer WhatsApp Messages from iPhone to Android
Both WhatsApp conversations and media files may be transferred from iOS to Android and Android to iOS using iToolab WatsGo.
Step 1. On your PC, open iToolab WatsGo. To begin, open the program and pick the "WhatsApp Transfer" option.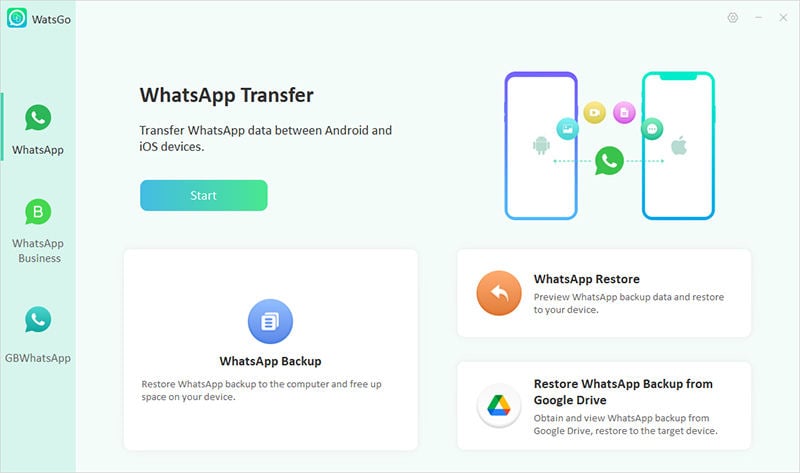 Step 2. Connect your PC to both mobile phones.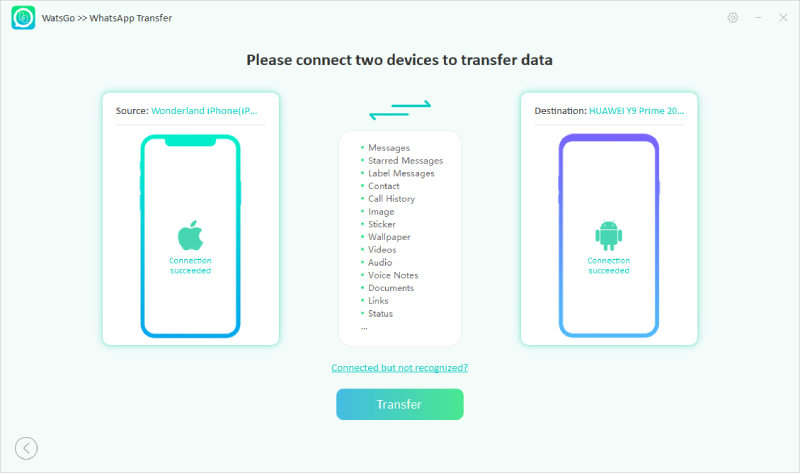 You have the option of flipping the source and destination phones as desired. When you switch from Android to iOS, both messages will be merged.
Step 3. Begin transferring WhatsApp messages. During the transmission, you should not move or operate the phone.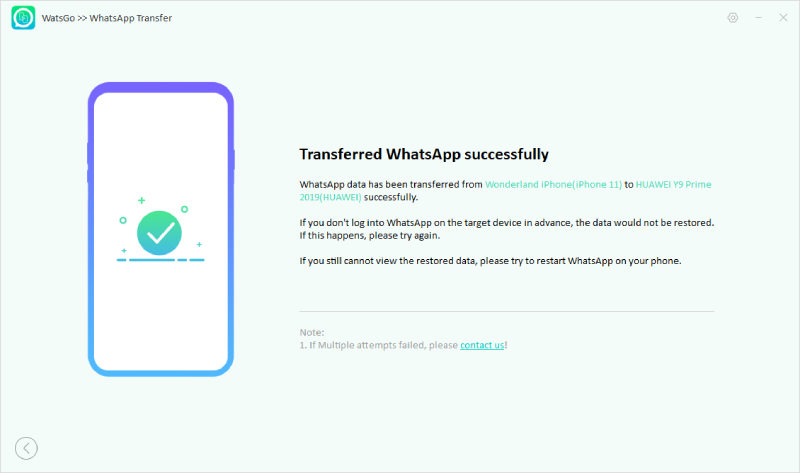 After the transfer process is finished, you may disconnect the phones and verify if you can see the migrated WhatsApp data on the target device when it finishes transferring, as seen in the image below.
[Samsung/Google Pixel Only]How to Transfer WhatsApp from iPhone to Android Using Cable
Way 1. How to Transfer WhatsApp Data from iPhone to Android-Samsung
You may transfer your account data, profile photo, and chat history from individual and group conversations, media, and settings from an iPhone to a Samsung Android smartphone. Your call history and display name are not transferable.
Basic Requirements
Install the Samsung SmartSwitch app version 3.7.22.1 or higher on your new smartphone.
On your old smartphone, install WhatsApp iOS version 2.21.160.17 or above.
On your new smartphone, WhatsApp version 2.21.16.20 or higher is required.
Lightning to USB-C cord (or equivalent adapters).
On the new device, use the same phone number as the previous one.
Your new Android phone or tablet must be brand new or reset to factory defaults.
On your new smartphone, WhatsApp version 2.21.16.20 or higher is required.
Steps to transfer WhatsApp chat from iPhone to Android (Samsung)
When asked, turn on your Samsung and connect it to your iPhone via cable.
Follow along with the Samsung Smart Switch adventure.
Use the iPhone's camera to scan the QR code shown on the new device when requested.
Wait for the procedure to finish after tapping Start on your iPhone.
Proceed with the configuration of your new Samsung.
When you go to the home screen, open WhatsApp and sign in with the same phone number that you used on your previous smartphone.
When prompted, tap Import and wait for the procedure to finish.
After you've finished activating your new device, your messages will be ready for you.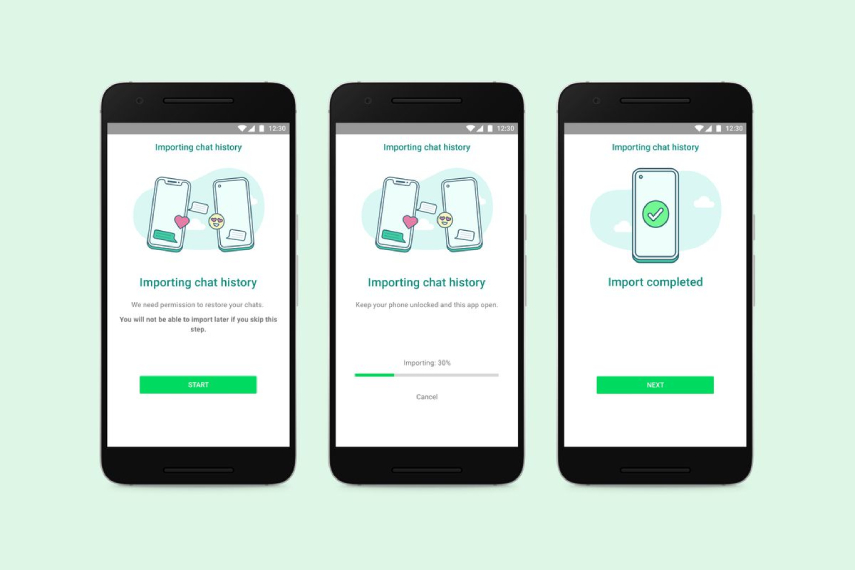 It's crucial to understand that until you erase your previous smartphone or remove WhatsApp, your data will remain on it. You might also wonder how to transfer WhatsApp from Samsung to iPhone.
Way 2. How to Transfer WhatsApp Data from iPhone to Android-Google Pixel
The WhatsApp chat history in iPhones to Android messaging feature is coming to Pixel and all other Android 12 devices, according to Google. With that, you will be able to move WhatsApp from iPhone to android. The functionality is already available on Samsung Galaxy smartphones, however, unlike on Samsung phones, where it is available on devices running Android 10 and higher, it is only available on Android 12 devices in Pixel.
A USB-C to Lightning connector is required to transfer WhatsApp chat history from an iPhone to a compatible Google Pixel smartphone. According to Google, after you set up your Android phone, it will prompt you to scan a QR code using your iPhone to begin the transfer process.
The WatsGo application is the preferred approach. The steps are as outlined above, but here's a quick rundown of everything you'll need to know:
Now, you will see how WhatsApp is transferred.
✅ WatsGo should be downloaded and installed on your PC. Select "WhatsApp Transfer".
✅ Connect your PC to your smartphones. Allow the software to recognize your devices by selecting "Transfer messages from WhatsApp."
✅ The next window will pop up after that.
✅To continue, choose "Start" and then "yes." Connect the devices till the procedure is finished.
Conclusion
The transfer of WhatsApp from iPhone to Android has always been a big issue, especially when we want to achieve it seamlessly and with less stress. WatsGo is an application that was solely built for the purpose of making the transfer, backup and restoring of data between phones a much easier task than it has ever been. Download the WatsGo application today to solve your WhatsApp data transfer problems.