So, have you decided to disable administrator account on Windows 10? 'Cause it means delete spme personal data for this account will be erased.
The integrity of your system's security is reliant on the built-in administrator account on Microsoft, which is frankly why you should delete it and what are the implications if you do. Let us dig more on how to delete/remove administrator account in Windows 10.
What Happens If I Delete Administrator Account Windows 10?
All Microsoft systems will have an administrator account built in by default. Usually, organizations would set a standard password for their administrator account which is used by all other accounts of the domain, which opens up the possibility for a potential security threat.
In order to prevent any security breaches, it is recommended to remove administrator account in Windows 10. It is important to remember that in deleting the account would mean deleting all files, folders and relevant data already saved on your system. Not to worry, you can still back up your data on a different location.
How to Delete Administrator Account without Password
To address the elephant in the room, why would you need a password recovery tool for removing the administrator account on Windows 10? UnlockGo for Windows is a most reliable and versatile password recovery software recommended. It is a one-stop solution that covers all your essential retrieval requires especially for Microsoft Password. These are the steps that you need to follow in order to remove the administrator account in Windows 10.
Step 1: First, you need to download iToolab UnlockGo (Windows) on another PC and launch it after installation. Click on "Start" afterwards.
Step 2: Now, connect a blank USB flash drive or CD to burn it using the software. Once connected, choose it on the screen and click "Next".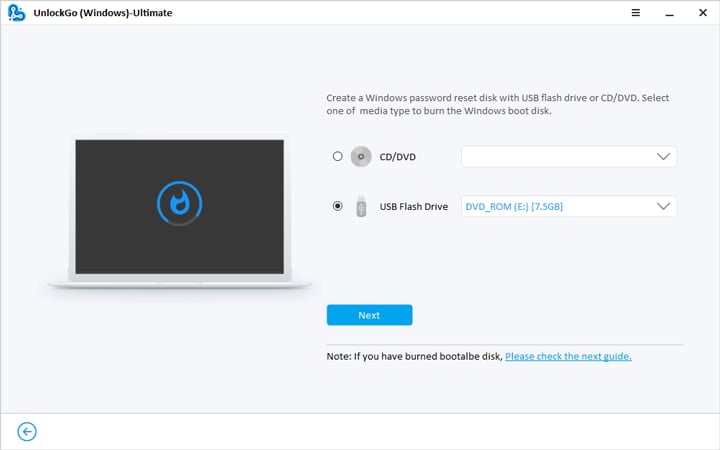 Step 3: The disk will begin to burn now. After it gets done, follow the table on the screen to enter the boot menu according to the laptop you own.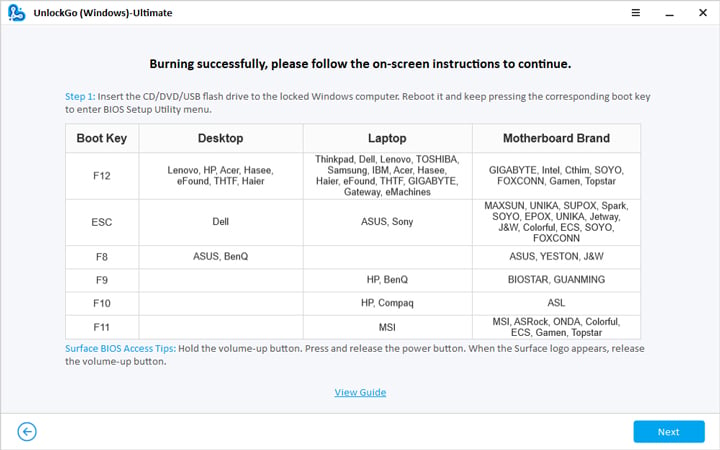 Step 4: After entering the boot menu, use the arrow key to select the "Boot" tab. Select your device and set it as bootable by pressing F10 key.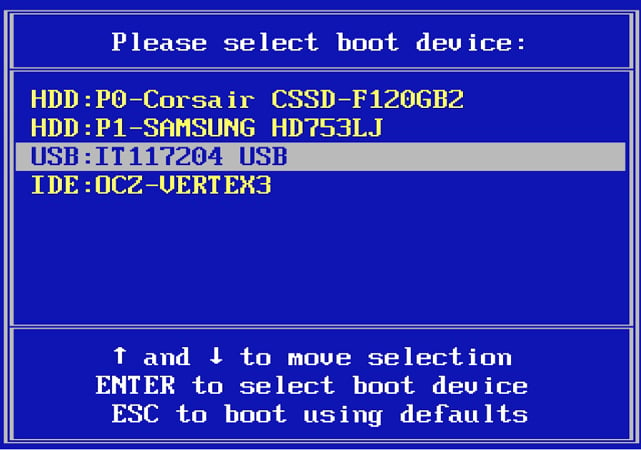 Step 5: Choose the Windows version you are using and then proceed by clicking the "Next" button. Select "Delete Windows Account" from the 4 options given. Click on "Next" and follow the prompts to restart your PC. It will delete administrator account in Windows 10.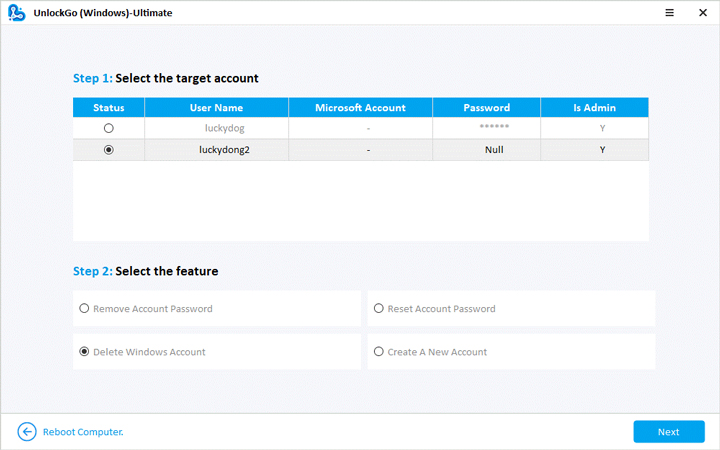 Here you can also create a domain admin account by using this tool.
How to Delete Administrator Account with Password
The other two methods are pretty straight forward with easy to follow steps mentioned in the following;
1. Deleting Administrator Account on Windows from Settings
Click on the "Start", and go to settings.
The Settings panels will open up, select "Accounts" option.
From "Family and other Users" select admin account.
Click "Remove".
Confirm the removal by clicking "Delete account data". After this step, all data is deleted. (Make sure to back up before this step).
2. Deleting Administrator Account on Windows from Control Panel
Open Control Panel from the Windows Search bar.
Change view perspective to small icons. Then, click on User Accounts.
When the window appears to make changes, select "manage another account".
Select the user account you wish to delete. Tap on "Delete the account" link.
Choose whether to "Delete files or keep files".
Also Know: Why I Can't Delete Administrator Account
It is not possible to delete the administrator account from the administrator account. You will need to use another administrator account that has similar administrator privileges. You cannot completely remove the built-in administrator account from your system. You can only disable it or hide it to increase your security.
The need of deleting any account or restrict access to any user may arise, in which case you will need to utilize administrator privileges.
Conclusion
Removing or disabling the built-in administrator account allows you to prevent security breaches into your domain. This prevents your entire network of computer systems from getting compromised. The process of deleting the admin account is very simple, but you do need to remember three things. One, you need your password to remove admin account. If you can't remember the the password, use UnlockGo for Windows. Second, Deleting admin account would result in the deletion of all data, hence back it up in a separate location. Third, You can only disable administrator account using another account with administrator privileges.
Delete Aministrator Account without Password
It can disable admin account without logging into the account.
It can remove the account in 3 steps.
It serves for all Windows versions, not only Windows 10.