When it comes to free Windows password crackers, users usually opt for Ophcrack as it is free and easily available. From the search outcomes to see, they all introduced Ophcrack Live CD, talking about how to crack windows 7/xp/vista passowrd, and have no words about how to crack ophcrack windows 10, 'cause ophcrack live cd can not do it, but with the update of ophcrack 3.8.0, it can be possible crack windows 10 password. The latest version of Ophcrack supports Windows 2000, XP, Vista, 7, 8 and 10. Ophcrack Live CD is available for Windows XP and Vista/7. As for Ophcrack Windows 11, maybe we should wait for updating.
In this Ophcrack guide, we will help you to understand the tool and also offer some great Ophcrack alternative that are way better and easier to use. Due to the highest success rate, the main focus will be revealing the power of UnlockGo (Windows) a password cracker tool. If you are interested in finding more ways to bypass Windows security, stay with us.
Ophcrack Windows Password Recovery Tool Free Download
With the latest versions of Windows, Ophcrack is also introducing newer versions. For successful attempts, you need to download the latest version only. Many sites keep uploading the old versions that don't work for Windows 10 or the later versions. Before you download Ophcrack for your PC or laptop, here are a few things that you need to know about this Windows password cracking tool.
1. What is Ophcrack and how does it work?
Ophcrack is a known tool used for password cracking for different versions of Windows. Even for a strong password, with the combination of special characters, numbers and words, this tool works fine. The best thing is the free availability of the tool, and the other major thing is the intelligent algorithm that is known as rainbow tables.
Any other brute force password cracking algorithm will try all the possible combinations, but this process will take hours. In rainbow tables, the Ophcrack tool reduces the processing time by comparing the possible hashes against millions of pre-loaded passwords. In simple ways, the background process for password matching is already done in the background. You can Download Ophcrack here. You will know that ophcrack can crack windows 10 password.
2. Is Ophcrack Free and Safe to Use?
This tool is available free of cost, and the smart algorithm makes it safe to use to crack Windows 10 password Ophcrack. Like any other tool, there are some errors, but it gets the job done. Some of the pros and cons include:
| Ophcrack Pros | Ophcrack Cons |
| --- | --- |
| It is a free password recovery tool | Only passwords less than 14 characters can be recovered |
| Users can recover passwords without providing any details of the previous password | Does not work for Windows 8 and later versions |
| Password recovery time is pretty impressive due to the rainbow tables | Installation and usage are pretty complex |
How to Use Ophcrack to Crack Windows Password
If you have forgotten your Windows 10 or Windows 11 password, Ophcrack may be helpful, but you will have to give it a try. As this is a free tool, you may face some errors, and there is no guarantee for the successful recovery of the password. Here is how to use Ophcrack on Windows 10.
Step 1: Download ISO Files.
Before starting the password recovery process, the user needs to have access to an unlocked computer where he can download and install the Ophcrack ISO file. The latest version of the file can be downloaded from the official Ophcrack website.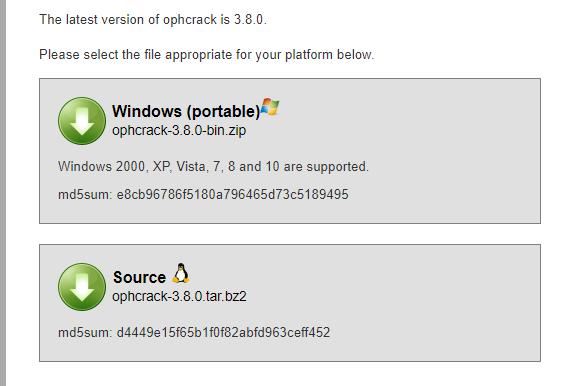 Step 2: Burn ISO File.
The home page will display different downloadable files, and you need to choose 'Ophcrack Live CD', after that, you need to use a burning tool, and Rufus is the right choice for that purpose. To burn the file to the USB, you need to insert the USB to the computer>> upload ISO file>> burn the file.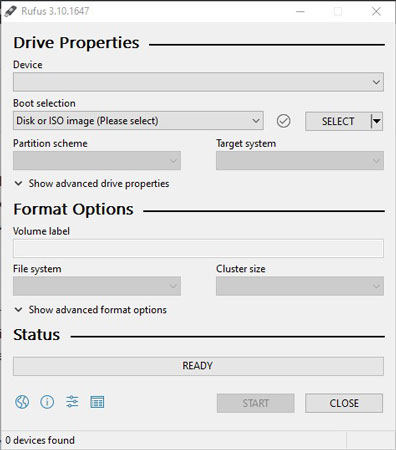 Step 3: Insert USB into the Locked Computer.
After successful burning, insert the USB into the locked computer and make sure that the USB has the priority in the boot order. Restart your computer and then proceed further and choose the default 'Ophcrack Graphic Mode-automatic' option.
Step 4: Ophcrack Password Recovery Process.
After the selections, the Ophcrack password recovery process will start, and it will take a few minutes. In a moment, the tool will show you a list of user accounts on the computer and their passwords. The possible password for your computer will be displayed in the NT Password section.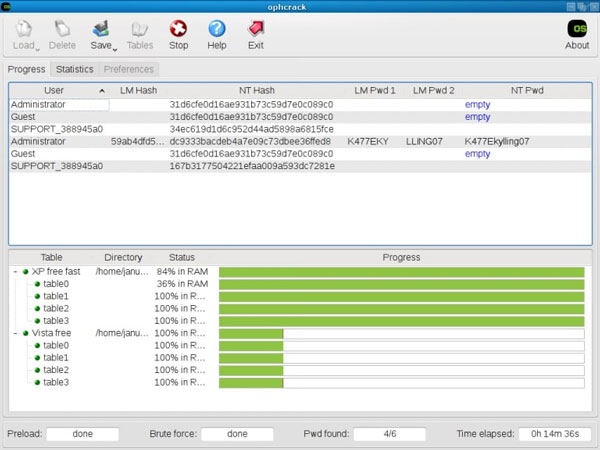 Step 5: Successful Password Recovery.
Now, note down the cracked password and restart your computer. Upon the restart, use that recovered password to access your computer.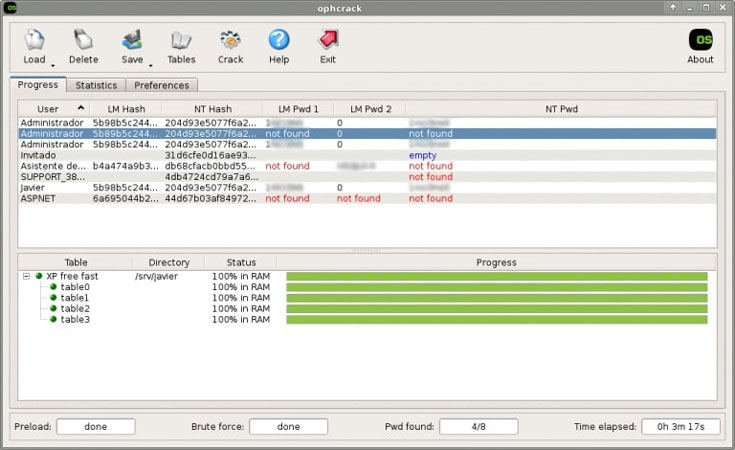 Ophcrack Alternative Password Recovery Software Free Download  
If you don't want to get involved with a complicated burning process or want a security tool with the highest success rate, UnlockGo – Windows Password Recovery is your perfect pick. After the new updates in Windows 11, the chances of password recovery with Ophcrack are pretty thin. UnlockGo for windows is a trusted Ophcrack alternative to Windows 11, and here is how it competes with Ophcrack:
| UnlockGo | Ophcrack |
| --- | --- |
| The premium tool with the highest success rate | Free password recovery tool with some errors |
| Works fine for Windows 10 and Windows 11 | Does not work for more than 14 characters password |
| Offers different options for complex passwords too | It is not work for Windows 11 |
| Offers great support for other Windows locks too | Only works fine with old versions of Windows |
If you don't want to waste any more time with outdated tools and password recovery products, follow these steps to recover and bypass Windows passwords with UnlockGo:
📌 1. Create Password Reset Disk.
You can do this process with the help of any other computer where UnlockGo is installed. The process is quite easy and does not require the use of an external tool. You just need to insert a USB or disk into the computer, choose the device and start burning the USB or disk.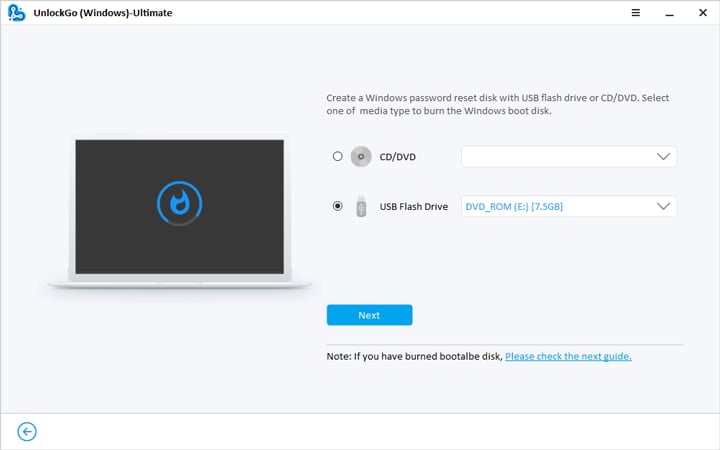 📌 2. Boot Locked Computer from Burned USB.
Now, enter the burned USB to the locked computer and restart the computer to set the boot order and then save changes and restart the computer again to boot burned USB.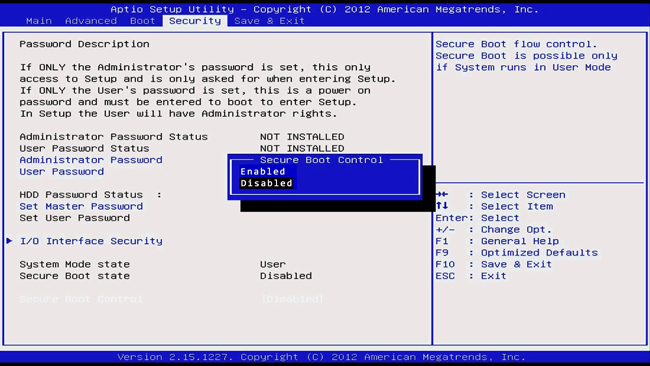 📌 3. Reset Password with UnlockGo (Windows).
Upon successful boot, you will be displayed a new window with different versions of Windows, and you can choose the right version. And then you can choose target account to reset or remove password.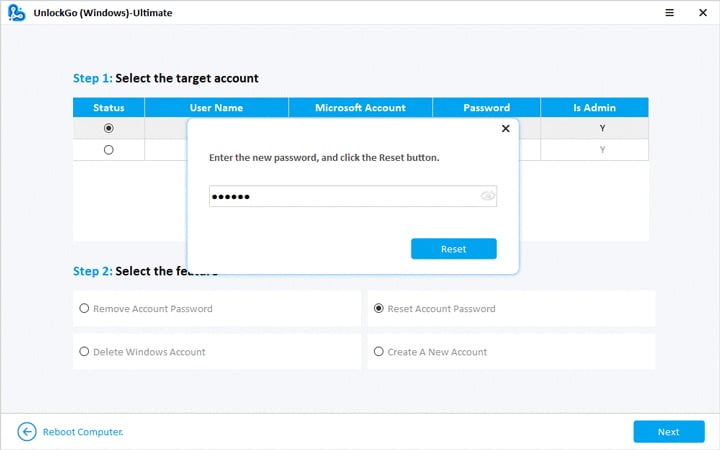 After this, a new password will be used to access the computer, and the old one will be removed without causing any issue.
Bottom Line
Ophcrack may work for you, but the chances are pretty thin. Although the tool is free, the success rate is not impressive. On the other hand, UnlockGo for windows is a smooth experience and offers the best results. Try the free trial or UnlockGo for windows and upgrade to the premium version whenever you want.