Admin account is a very important account in Windows system, it can manage the User account and guest account. If you enabled Admin account and forgot the password, it can be a real hassle. However, this is not an insurmountable matter. In this article, we will show you 4 easy ways to reset Admin password on Windows 10 with/without admin rights. No more words, let's get into the solutions!
Windows 10 Admin Password Reset USB Free Download
In order to know how to reset your admin password on Windows 10 there are multiple ways to do so, but we prefer the most efficient method to do it. Introducing iToolab UnkockGo – Windows Password Recvovery which is by far the simplest method!
If you need the password but not your current one, you can simply reset it for a new one.
Reset Administrator Password without Login Screen Password and Admin Rights
Reset local admin password for any Windows 10 device.
Reset any local admin, guest account or even Domain Admin password for a Windows 10 device.
Reset your Microsoft account password.
Create your own bootable CD-ROM, USB Flash Drive, or use an ISO image file to reset your password.
Here is how you can reset password.
Step 1. Launch iToolab UnlockGo (Windows) on another computer, next click "Start" button to move on.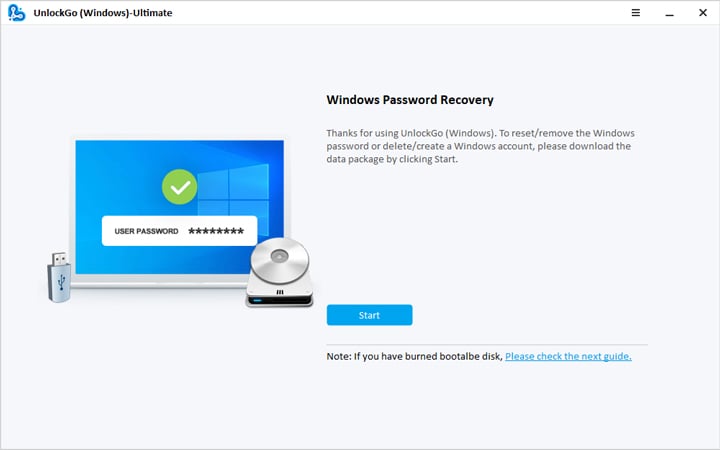 Step 2. Insert an USB flash drive or CD and select the media type, click "Next" to burn password reset disk.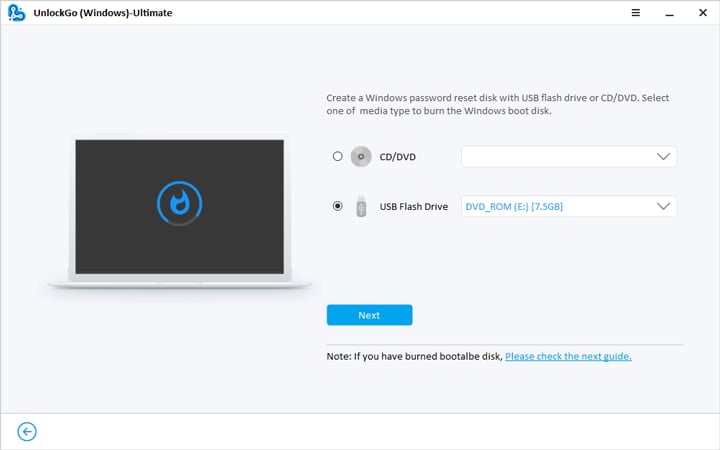 Step 3. Once done, you need to follow the on-screen steps to reboot your locked computer into boot menu.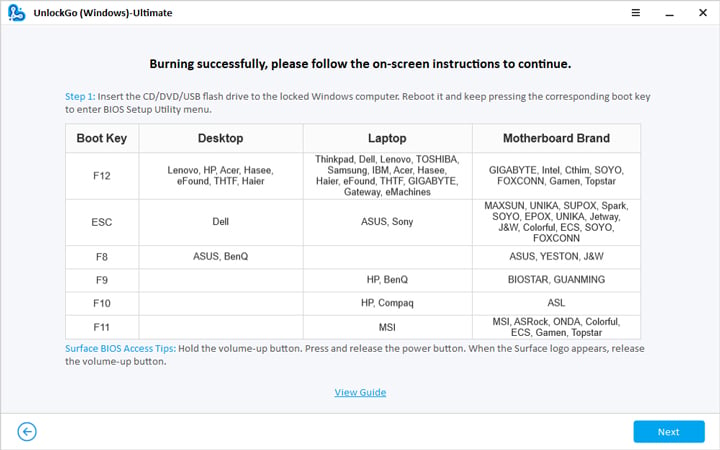 Step 4. In boot menu screen, use arrow keys to select your disk name and press F10 save and exit. And your computer will reboot.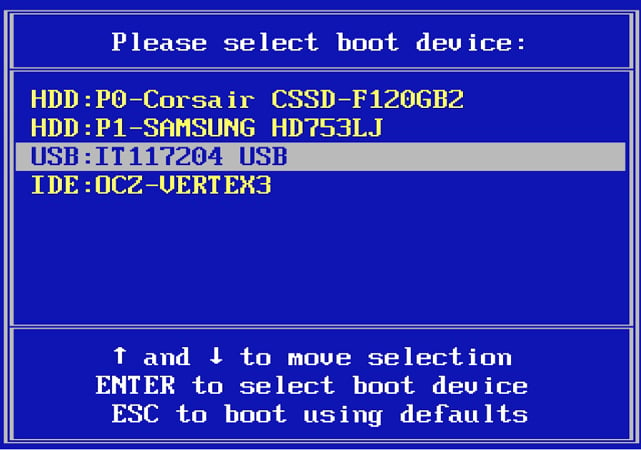 Step 5. In the following screen, select your Windows system and click "Next".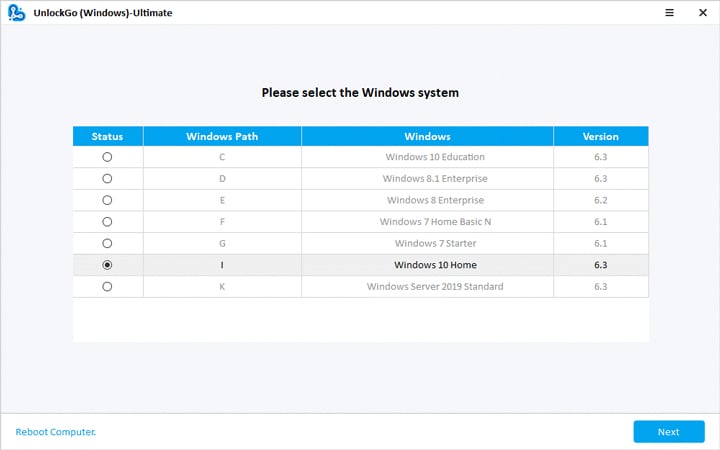 Step 6. Now, select your locked Admin account and click "Reset Account Password" to change the password.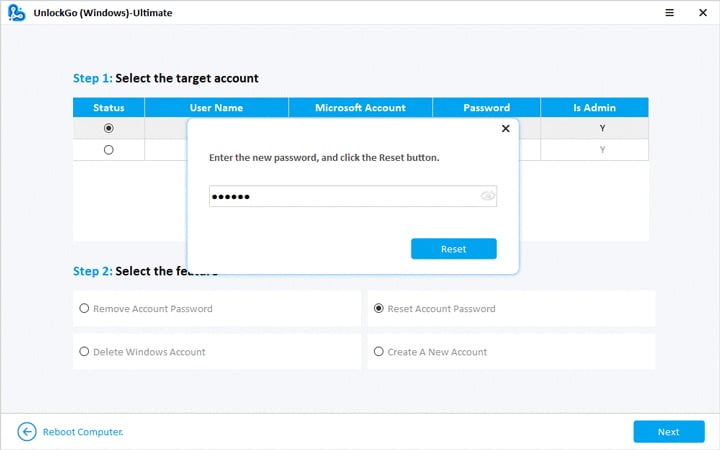 Reset Admin Password Windows 10 CMD
In case you don't want the trouble to install an external software or tool, you can also use the command prompt to reset Windows 10 admin password. You can do it without using your graphical user interface, all you'll need is your command prompt. But you don't need to fret if you don't know how to do it, that's why we have our simple steps below to help you out:
Use the Windows+X keys on your keyboard together.
In the menu select Command Prompt Admin.
In the User Account Control dialog box, give the permission as administrator.
Type whoami to get the user that is logged in. After that type in the net user command with the current username. For your convenience, use the command in the format to reset your password: net user username password. For example: net user shivani abc

If you want to create a new admin account with a new password enter the command:
net user <username> /add
net localgroup administrators <username> /add
Note: This is one of the easiest ways to reset your admin password for a Windows 10 account, only when you are already logged in.
Reset Local Admin Password Windows 10 without Admin Rights
Now if you've come so far and are not able to reset your password even with the steps above, there are still ways to do so. You can remove the admin password completely by settings or logging in with another admin account. Here is how you can simply factory reset admin password on windows 10. Or you can change the type of user account you're logged into, for that follow the steps below:
Go to "Start" menu and open "Control Panel".
Search for "User Accounts".
Select the account you want to reset the password for and go to "Change Password".
Now enter the password twice and Reboot your device.
Note:This is a quick and safe way if you can get your another accessible computer, then you can reset the password, in case you forgot it again, you can set some security questions like your father's name, your birthday, and the first school day date……
Reset Administrator Password on Windows 10 with Microsoft Account
In case you forget your administrator account password but you have a Microsoft account, you're in luck. Try and check if you're not able to login via all devices due to external errors. And if so, you should be able to login on to other devices.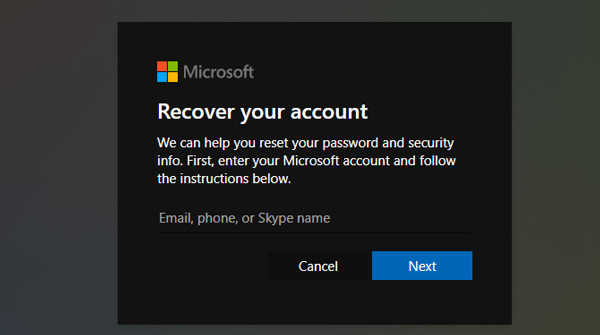 If not, go to the Microsoft Reset password page. You'll be asked questions depending on the details you've filled in whilst making your Microsoft account. You'll be at ease if you have a recovery email address or a recovery phone number but would be difficult without those. With this, you can reset the local admin password on Windows 10.
Note: This is online way for you to reset windows 10 password, 'cause windows 10 Microsoft account has stored your previous password so you can change it.
Conclusion
This is how to reset your admin password for any Windows 10 account. You can use iToolab UnlockGo (Windows) as a quick tool to reset the administrator password on Windows 10. Or else you can change the type of account you're using and factory reset your administrator password. If at any point in time you feel that you're stuck feel free to reach out to us for more information.