Capturing life's greatest moments in video and saving them to mobile phones allows people to revisit them later. Mostly, people take backup of all their data to use when needed. You may get depressed when you lose these videos.
In this blog, we'll be defining various official methods describing reliable solutions for video recovery. Here are the best Android apps for recovering deleted videos. The RecoverGo for Android app is a great solution for those situations when official methods don't work, therefore we created it.
3 Deleted Video Recovery App for Android Worth Trying in 2023
The blog is specially crafted to help people in restoring their deleted videos. This section will enlist the deleted video recovery app for android, you can choose one to get back your videos.
1. Dumpster
The Dumpster app is an easy-to-use app with amazing functionality to restore your photos and videos from your android device. The app allows users to instantly restore their deleted videos. The best part about this app is that you don't need an internet connection to search for your lost media. Moreover, you don't have to root your device for this purpose. Additionally, the app allows users to use reliable cloud storage to take backup of their videos and photos.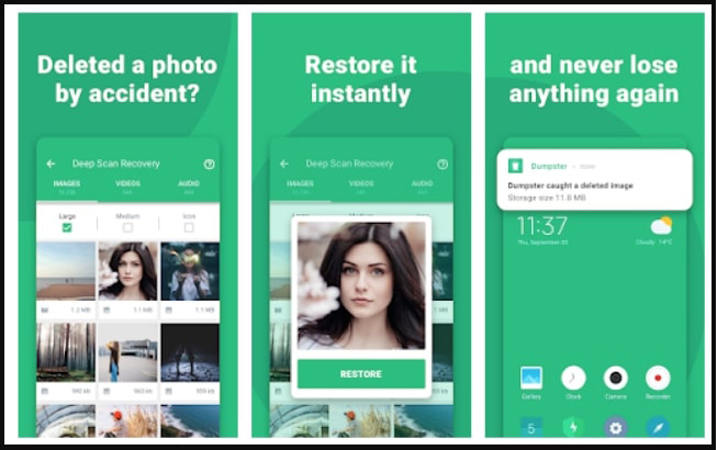 Pros:
Quick and easy way to restore video
Recover deleted files and data
Easy to use interface
Safe and secure
Cons:
The app is not free
The results aren't up to the mark
2. iToolab RecoverGo (Android)
RecoverGo (Android) is among the top third-party tools that allow users to recover deleted photos and videos on their android. This delete video recovery app free download can be used only on the computer. You just need to connect your Android phone to your computer and follow on-screen instructions to ease yourself. The tool is beneficial for people who lose their contacts and other important data every month.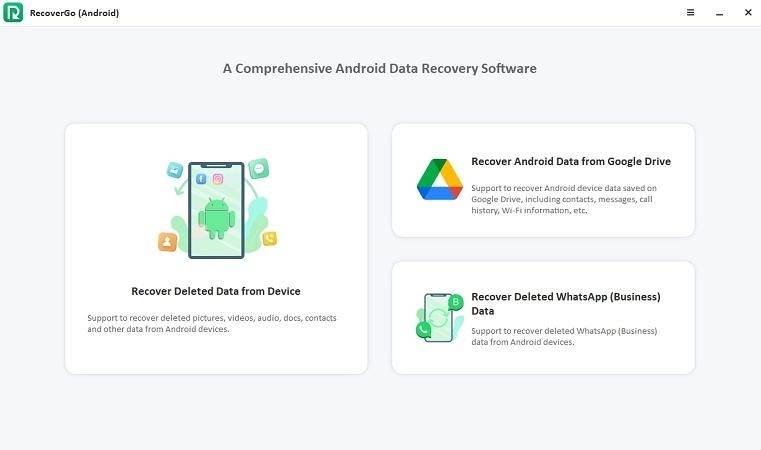 Pros:
Easy to use
Recover deleted files and folders within a few easy steps
A reliable tool to restore any type of data
Cons:
It's a paid tool.
You need a computer to recover data
3. DiskDigger Photo Recovery
The DiskDigger Photo Recovery tool recovers data by accessing the central directory of your storage device. The app recovers data by extracting data from distorted disk drives. The tool is beneficial for people who've got a different kind of data to restore. This best video recovery app for android without root scans the entire storage rather than scanning a particular folder for searching lost data.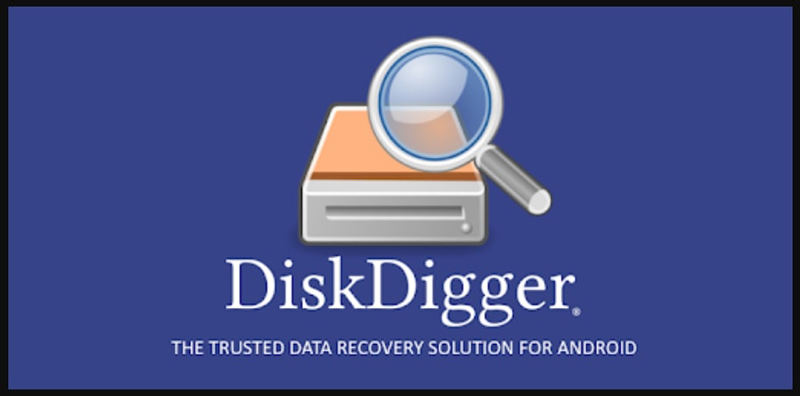 Pros:
Retrieves almost all types of data
Works best on an external hard drive or SD card.
Works best if your phone isn't rooted.
Cons:
Takes more time to recover.
You cannot scan a single folder.
You can't find unsupported file types.
Other 7 Deleted Video Recovery App for Android You Can Also Try
1. Undelete Recover Files & Data
How to recover deleted videos from phone memory? Do you've similar questions in your mind? Undelete Recover Files & Data app is the answer, it scans and recovers deleted files from both internal and external storage devices.
To scan and recover your photographs and videos, you don't need to root your phone. Almost all file types are supported by the application. If you're thinking "how to restore deleted videos from phone memory," the software can quickly assist you in finding a solution.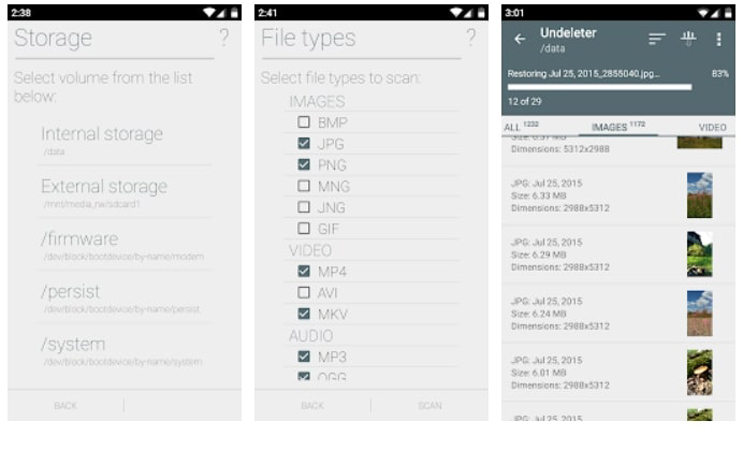 Pros:
Easy to use interface.
Recovers deleted files with ease.
Fast data recovery app.
Cons:
May not recover all files.
No information about file quality.
2. Disk Video Recovery Pro
Android users can utilise the Disk Video Recovery Pro to recover files that have been wiped from the internal storage of their phones and tablets. Video and photo recovery are two of the most common uses for this programme. Furthermore, it's an internet resource that's completely free to use. You don't need any technical skills to use it, and it can handle a wide range of formats.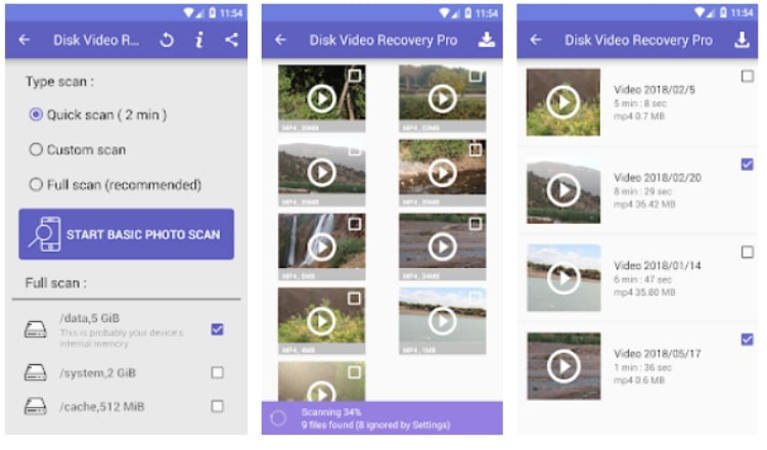 Pros:
Easy to use and free
Doesn't need a PC for recovery
Saves and restores videos easily
Cons:
not available on Mac
low data recovery rate
no free version
3. Deleted Video Recovery
Like other tools, Deleted Video Recovery can assist you in recovering deleted videos from your Android device. This online video recovery tool can assist you in restoring your data from your phone's storage. It's quick and has a simple user interface. To recover lost data, the tool is both safe and dependable.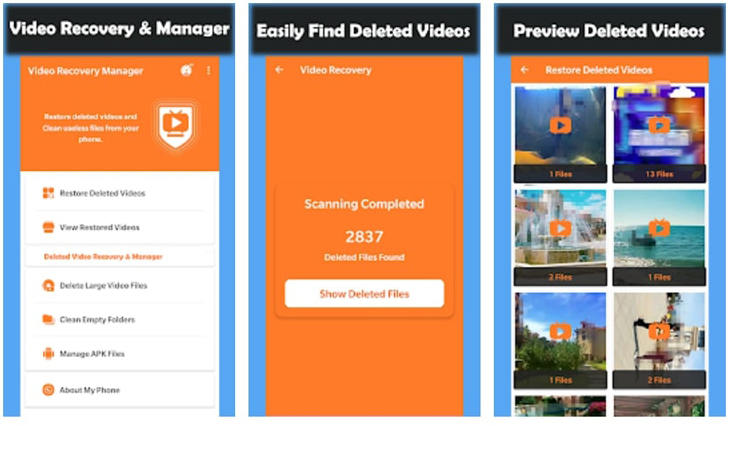 Pros:
Easy to restore data from phone internal storage
Fast and safe
Good User interface
Cons:
Scanning takes more time
Users need to download videos
4. DigDeep
Dig deep is a powerful data recovery tool that searches your phone's internal storage and SD card for deleted files. This deleted video recovery app for Android is capable of recovering permanently deleted files in a few simple steps. This app does not require any technical knowledge to use. It is quick and dependable for the important data recovery process.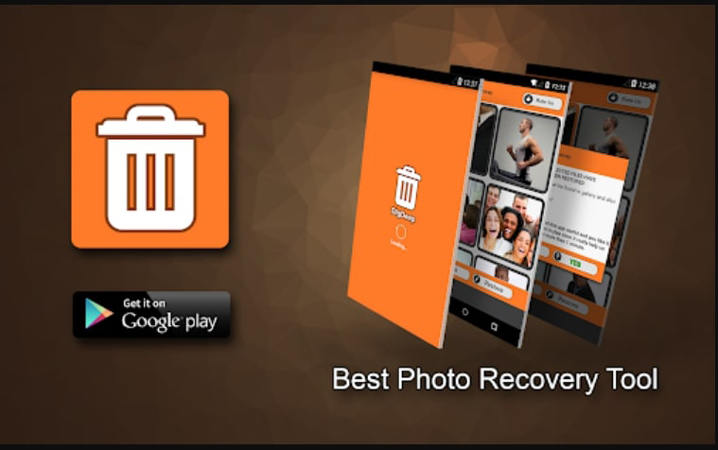 Pros:
Scans both internal and external memory
Easy to use UI Design
Fast, safe, and reliable
Cons:
There is no Select All option.
A lot of advertisements.
5. RecycleMaster
If you have recently accidentally deleted videos, photos, or other important data, the Recycle Master app can assist you. You can recover the most commonly used data types using this app. The data recovery app scans your device for deleted files and locates them wherever they may be. The auto-clean feature is fantastic because it does not wait for you to command it.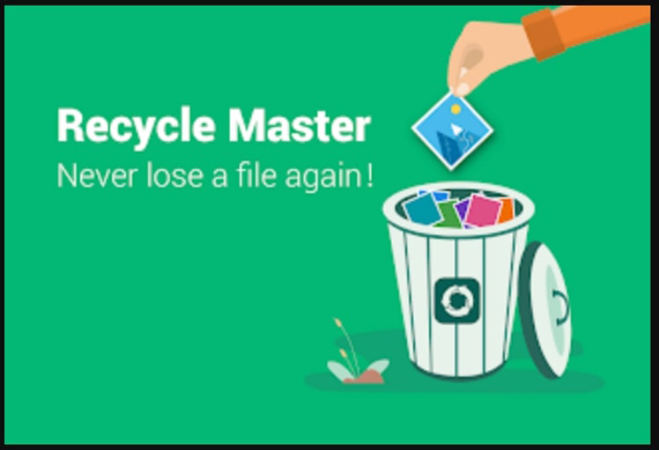 Pros:
Automatic Backup.
Fast and secure.
Automatically cleans junk files.
Cons:
Bad customer support.
Automatic backup and retrieval aren't loved by many users.
6. iLove Video Recovery
Most people accidentally delete the files and folder and they start wondering, what is the best-deleted videos recovery app for android. The iLove Video Recovery app may be an appropriate answer to their questions. The professional tool can recover deleted files and folders in their original quality. It is capable of recovering almost any type of data.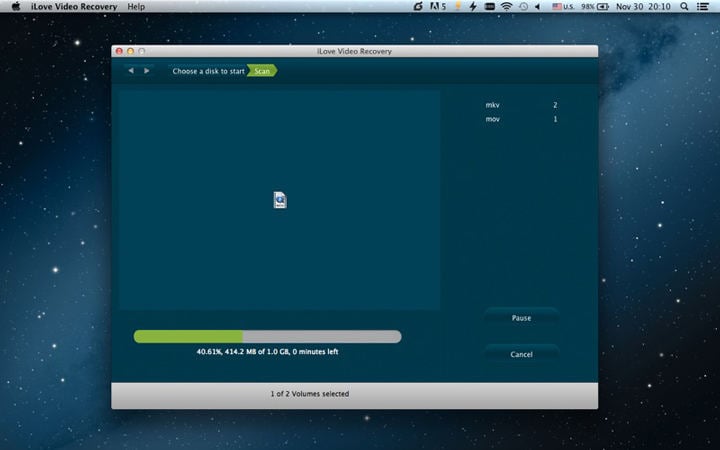 Pros:
The recovery rate is good.
Supports almost all data types.
Cons:
Can restore videos only from Disk Image (.dmg).
7. EaseUs MobiSaver
EaseUS MobiSaver is a well-known data recovery solution that has the ability to recover almost any type of data. Most importantly, WhatsApp messages and conversations can be restored from both internal and external device storage. Its purpose is to scan your device and significantly improve its performance.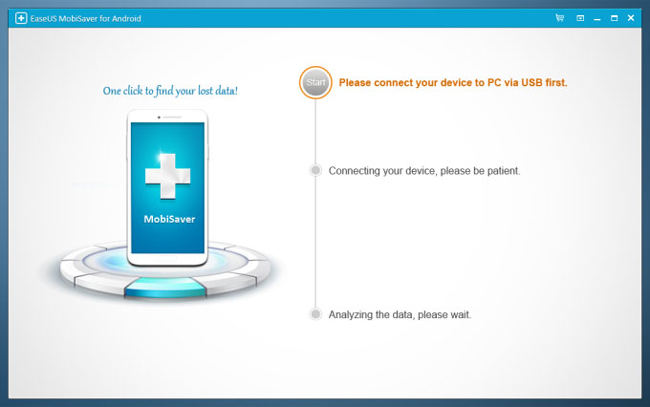 Pros:
High success rate.
Supports different data types.
Intuitive interface.
Cons:
Limitations in the free version.
No technical support in the free version.
Summary
You may find it difficult to recover deleted videos on your Android phone because there is no official method for doing so. You can only do it by searching for a deleted video recovery app for Android. We've reviewed several apps that are best for video recovery on Android to assist you. RecoverGo (Android) is the best option if you want to easily restore all types of data.