"Can you recover deleted data on an LG phone?"
Ever wondered how to do LG data recovery if something goes wrong? We hope you never have to face any such situation ever again. However, if any of your friends are going through this, it will become hard for them to access the data like pictures and videos.
Worse can happen when there are some important office contacts and texts that you can't view anymore because of accidental deletion.
No, you don't have to be panicked in all these cases. Instead, you have to learn the process of LG phone data recoveryto recover all the inaccessible data. It would be simple if you were using the right tool and following the correct steps, which we are going to share here.
Part 1: LG Data Recovery Using LG Backup
LG smartphones are preloaded with the LG backup service that keeps a regular backup of your phone data, including pictures, videos, messages, contacts, and everything else. If the LG backup is enabled, you can easily recover deleted contacts on LG phone and any other data.
To activate it, you have to tap on "Apps" > "Settings" > "General" > "Backup & Reset" > "LG Backup" > "Backup & Restore" > "Back up data".
If you have already enabled it, then you can restore the backed up data using the following steps:
Go to "Apps" > "Settings" > "General" > "Backup & Reset" > "LG Backup" > "Backup & Restore".
After that, choose "Restore from backup". Tap on the arrow to get a list of LG phone data and files.
From the list, check the files you are interested in restoring.
Tap on "Next" to proceed further.
Tap "Ok" to initiate the LG data recovery process. Once it is complete, press the "Done" button and restart your phone.
Part 2: LG Data Recovery without Computer
Instead of LG Backup, you can also use LG Bridge if your phone is not working properly. It's the official software offered by LG to backup and restore files. You can also use it to transfer files between your computer and LG phone, backup your phone, or update it.
If you've ever taken a backup of your text messages in your LG stylo 5/6 model, you can recover them quickly using LG bridge. Thus, it offers one of the best solutions when it comes to LG data recovery and recovering deleted text messages LG Stylo 5.
Connect your LG G6/G5/G4/G3 to your computer.
Run LG bridge on your computer.
Wait for the software to identify your device.
Hit the "Restore" tab to begin the scanning of the backup file.
At the end, select the files that you want to restore on the LG phone.
Part 3: LG Data Recovery without Backup
As you can see, both of the above options require you to have a backup of your phone first before you can start LG data recovery. What should you do if you do not have a backup of your phone? This is a difficult situation that you can handle only by using a professionalLG data recoverysoftware like iToolab RecoverGo (Android). It works best for recovering deleted photos, messages, and contacts from an LG phone.
This software is capable of recovering deleted photos, contacts, call logs, and 11+ other file types from any Android device. In fact, you can restore messages even when the display is damaged, the system has crashed, and so on. Thus, it works in all different scenarios to find and restore data without having the backup.
Guide to Recover LG Data Without Backup
Step 1: Connect the Device
First, install the RecoverGo for Android application on your PC or Mac, and then connect your device to the computer using a USB cable. After connecting, choose "Recover Deleted Data from Device".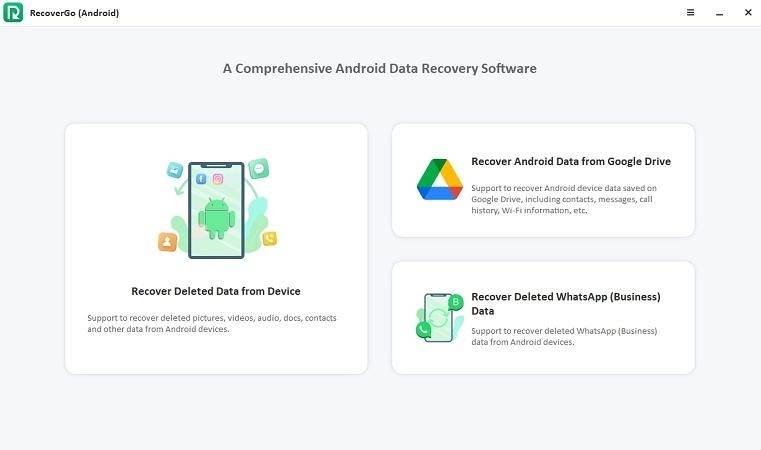 Step 2: Scan Your Device
Now, you will see the supported file types that you have to select and click the "Scan" button. By default, the software selects all of them.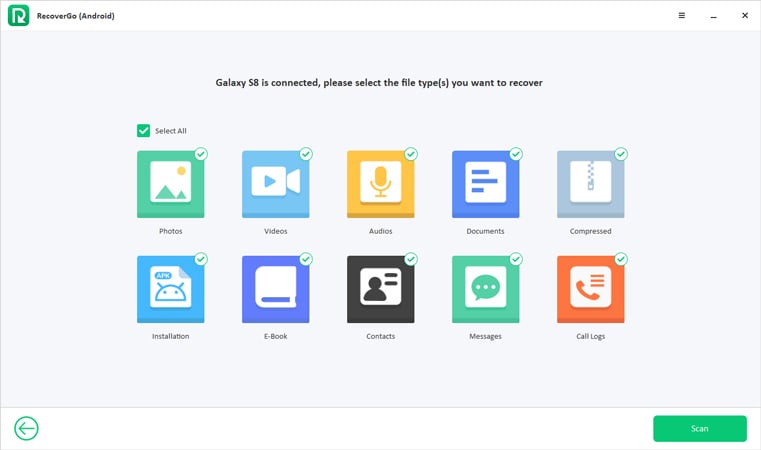 Step 3: Turn on USB Debugging Mode
Follow the on-screen steps to put your Android device into the USB Debugging mode. Select the file types that you want to scan again. Be patient for the scanning process to finish and kindly leave your phone in the unlocked state.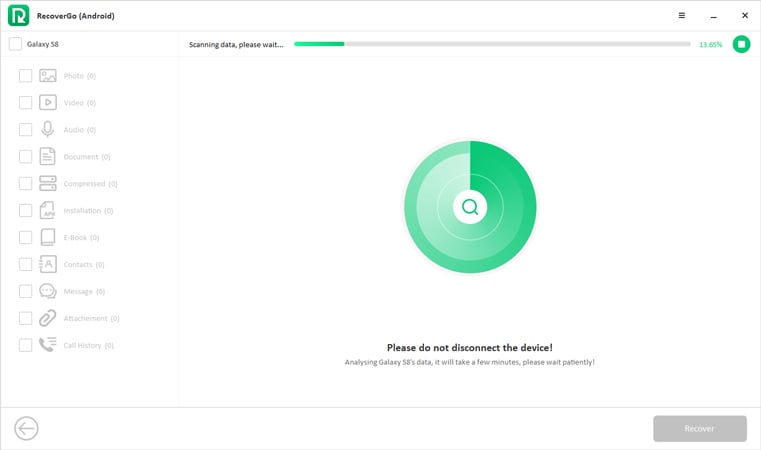 Step 4: Recover Files
Find the data you want to recover in the directories. Click on the device name to select all the files, or choose one by one. After you're done with this, click on the "Recover" button to restore the files to your computer.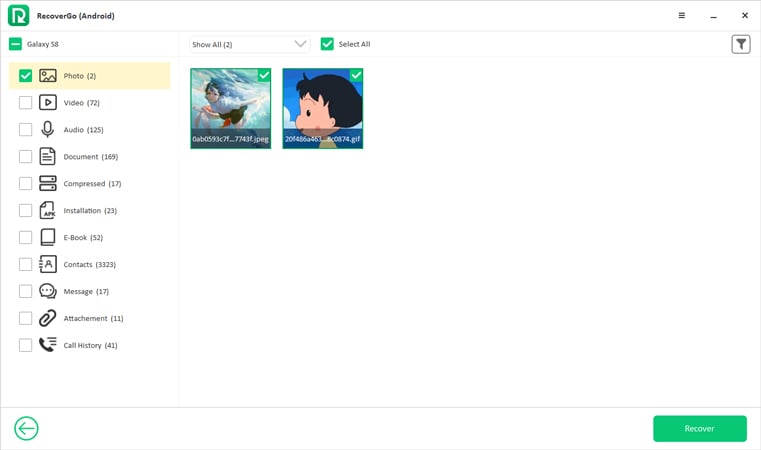 FAQs
Q1: How do I retrieve deleted pictures from my LG Android?
If you have accidentally deleted some photos from your phone, they will go in the trash for 7 days. You can retrieve them using the following methods:
Open the Gallery app on your LG phone and tap on the "Drawer" menu present on the top left.
Choose the "Trash" option.
Preview the ones that you want and hit the "Restore" button.
Q2: Can you recover data from LG phone that won't turn on?
Of course! You can do so by having the right tool in your hand. RecoverGo for Android is the ideal solution when it comes to retrieving contacts, texts, videos, music, pictures, and more. It works seamlessly on LG phones that have a broken screen, water damage, system crashes, etc. Get it today for LG data recovery.
Wrap-up
It's not every day that we need to recover lost data from our phones, but if any of us ever do, it can be a real life-saver. Hopefully, this article gave you a better idea of what you need to do if you're faced with data loss on an LG phone. Never fear—the solution to LG phone data recovery is most likely more convenient than you think.