WhatsApp has a call feature where you can call people using its platform. The call feature keeps track of all the contacts you have called over WhatsApp. Sometimes, people have work-related vital calls, and the records are necessary for future purposes. But in many cases, one may lose it accidentally while deleting some other contacts. Or you may lose them due to the WhatsApp application failing in an unpredictable situation. In such scenarios, you have to recover the WhatsApp call history. Here, we will discuss the possible methods you can use to get back to your WhatsApp call log history if you have not saved them.
Part 1. Can I See My Deleted Call History from WhatsApp
Yes, you can see your deleted call history from WhatsApp. You can get all your deleted call history messages from WhatsApp from your backup files. If you are using Android, you can sync your WhatsApp with your Google account. You can restore all your data from your Google Drive Account. You can select the automatic backup frequency in the Settings. Reinstall your WhatsApp, and you can restore your deleted WhatsApp call history stored in the backup file.
Part 2. How to Get Deleted WhatsApp Call History on Android and iPhone
WhatsApp has become an important social messaging application in all fields. Its call feature is preferred by most users for clear and smooth service. Thus, the records of the call history are necessary too. Given below are the methods of WhatsApp call history recovery.
For Android User
1. Using Google Drive
The first method to recover WhatsApp call history is Google Drive. This will work if you have taken a backup. If not, follow the steps below:
In your WhatsApp, go to "Settings".
From there, tap on "Chats" > "Chat backup".
Under your Google account, select the "BACK UP" option to do an immediate backup to Google drive. You may also set up the frequency for automatic backup under the backup option to Google drive.
Now, all your WhatsApp data will be backed up in your Google Drive. You can restore all your WhatsApp call records from Google drive even if you lose the device.
Reinstall WhatsApp on your phone. Remember to sign in using the same phone number used while backing up.
Open the app on your device and verify your phone number with the 6-digit code that will be sent to you.
After you successfully verify the phone number, you will receive a notification saying if you want to restore the WhatsApp data from Google Drive. Tap on the restore button to get all the data, including WhatsApp call records.
It will take a few seconds for the restoration to get completed, including all your call records, chats, images, videos. And all of them will be displayed on your application.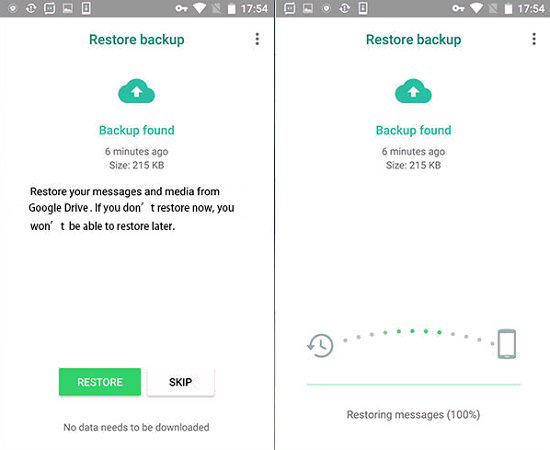 2. From Local backup
Another method to recover WhatsApp call history is the local backup function. Follow the steps below:
Open "File Manager" and click on WhatsApp.
Scroll down and tap on "Databases".
You will see here files with "msgstore-YYYY-MM-DD.1.db.crypt12". Then choose the right file accordingly. You have to rename the file as "msgstore.DB.crypt12". If there is already a file present with the same name, overwrite it with a newer file.
Now, uninstall WhatsApp and reinstall it again.
Log in to your WhatsApp using the old Gmail account and phone number and restore the backup. WhatsApp will use the file you renamed earlier, and all data will be restored.
3. Using iToolab RecoverGo (Andoird)
This is one of the best methods to recover WhatsApp call log history. iToolab RecoverGo (Android) supports more than 6000 Android devices and can recover all types of Android data with ease. The best part is that you don't need a backup if you want WhatsAapp call history recovery. This tool can retrieve data without backup.
Let us know how to check WhatsApp call history after deleting using iToolab RecoverGo (Android).
Step 1. On your computer, install the iToolab Recover Go. Next, connect your Android phone to your computer. Now choose "Recover Deleted WhatsApp Data."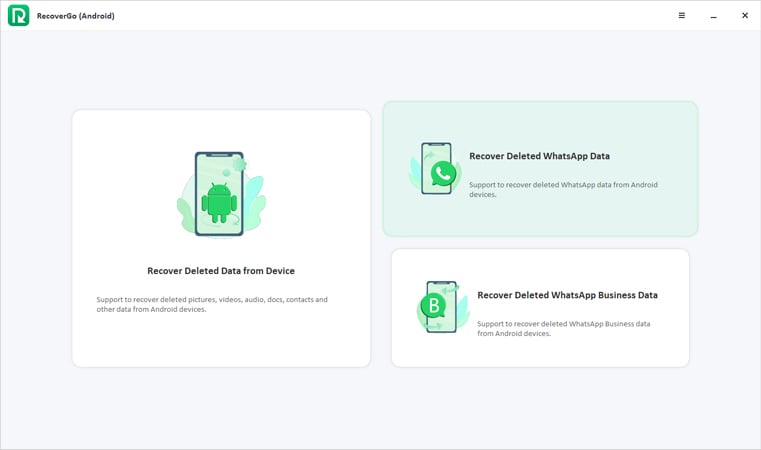 Step 2. Follow the steps on interface to enable USB debugging on Android device and move on.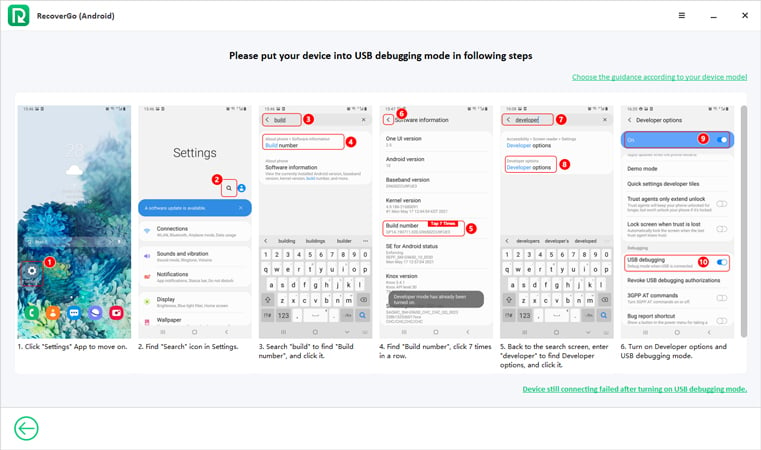 Step 3. After that, activate your WhatsApp account with the guide and RecoverGo will scanning your WhatsApp data.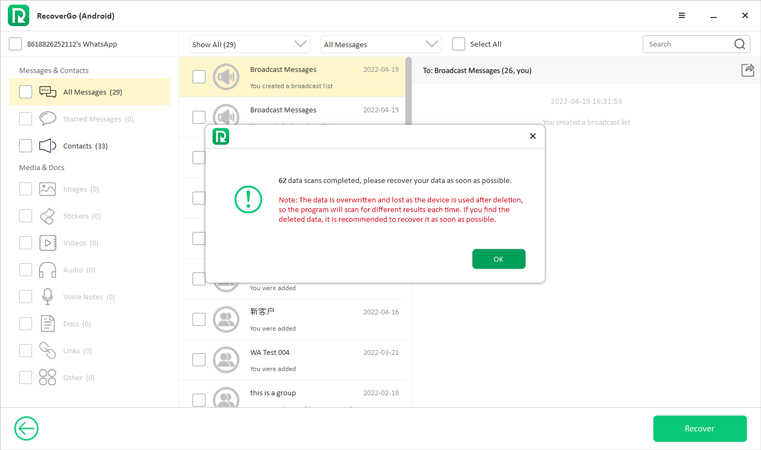 Step 4. Select the data you want to reocver and click "Recover" button to finish the steps.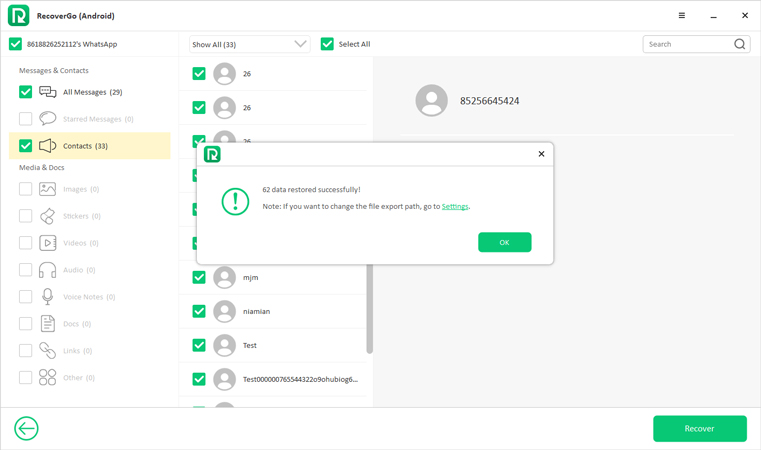 If you don't have a backup, this tool will be the best choice for you. Unlike other WhatsApp recovery tool, RecoverGo (WhatsApp) helps you recover call history at once or one by one. You won't spend a lot of time exporting unwanted call records anymore!
ALso Read: Useful Ways on WhatsApp Delete Photo Recovery
2. For iPhone User
1. Using iCloud
Through using the iCloud backup, you can access your call and chat history of WhatsApp. See if you already have a previous backup locally and in your phones cloud storage.
Follow the given steps:
Click on "Settings". From there, tap on "Chats", then click on "Chat backup".
Uninstall your WhatsApp, after you are sure that all the chats have been backed up,
Uninstall and reinstall WhatsApp from the Apple Store on your device. Then log in to your previous account.
Select "Restore" once WhatsApp views it. Now, WhatsApp will start retrieving all the previous call history.
2. Using iTunes
You can have your WhatsApp deleted call history backed up on iTunes and access them in case you lose, or the chat history gets deleted. If you haven't backed up, this method won't help. However, if you have a backup, try the following steps to get WhatsApp call history.
Launch iTunes and connect your iOS device to it.
Look at the phone's icon at the top and click on it. Now, on the left panel, choose "Summary" option.
Click on "Restore Backup" in the end.
Related Questions about WhatsApp Call History
Q1: Can we track WhatsApp call history?
No, WhatsApp call history cannot be tracked as it is end-to-end encrypted. However, if there is no encryption you can use spy app to track your family or lover's call history.
Q2: How to download WhatsApp call history?
You can easily download WhatsApp call logs with RecoverGo (WhatsApp), you can use this software to backup all your WhatsApp call histoy and export them to your computer as HMTL or PDF format.
Recap
WhatsApp call history is an essential requirement nowadays. If you lose the record during any mishap, you can always recover it. There are different methods to retrieve WhatsApp call logs for both Android and iOS users. You may select any of the methods according to your need and convenience. However, if you didn't have a backup on your Android device, then you have to use third-party tool like RecoverGo (Android) to get WhatsApp call history back. Hope this article helps you!