We can protect our excel file with password in two situation. One is protecting the whole excel file from viewing, and one is protecting excel sheet from editing. But living in the era of the flood of passwords, it's easy to forget the password and these situations can be pretty disturbing. Excel has become the primary source of record-keeping for personal and professional use. File protection is a great feature, but if you forgot Excel password, you could not access the contents of the file. So, you need to know how to recover files and data from Excel files and remove excel password restrictions from excel sheet if you don't remember the password. There are certain tools and methods to get it done, so we are going to discuss the top methods that genuinely work in these cases.
How to Unprotect Excel File to Open and Modify
Instead of worrying about complicated steps and commands, having an accurate tool to recover and remove forgotten Excel passwords can make your job a lot easier. PassWiper for Excel is an intelligent all-in-one tool that if you forgot password for Excel file.
PassWiper for Excel allows you to unprotect Excel workbooks and Worksheets in simple steps. It does not matter which version of Excel you have installed on your system; PassWiper for Excel can be useful for almost all excel versions and Office 365. Apart from the ease of use, safe password recovery is another most attractive feature of the tool. It has three types of attacking modes to recover the password as per you requirement, if you have the habit to write down all the used password except this one, and know the possible password, then you can make a password dictionary to recover lost password, if you don't know how to create a new password dictionary, click here, then Dictionary Attack is the best choice. if you have some information like the first character or number and how it was made up, then Combination Attack is the best one for you. Just follow the on-screen instructions to finish it. If you have no idea about the password, then try Brute Force Attack directly.
Features of PassWiper for Excel
Here are some salient features of the PassWiper for Excel tool that work best when it comes to the recovery Excel sheet passwords:
Recover and bypass the encrypted password for Excel workbook.
Bypass structure protection and password protection and remove other Excel worksheets restrictions.
From MS Officel 365 to Excel 2003-2021, PassWiper for Excel works for all versions.
100% successful password recovery with 0 loss of data and contents of the file.
How to Recover Excel to Open Password with PassWiper for Excel?
In case you forgot the password for Excel workbook and now you want to recover the password without losing data, here are some simple steps that you need to follow while using PassWiper for Excel for this purpose:
Use Dictionary Attack Mode
If you have a slight idea about your password, you can use dictionary attach mode for password recovery with PassWiper for Excel. The more characters you remember, the easier it will be to bypass the password.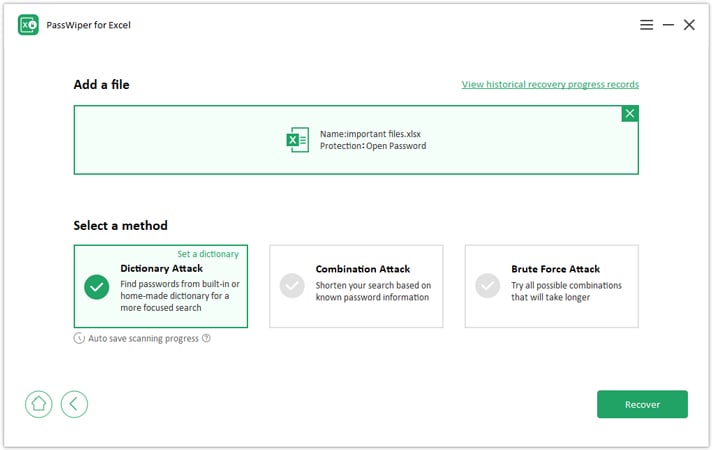 Download PassWiper for Excel on your laptop and select 'Recover Excel Password'.
Upload the protected file and select the 'Dictionary Attack' option.
It will take some time to scan for the possible password, and ETA depends upon the complexity of the password.
Once the process is complete, you will get some passwords that you can try and unlock Excel worksheets.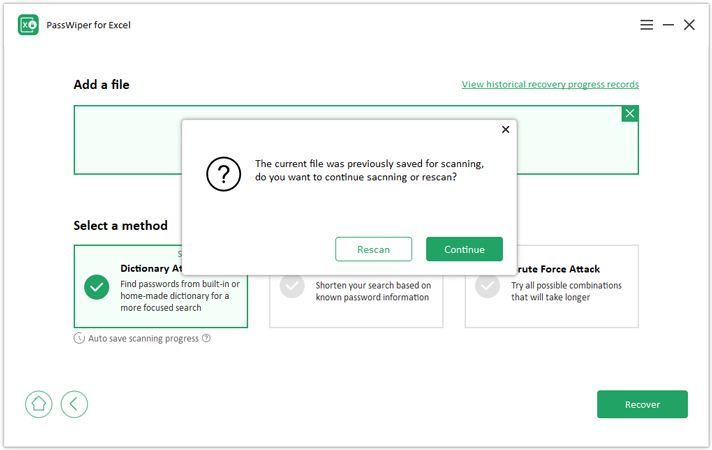 Use Combination Attack Mode
It is quicker if you forgot password for excel file. The combination attack mode works best if you remember most of the characters and numbers of the password.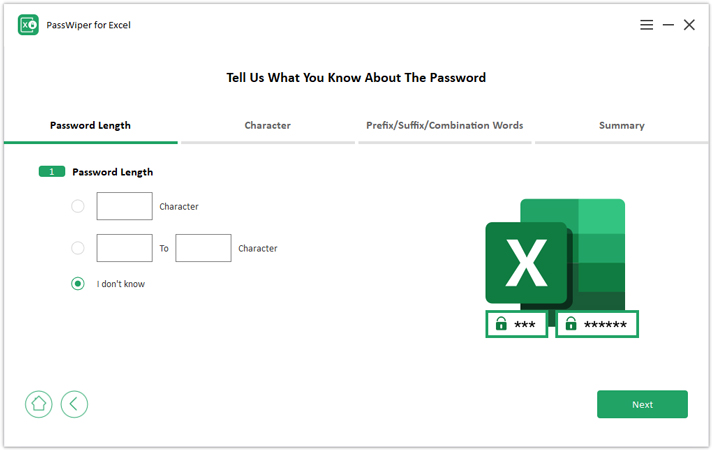 Install PassWiper for Excel and choose 'Combination Attack' mode and provide the details that you remember about your password
You can ignore the box if you don't remember and click next to start the password cracking process
A new window will display your password that you can use to unlock the Excel sheet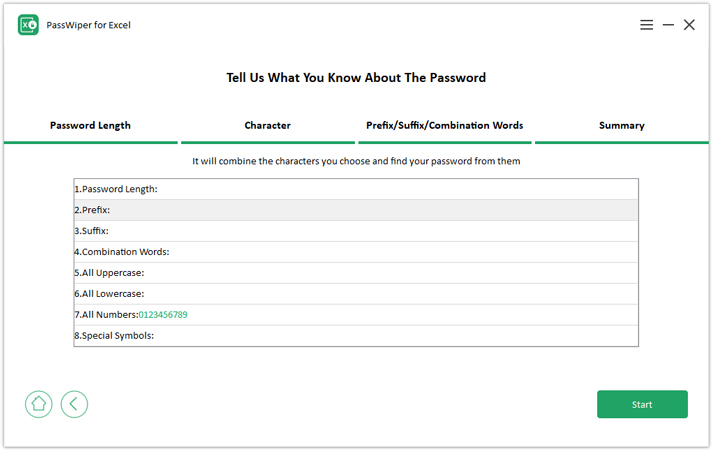 Use Brute Force Attack Mode
This is the time taking method, but it works best when you don't remember any part of the password. Here are steps that you need to follow: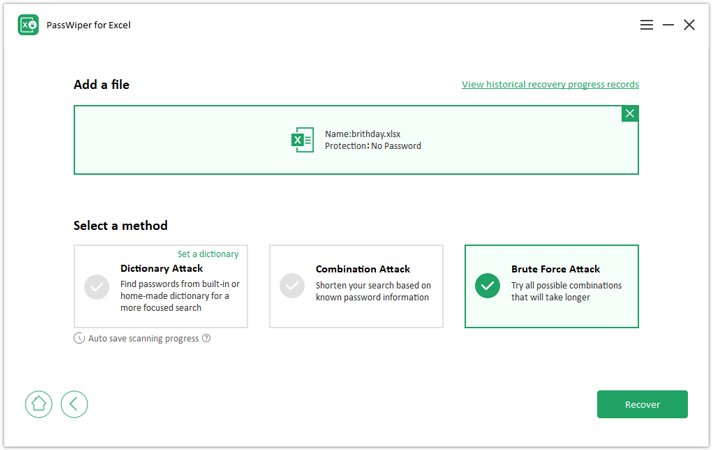 Choose 'Brute Force Attack' mode and let the PassWiper for Excel start the scan
The process will take some time, and you can check the progress at any time
You will get the password on the screen once the process is completed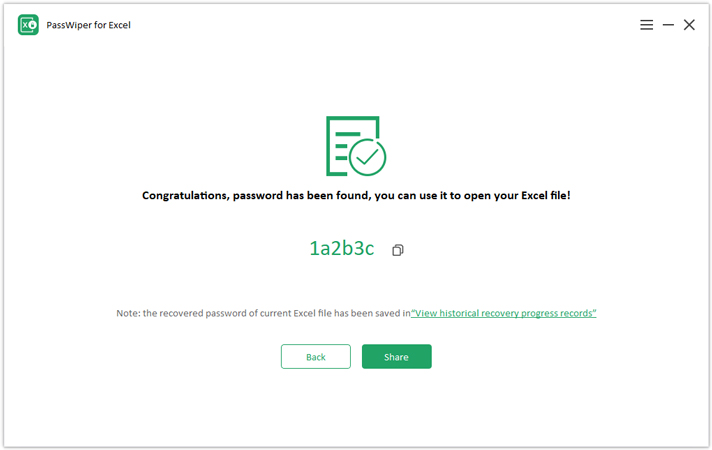 How to Remove Excel to Modify Password with PassWiper for Excel?
Step 1. Download and install the software in your PC, choose the 'Remove Excel Password' and then drag your lcoked file in the box, clcik 'Remove'.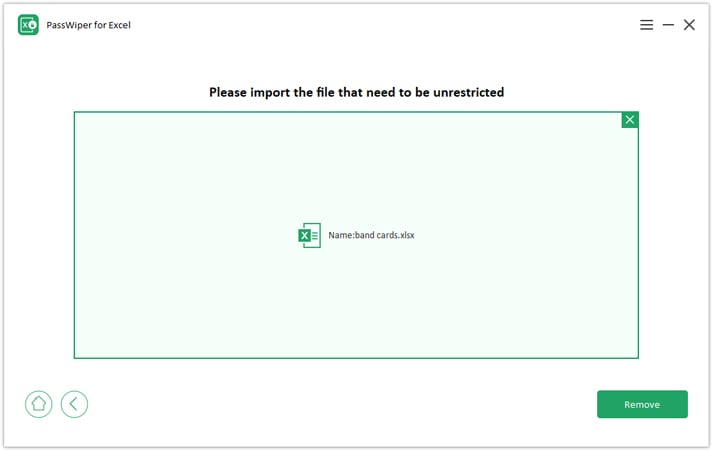 Step 2. Wait a second, your restrictions on excel has been removed, and you can edit and share the file freely.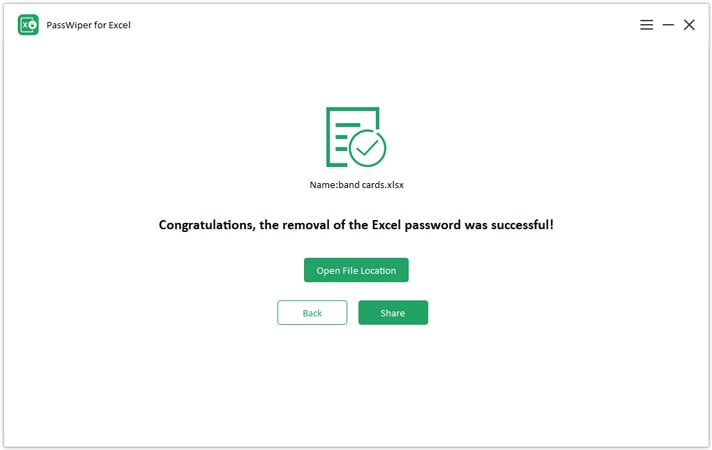 How to Unprotect Excel Workbook and Worksheet Free Online
There are online solutions and tools available that can help you to bypass protection if you forgot password for Excel workbook. The only problem with these tools is the low success rate. As these tools are free, you may not get desired results, and you can do nothing about this point. Still, here are two options available if you need solutions for Excel unprotect sheet forgot password issue.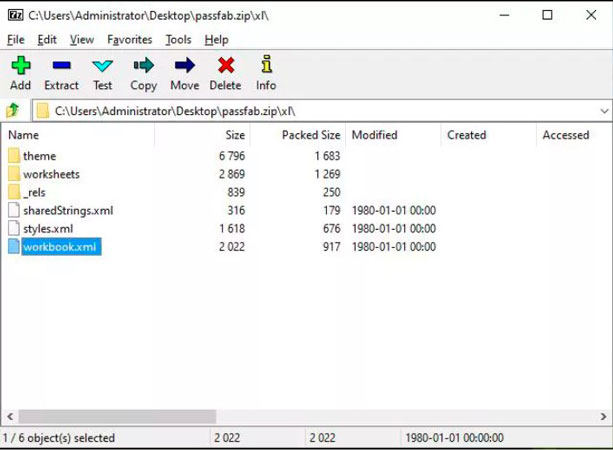 Solution 1: Use ZIP to Unlock Locked Excel File
Users can find free 7-Zip software to bypass security or password protection on the Excel workbook or worksheet. Here are steps to follow:
Install WinRAR or 7-Zip or any other free compression tool
Change the name of the file to .Zip extension
In the next step, you still have two further options:
Option 1. Unprotect Forgotten Excel Workbook Password with 7-Zip
Go to the target folder in 7-Zip and choose the encrypted file
Edit the file by removing <workbookProtection…/> and close the file editor
Option 2. Unprotect Forgotten Excel Worksheet Password with 7-ZIP
Choose the encrypted worksheet and select edit from the options
Remove <sheetProtection … > tag and close the editor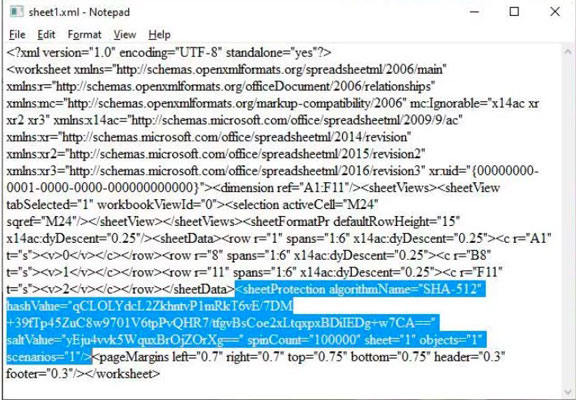 Solution 2: Use VBA Code to Unlock Forgotten Excel Password
This method only works for 2010, earlier and later versions but might require the use of other methods. Here is how to unprotect Excel file with VBA code:
Open the protected file like any other file and click ALT+F11, and it will open 'Microsoft Visual Basic for Application' in a new window
Choose 'Insert'> 'Module' and insert the given code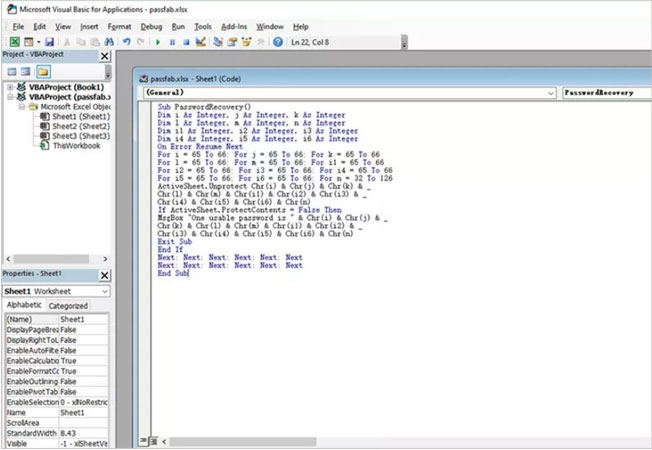 Dim i As Integer, j As Integer, k As Integer
Dim l As Integer, m As Integer, n As Integer
Dim i1 As Integer, i2 As Integer, i3 As Integer
Dim i4 As Integer, i5 As Integer, i6 As Integer
On Error Resume Next
For i = 65 To 66: For j = 65 To 66: For k = 65 To 66
For l = 65 To 66: For m = 65 To 66: For i1 = 65 To 66
For i2 = 65 To 66: For i3 = 65 To 66: For i4 = 65 To 66
For i5 = 65 To 66: For i6 = 65 To 66: For n = 32 To 126
ActiveSheet.Unprotect Chr(i) & Chr(j) & Chr(k) & _
Chr(l) & Chr(m) & Chr(i1) & Chr(i2) & Chr(i3) & _
Chr(i4) & Chr(i5) & Chr(i6) & Chr(n)
If ActiveSheet.ProtectContents = False Then
MsgBox 'One usable password is ' & Chr(i) & Chr(j) & _
Chr(k) & Chr(l) & Chr(m) & Chr(i1) & Chr(i2) & _
Chr(i3) & Chr(i4) & Chr(i5) & Chr(i6) & Chr(n)
Exit Sub
End If
Next: Next: Next: Next: Next: Next
Next: Next: Next: Next: Next: Next
End Sub
Related FAQs about Forgotten Excel Password
Here are some questions that users might ask about recovering protected Excel files:
1. How can I recover the excel password on my MacBook?
Recovering Excel passwords on MacBook is quite complicated and requires expertise. If you don't want to get involved in complicated codes, you can simply use PassWiper for Excel to bypass password protection and other restriction. Free tools and other methods may not prove to be effective in these situations.
2. Is it legal to bypass the excel password?
If you forgot the password for the Excel file, it is totally legal to use PassWiper for Excel to bypass the Excel password. It must be remembered that being part of illegal or criminal activity can be dangerous. You can use PassWiper for Excel to bypass the Excel password without worrying about any issues.
Conclusion
PassWiper for Excel could be used to bypass password protection if you forgot Excel password. Unlike other methods, using PassWiper for Excel offers a better success rate and provides an easy solution. If you value your files and data, give PassWiper for Excel a try and enjoy the exceptional results of this intelligent password recovery tool for Excel.