"My iPhone doesn't vibrate on silent, and I have missed out on several important calls and messages. How can I fix this error and enable the feature on the iPhone again."
If you find that the vibration feature on your iPhone is not working, it can be highly infuriating. There is a chance that you might miss an important call or text message because when the iPhone doesn't vibrate, and then feel like there's no way to get in touch with them when needed most! Still, there is no need to panic as it is one of the commonly occurring errors on an iPhone. Instead, check out the solutions mentioned in this post to fix the iPhone doesn't vibrate when locked problem.
What Causes iPhone Doesn't Vibrate?
If your iPhone is not vibrating when it rings, or vice versa, there are some handy tips you can follow to fix it. Still, it is better to understand some causes on why your iPhone doesn't vibrate. Some factors are as follows:
Have you ever noticed that your phone doesn't vibrate when set to ring mode? What happens is, if the Vibrate on Ring toggle was turned off for some reason, this could happen with an iPhone as it has a built-in vibration feature. Nevertheless, you can enable the function from the Settings menu.
If you have the Silent Mode enabled on your iPhone, then there's a likelihood that the device's Vibrate on Silent feature is deactivated.
The iPhone will only vibrate if said feature is turned on. If that is not the case, the iPhone doesn't vibrate on silent error will occur.
There could be an issue with the iPhone's vibrator motor. This problem will only occur if there is no software-related problem with the device.
How to Fix iPhone Vibration If It Doesn't Work?
Follow this section to learn the comprehensive solutions to enable the vibration feature on your iPhone again.
1. Toggle iPhone Silent Switch
It can be hard to know when your iPhone is quiet and not making any sounds. I've found the most straightforward way so far is just by trial-and-error (though there are other solutions) until you find the perfect setting for yourself! For that, you only have to press the Silent Mode button on the iPhone's left side. Once you press it, you will feel a slight vibration to ensure the function is working correctly.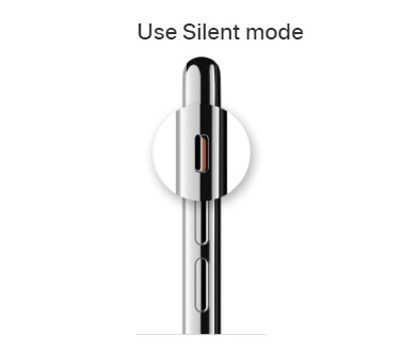 2. Check Whether Vibrate is Enabled on Silent/Ring
As discussed earlier, if your iPhone doesn't vibrate on silent, the Vibrate option could be deactivated. You can simply enable the feature on the phone so that the phone can vibrate under both Silent or Ringing Mode correctly. Here are the steps:
Access the Sounds menu from iPhone Settings.
Enable both Vibrate on Ring and Vibrate on Silent.
That's it!
3. Force Restart iPhone
No matter how complex the system issues are with the iPhone, most of them get fixed by simply hard resetting the device. Follow the steps below to Force Restart the device to resolve the iPhone doesn't vibrate when I get a text error:
If you are using the recent versions of the iPhone, then simply hold and press the Home and On/Off buttons at the same time.
If you are using iPhone 7 or 7 Plus, press the Volume Down, Sleep button for 10 seconds or until the phone screen displays the Apple logo.
4. Turn off Do Not Disturb
It is important to note that your iPhone has different settings if vibration doesn't work. For example, the Do Not Disturb function can be one of the reasons why you receive no notifications or alerts while the device is locked.
Open the Settings menu.
Next, tap on Do Not Disturb and turn off the Manual and Scheduled options.
5. Turn on Vibration
Ensure to activate the Vibration utility by accessing Settings>General>Accessibility>Vibration>Off.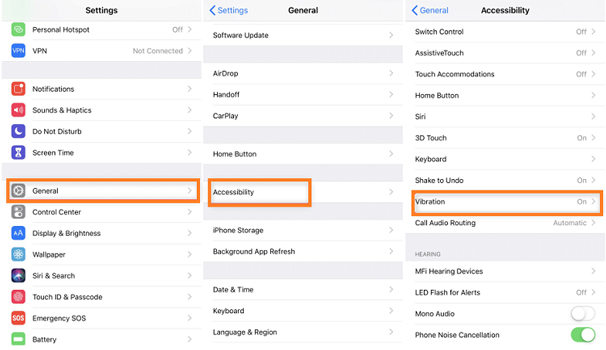 6. Reset All Settings
If still, the iPhone doesn't vibrate, then we recommend resetting the device, which will clear all data and settings. Check out the following steps to learn how:
Open Settings and tap on General
Next, press Reset.
Lastly, tap Reset All Settings.
7. Update iPhone to the Latest iOS Version
Make sure to install the latest version of iOS on your iPhone, or else the iPhone doesn't vibrate when locked error most likely occurs. Here's how you can update iOS on the iPhone:
From Settings, open the General Menu.
Next, tap on Software Update and then Install Now to download/install the newest version.
What If Your iPhone Still Doesn't Vibrate?
Some type of underlying system or software issues could be the factor if your iPhone doesn't vibrate. To fix it, we recommend installing iToolab FixGo on your Windows or Mac system to repair all iPhone-related bugs. The program is fully compatible with the latest iPhone and iOS. It resolves as many as 200+ system issues without losing data.
If you have any concerns about navigating FixGo, follow the steps below to understand the workings of the program under Standard Mode:
Step 1: Open the tool, and connect the iPhone with the computer simultaneously. Next, hit Standard Mode, and then Fix Now.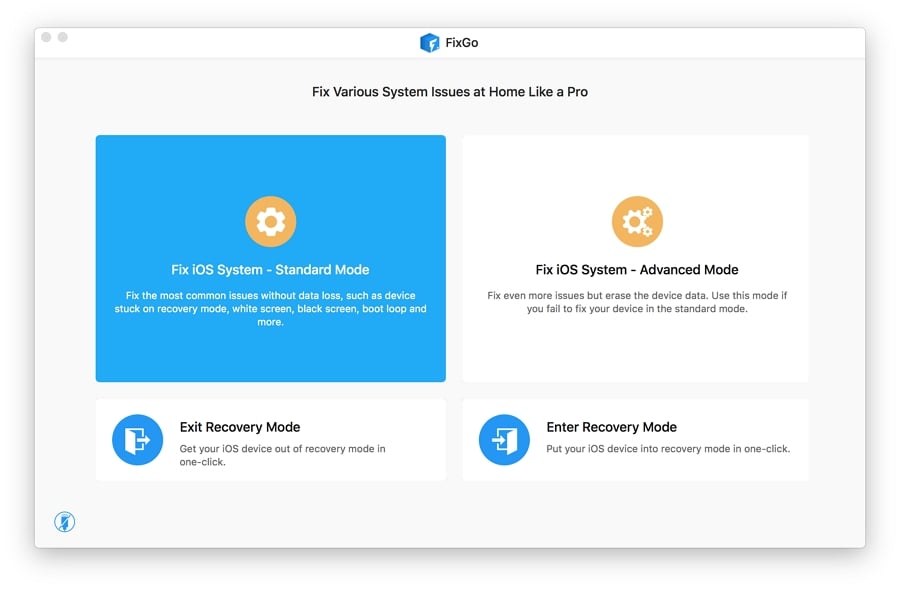 Step 2: Following, click on Browse to download the latest iOS firmware on the computer.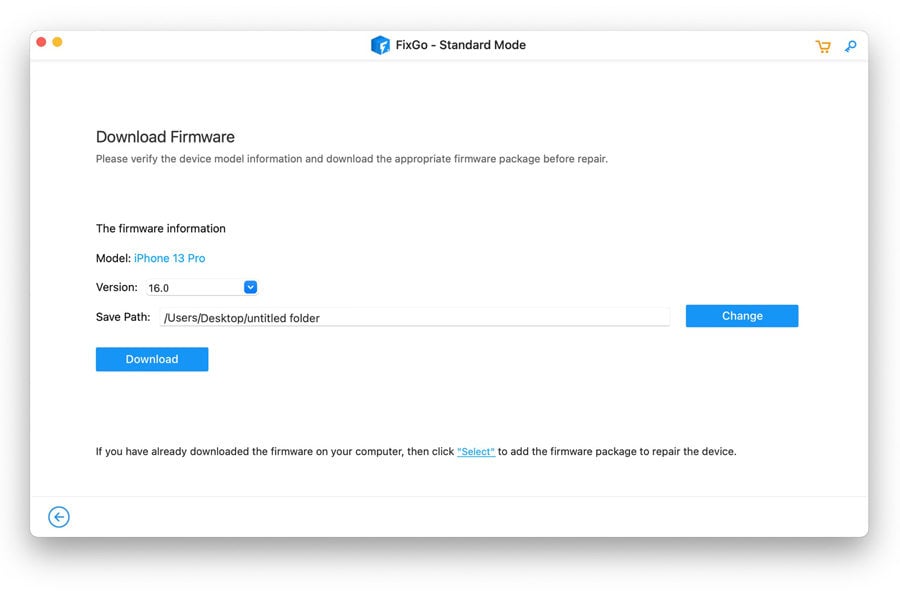 Step 3: To finish, click Repair Now to add the firmware and enable the Vibration function on the iPhone.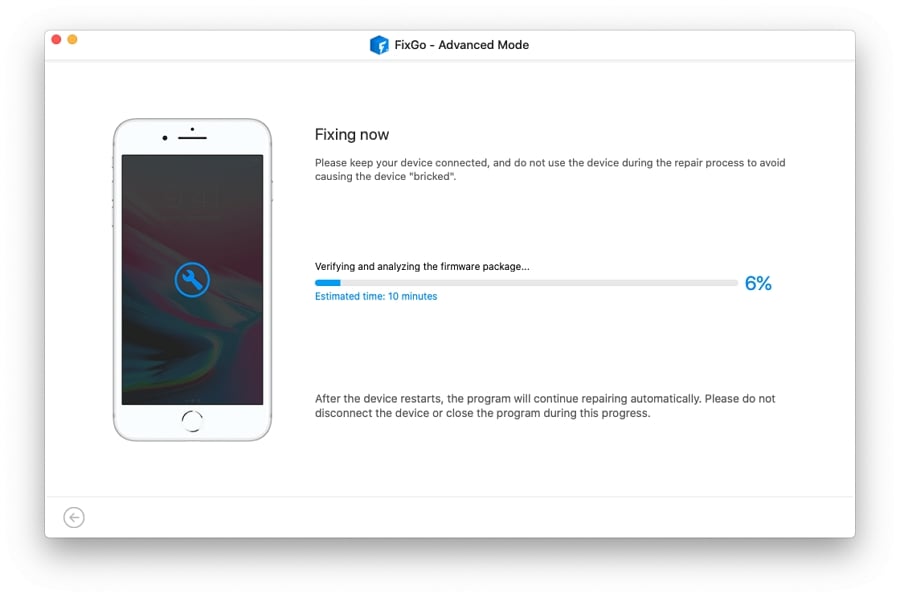 Hot FAQs about iPhone Doesn't Vibrate
If you wonder why my iPhone doesn't vibrate when I get a text, this FAQ section will most likely clarify all confusion.
Q1: Why is my iPhone 12 not vibrating when I get a text?
There is a likelihood that the Vibration feature is turned off in the Accessibility Settings. Simply enable it so that the iPhone can vibrate when you receive a text.
Q2: Why isn't my iPhone vibrating when I get a message?
There could be any number of reasons why your iPhone doesn't vibrate when you get a message. Sometimes, there is some system issue, or you had forgotten to enable the Vibration utility under both Silent or Ring Mode.
Wrap It Up
iPhone doesn't vibrate is not an uncommon issue, there are many people who experience this problem on their iPhones. Fixing an iPhone 13/12/11 not vibrating is not that difficult provided you can follow the solutions mentioned above. They will come in handy when your iPhone doesn't vibrate. Unfortunately, such an issue is more common than you think. Still, if the problem continues, we suggest opting for iToolab FixGo.