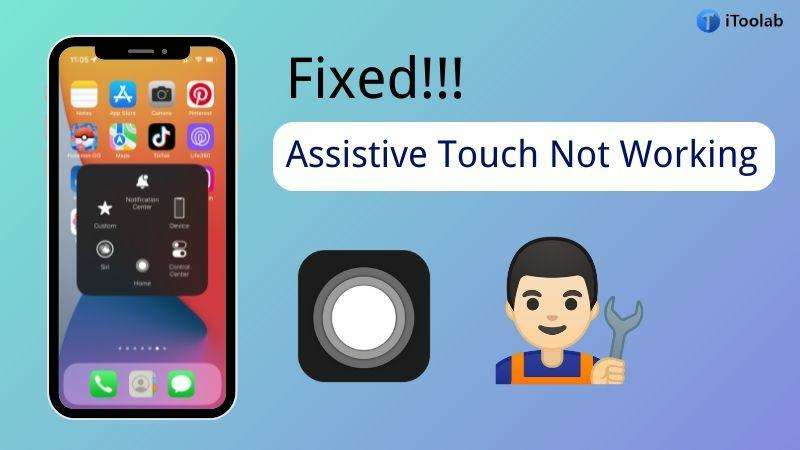 AssistiveTouch is a feature of the iPhone that can be beneficial in some aspects. This feature is fully designed to lock and restart the device, use multi-finger gestures, adjust volume, or replace pressing buttons with only one tap. There will be a button on the Home screen when users enable the feature. Just tap the button if you want to see its options. But sometimes there can be an issue with AssistiveTouch. Recently, many iOS users have reported that the AssistiveTouch not working on iPhone.
However, this problem can be solved by following some fixes. In this article, we are introducing to you 5 quick fixes to repair the Assistive Touch button not working on iPhone. You can also download iToolab FixGo to fix AssistiveTouch issues in just one click.
How to Add Assistive Touch on iPhone?
A lot of hidden accessibility features are available on your iPhone. When the home button isn't working, one of these is a
perfect workaround to let you keep using your iPhone which is called AssistiveTouch. For people who struggle using physical buttons, Apple designed it for them. To add a software-based Home button to your iPhone screen, you can turn on AssistiveTouch from the Settings. Although it doesn't fix your Home button, it lets you keep using your iPhone without a working Home button.
Follow the below-given steps to add a Home button to your iPhone screen with AssistiveTouch:
Step 1: At first, you have to go to "Settings > Accessibility > Touch > AssistiveTouch". You need to go to "Settings > General > Accessibility > AssistiveTouch" instead, on older versions of iOS. Restart your iPhone to go to the Home screen if you can't exit your current app to access Settings.
Step 2: For AssistiveTouch, turn on the toggle. You will see a semi-transparent button appear on your screen. To reveal a popup menu, click it and to simulate pressing the Home button, tap "Home".
Step 3: To move the AssistiveTouch around your iPhone screen, drag and drop the button so it doesn't get in the way. To turn it off and on, you can also use Siri when you need it.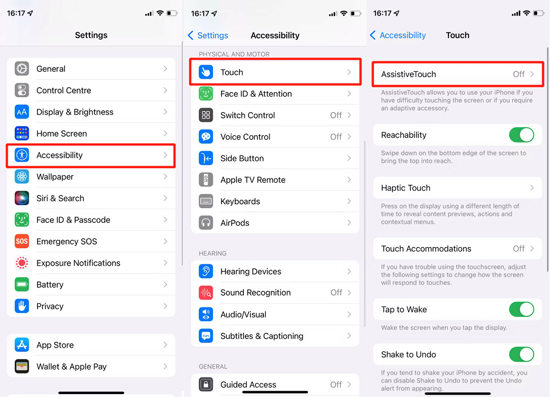 To make it as useful as possible, it's worth taking a moment to customize the AssistiveTouch options from the Settings. You can even make that the only option if you only use it as a Home button so that you don't need to open a popup menu anymore.
Why My Assistive Touch Not Working on iPhone?
AssistiveTouch disappears on iPhone for many potential reasons. To get AssistiveTouch back, some of them need simple solutions whereas some need advanced solutions. We will discuss the reasons for Assistive Touch's disappearance before stepping into the solution.
1. iOS 16 Update
Most users complain that the AssistiveTouch option disappeared from their system after each iOS update. The glitch is not the user's fault and it is from Apple's side.
2. Screen Orientation
The screen is usually in Landscape mode while playing games or watching videos. The AssistiveTouch option disappears from the screen when users switch back to Portrait mode.
3. Accessibility Shortcut
The users manually enable the Accessibility Shortcut option sometimes which could be why the AssistiveTouch option disappears from their screen. Usually, this happens when the users press the Home button thrice consecutively.
4. System Restoration
System restoration is another common reason why AssistiveTouch back disappears. The AssistiveTouch option disappears when users restore their iPhones. Some other issues also could be related to iOS glitches, especially during minor system updates.
5 Quick Fixes for Assistive Touch Not Working
If you find your AssistiveTouch button not working, then you can follow the below-given 5 quick fixes to fix it:
Fix 1: Turn Assistive Touch On And Off
It is always not harmful that you enable and disable the settings several times if the AssistiveTouch disappears. All you have to do is go to the "Settings" app > "General > Accessibility > AssistiveTouch". To turn off the AssistiveTouch, tap the option if it is on and then the button. You have to wait for a while. To rectify the iPhone AssistiveTouch disappears issue, enable the feature again.
Fix 2: Adjust Assistive Touch idle Capacity
To adjust the visibility of AssistiveTouch, there is an option called Idle Capacity. The AssistiveTouch may not be seen clearly if it is not set properly. You have to go to "Settings > Accessibility > AssistiveTouch" to do this. You will see a new page after tapping the option. By scrolling down, you can choose the "Idle Capacity" option. To change the idle capacity, you will see a button and then drag it.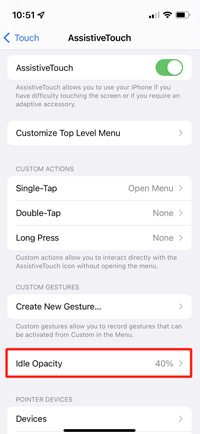 Fix 3: Restart Your iPhone
To fix minor troubles, it is believed that most users tend to restart their devices. The fact is that they let some issues go away by doing this. Why not give it a try if you are facing the AssistiveTouch not working on iPhone? Do the things below to perform a restart of your iPhone.
Step 1: At first, press and hold the top/side button (also the Power button). But you need to press both the Volume button and side button for iPhone X or later models.
Step 2: Release the buttons and then drag the slider when the power off slider occurs. Wait until the iPhone turns off.
Step 3: Press and hold the top/side button before the Apple logo is shown to turn on the iPhone again.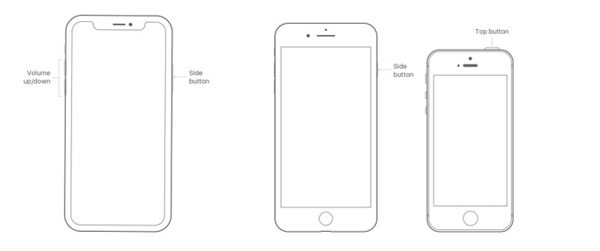 Fix 4: Reset All Settings
To get rid of the issue, you can also reset all settings. Resetting all settings means that settings related to the network, the Home screen layout, the keyboard dictionary, location and privacy settings, and Apple Pay cards will be erased to reset to their defaults. But other data will not be removed.
Navigate to "Settings > General > Reset" to reset all settings. Select "Reset All Settings" on the screen showing several options. Your iPhone might ask you to confirm the action and click Reset All Settings again.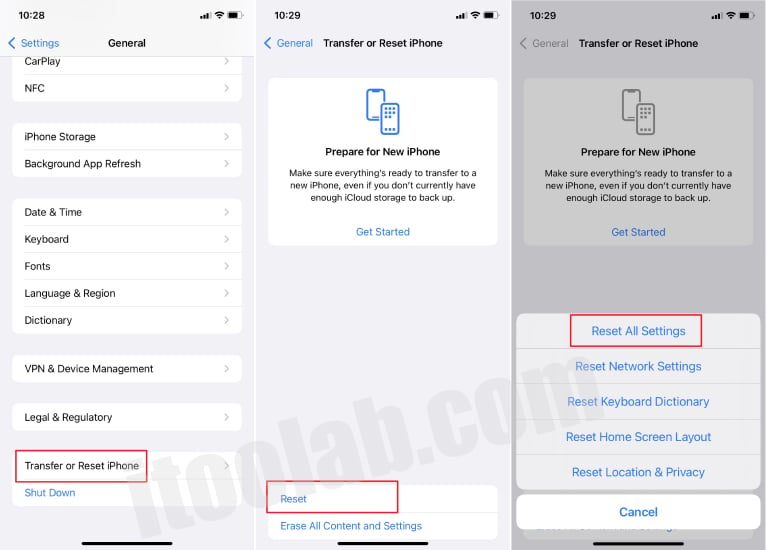 Fix 5: Use iOS System Recovery to Fix Assistive Touch Issues
If the issue still exists after following the above-given fixes, then you need a more effective way. The faulty system bugs might hinder the iPhone sometimes from running well as well as the AssistiveTouch randomly disappears. An iOS system recovery tool can fight against these issues if the system glitches are the culprit. The iToolab FixGo tool is a good example of system recovery. It is one of the best iOS system recovery software that lets you enter recovery mode with just one click.
Without losing any data, you can fix your faulty device. It lets you downgrade your iOS 16 beta to any supported versions and also it doesn't require you to jailbreak. You can also reset unresponsive iOS devices with this tool. Including iPhone stuck on Apple logo, iPhone black screen, and the recovery mode, this tool supports more than 200+ iOS issues to repair. If you are dealing with an assistive touch iPhone not working issue, then you can use FixGo without giving it a second thought.
Steps to fix AssistiveTouch issues:
Step 1 Install iToolab FixGo and launch the software on your computer. After that, you can use the device's lightning cable to connect the faulty device to the PC and to start the process, tap on "Fix Now".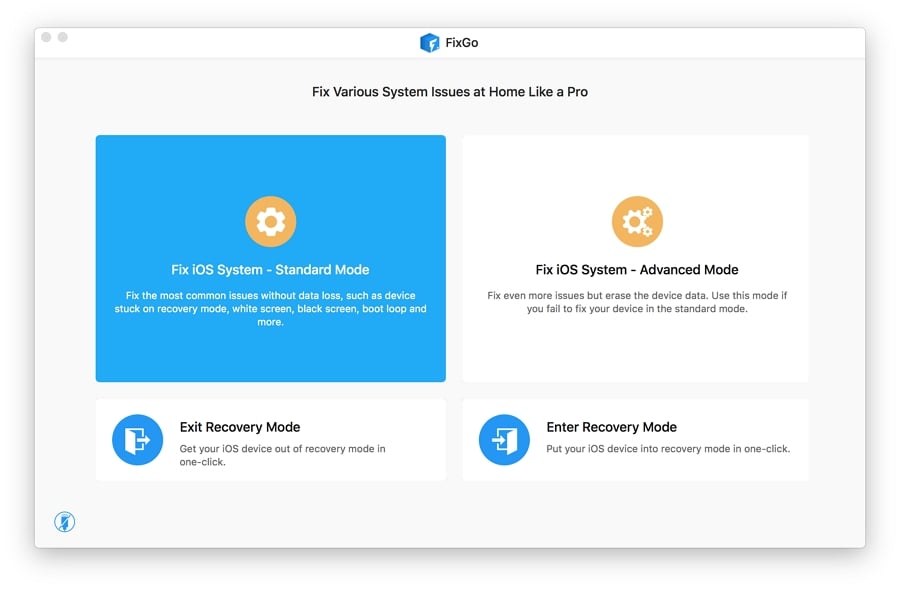 Step 2 Then install the latest firmware on your device to repair the device. Click "Download" to begin downloading the latest iOS firmware for the device after selecting the path for the firmware by clicking on "Browse". If the firmware package had been already downloaded to your computer, then you can simply click "Select" and manually import the firmware.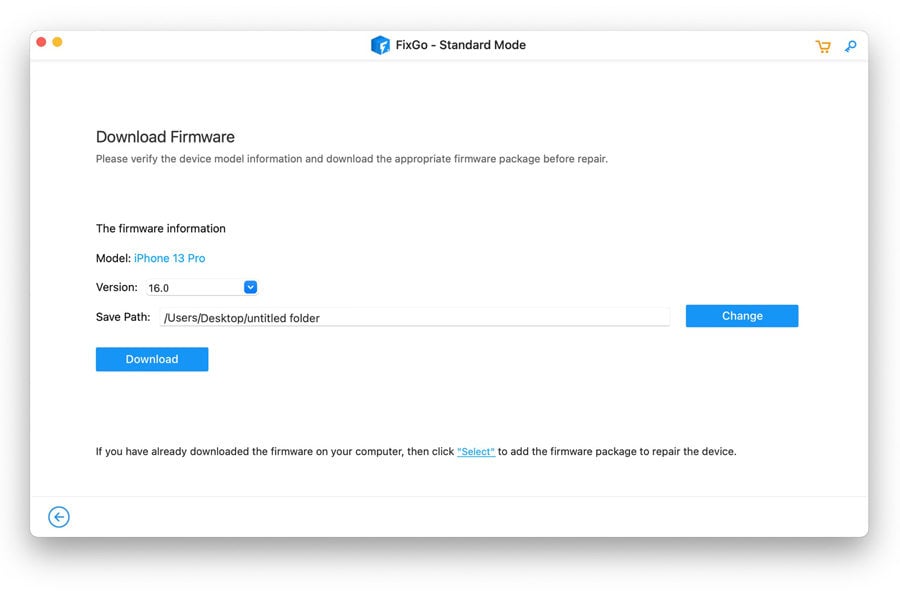 Step 3 Tap on "Repair Now" once the download of firmware has been completed.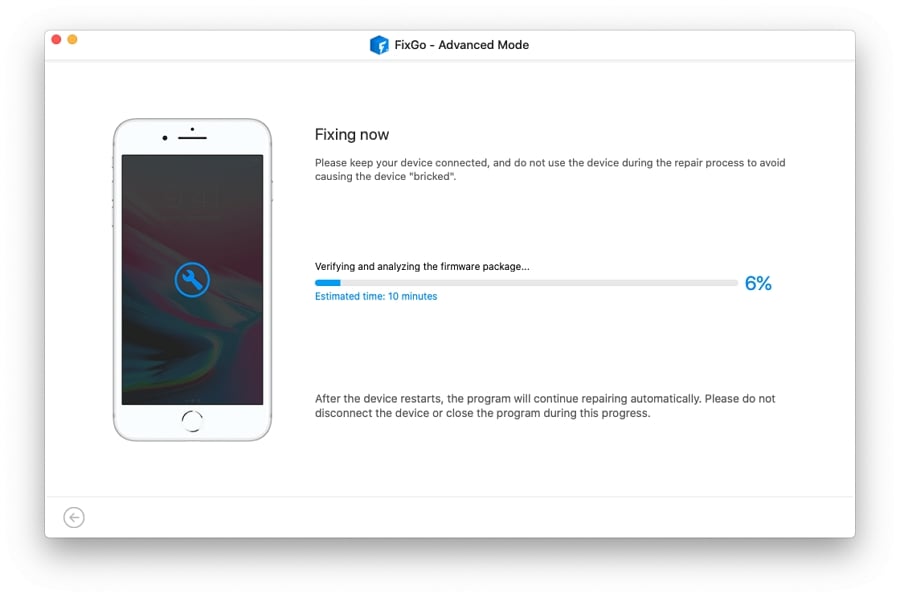 Conclusion
To efficiently navigate the mobile functions, AssistiveTouch is an assisting feature in the iOS system. There are many solutions to fix the "AssistiveTouch not working" issue if you face it. In this article, we have introduced 5 quick fixes to repair AssistiveTouch iPhone not working issue. Among all the fixes, we would like to recommend you to use iToolab FixGo for its powerful and effective features.