While in the middle of some important phone call, it is very irritating if the call gets dropped. If your iPhone drops call once in a while, there is nothing to worry about because it might be due to telecommunication signal problems. But if your iPhone keeps dropping calls more than often, you will certainly be looking for a solution. This problem might be due to several different reasons.
In this article, We will be going through why my iPhone keeps dropping calls and how you can easily overcome this problem.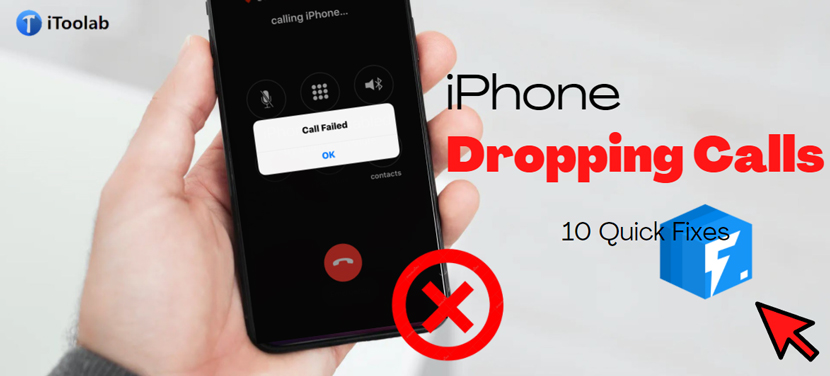 Why Does My iPhone Keep Dropping Calls?
You might be facing a call dropping issue on your iPhone just because of signal problems. Signal problems might occur in far-off places, basements, or congested apartments. So, if your phone call gets dropped, check the signal bar; if it shows bad signals, there is a signal problem in that area.
Sometimes the signal problems might occur due to old and damaged sim cards, so if your sim card is very old, replacing it might solve the issue of call dropping. If you are sure that there are no signal problems in your area and you are still facing this problem, there might be some issues in the hardware or software of your iPhone.
Sometimes pending iOS updates, bugs in software or change in time zone can also cause the issue of call dropping in your iPhone. If too many apps are running on your iPhone simultaneously, it will overwhelm your Phone's memory, which may cause your calls to drop.
Official Ways to Fix iPhone Dropping Calls
Here are some one-step solutions that will probably fix the call dropping issues on your iPhone. If there is no serious issue with the hardware or software of your iPhone, then these fixes will indeed work for you.
1. Turn Airplane mode On and Off.
Go to settings of your iPhone; you will find aeroplane mode on the top of the menu. Turning the aeroplane mode On will disconnect you from any Wi-Fi or cellular connections. Toggle it On and Off three to four times. If it works for you, that's great and if not, then move to the next solution.
2. Restart Your iPhone
Press the power button on your iPhone, and then slide the screen to power off your iPhone. Wait for two to three minutes, and then switch it on again. Check if the issue still exists.
3. Remove Sim card and insert it again
Switch off the mobile and then take out the sim card with the help of some pin. Wipe the sim card with a dry cloth and insert it again. Switch on the phone and check if it solved the issue.
4. Update the carrier settings
Go to settings of your iPhone, press general and then go to about. Wait for 15-30 seconds; if there is any update available of the carrier settings, a pop up will appear asking you to update the carrier settings. Press the update button.
If no pop up appears, then there is no update available for the carrier settings at the moment.
5. Reset the network settings
Resetting the network settings will delete all your saved Wi-Fi and Bluetooth connections and other network settings. But it might help to solve call dropping issues. So, go to general settings and then tap reset. You will find reset network settings there. Press that button, and it will ask for your passcode. Enter that, and it will reset your network settings.
6. Turn off the unknown caller's feature
Go to settings and then to phone settings and turn off the unknown caller's feature. If you turn it on, it will silence the incoming calls from the people whose contact is not saved on your Phone. Turning this feature off might work sometimes.
7. Turn off Call forwarding
It might be possible that call forwarding is call dropping issue in your iPhone. So go to settings and make sure to turn off the call forwarding option.
8. Close the unnecessary background apps
If too many apps are running in the background, it will put too much burden on your Phone's memory, which might be causing call dropping issue. So, try to close all the unnecessary apps running in the background.
9. Contact Apple Store
If you need help, Apple provides support for your products in many ways. One of them is live chat support. The quickest and most convenient way to get answers to your support questions is to chat with Apple. Apple's support team can answer any questions and help you solveany issues about Apple products, hardware or software.
Advanced Tip to Fix iPhone Dropping Calls in One-Click
If you have tried all the tips mentioned above, you are still facing the call dropping issue on your iPhone. You can try to use iToolab FixGo. FixGo is extremely simple to use, which gives new life to your stuck or unresponsive Apple devices. It is a powerful software for Apple mobile users to resolve almost all software issues their device may have while powering on, updating, resetting, restoring, etc.
With FixGo, you can solve 200+ iPhone problems that might appear in your iPhone after a new update, such as black screen, spinning circle or call dropping issues. No technical expertise is required; you can fix all your iPhone problems in just 3 easy steps. FixGo has two modes i-e standard and advanced. Standard mode fixes the issues of your iPhone without data loss. While advanced mode will erase all the data from your phone. So, use the advanced mode only when the standard mode doesn't work for you.
Fix 200+ iOS/iPadOS/tvOS Issues at Home Like A Pro
Easy to fix iPhone issues after update.
Fix iPhone/iPad/Apple TV system problems.
Downgrade iOS 15 to any supported versions.
Support all iOS devices and versions.
Step 1: Connect the device to a computer
Connect your faulty apple device with the computer using a cable and click the fix now button.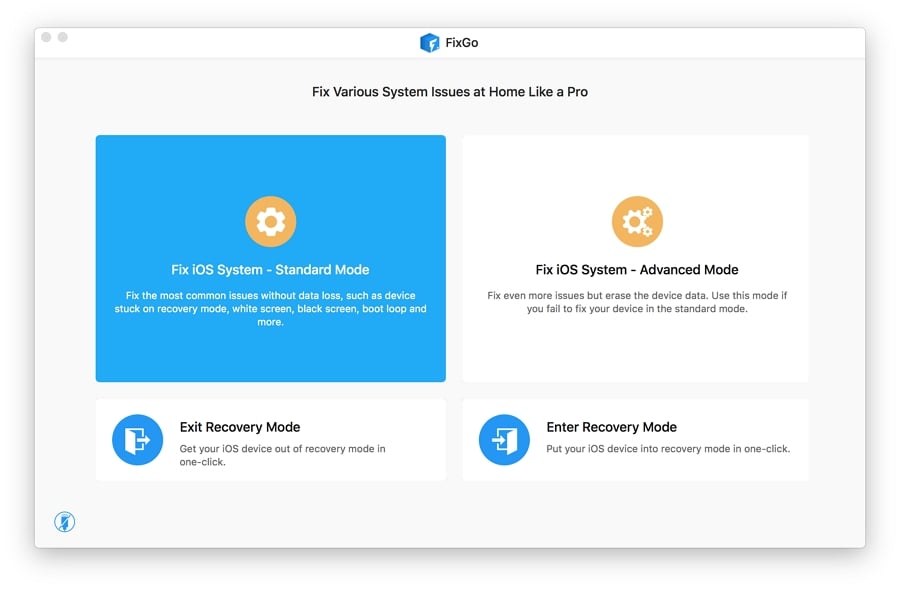 Step 2: Download the firmware package
You need to install the latest firmware package to your device to proceed.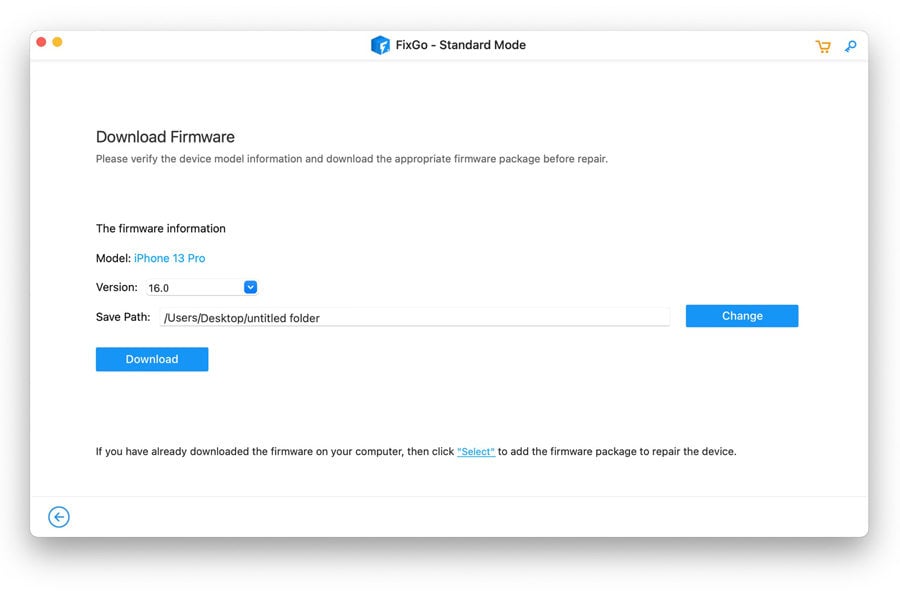 Step 3: Fix the system issue
Click the repair now button, and FixGo will start recovering your device.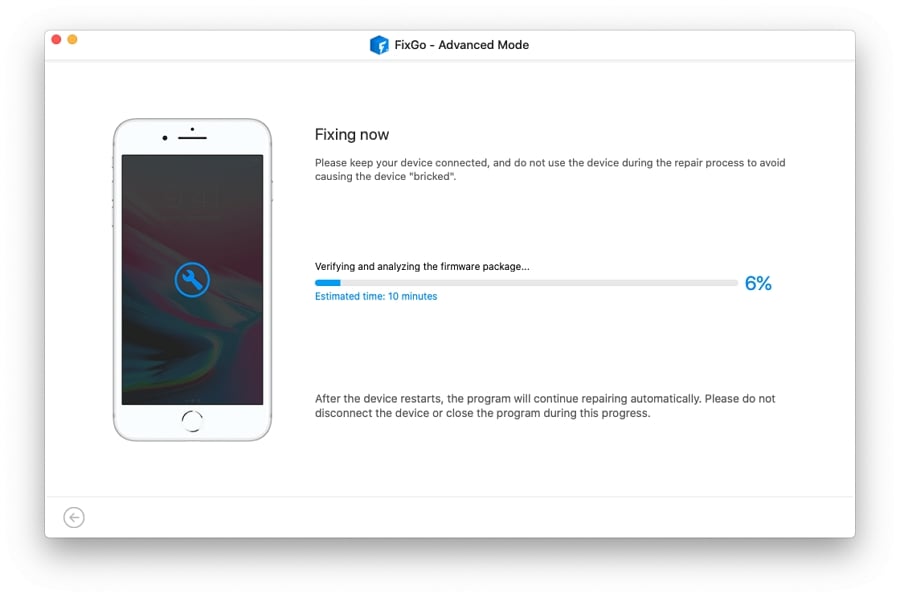 Conclusion
Call dropping is a very annoying problem, especially during an important call. This article has covered why call dropping issues appear in your iPhone and 10 easy tips to overcome this problem. If none of the tips works for you, you must go with the advanced tip – iToolab FixGo. It is the most advanced program that will solve more than 200 iPhone problems in just 3 easy steps.