"Hi there, I just switched on my iPhone and observed that the left side of the screen is not working. Please is there any way I could fix the issue right now?"

— From Apple Community
Are you familiar with the issue above? If so, you don't have to panic. This is the right spot to visit. Our team of experts has compiled a detailed guide that explains how to fix iPhone touch screen not working issues. We will share the guide with you here in this article. But before then, let's discuss what could cause the issue. Keep reading!
Part 1. Why Is the Left Side of iPhone Not Working?
The left side of your iPhone screen isn't working for the following reasons:
Hardware Issue: Hardware issues such as broken screen, water penetration, or damaged logic board can cause your iPhone screen not to work.
iOS System Issue: This is another principal reason why an iPhone screen isn't working. When you run your device on an outdated operating system or firmware package, it will malfunction. Other iOS-related issues such as minor glitches and more can also cause your iPhone screen to malfunction.
Broken Digitizer: A digitizer is a feature that controls the touch signal on your iPhone. If it's faulty or broken, your iPhone screen will stop working abruptly.
Others: Broken screen protectors, harsh environmental conditions, and many more.
Part 2. Advanced Solutions to Fix Left Side of iPhone Screen Not Working
Below are the official solutions recommended by experts that you could use to fix the left side of your iPhone screen:
Solution 1. The Best Way to Fix Left Side of iPhone Screen Not Working
Fixing the left side of your iPhone screen is an easy task to engage in when you have the iToolab FixGo system recovery software at your disposal. This premium software program is structured specifically to fix over 200 iOS-related issues. It can also be used to repair iPadOS and Apple TV OS.
You can also employ the services of the software to update/downgrade your iOS, enter/exit DFU mode, and more. iToolab FixGo offers one of the best services amongst its competition. You can use it for any operation and be certain your data won't be compromised.
3 Steps to Repair 200+ iOS/iPadOS/tvOS Issues
Free to Enter/Exit iPhone Recovery Mode.
Fix iOS system problems without data loss.
Friendly to use and super easy for everyone.
Support all iOS devices and the latest versions.
Stepwise Guide to Fix Left Side of iPhone Screen Not Working:
Here are the instructions you need to follow to fix the left side of your iPhone screen using iToolab FixGo:
Step 1 Launch your preferred browser on your computer, visit the official website for iToolab FixGo to install the latest version of the software. Once the installation is over, launch the software, connect your iPhone to the computer with a USB cord, and then select Standard Mode as your preferred repair option.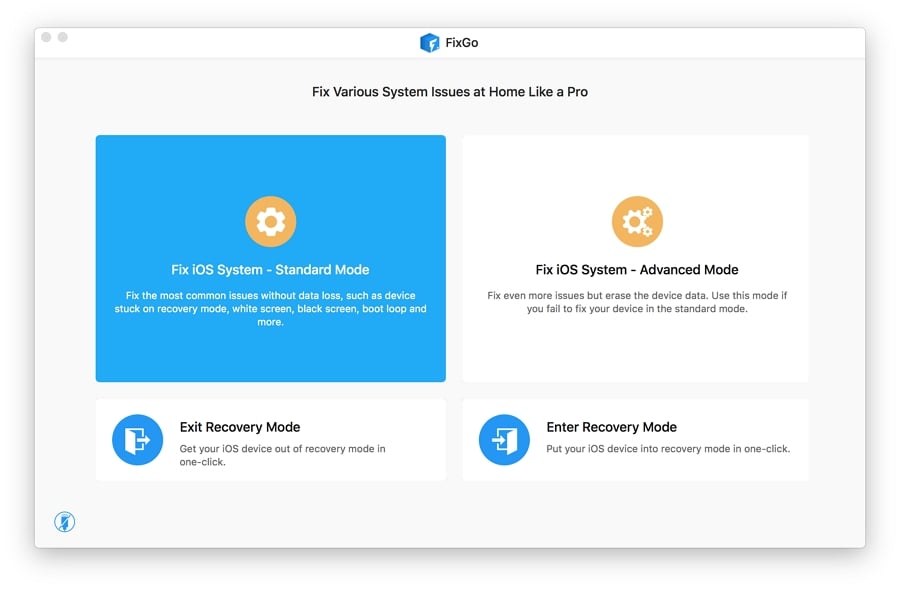 Step 2 iToolab FixGo will source and recommend a compatible firmware package to fix the left side of your iPhone screen. On finding a firmware package, a download prompt will pop up on your screen just as below. Hit the Download button to proceed.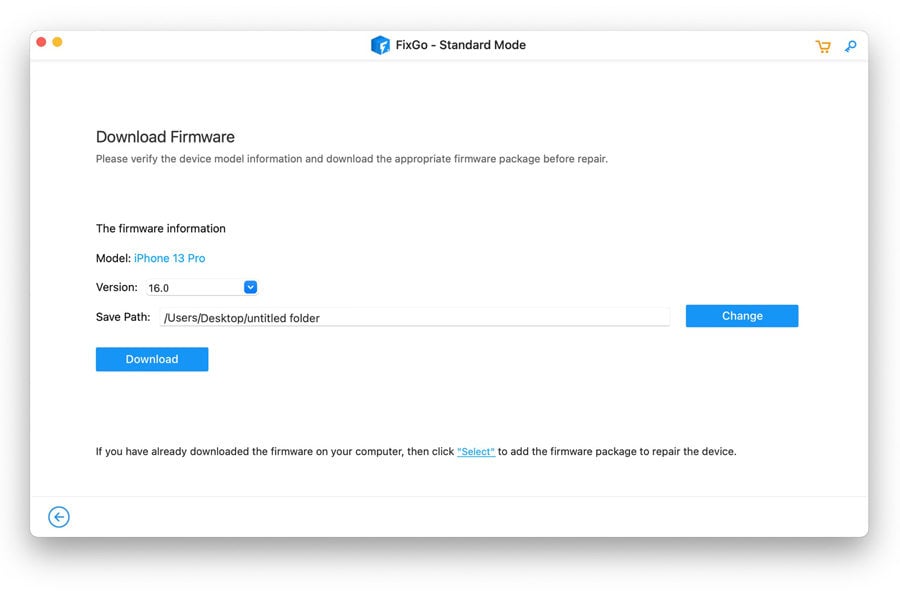 Step 3 Once the download is over, a repair prompt will also come up on your screen. Click on Repair Now and iToolab FixGo will immediately repair your iPhone using the just downloaded firmware package. Wait for the repair to complete, and your iPhone will automatically reboot itself.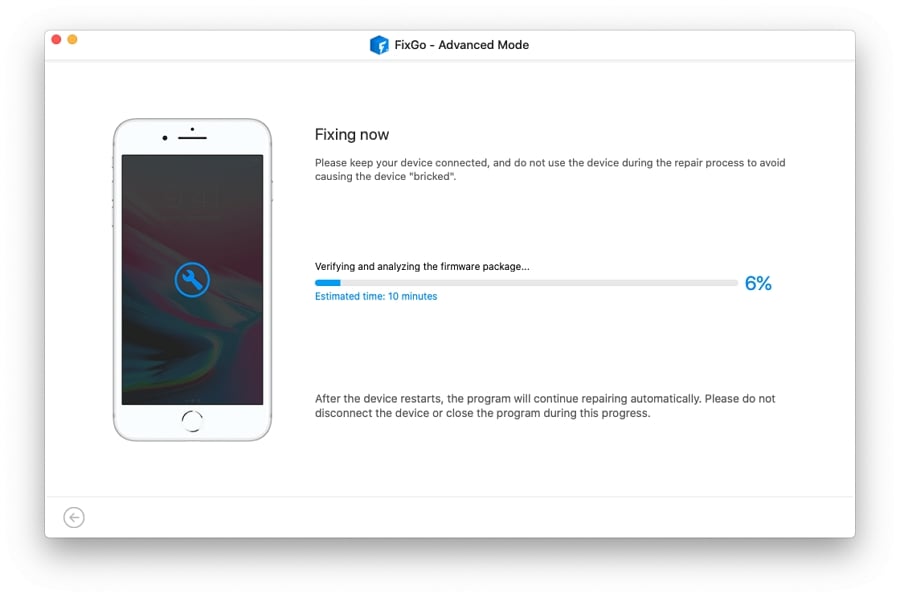 Solution 2. Restore iPhone via iTunes in Recovery Mode
Here is another effective solution to employ if you want to fix the left side of your iPhone screen. Restoring your iPhone in recovery mode via iTunes clears those minor glitches causing your device screen to malfunction.
This solution is easy to apply. To employ this solution, ensure you are running on the latest version of iTunes on your computer, and then follow the guide below:
Step 1 Launch iTunes on your computer, and then connect your iPhone using a USB cord. Your iPhone should appear on the left side of the computer screen.
Step 2 Next, set your iPhone to recovery mode. Depending on the generation of iOS device you are using, the technique required may differ. Here is a chart showing how to put the different iOS generation in recovery mode:
iPhone 6 and older generation: Simultaneously hold down the Home and Power buttons till you find the prompt Connect to iTunes on your screen.
iPhone 7 or 7 Plus: Hold down the Volume Down and Power button simultaneously until the Connect to iTunes notification appears on your screen.
iPhone 8 and newer generation: As quickly as possible, press the Volume Up button, release it, and press the Volume Down button, release it. Next, hold down the Lock button till Connect to iTunes pops up on your screen.
Step 3 On completing the step above, a prompt with the two options Restore and Update will pop up on your screen.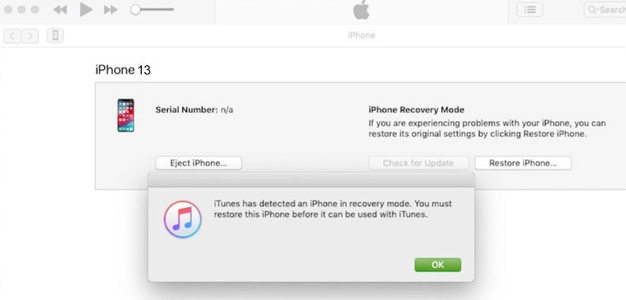 Select Restore and in no time, iTunes will automatically erase all the data on your iPhone.
Solution 3. Factory Reset iPhone
Subjecting your iPhone to a factory reset can also fix the left side of iPhone screen not working issues you are experiencing on your device. This solution wipes all of the data and current settings on your device, making it seem like a newly purchased device.
To factory reset your iPhone:
Go to Settings, and then select General.
Next, click on Reset > Reset All Content and Settings.
Enter your passcode correctly in the appropriate field then click on Erase iPhone.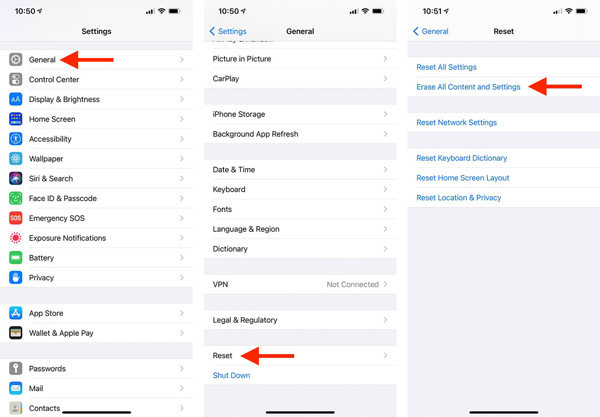 Part 3. Common Ways to Fix iPhone Left Side of Screen Not Working
Besides the solutions above, here are other ways to fix the left side of your iPhone screen:
1. Close Unresponsive Application
Running too many apps on your iPhone can cause the device to malfunction. You may experience sticky keys, an unresponsive screen, and more. Closing all the running apps is the best thing to do as it refreshes your device.
To close unresponsive apps on your iPhone, swipe up from the bottom of your screen if you use iPhone X or newer. All the running apps will appear on your screen, kindly swipe each one up to close it.
If you use iPhone 8 or older versions, hold down the home button and all running apps will pop up on your screen. Swipe each app up to close it.
2. Remove Protector and Clear Screen
Since accessories like screen protectors can cause an iPhone screen to stop working, removing them can help resolve the issue. If you wear a screen protector on your iPhone, kindly replace or remove it. Mind you, for the replacement, you need to clean your screen to wipe away the first on it.
3. Force Restart iPhone
Force restarting your iPhone eliminates those minor glitches that are affecting your iPhone. It refreshes your device thereby enhancing its performance.
To force restart your iPhone:
Hold down the Volume Up and Lock button and then drag the Slide to power off icon right to turn the device off.
Reboot the device by holding the Volume Up and Lock buttons till the Apple logo appears on your screen.
4. Put iPhone into Recovery Mode
Here is another helpful solution to employ. Just as force restarting your iPhone clears minor glitches, putting your iPhone into recovery mode does the same.
Although this solution has a similar goal as force restarting, the techniques involved are different. Follow the guide below to put iPhone into recovery mode:
With the help of a lightning cord, connect your iPhone to your computer and then launch iTunes.
Place your device in recovery mode by holding the volume up and down buttons simultaneously.
A screen showing the two options Restore and Update will pop up. Select Restore to proceed. In no time your, iPhone screen should be fixed.
5. Update iOS Version
To update your iOS version:
Go to Settings > General Software Update.
On the next page, tap on Download and Install to import the latest iOS version on your device.
6. Contact Apple Support
Should your iPhone screen still malfunction after employing all of the solutions above, we advise you to contact Apple support for help. You may need to fix the device. Apple engineers are the perfect technicians to visit.
Conclusion
Fixing the left side of your iPhone screen shouldn't be an issue anymore with the tutorial guide provided above. We shared with you the advanced solutions and common solutions. Choose from any of the solutions to repair your iPhone screen. If you want to fix the issue with the 100% success rate and the fastest speed, using iToolab FixGo iOS system recovery software is yout best choice.