"Can Life360 track you when your phone is off?" I want to use Life 360 because of its accuracy and wish to know does it work even if the phone is powered off?"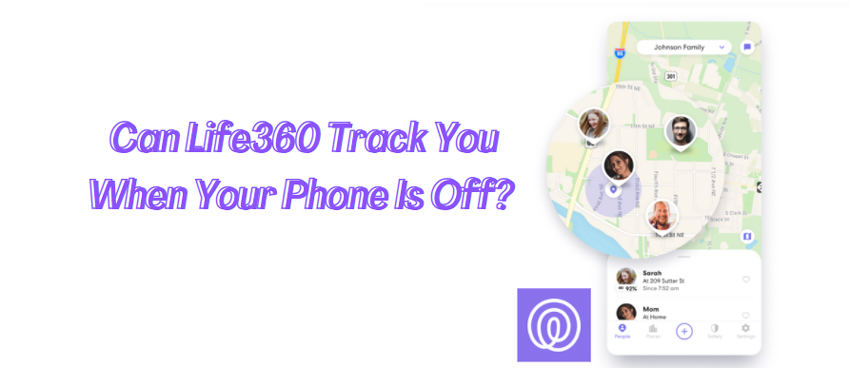 Location tracking apps, such as Life360, enable a concerned parent to keep track of their child's whereabouts. However, it could also become a cause for invasion of someone's privacy. This post will discuss everything related to the app, its advantages, and how to stop tracking if doing more harm than good.
What Is Life360?
Life360 is a smartphone app that allows you to share your location with other members of the family and track when they arrive at or leave work, school, home. If one person has set up geo-fences for an area such as "home," then every time another member enters those boundaries – say through arriving back from vacation late evening after 7 pm – Life360 will send out alerts. Hence, all people know there's someone new within range!
Likewise, Life360 offers many features designed to keep track of your drivers and the vehicles they drive. The app also integrates with select navigation systems, allowing you peace of mind when on road trips or traveling around town for work!
Life360 has created a Drivers App that records where everyone is at all times and gives notifications in case anything happens while driving, such as an emergency response service available 24/7 worldwide through two-way communication channels if needed.
Can Life360 Track You When Your Phone Is Off?
People today are increasingly concerned about their privacy and how it is being compromised. It doesn't matter if the tracking app in question is something as reliable as Life360. Is this a problem in today's society? It's hard to say, but not without reason: people have become more conscious of how much information they give away every day. Moreover, they want an app or service that will protect them from being tracked too closely by companies with less than reputable intentions.
Under such circumstances, people tend to power off their phones to disable GPS tracking. Turning off your phone not only enables you to disconnect from Life360 but also stops the app from tracking and broadcasting every move.
It also means that no one can see where in proximity they are, nor how long it's been since their last location update date/time stamping. Such an endeavor might be helpful for privacy purposes if the need arose! However, little do the users know that it is still quite possible to be still tracked by other individuals using Life 360. The premium members will still have access to the location history of the past 30 days, enabling the other person to know your last known whereabouts.
How to Stop Life360 from Tracking Me?
You can not switch off your iPhone forever to avoid getting tracked by apps like Life360. Whenever you turn on the device, Life 360 will resume its operation as well, enabling the other person to learn your real-time location. Under such circumstances, the question remains on how to stop Life360 from tracking me?
Well, there is a reliable and utterly effective solution for you, which is using the iToolab AnyGo location spoofing software. With this program, you can keep your iPhone switched on and trick the stalker that you are in some different area simultaneously. Not only that, but you can also change multiple locations of your iOS device at the same time.
As far as compatibility is concerned, AnyGo works well on the latest iOS 15. Also, you can run the program on Windows 7/8/10/11 and macOS 10.10 or later. It is effortless to navigate, and there is no need to acquire any technical skills to spoof the iPhone location.
Follow the steps below to understand how to teleport to any location in the world using AnyGo by iToolab.
Step 1: Download and install AnyGo
First of all, you need to download and install the software on your computer. Once it is done, run the application, and connect your iPhone to the same desktop. Next, click the Start button to see your device's current location on the interface.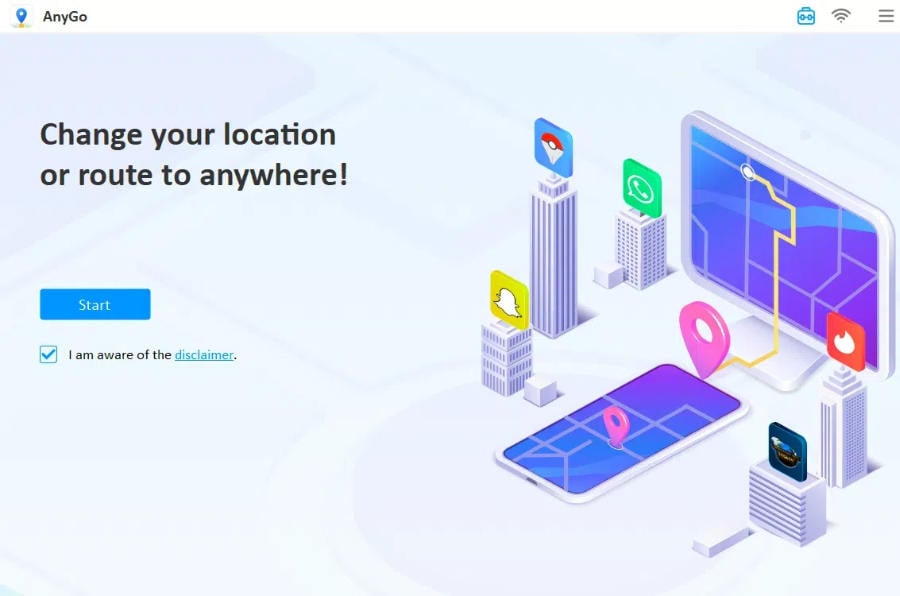 Step 2: Select the place
Click on "Two-spot route" in the upper right corner. Select the place you would like to go to on the map. And, you can choose walking, cycling, or driving speed. Click "Go".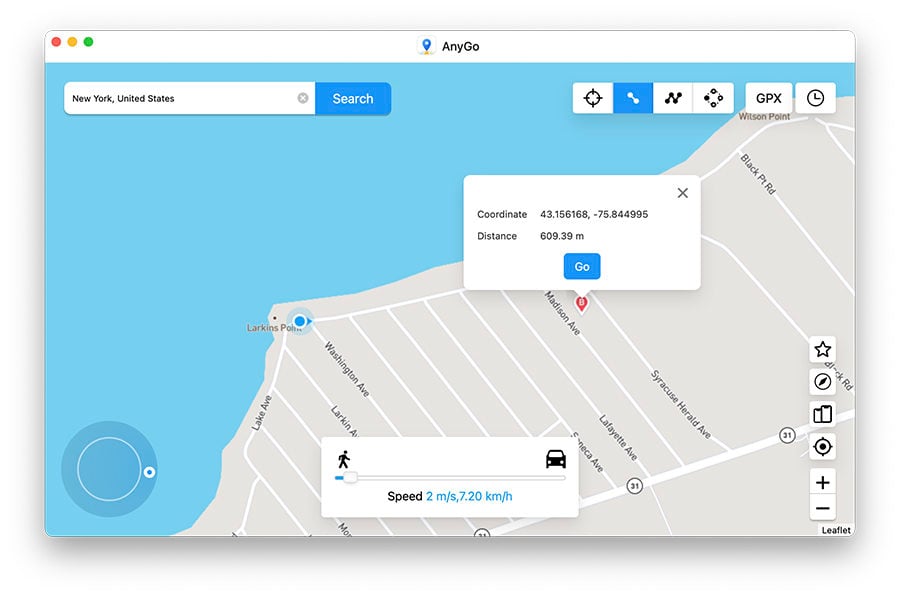 If you would like to pass through many places on the map, choose the multi-stop route.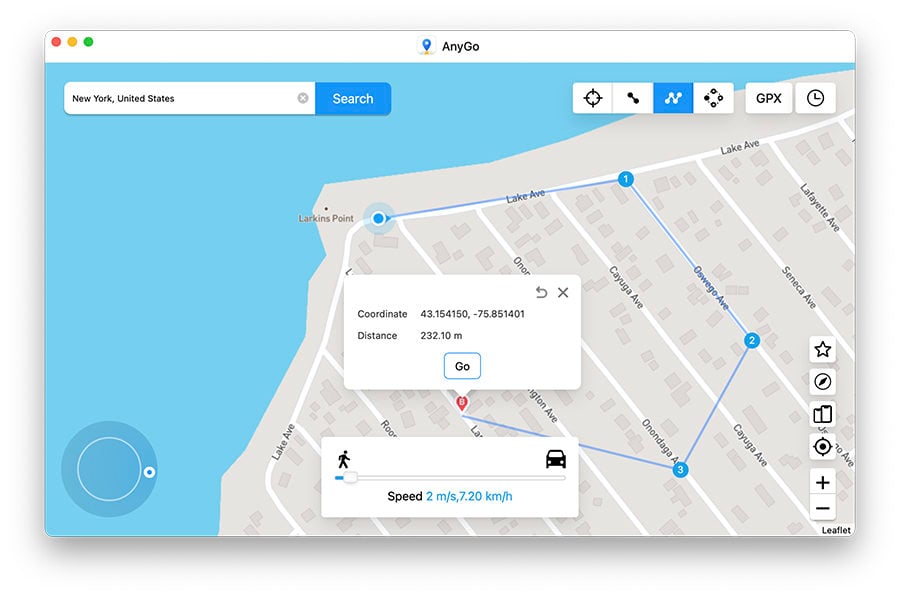 Step 3: Simulate movement
You can choose the "Realistic Mode" for a different speed to looks real. Finally, click "Go" to begin your journey.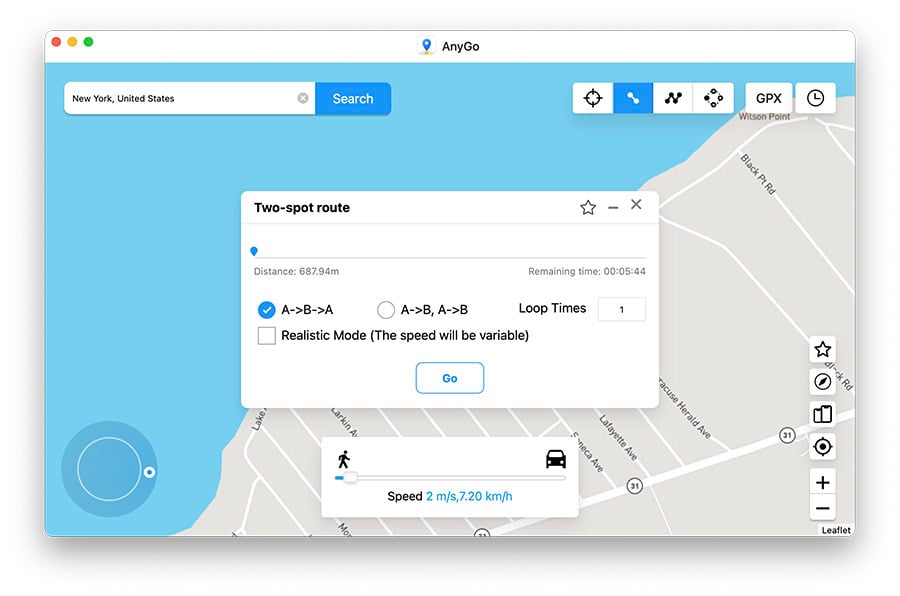 After setting these points, your device will be moved according to what is planned in between!
Also Read: Pause Your Location on Life360 without Anyone Knowing
Final Words
We're sure you'll find this article interesting, as it has thoroughly discussed how Life360 can track your phone when it's off. Life360 has its utility but is not convenient to continuously being monitored by other individuals. Though you can prevent the tracking by switching off your iPhone, it is not a practical solution. In that scenario, we suggest using iToolab AnyGo, which is an effection method to fix the "how to stop Life360 from tracking me" issue.