GPS spoofing has now become a thing as it allows you to access different content from different regions of the world. Moreover, it helps you to play GPS-integrated games like Pokémon Go from any location. There are many GPS spoofing apps for iPhone and Android users, but in this article, we are going to discuss a few of the most effective and easy-to-use apps. Read the article and learn about the best GPS spoofing tools for iPhones and Androids.
Top 3 GPS Spoofing Apps for iPhone Devices
Finding a workable GPS spoofer for iOS devices is more difficult than it is with Android devices. Here are the top 3 options you can use.
1. iToolab AnyGo (Desktop Version)
If you are looking for the best GPS spoofing app for iPhone, then there is no better than iToolab AnyGo. It can simulate GPS movement along your custom path. With just one 1-Click, you can change the GPS location and teleport to any place you like. iToolab AnyGo works greatly with LBS games. Moreover, it supports the latest iOS 16 as well. Therfore, it is an incredible GPS spoof app iPhone.
iToolab AnyGo – The Best iPhone GPS Spoofer Apps
Change your location to any locations with 1-click.
Simulate walking, cycling or driving at a variable speed.
Share virtual locations on social platforms.
Support all iOS devices and versions including iOS 16.
To use AnyGo to change the location on your iPhone, you can follow the steps below.:
Step 1 Launch AnyGo on the computer, and at the same time, connect your iOS device to it using a USB cable. On the program's interface, click the Start button.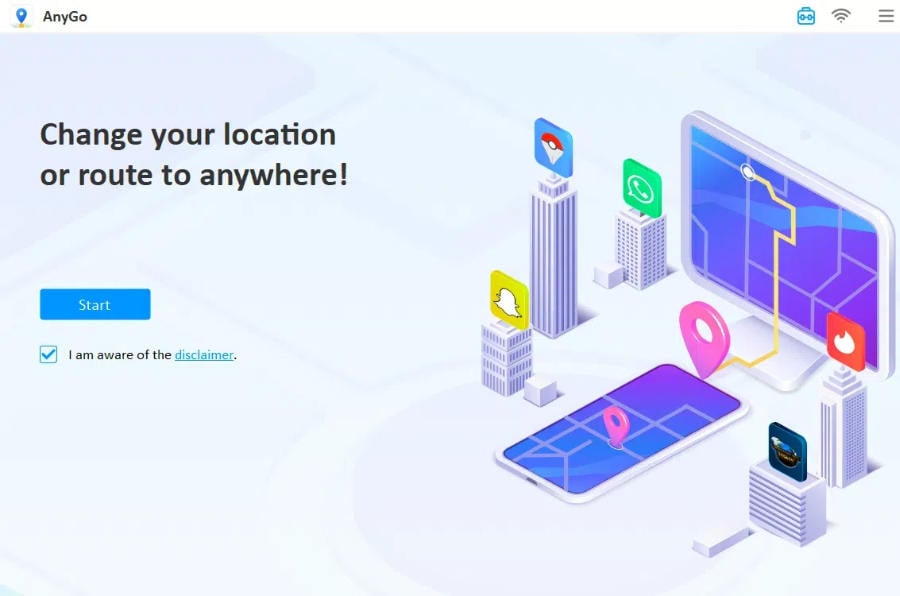 Step 2 Click the Teleport button next, and enter the area you want to go to in the Search Bar. Finally, click Search!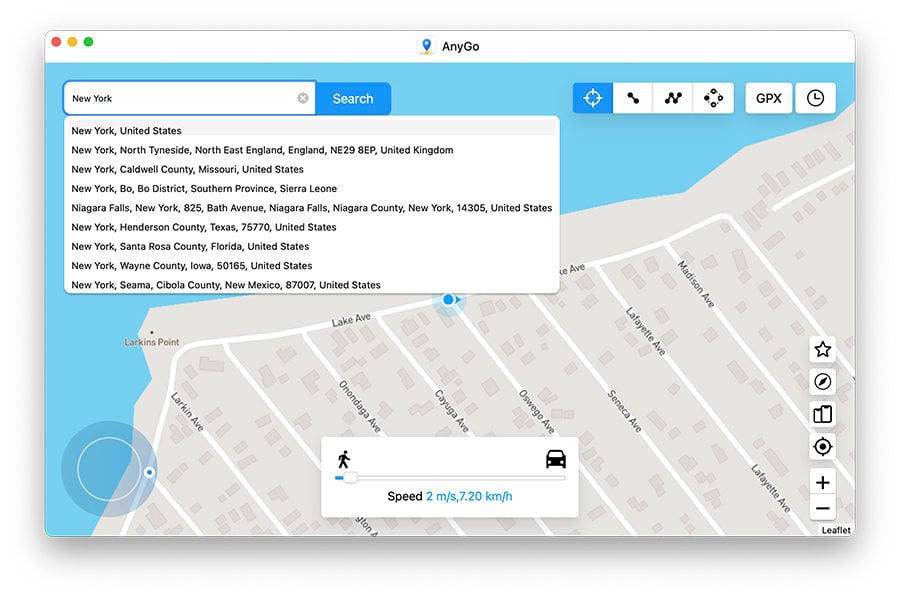 Step 3 Hit the Go tab to teleport your device virtually to the entered location. That's it!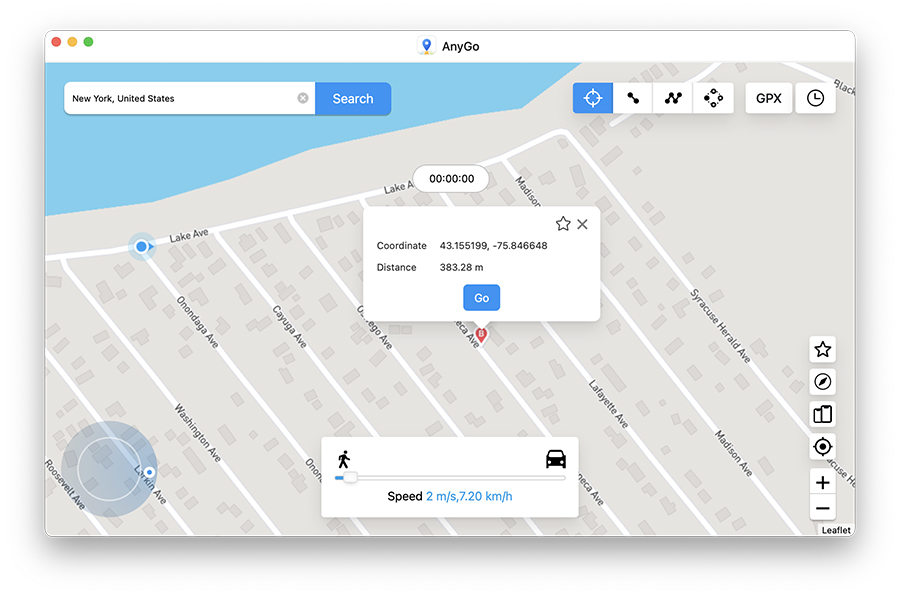 2. iSpoofer (Desktop Version)
Another spoof GPS app for desktop is iSpoofer. It works on both Windows and macOS and allows you to change your current location without being suspicious. The best thing is iSpoofer doesn't require your iPhone to be jailbroken. Besides GPS spoofing, it has plenty of more features that you can explore after installing the app.
🙂 Pros:
iSpoofer doesn't require your iPhone to be connected to a PC.
It is compatible with both Windows and macOS.
It moves your location automatically.
🙁 Cons:
Compared with other GPS spoofing apps, iSpoofer is quite expensive.
Only compatible with iPhone.
If you are looking to play games by GPS spoofing, then it is not recommended as it is not safe.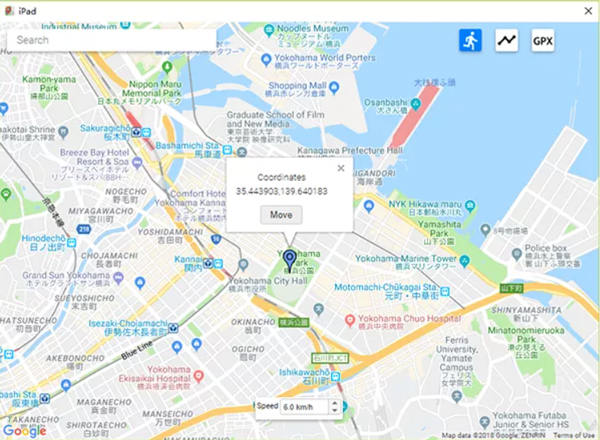 3. 3uTools (Desktop Version)
3uTools is an all-in-one desktop application. It has different features that allow you to jailbreak, flash, manage files, download apps and manage all kinds of data on your iPhone. Among these features, it has "Virtual Location". This feature can be used to spoof the location of your iPhone.
🙂 Pros:
You can get out of region restrictions of different apps and games easily.
It allows you to go to the exact location by entering your longitude and latitude.
After changing the location, you can also restore your true location.
Works seamlessly with all iOS devices.
3uTools is available for free for all users.
🙁 Cons:
The process is quite lengthy as it requires different steps to be followed.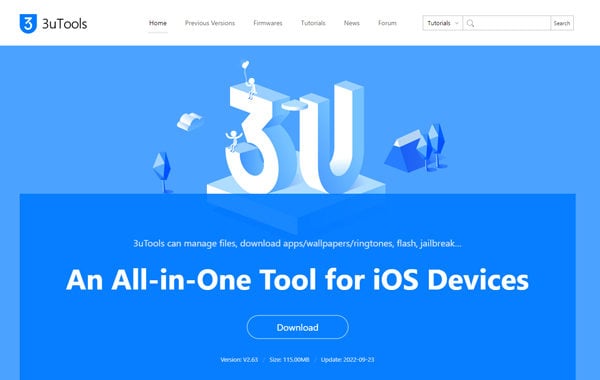 Top 3 Spoof GPS Apps for Android Devices
It is also easy to find GPS spoofing apps for Android. Below are some of the best GPS spoofers worth a try:
1. Fake GPS (Mobile Version)
As an Android user, you will find plenty of GPS spoofing apps on the Play Store and all over the internet. However, Fake GPS is an app that will not only work efficiently but will also serve the very purpose of its existence. It is a free-to-use tool and can be accessed on Play Store.
🙂 Pros:
With Fake GPS, you can enter and save different locations in the app from being accessed afterward.
You can either enter the coordinates or type in the location if you want.
To get accuracy, you can also set the altitude and update the interval in milliseconds.
It also has the feature to simulate your movement so that GPS location can be randomized.
🙁 Cons:
You need to allow mock location in the development settings of your device.
Disable location services before running this app, as it can lead to interference with mocked locations.

2. GPS Emulator (Mobile Version)
Another Android GPS spoof app is GPS Emulator. It is not that efficient but can work fine if the expectation is satisfactory. It requires at least Android 5.0 and above. This app was not built for faking locations in games but for developer testing purposes only.
🙂 Pros:
With GPS Emulator, you can get the current time of the fake position as well.
It consists of three maps, normal, satellite, and terrain.
You can enter the GPS coordinates to enable/disable Google Play Location Services.
🙁 Cons:
It is not a free tool, and you will have to buy it before using it.
It also contains ads which could be frustrating.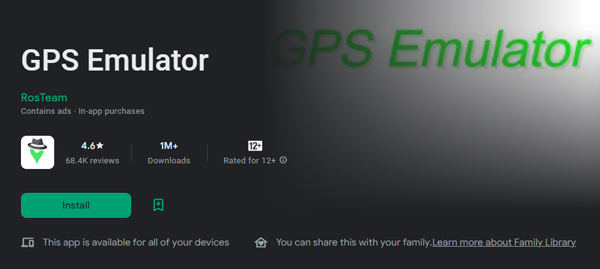 3. GPS JoyStick (Mobile Version)
If you are looking for the easiest spoof GPS app for your Android device, then GPS Joystick is the one for you. It doesn't require you to root your phone. It can change your location with just a few taps. Moreover, the joystick makes it easy to switch from one location to another. This tool is quick to change location.
🙂 Pros:
GPS JoyStick has the feature of creating and saving routes.
Choose any location on the world map.
With the help of a joystick, you can move to any location in no time.
🙁 Cons:
Contains many ads.
The app is not up to the mark, as it often crashes due to random issues.
Games like Pokémon Go fail to detect the location sometimes.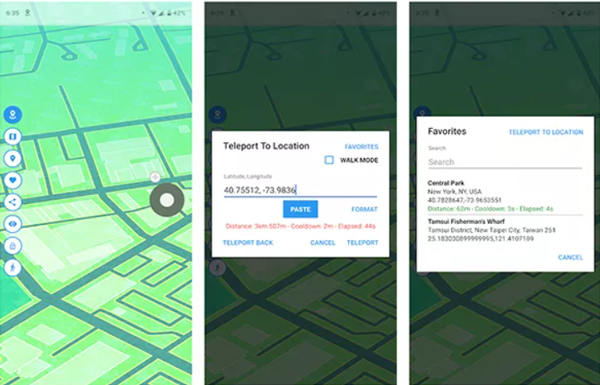 What Is the Best GPS Spoofing App for iPhone & Android?
The best GPS Spoofing app is one that is safe and reliable to use. It should be easy to switch between the locations and should have a user-friendly interface. Consistency and sustainability should be the key feature of the app. Here are the best GPS spoofing apps for iPhone and Android:
iPhone: iToolab AnyGo
It takes just a single click to teleport to any location. Works perfectly fine with games and other location-intended apps. It can change locations simultaneously on different devices. Lastly, it has a trial version that can be downloaded.
Android: GPS Joystick
The feature that sets this app apart from others is the joystick. It helps you to change location quickly. You don't need to root your device to use this tool. It is available for free but contains ads that could be irritating.
FAQs
Q1: Can WhatsApp live location be faked?
Yes. If you have a good GPS Spoofing app, then the live location of WhatsApp can be faked easily.
Q2: Can I use GPS spoofing apps for Pokémon Go?
Sure. With iToolab AnyGo, you can play Pokémon Go with ease. You can set your custom route and adjust the movement speed as well. The game could never catch if the location is being spoofed. This tool is available on iOS only.
Q3: How do I turn off fake GPS?
First of all, stop using the GPS spoofing apps on your phone. Secondly, go to settings and turn off Mock Location inside the Developer's options. It will turn off your fake GPS.
Conclusion
In this article, we have discussed different apps for faking location on Android and iOS devices. Although you may find many apps online, there are only a few efficient apps that work. For Android devices, you can go for GPS Joystick, while for iOS, you can go for iToolab AnyGo. It is the best of all tools as it is reliable, consistent, and easy to use, and it also has a trial version that can be downloaded. It works with both Windows and macOS.