"How to change your location on Hinge? I haven't been able to match with anyone on Hinge in my area, so I want to shift the location to more luck. Is it possible?"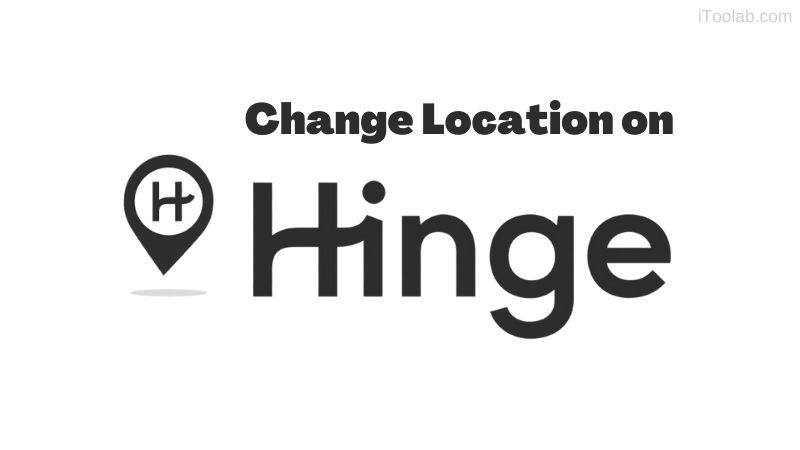 Hinge(a popular dating app worldwide) with users logging in daily to find a perfect dating partner. However, what do you do if you cannot find a match? You can learn how to change the location on Hinge.
Want to know how? Well, for the best solutions, you only have to read this post. Let's start!
Part 1: Why Do You Need to Change Location on Hinge?
Dating can be scary. You are basically trying to become intimate with a stranger. However, if you use a dating platform, such as Hinge, then you can match with an individual who shares all your likes and dislikes. Still, unlike the old dating apps, Hinge doesn't work with proximity when matching those looking for love.
A downside to this is that you don't get suggested matches based on where you currently are and must manually enter your radius. So, due to these circumstances, you can manually change the location on Hinge.
So, it doesn't matter if you are living in one state or country, by changing the location on Hinge, you can match with pretty much any person with whom you have something in common.
In the next section, we will explore the various ways you can learn how changing location on Hinge is possible.
Part 2: How to Change Location on Hinge?
Here, we will show you how easy it is to change your Hinge location setting on Android and iPhone mobile devices.
Method 1: Change location on Hinge Manually
It doesn't matter which smartphone platform you use, as it is probable to manually alter the user location on the Hinge. You can alter the settings inside the Hinge app. The process is as follows:
To start, open the Hinge app on the smartphone. Next, enter your account credentials.
From the app interface, tap on Settings and select Preferences.
Now, press My Neighborhood and manually set your location with the "pinch and zoom" feature.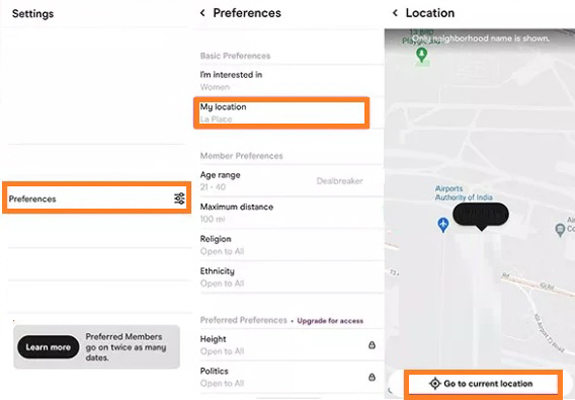 Method 2: Use Location Spoofer without Jailbreak
Manually setting a location on Hinge is time-consuming and leaves little room for freedom. Every time you wish to go to a different place, you will be required to repeat the same steps(mentioned previously) again and again.
So what should you do to avoid this inconvenience?
There's an incredible app out there called iToolab AnyGo that lets you set your location to anywhere in the world on the map. As a desktop-based app(Downloadable on Windows and macOS), it will be effortless and make it appear as though you left Grand Central Terminal and are sitting in Bryant Park right now! This is a highly useful tool if you want to change location on Hinge to find the love of your life.
🏆 Key Features:
✅ Change the GPS location of your iPhone to any destination in just 1 click.
✅ Share your virtual location on social media without anyone knowing.
✅ Prevent Apps from tracking your location.
✅ Spoof location of multiple iPhones simultaneously.
Moreover, by spoofing your whereabouts, no one can guess where you really are by simply looking at any historical check-ins. It is entirely safe to use. If you are wondering if it is compatible with the latest iPhone and iOS. The answer is Yes!
Check the following steps about changing location on Hinge using iToolab AnyGo:
Step 1 First, download/install the application on any system. Next, run it while connecting the iPhone to the same computer. From the home screen, click the Start button.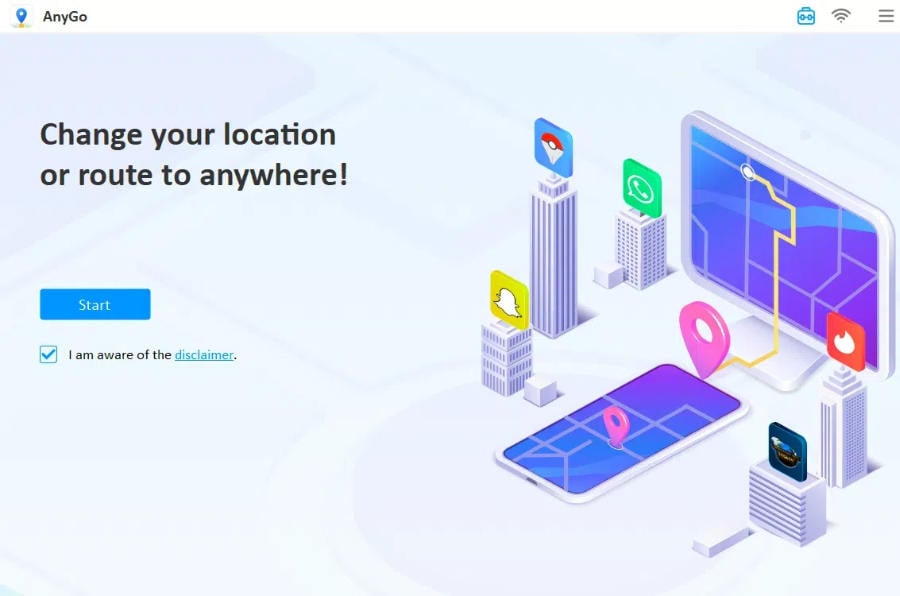 Step 2 Now, AnyGo will instantly share the accurate location of the connected iOS device. If it is incorrect, press the Center On tab to resolve the error.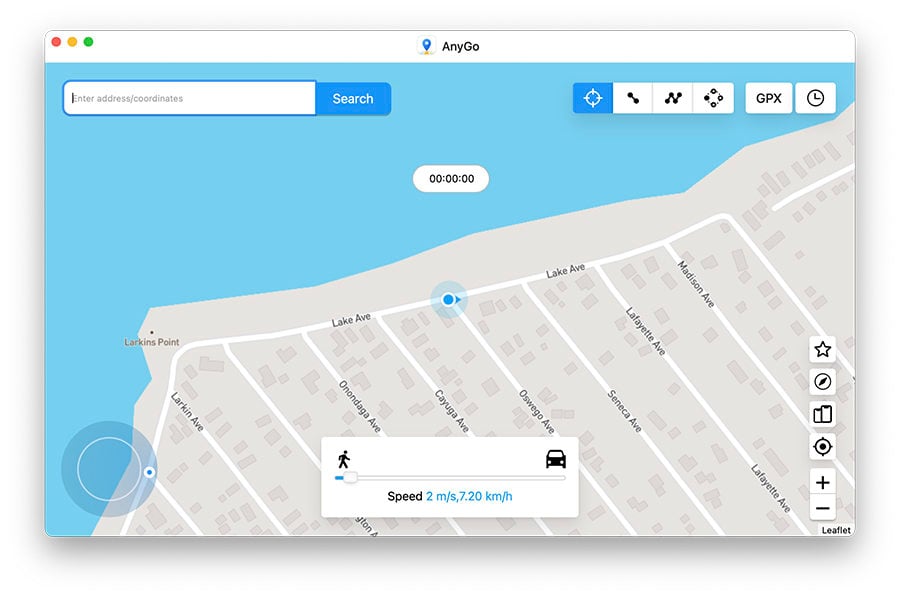 Step 3 Following, click on Teleport and type where you want to find a match on Hinge. Hit Enter!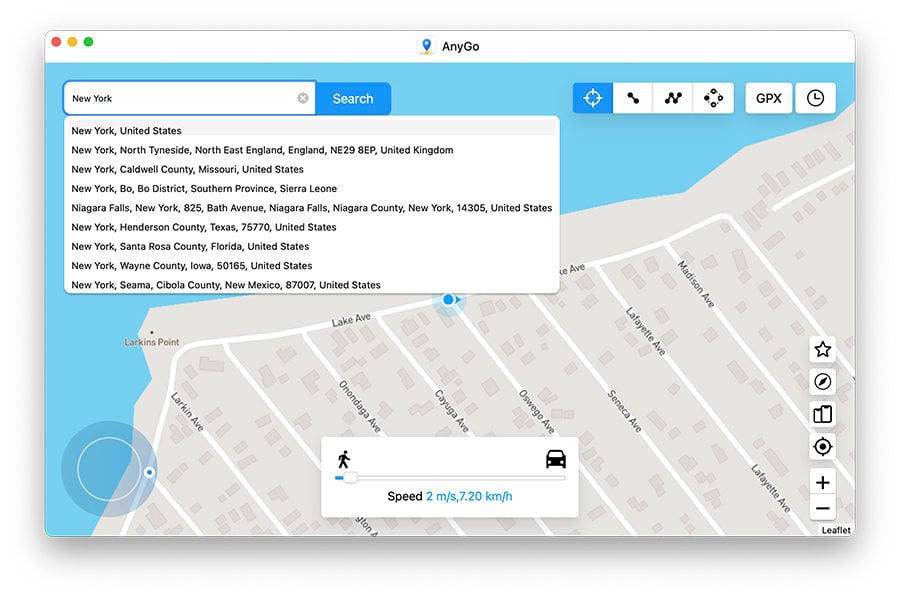 Step 4 Finally, iToolab AnyGo will display the position on a map(that you have entered). To spoof to that point, simply click on Go.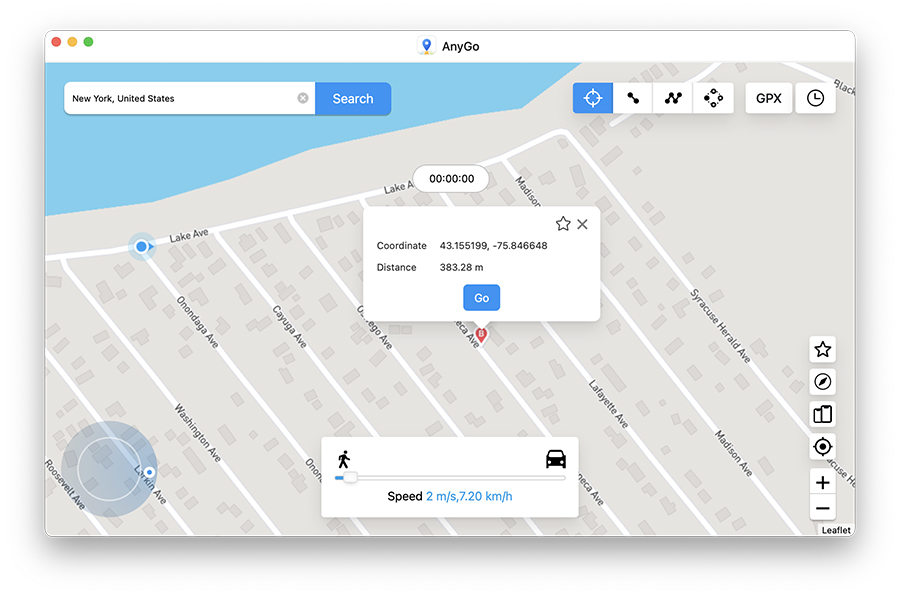 This method is much easier and also allows you to switch places with just one click to date someone from Hinge. And you can do all that without ever jailbreaking your iPhone.
Method 3: Use Location Changer from Cydia Marketplace [Require Jailbreak]
Cydia Marketplace is an unofficial app store for iOS devices where you can access specific apps that are not approved by Apple. However, you must jailbreak the iPhone to utilize this method to change location on Hinge(not recommended).
The steps are mentioned below:
After jailbreaking your iOS device, install the Cydia Impactor software on the computer.
Now, connect the iPhone to the system, and tap on Trust your Phone option.
There, you are required to add your iPhone model. Next, click Start.

Now, download the unc0ver jailbreak tool, and add it to Cydia Impactor.
From your iPhone, access Settings and tap General.
There, select the Profile & Device Management option.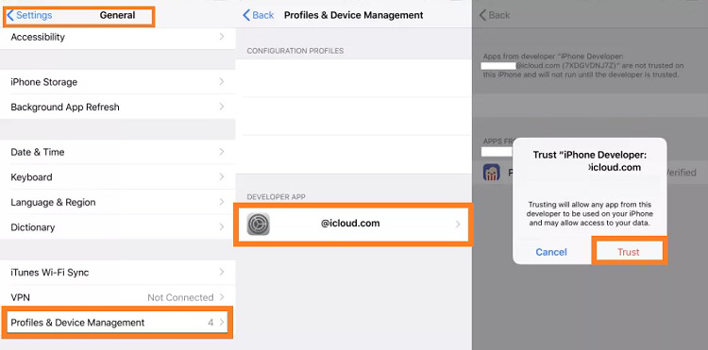 Tap Trust and click on Go, initiating the jailbreak process. The iOS device will restart once it finishes.
Finally, access the Cydia Marketplace from your iPhone, and download the Location Faker app. Just run it, and change the location before opening Hinge.
You May Also Ask Related to Hinge Location
Q1. Can You Change Your Location on Hinge?
Yes! It is possible to manually edit the location on Hinge. Also, you can use iToolab AnyGo to jump to any desired spot and start dating there.
Q2. If I change my location in Hinge, do I lose my matches?
No! A match does not expire on Hinge and only gets deleted if you choose to erase the data yourself.
Conclusion
See how simple it was to understand how to change location on Hinge! Though the app offers to manage the location settings from within its interface, it can get quite tiring. For this reason, we recommend iToolab AnyGo to control your position to date on Hinge, as it only requires one click to do the job.
Fake Location to Anywhere on Social Medias
Change GPS location to any destination in 1-click.
Prevent Apps from tracking your location.
Share your virtual location on social media.
Multiple modes to fake GPS movement.