Those who are a diehard fan of the top location-based game – Pokemon Go, knows how important is for a player to stay active in it. Although, if it's a rainy day or you feel tired to go out then it feels quite sad because now you may miss all the special events coming on the game. We know this can spoil your enjoyment. Don't worry we have an amazing solution for you all. Yes, there is a way with which you can easily fake your current location and use a joystick for spoofing Pokemon Go iOS. So, without any further delay let's get into the details.
Is There A Joystick for Pokemon Go iOS?
Yes, you can make use of any location spoofing program which also supports the joystick feature. With the help of that, you can control movements of your Avatar in Pokemon without actually physically moving in real world. But yes, remember one thing, you must only use a reliable and secure tool for this. If your program is not able to securely simulate the fake location function or you are moving your character Avatar too fast then you might get banned by Niantic.
In the next section, we are going to explore how to effectively and efficiently simulate the fake location using joystick for Pokemon Go.
Free Download Joystick Tool for Pokemon Go
For all the dedicated Pokemon Go players, there is a way that you can use to play your favorite game without actually moving or walking. For this, we would like to introduce iToolab AnyGo that offers you the joystick feature for Pokemon Go on iOS and Android. All you have to do is to download this GPS location spoofing software. And then, you can enjoy playing all the location-based games like Pokemon Go at your home without any physical movement. To know more about this tool, let's focus on its features.
How to Use Joystick for Pokemon Go?
For those who want to know how they can use a joystick for Pokemon Go, we have mentioned a detailed step-by-step tutorial for this tool down here. Let's start.
Step 1 Connect your iPhone and launch the application
Download, install and launch the iToolab AnyGo. Then, link your iPhone to your PC or Mac and hit the "Start" button from its home page. If your current location on the map is not correct or not showing at all, then press the "Center On" image to adjust it to the accurate position.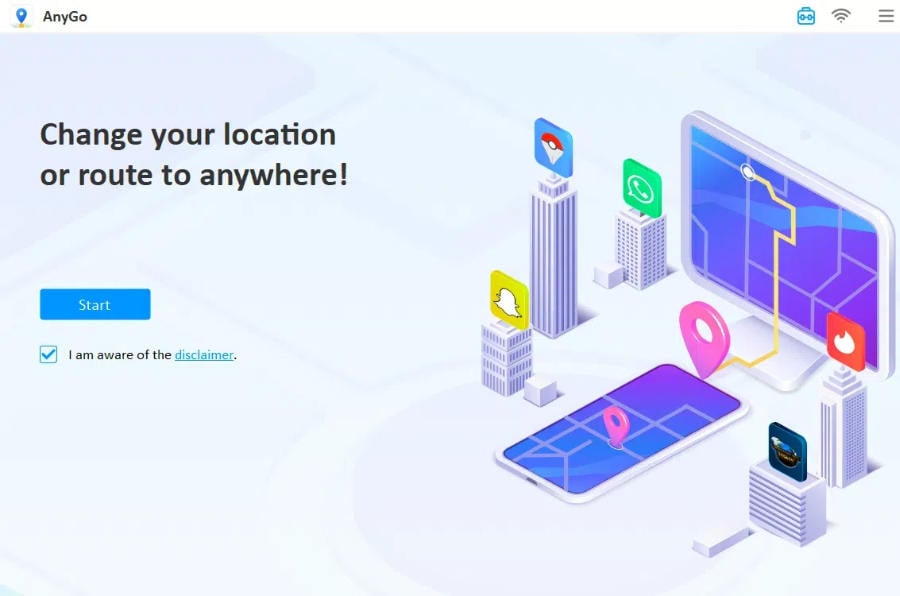 Step 2 Spoof your iPhone location to anyywhere you want
Now, press the "Teleport" symbol (you can see the first icon in upper-right corner of the screen). After that, put in the location name where you want to teleport and tap the "Search" button. The program will then show you the "Coordinates" and "Distance" of the desired location. Hit "Go" and you're done.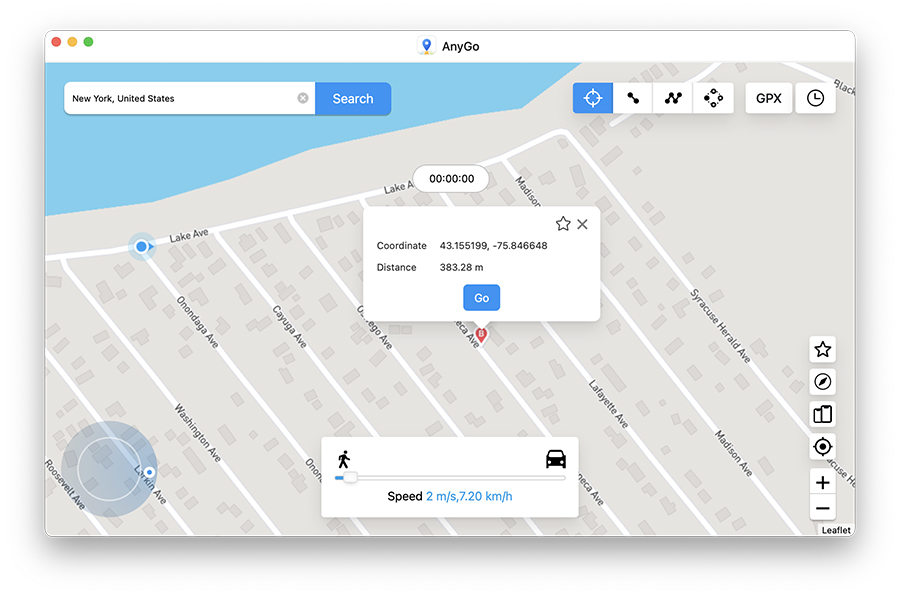 Step 3 Simulate the iPhone movement with a joystick
If you wish to start a customized movement of your GPS location, press the "Joystick" (fourth icon from left, in the upper right corner) button and you can then start moving. Here's how to control a joystick.
Click on the arrows of the joystick to move in the respectively direction. Or, pull or drag the spot around the blue circle to move in whichever direction you prefer.
Hit the "A" and "D" keys on your keyboard to move left or right respectively.
Press the "Left" or "Right" arrow keys on your keyboard to move left or right respectively.
Hit the "W" and "S" keys on your keyboard to move up or down respectively.
Press the "Up" or "Down" arrow keys on your keyboard to move up or down respectively.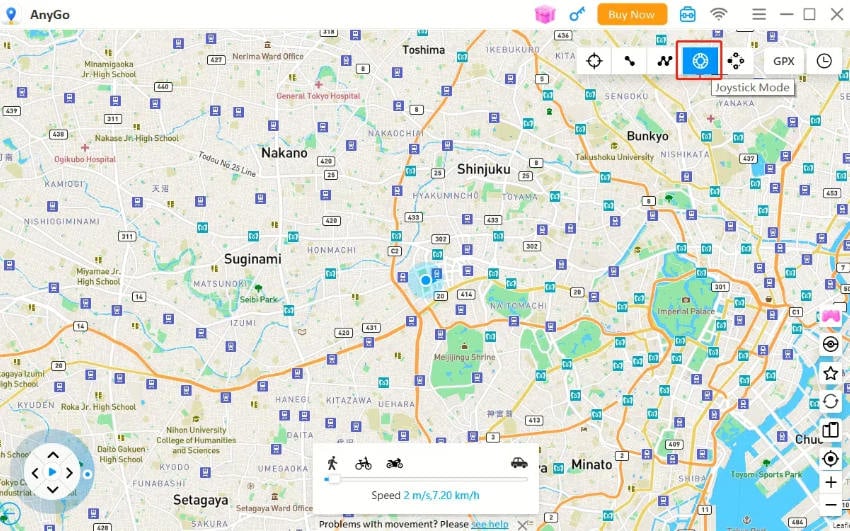 FAQs about Joystick for Pokemon Go iOS
Q1: What is the best joystick app for Pokemon Go?
If you wish to control the game without any restrictions then, AnyGo from iToolab could be the best choice for you. This app offers many amazing features. Moreover, this joystick-supporting app lets you enjoy Pokemon Go without physically walking. So, download Pokemon Go joystick apk now!
Q2: Will you get banned for using Joystick for Pokemon Go?
Using a safe tool to spoof your GPS location is really important when you are playing Pokemon Go. Because faking the location by using a joystick from an unsecured app will be checked by Niantic (creator company of Pokemon Go). And if they find that any player violates their guideline then they will restrict them. And you may even get banned from the game also.
Q3: How can I use GPS Joystick in Android?
Like for iOS, AnyGo is also available for Android to fake GPS location by using joystick. Many other apps are also available in the Play Store to spoof GPS for Android users but you need to be very careful when using them.
Also Read: How to Get A Pokemon Go JoyStick on Android.
Conclusion
So, that's all for now. We hope you now have good understating on how you can play Pokemon Go without stepping out of your house and still make others and Niantic believe that you are actually moving. With the help of iToolab AnyGo, you can spoof your GPS location and enjoy all the fun with its amazing feature of joystick for Pokemon Go.