In the early days of Pokémon Go, players invested a lot of time creating interactive maps to help other players find Gyms, PokéStops and rare Pokémon Spawns.
As useful as this can be, it raised concerns of cheating and eventually many of these nest maps disappeared off the internet.
In this article, we take a look at whether some of these maps and resources are still available and how they can help you get ahead in the game. Let's started with what a nest map is:
What Is a Pokémon Go Nest?
A Pokémon Go Nest is a spawn point: a place where the same Pokémon popup regularly and in very high number. They are very different from spawn points which can be anywhere.
Nests are often just around PokéStops and Gyms or several PokéStops and Gyms that may be around a park or nature reserve. Nests will migrate every two weeks, creating the need to locate them every so often, hence the need for nest maps.
PoGoMap for Pokémon Go
PoGoMap is a very useful map that shows all Gyms, PokéStops, and Nests. It is highly useful in that it is capable of differentiating between normal Gyms and those with the potential to hand out EX Raid Passes.
EX Raids are no longer happening because of the pandemic, but when they are happening, PoGoMap can be a very useful resource.
PoGoMap can provide a lot of valuable information such as the Pokémon that are spawning in the current nest when Team Go Rocket invades a certain PokéStops and any Research Tasks that various PokéStops are handing out.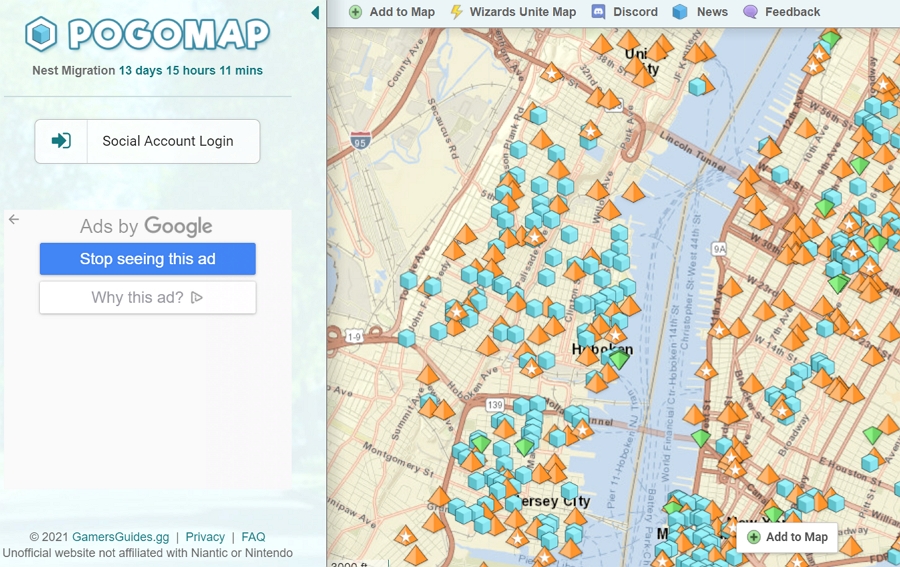 The Silph Road
The Silph Road is perhaps one of the biggest and most organized resource sites for Pokémon Go players. It has a comprehensive Pokédex and numerous guides on how to play the game. The website also has a map with all the nest locations: both confirmed and rumored, along with an unofficial League Map that provides the best locations for real-world meet-ups.
The Silph Road is by far the most detailed Pokémon Go resource site available today. It is useful for both beginners and dedicated players of the game.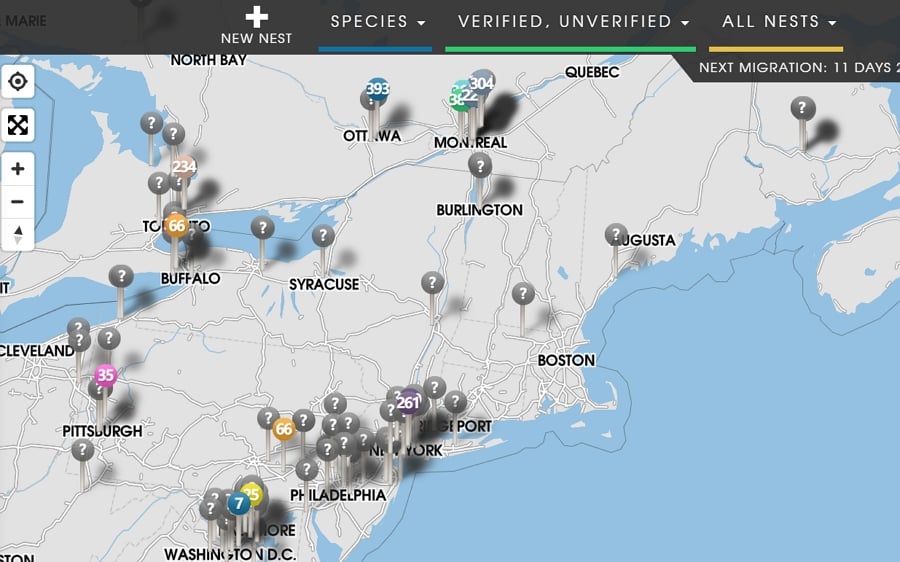 Other Options to Find Nest Map of Pokémon Go
If for one reason or another, these options simply aren't working for you, there are still a number of options that you can try.
One of the best ways to get resources to play the game easily is to connect with other players on social media sites such as Facebook and Reddit. You can also run local Pokémon Go communities to find players in your area.
These communities create active Facebook Messenger Groups and Discord Chats where you can share the location of Pokémon spawns, coveted Research tasks, raids, and more.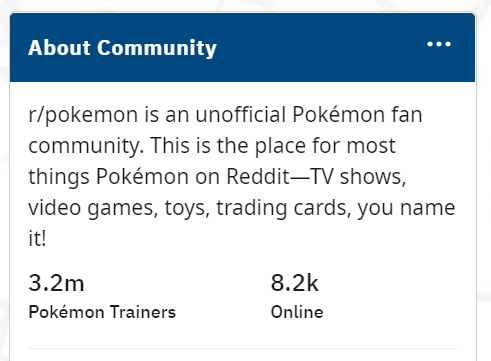 Frequently Asked Questions about Nest Map of Pokémon Go
1. Do Pokémon Go Nests Location Change?
Yes. Pokémon Go nests appear and disappear quickly: every two weeks to be exact. This is a way to keep the game fresh. The next location of the best often appears every time the spawn points change. Keep in mind that nests are a subset of Pokémon Go spawns and therefore migrate together.
2. Aren't Nests the Same Things as Spawns?
No. Spawn Points are where Pokémon spawn randomly. They generate random Pokémon from a given set that is defined by the area, number of roads, distance from the water, etc.
Nests on the other hand generate Pokémon from a much smaller set. The set can be of just 1 Pokémon, although there are some nests that will have 2-3 Pokémon in one set. For example, a single nest can generate only Magmars and Pidgeys. This type of nest may be referred to as a fiery flock.
3. How Can I Spoof the GPS to Catch Pokémon without Walking?
You can get ahead of the game by using a location spoofing tool to teleport to the locations with the best Spawn Points and Nests.
To do that, you need a location spoofer that is as easy to use as it is effective. The only tool that can do that without needing you to jailbreak the device is iToolab AnyGo.
The following are its main features:
It can teleport the GPS location to another place in the world in 1 click.
It can also simulate GPS movement between two points very easily.
It also supports to import GPX file, which is useful when you want to follow the path on the GPX file.
It is very easy to use, with an uncomplicated user interface.
It is fully compatible with all iPhone and iPad models as well as with iOS 14 and iPadOS 14.
Download and install AnyGo on to your computer and then follow these simple steps to change the location on your iPhone:
Step 1: Launch AnyGo on your PC or Mac and connect the iPhone to the computer using USB cables. Wait for the program to detect the device and then click on "Start" to begin.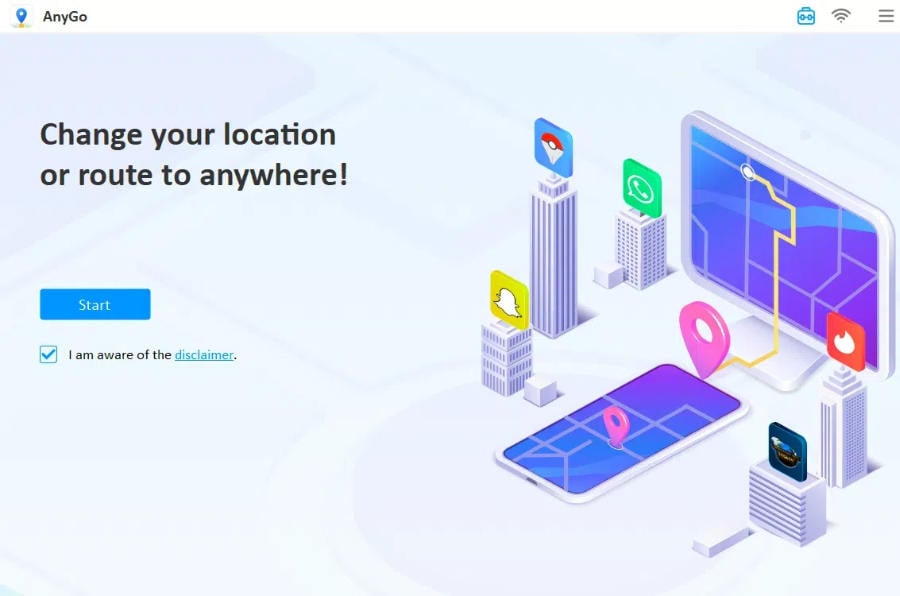 Step 2: A map will appear on the screen showing the current location of the device. To teleport the device, simply click on the "Teleport" icon at the top-right corner and then enter the location you would like to use. Click "Search".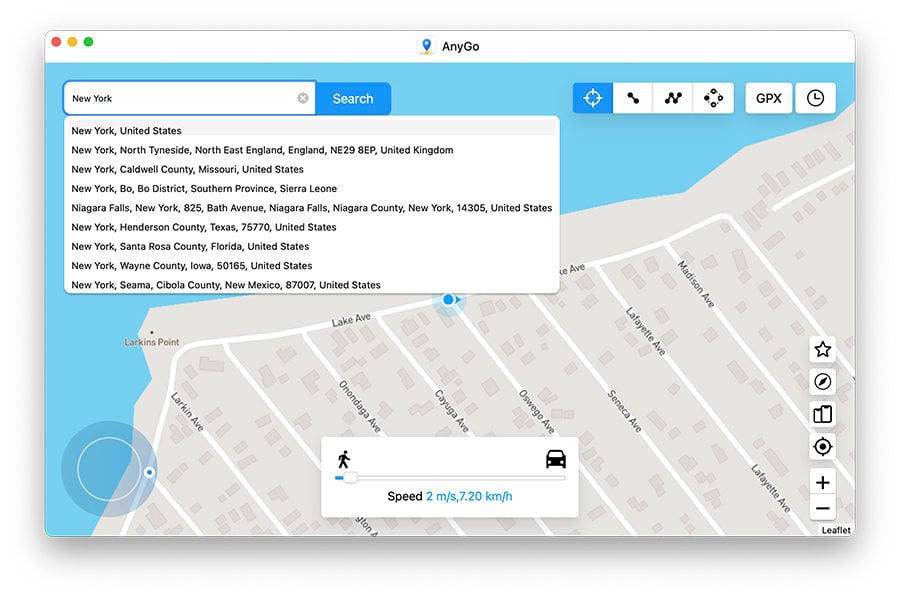 Step 3: A popup indicating the exact coordinates of the location you have chosen will appear on the screen. Click "Go" to change the device's location to the newly selected location.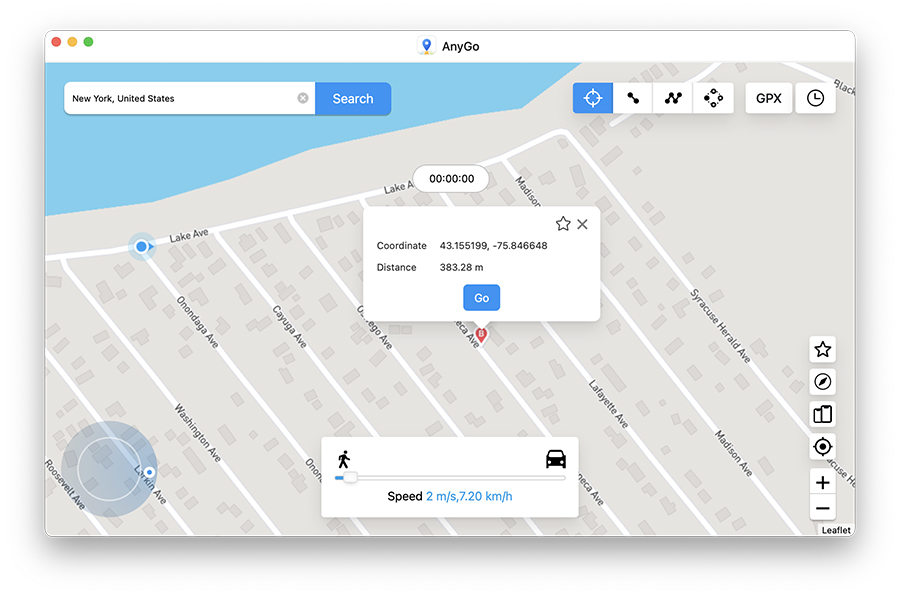 If you would like to simulate movement along a specified path, follow these simple steps:
Step 1: In the main window, choose the multi-stop route in the upper right corner of the screen and then select all the spots you would like to pass through on the map.
Step 2: A popup will appear indicating the distance you will travel. Click on "Go".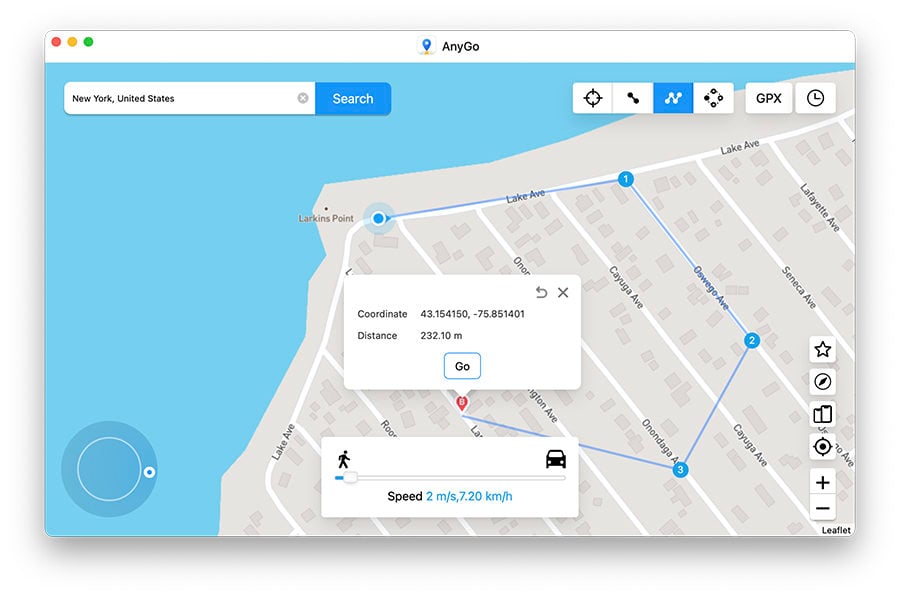 Step 3: You can then select how many times you would like to move along the selected path and then click "Go" again to begin the simulated movement.