With over 2.5 billion active Android users, it's not rare to hear troubleshooting stories on tech forums that report annoying apps, hardware or cache data issues, and corrupt software systems. These issues malfunctioned Android and it keeps crashing and restarting automatically called random rebooting. This condition leaves your Android of little or no use.
Firstly, rest assured that this is a fixable issue and successfully resolved with some technical tips. So, this guide will fix if you are facing Android auto-restart specifically in Samsung A50, A51, Vivo, or other smartphones. But make sure to go through each step accurately.
Way 1. Check Auto-Restart Option
The Android device comes up with built-in features that help to improve your device performance when needed. If your device is rebooting and crashing, it confirms that the Auto-restart option is enabled.
If you own a Samsung phone it has an option of Device care to fix auto-restart Samsung through these steps.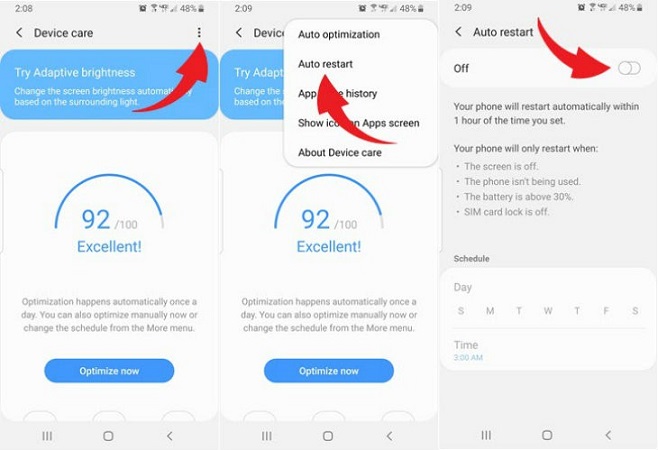 Step 1: Go to the Settings option, and select Device care.
Step 2: Now, tap on the three dots that appeared in the top-right corner and choose Auto-restart.
Step 3: If you found this option enabled, it makes a schedule reboot on Android, so disable it promptly and check if the issue is resolved.
Way 2. Update the Android System to Stop Auto Restart
When your Android auto-restart or crashes frequently, its OS system needs to be updated as new updates are rolled out from the manufacturer. These updates will introduce new Android features and protect it from security threats.
So you should check for the latest updates and install them on your device to function at its best. If you don't know how to check software updates, go through these steps.
Step 1: Go to your Settings app.
Step 2: Scroll down and tap the option System and then System updates.
Note: Your device may have a similar option of About phone or About tablet.
Step 3: Check if the latest updates are available and install them on your phone.
Way 3. Free Up Storage
As you updated your device the next phase is to clean up storage. A smartphone has ideally 300-400 MB of free storage in RAM and if it's under 10% of free space you should perform a clean-up process.
Your phone restarts automatically due to media files, or cache data as they transform into junk files and begin to affect your device's performance. So you need to delete all these files including apps that are no longer in use.
Step 1: Head to your Settings and tap Storage.
Step 2: Here you can see the available storage and the categorized distribution of used space among apps, pictures, videos, or others.
Step 3: Clean up the device as needed.
Way 4. Force Stop the Apps You Don't Use
Your Android phone manages the memory apps during usage but in cases of Android auto-restart, your device is required to either update the apps or force stop. Hence, it's recommended to force stop the app if a particular app is responsible for malfunctioning and auto reboots Android.
Force-stopping app will not delete any saved data on your device but it removes unsaved data which depends on the running (foreground or background) process in the app. You can force-stop the apps using the following steps.
Step 1: Go to your device Settings.
Step 2: Click Apps and then choose All Apps.
Step 3: Tap the culprit App.
Step 4: Hit Force stop › OK.
Tip: Make a list of apps that need to be force-stopped, it helps you to identify those causing Android auto restart.
Way 5. Check If Apps Update Available
When your Android device whether Samsung or Vivo phone starts automatically system update and app update is the primary action to take. It may resolve your Android crashing and rebooting.
Step 1: Go to the Google Play Store and tap the three-line menu.
Step 2: Choose My apps & games to get the latest updates for Android apps.
Step 3: Now, click on Update to get updates for an individual app or tap Update all if you need all apps to be updated.
Way 6. Troubleshoot App on Safe Mode
The most convenient way to know whether Android auto-restart is caused by corrupted apps is to use your phone in Safe mode. Since all downloaded apps should be turned off, if your phone functions perfectly in Safe Mode, then a corrupted app or software is responsible for random rebooting.
Move to advanced troubleshooting and follow the steps to resolve the issue.
Step 1: Restart your device which let you turn off safe mode.
Step 2: Delete apps that you recently downloaded one by one.
Step 3: Now restart your phone and check whether your phone works normally.
Way 7. Factory Reset Your Phone with Endless Auto Reboot
After deleting the suspected apps, if your Android device still keep auto reboot, it simply indicates that your device needs a factory reset. Factory reset brings back your phone to its original state and most of the software and apps issues are sorted out during this process.
Note:
Remember! Factory resetting a phone wipes off all data on your device. Only data saved in your Google account can be restored, so make sure to back up the entire data in Google drive or similar to restore it after resetting.
Your phone should be charged enough to finish the reset process successfully.
How to Factory reset an Android phone?
Step 1: Open Settings.
Step 2: Scroll down the menu and choose System.
Step 3: Click the Reset options, tap Erase All Data or Factory Data Reset.
If you own a Samsung phone with a screen lock, your phone asks for your credentials, to erase all data and applications tap Delete All.
Also Read: How to remove forgotten screen lock on Android phone/tablet?
Way 8. Contact Your Device Manufacturer
If you have tried all the solutions above but the issue persists, your phone's hardware is responsible for this and needs to be repaired. Consider contacting your retailer or manufacturer and discussing the issue or visit the official service center.
Ask for help from your manufacturers:
You may not have this option if you have a custom ROM installed on your Android. In this case, you have to take your Android to that particular ROM maker.
The Bottom Line
If your phone restarts automatically, it indicates that something is going wrong either with software, downloaded apps, or your hardware. Hence, there are several ways to check this issue from different angles but here I compiled and mention the foremost solutions to sort out auto-Android rebooting.
Additionally, if your phone requires a factory reset and you forgot the screen passcode, then iToolab UnlockGo (Android) will help you instantly remove the screen lock without installing additional tools. If you need more assistance please visit our site for technical support.
Remove Android Lock Screen
Bypass Samsung FRP lock on Android 5~12
Remove all Android screen locks, PIN, password, pattern, fingerprints, face lock
Unlock Samsung screen lock without data loss
Covers over 15 mainstream brands, 2000+ Android models