After watching WWDC21, we have to say that iOS 15 is really attractive for most iPhone users. For myself, I think the Notification and iMessage updates will bring me more convenience. Not only in WhatsApp and FaceTime, but also in daily life. Moreover, the redesign Safari also seems perfectly. Well, if you want to try the new features you can install iOS 15/iPadOS 15 developer betas first. Wondering how to get the beta versions? Don't miss this article!
Must-Read: Before Downloading iOS 15 Developer Beta
Here are some things you need to know before installing iOS 15 developer beta or iPadOS 15 beta. If you don't want to enroll the developer account, just wait the free public beta in July!
Developer beta only for the registered developer ($99/yr).
You can downgrade to iOS 14.7 anytime if you don't like it.
Backup your device because downgrade will cause data loss.
There are some unknown bugs in developer beta you might encounter.
iOS/iPadOS 15 beta under 5GB in size, make sure your storage is enough to download it.
Ready to go? Follow the steps to get started.
How to Download and Install iOS/iPadOS 15 Developer Beta
Make sure your wifi connection is good and the battery power at least 50%.
How to Download iOS 15/iPadOS 15 beta
Visit Apple Developer website and tap the icon in the top left corner and selec "Account".
Next, click the icon again and select "Download".
Checking the warning and swipe down you will see the "Install Profile" option, click it.
Last, it will pop up a window, you need to confirm the downloading process by clicking "Allow".
The downloading process will take a few minutes, once done you will see "Profile Downloaded". Tap "Close" in the end.
How to Install iOS 15/iPadOS 15 beta
Go the Settings and hit "Profile Downloaded".
Next, hit "Install" start installing iOS 15 Beta Software Profile.
Once complete, you need to restart your iPhone by choosing "Restart" option.
After that, go to Settings > General > Software Update and click "Download and Install".
Click "Agree" to confirm it, the time required for the whole process depends on your network. Generally, 15-30 minutes.
That's how you download and install iOS 15 developer beta, it also works on iPad. So, give yourself a try?
Tips: How to Fix iOS 15 and iPadOS 15 Developer Beta Issues
Although iOS 15 beta is really something, but many iPhone and iPad users who installed iOS 15 developer beta post many bugs. Such as:
1. Known broken apps on iOS 15 beta: First Direct, HSBC UK, HSBC IN, M&S BANK, etc.
2. Buggy: Apple Podcast, doesn't distribute new episodes on time.
3. iPad Pro stuck on Apple logo with loading bar while installing iPadOS 15 beta on iPad.
4. Other problems: Cellular keeps shutting off, FaceTime bug, Safari not working etc.
If you are unfortunate enough to encounter these problems, don't worry you can read the post how to downgrade to previous iOS version. If you stuck on Apple logo or black screen, here also is way for you: iToolab FixGo.
This professional iOS system repair tool helps you solve over 200+ system issues. You can easily solve the problem with this software. If you are interested in it, keep reading to see how it works.
Step 1. Download and install FixGo on your computer, launch it and connect your device. Click "Fix iOS System – Standard Mode".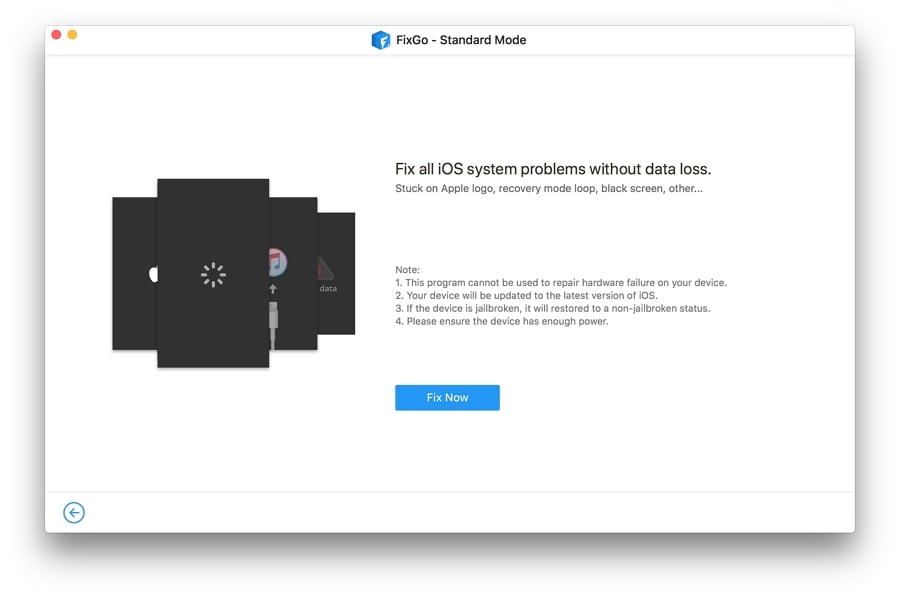 Step 2. Next, click "Fix Now" and you will head to download firmware interface. Click "Download", it will take a few minutes.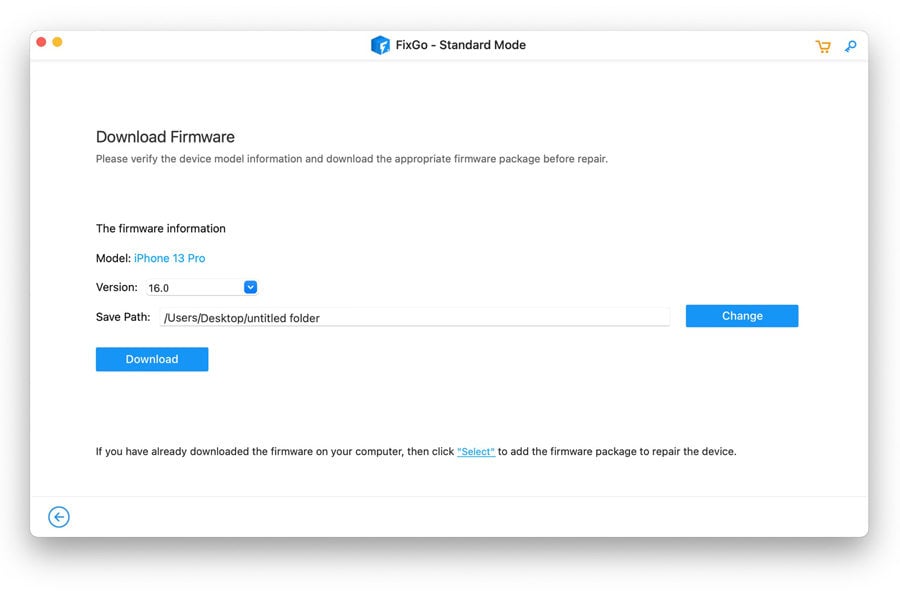 Step 3. Once done, click "Repair Now" and FixGo will auto fixing your iPhone.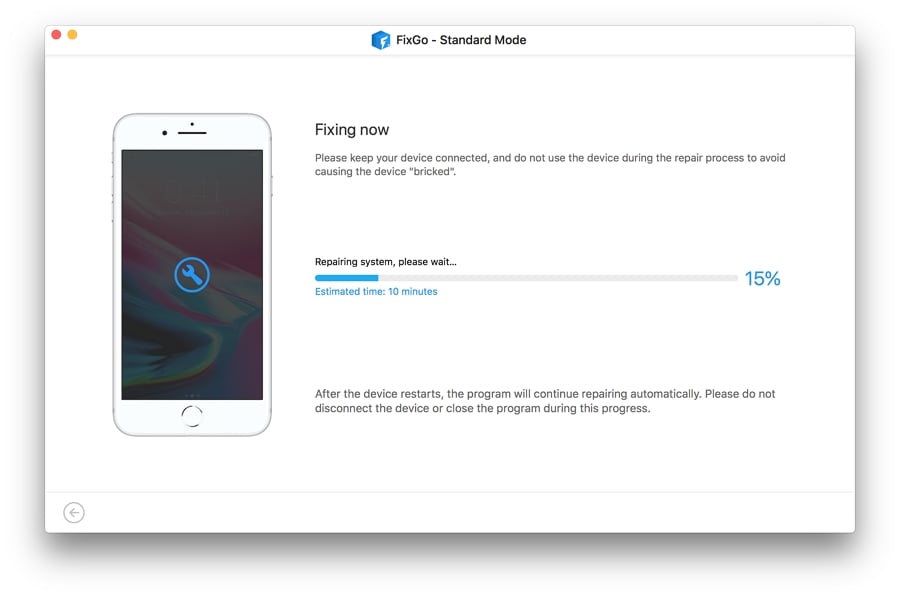 After repairing, your iPhone will exit the Apple logo screen and back to normal. Sounds amzing? You can download it and try it for free.