Huawei's black screen of death is referred to as an error where the screen seemingly turns black and unresponsive. Although, at first instance, you may think it is a hardware problem, but in most cases, it has nothing to do with your display and is totally a software issue. It can also be a faulty app that has corrupted system files or an update that was not compatible with your exact model.
Whatever the reason is, the problem is persistent in specific Huawei models. Users have complained about the Huawei P30 pro black screen of death, and in this article, we will show you the exact steps you have to take to fix the issue. We also have a bonus tip at the end, so make sure you follow through.
Part 1. Why My Huawei Black Screen of Death?
Without a full inspection, it is difficult to determine the exact reason behind the Huawei Black Screen of Death error. As we discussed earlier, it can either be a software issue, as well as a hardware issue.
First, inspect your phone closely to see if it has any hardware damage. If your phone recently had a hard fall, was exposed to a harsh climate like extreme temperature, or fell into the water, it is likely to be a hardware issue.
If you are confident that your phone did not have any physical damage, the next step is:
Find any recent app you installed. Many apps are incompatible with the new p30 pro and p30 lite phone and have caused several errors, including black screen of death.
Another reason for the black screen of death in Huawei devices is a battery issue. If your phone does not charge properly or the battery has swollen and is no longer operating correctly, you may abruptly find your screen going black.
Let's now look at some of the ways we can fix the Huawei p30 lite/pro black screen of death error:
Part 2. Firstly, Try to Charge Your Huawei Phone for 20 to 30 Mins at least
If the reason for your Huawei P30 Black Screen of Death issue is simply with battery charge, charging your device ( preferably with a different charger) for 30 minutes should be the first thing you try. Sometimes when you do not use the device for a long time, the battery gets depleted, and it can take up to 30 minutes to get it working again. Try not to turn your phone during this time as it can put stress on your phone.
If charging your phone does not work, move to the second fix.
Part 3. Run Huawei in Safe Mode to Diagnose the Issue
If any third-party app causes the Huawei P30 Black Screen of Death issue, you would want to get them uninstalled as soon as you can. Apps may also cause problems when updating your operating system or when a new feature is added, so it is always a good idea to check if any recent app you installed may cause the issue.
But how do you uninstall the app when the screen is all black? Good question; for this, you have to use Huawei's safe mode option, which works similarly to windows safe mood and allows you to load only essential files and turn off any third-party app that might be working in the background.
To enter Safe Mode, follow the steps below:
Step 1: Turn off the device using the Power key.
Step 2: Hold the Volume Up and Power key for 2 seconds.

An option for recovery mode will pop up on your screen, but the touch input will not work; you can press your Volume up and down button to navigate between the UI, select Safe Mode, and use the Power key to confirm your choice.

Note: If your device does not have a volume button, press the power button twice to navigate and press once to register your choice.

Step 3: Now, after you enter the safe mode, you can uninstall any third-party app that you might think is the culprit; there is no fixed way to find which app to install, use your best judgment. Unpopular apps are usually the suspects, so try uninstalling them first.
Part 4. The Last Resort is to Put Huawei into eRecovery mode
Even after uninstalling the apps, if you still find your Huawei p30 black screen of death to persist, the last resort is to put your device in eRecovery mode and download the latest recovery software version. However, do note that this will delete all files from your device.
Follow the steps below to activate eRecovery mode.
Step 1: Turn off your phone and connect it to your computer with a USB cable.
Step 2: Press and hold the Volume Up and Power Button for 15 seconds until the device restarts and enters the eRecovery mode.
Step 3: Tap on the "Download latest version and recovery" option from the dropdown menu.
Step 4: Your phone will automatically enable Wi-Fi and will search for available networks. Choose a known Wi-Fi network and connect to it.
Step 5: Once connected to the internet, the phone will download the update package. This process may take a while, so please wait patiently for the download to finish.
Step 6: When the download is complete, your phone will automatically install the update. When the process is complete, the phone will restart.
Note: Try to ensure that your laptop does not run out of battery mid-way into the process; also, do not disconnect the USB cable until the process is over. In case you lose the internet, wait for it to come back but do not disconnect the phone.
Bonus: How to Backup & Restore Huawei WhatsApp Backup
eRecovery should solve any software issue your phone may have; however, it will delete all your personal data. So it is always a good idea to back up all your data periodically in local storage for safekeeping.
However, one app that is hard to make a local backup is WhatsApp; there is also no native way to transfer your file between devices on different platforms. But third-party tools like iToolab WatsGo – WhatsApp Transfer Software allows the seamless transfer and backup of your WhatsApp data, making it easy and fast to backup and restore WhatsApp data.
1. Here is a detailed overview of how to Backup WhatsApp Backup on Huawei.
Step 1. Download and install iToolab WatsGo on your computer, launch the app, and select "WhatsApp Backup."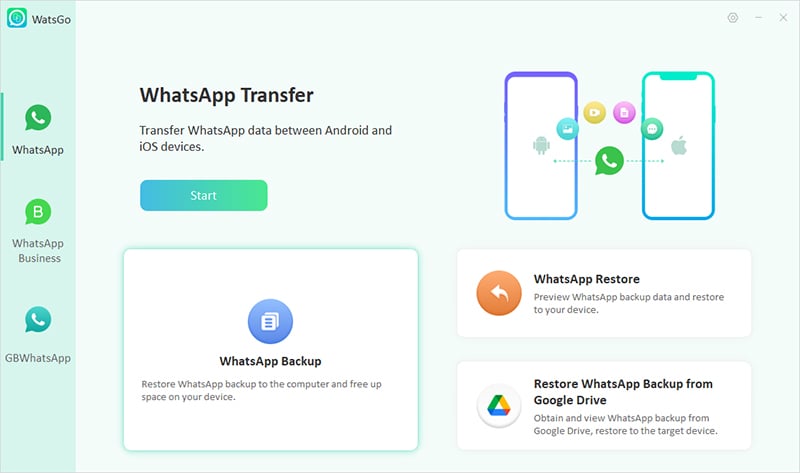 Step 2: Once your phone is connected, you should see a dropdown, find and select your device.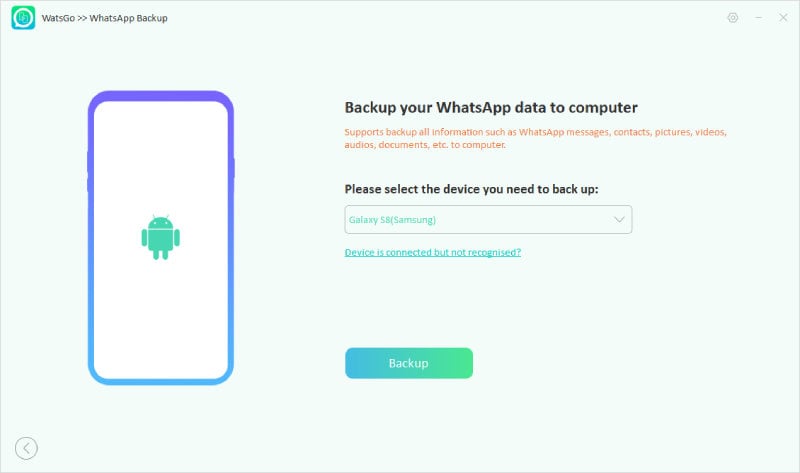 Step 3: Back up WhatsApp on your device according to the guide below. Wait for the app to copy all the necessary files and make a copy in your local storage. Depending on the size of your file, this may take a while, so be patient.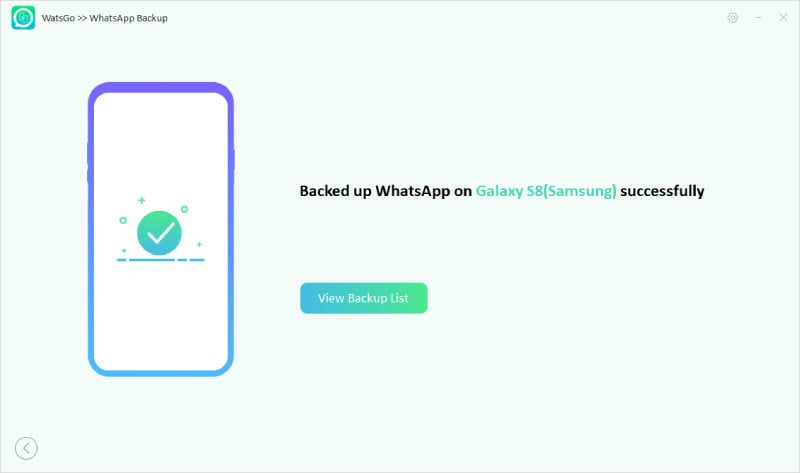 2. Here is a detailed overview of how to Restore WhatsApp Backup on Huawei:
Step 1: Launch the iToolab WatsGo app and select the "Restore WhatsApp Backup" option from the dashboard.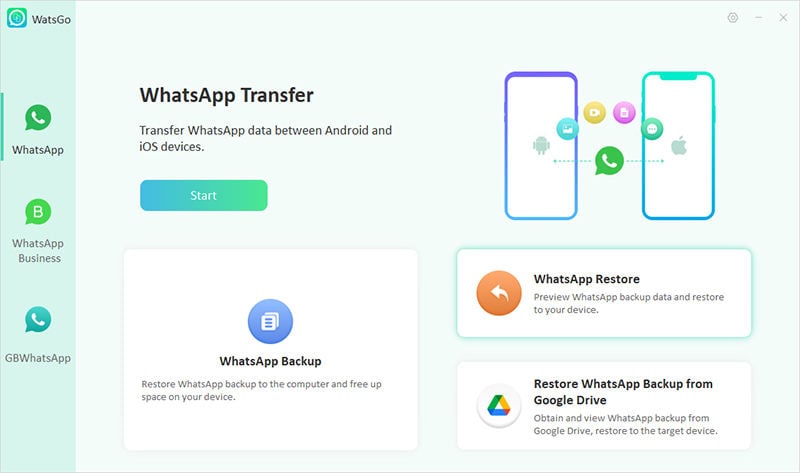 Step 2: Select history WhatsApp backup to restore. Click the "Restore to Device" to continue.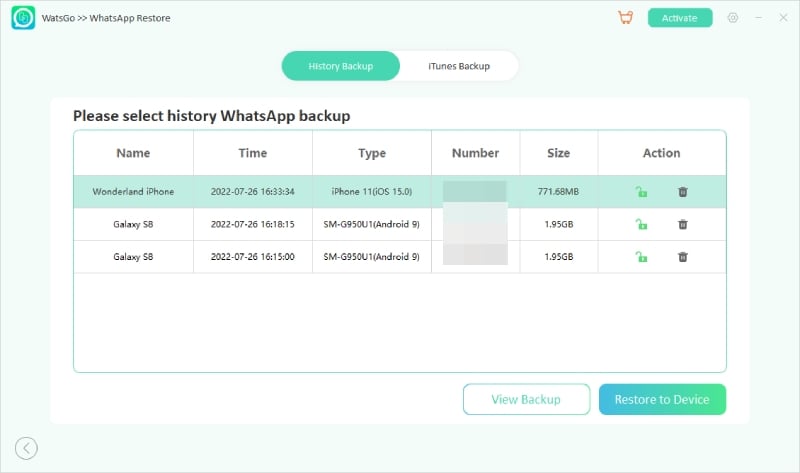 Step 3: Wait for a while for the restore to be completed. Do not disconnect the phone during the restore process.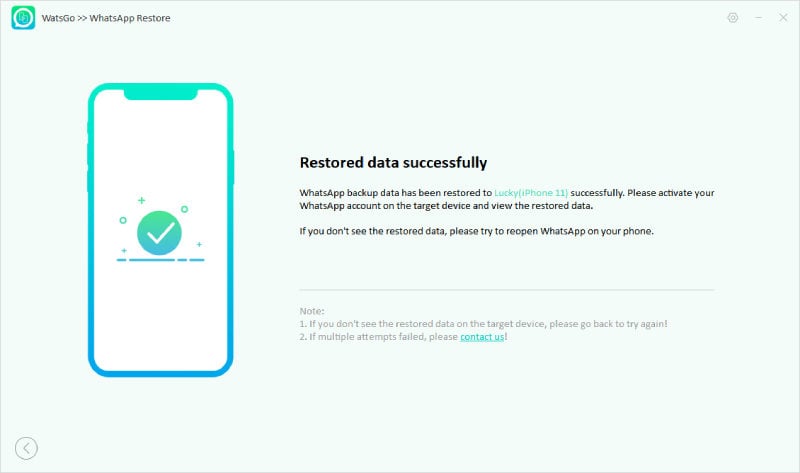 Fixed Finally
Huawei's black screen of death can be a severe inconvenience as you literally can not do anything with the phone. Although it can be a hardware issue, resetting your phone in factory mode in most instances solves the problem. But this will delete all your data, including all the precious memory you might have on WhatsApp. So it is always advised to periodically backup your WhatsApp data on local storage, and although several apps provide the service, iToolab WatsGo is by far the best and most reliable app on the market for WhatsApp backup. It can also transfer WhatsApp data between android and iPhone so if you are planning to switch phones, give iToolab WatsGo a try.