Hey, I am trying to transfer my Android S7 data to iPhone 12, but after a long wait I get the "Transferred Error has Occurred" message on the screen. In Fact, my internet connection is strong and no apps are running in the background." Is there any way to fix it?
If you keep getting transfer error Move to iOS, it means there is an issue with your app or mobile device. However, it is not a big problem and can be fixed easily if you know the right techniques. Below we have discussed some of the top ways to resolve Move to iOS "A Transferred error Occurred" problem.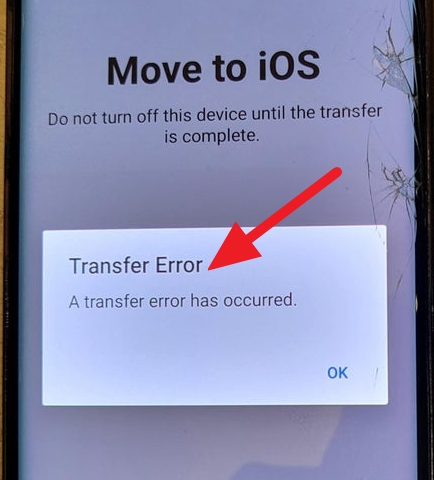 Why Do I Get a Transfer Error When Transferring Data from Android to iPhone?
Why does it say Transfer error on Move to iOS? Well, there can be many reasons for it. Some of the top ones are discussed below.
You didn't turn on the Wi-Fi on both devices
Make sure you are not using your smartphones during the transfer process
Make sure your Android device screen is turned on
You have to turn off the Low power mode; otherwise, you will keep getting Move to iOS Transfer error
These were some of the common mistakes which people make while using Move to iOS application. However, to fix the Move to iOS app transfer error, we have also mentioned some of the solutions below.
Transfer Error Move to iOS, What Exactly Should I Do?
While using Move to iOS, If a transferred error or WhatsApp transfer error has occurred, then it's time to try some quick fixes to resolve this issue. Below we have mentioned the top 4 ways that you can use if you keep getting the Move to iOS transfer error.
Way 1. Check If There is Enough Space on Your iPhone
If Move to iOS transfer error has occurred, it means you don't have enough space on your iPhone device. To resolve this problem, make sure to cross-check your iPhone device storage. If you don't know how to do it, check out the steps below.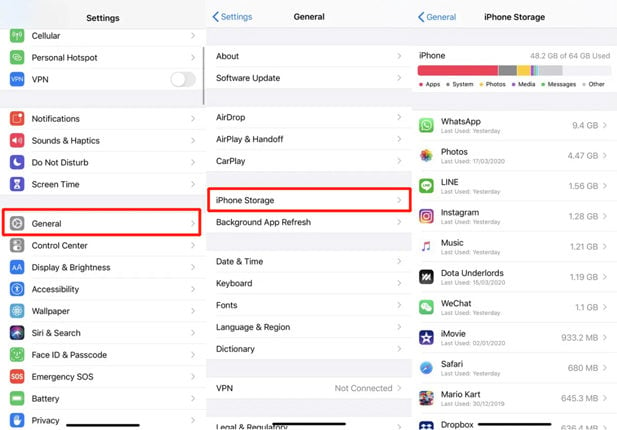 Open Your Settings app and click the "General" option.
Next, click "iPhone Storage," and it will display the storage available on your device.
Way 2. Turn Off the Connection Optimizer on the Android Device
It is compulsory to turn off the Connection Optimizer option on Android device if you are using Android 8.0 or higher version. You have to do it before using the Move to iOS app. If you don't know how to turn off this option, follow the steps below.
Go to Settings and hit the Connection option.
Now, choose the "Mobile Networks" option.
Next, select "Connection "Optimizer."
Look for "Settings" and turn off Cellular Data."
Way 3. Force Restart Your Android and iPhone
The third method which you can use to fix Move to iOS transfer error is by force restarting your Android and iPhone devices. Restarting your devices will remove the cache files and will fix your issues. Let's see how you can force restart your Android and iPhone devices.
Android:
If you are using Android, then press and hold your power button. After getting the power menu, click "Restart," and soon your app will restart.
iPhone:
Press and release the volume up button and volume down button. Next, press and hold the side button. Once the Apple logo appears, release the side button. Your device will reboot soon.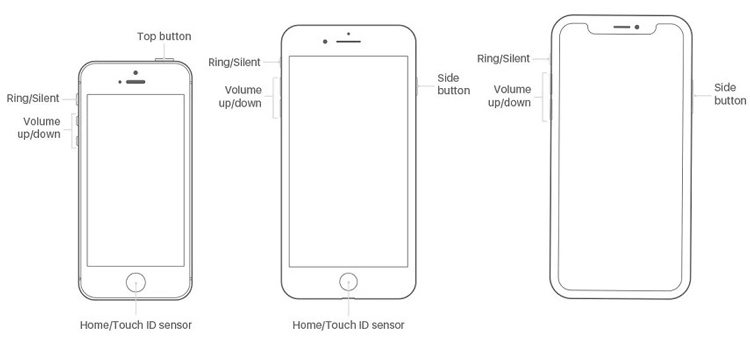 After restarting both devices, try using Move to iOS app again, and if the issue is still there, check the last method mentioned below.
Way 4. Contact Apple Support
If the above methods don't work for you, then it's time to contact Apple Support. You can contact them and ask them for solutions. To contact Support, you can follow the instructions mentioned below.
Open your Apple Support app.
You will see different options on the screen, so choose your issue, such as Move to iOS app not working.
You will be redirected to a page where you can contact Apple Support or message them.
Also, you can visit support.apple.com and ask for help.
Part 3. Move to iOS App Transfer Error, Try These Tools Instead
If the Move to iOS app transfer error occurs, then here are some top tools that you can try. All these apps are the best Alternative to Move to iOS Application.
1. iToolab WatsGo WhatsApp Transfer
The first Move to iOS alternative in our list is iToolab WatsGo WhatsApp transfer. This software is perfect for transferring WhatsApp data from Android to iPhone. Whether you want to move images, videos, audio, or more, it can do it with one click. It has an easy-to-use interface which makes it a good choice for beginners.
2. AirDroid Personal
Most people get Move to iOS app transfer error while transferring the file and don't know which tool they should use instead. Well, you can download the AirDroid Personal application for transfering your Android data to your iPhone. With this app, you can also manage your mobile files using the PC.
3. MobileTrans
Wondershare MobileTrans application is the best app for transferring your data which is not possible using Move to iOS app. It is used by around 500,000+ users and has good ratings on Google Play Store. The tool can transfer, backup, and also restore data within minutes. It also supports 18+ file formats.
4. AnyTrans
AnyTrans is an iOS data managing app which can transfer your Android data to your iPhone without any issues. With this app, you can move music, videos, messages, contacts, and more. It can also transfer all the photos and videos without any hassle. What's more, it can also migrate all your WhatsApp photos.
5. CopyTrans
It is an efficient app that transfers iPhone and iPad photos and videos to your PC. With this software, you can also copy photos, videos, different photo albums, and more. It also helps you organize images and videos so that you can share them easily on all devices.
That's All, Folks. By following this guide, you can easily fix Move to iOS transfer error has occurred. Also, if you are in a hurry and want to transfer your data from Android to iPhone, then you can use the iToolab WatsGo software, which transfers data within minutes.