"How to play Pikmin Bloom? I have heard a lot about this new game by Niantic and wished to know some information about it before playing it."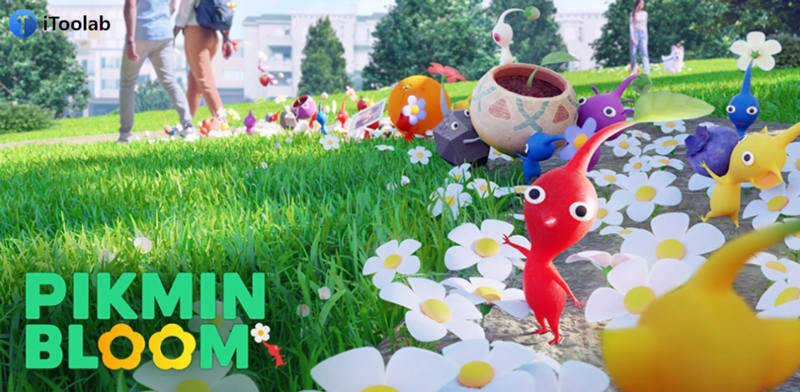 If you have ever loved the Nintendo game released in the early 2000s, you will enjoy this new game. Pikmin Bloom is the latest iteration of a long-standing and successful franchise about the adventures of little people named Pikmin, who can be thrown around and used to collect resources. Although not an orthodox Nintendo title, Pikmin Bloom is one of the most exciting games for the mobile platform, allowing you to regale in your childhood memories once more. Follow this comprehensive Pikmin Bloom guide to ensure you have a pleasant experience playing the game.
What Is Pikmin Bloom?
Pikmin Bloom is a massive hit among players in the year 2021. It was developed by the company called Niantic, which has also made Pokemon Go. In Pikmin Bloom, players head outdoors to collect and use items that can be used to summon and level up the Pikmin creatures.
While playing outsides, you'll get the opportunity to earn rewards that can be used to help feed the Pikmin creatures featured prominently in the main Pikmin series. Moreover, this game allows players to choose their own paths around designated locations wherein they can cultivate a trail of flowering plants.
New features will appear on your device's screen for every flower you plant, inviting you to unearth what items might lie underneath! Be sure to use collected fruit and costumes wisely, though, because plants need water like any good gardener would know.
How to Play Pikmin Bloom?
The next phase of this article discusses how to play Pikmin Bloom on your smartphone as an expert. Check it out!
1. Seedlings
Pikmin seedlings can be placed in Pikmin seeds, and Pikmin seeds are found in the Pikmin backpack. When you walk for a long time period, as indicated on the seedling, your Pikmin seed will finally grow into a mature Pikmin! In order to have a complete Pikmin squad to send out, you'll need these Pikmins sooner or later.
Remember: It's the efforts that count – not their time of walking or playing! It is since the game count steps to grow the seeding, unlike Pokemon Go, where you are required to cover a specific distance to hatch an egg. Besides, the game allows you to hold as many as 30 seedlings in the reserves.
There are different variations of a Pikmin seedling, which can you can learn in the list below:
Red Seedling: 1000 steps required to grow at the first Level
Yellow Seedling: 1000 steps needed to grow at Level 4
Blue Seedling: It unlocks at Level 7, and 1000 steps are necessary to be covered for it to grow
Purple Seedling: This seedling unlocks at Level 13 and requires 3000 steps to grow
White Seedling: 3000 steps needed to grow at Level 16
Pink Seedling (Flying): 5000 steps to grow at Level 19
Gray Seedling (Rock): 5000 steps required to grow at Level 24
Huge Seedling (decoration): 10000 steps should be covered to grow after Level 10
2. Pikmin Squad
You can tap the Whistle button on your phone screen while playing Pikmin Bloom to view the squad. As you progress through the game, you'll be able to set more members aside from the active four from your squad. Each member who is left out will continue collecting nectar and fruits, which can be ordered for their various uses in other aspects of the game.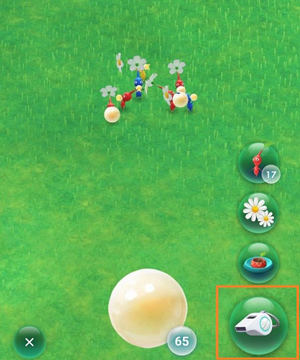 3. Petals and Flowers
In Pikmin, there are four types of Pikmin that you can create through the process of feeding them nectar. By giving them food, they will turn into flower Pikmin, and their colors will be white, blue, or red, with yellow being the default color. It is important to remember that the petals must be plucked off certain types of flowers if you want to create the other colored Pikmin.
4. Fruit
You will find two varieties of fruit in the Pikmin Bloom game, namely the small and the large.
The small fruit can be collected by Pikmin walking while they're at it or may even come to your Pikmin. These give one to three units of nectar when gathered, depending on how many there are. For its part, the largest fruit can be collected by sending your Pikmin on outings. It will give more than 20 units of nectar (depending on what type of fruit) when assembled.
What's more, some fruits have a unique property you'll have to discover if you want your Pikmin's love for them to reach an amount that would make them turn into the next most potent variant out there. But, overall, it is possible to save up to 200 units of nectar. Moreover, you can gather every fruit in one go by tapping the whistle icon(on the bottom-right corner) twice.
5. The Map
Much like the Pokemon Go map, you can view the world map using Pikmin Bloom, where planting flowers is required in a circular region. You have to walk around the area to make the flower bloom.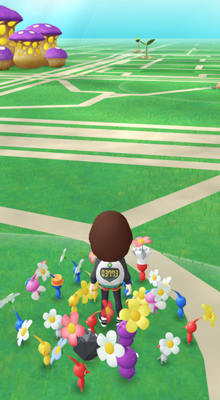 6. Expeditions
Small quests or expeditions randomly appear on the Pikmin Bloom map screen. You can decide to have small teams of Pikmin bring back fruits and seedlings of shoots that we have already discovered. To use this function, you need to reach a level of 5.
7. Challenges
Once you reach Level 15, you can unlock the Challenges feature, which will allow you 3 attempts a day to defeat Mushrooms that will appear on the map.
8. Leveling Up
To level up on Pikmin Bloom, you are required to grow a specific amount of Pikmon, walk the necessary steps, plant flowers, and complete various expeditions. Moreover, you must collect a particular number of flower petals from the Pikmins to increase your experience.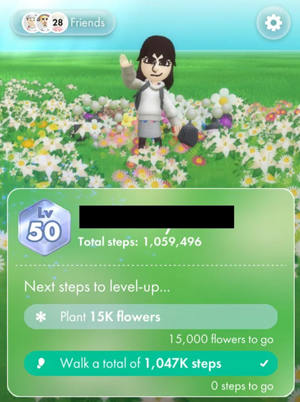 9. The Shop and Items
Much like any game, Pikmin Bloom also offers an in-game shop. Here, you can purchase items(nectar, petals, step tank) and rewards with coins.
10. Lifelog
This handy feature will give an overview of your in-game stats at 9 PM every day. This includes the steps you have covered, where you planted your flowers, and the places you have traveled on the map.
11. Badges
You will receive badges after achieving specific milestones:
Decor Collector: After collecting 1, 7, 30, and 100 types of decor Pikmin.
The Active Walker: When you walk 3000, 100000, and 1 million steps.
The Flower Badge: After planting 1000, 20000, and 500000 flowers.
The Pikmin Badge: As soon as you pluck 3, 40, and 400 Pikmin in the game.
Tips And Tricks: Play Pikmin Bloom without Moving
If you are tired of walking around your neighborhood playing Pikmin Bloom and trying to bloom more flowers, we have an alternative for you, which involves you never leaving the comfort of your couch. Simply access iToolab AnyGo, and simulate your movements on the Pikmin Bloom map. Additionally, you can teleport to any part of the world to play the game, unlock levels, and get rewards.
This software works on the latest iPhone and iOS. In addition, it offers a user-friendly interface, enabling users with limited technical know-how to play Pikmin Bloom instantly worldwide.
The guide to simulate your movement along a specified route using AnyGo while playing Pikmin Bloom is as follows.
Step 1: Connect the iPhone to the computer
First, attach your iOS device to the macOS or Windows PC using a USB cable. Next, launch iToolab AnyGo, and click Start.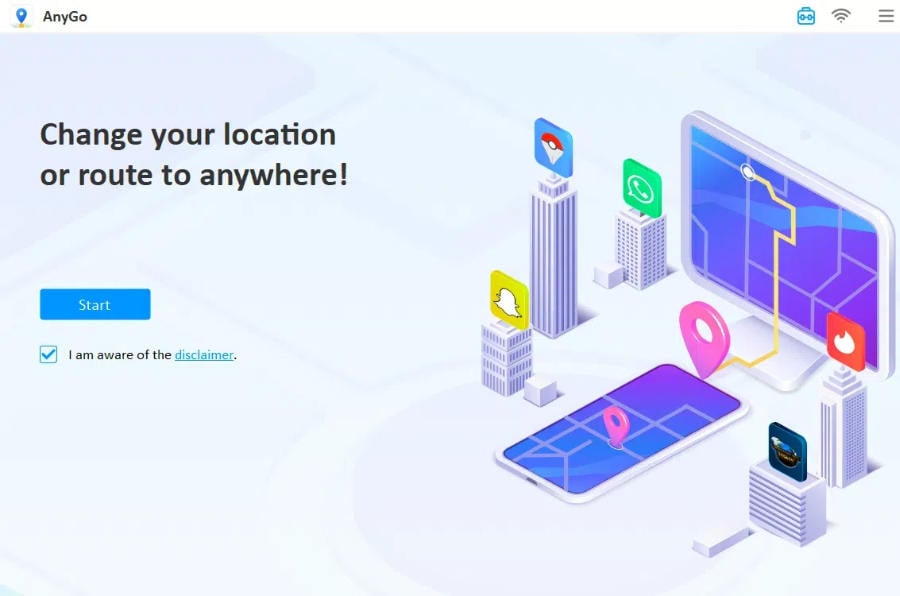 Step 2: Select the Location
Now, click on the "Two-spot route" or "Muti-spot mode" options available in the upper right corner to set your speed, distance, and location.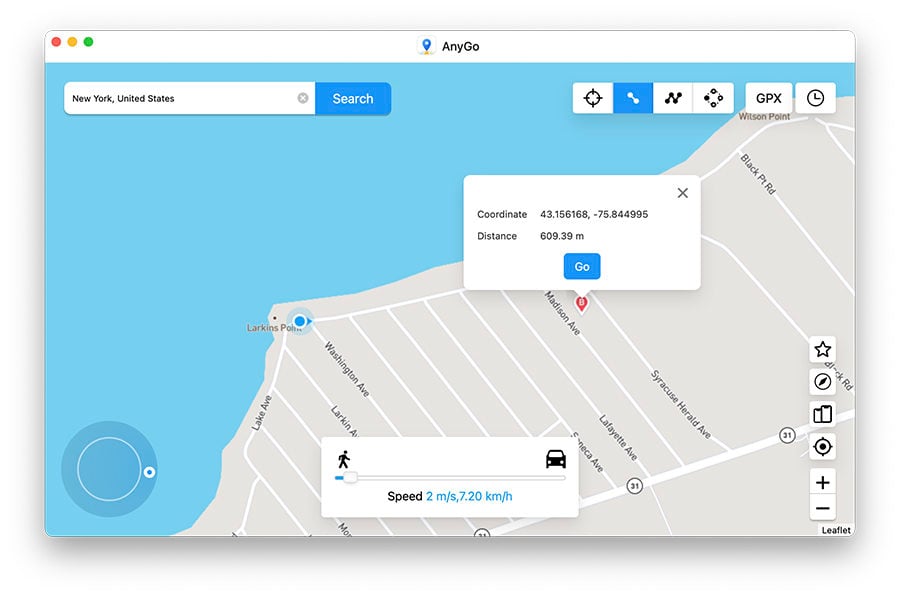 Step 3: Click "Go" to start the simulated movement.
Next, choose how you would like to move between the selected spots. Finally, enable the Realistic Mode, which will vary your walking speed to prevent any suspicion. To end, click Go.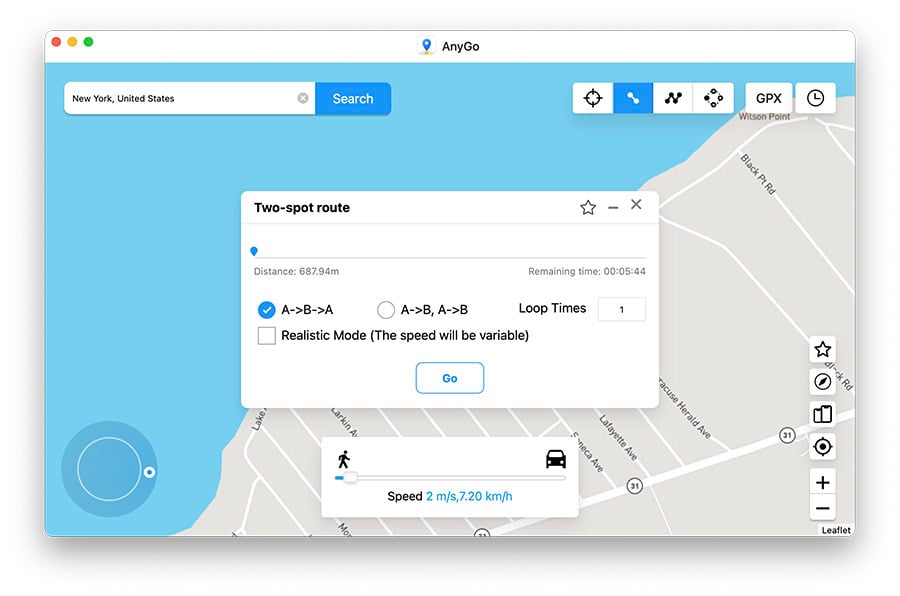 Conclusion
We hope you now know how to play Pikmin Bloom after reading this article. Pikmin Bloom is a slightly less competitive game than Pokemon Go, which has made it into an instant hit. However, the continuous walking and reward restriction could throw off specific players, so we recommend using iToolab AnyGo to teleport to any part of the world to play Pikmin Bloom without any hassle.
Spoof GPS Location on Your iPhone/iPad
Works well with LBS games and apps.
Multiple modes to fake GPS movement.
Simulate walking, cycling or driving at a variable speed.
Spoof location of multiple iPhones simultaneously.