How to take advantage of the Pokemon Go walking rewards? I have walked around my area for some weeks now, but haven't been able to earn any prize for it? Any tips?
One of the prominent reasons why Pokemon Go is still popular among people worldwide is that there are prizes and events at every turn. Even if you cover a specific distance around your park or neighborhood, you can earn the Pokemon Go walking rewards. So, what exactly are the walking rewards in Pokemon Go, and how to earn them? To learn the details, continue reading this guide.
Part 1: What Are Pokemon Go Walking Rewards?
These are the weekly Pokemon Go walking rewards. After seven days, you get a stamp on your screen that you collect by walking the same amount or more. You can redeem them to get items like Pokeballs, berries, eggs, and even candies! From small bonuses to evolve your Pokemon to small amounts of Stardust, here are the Pokemon Go rewards for walking.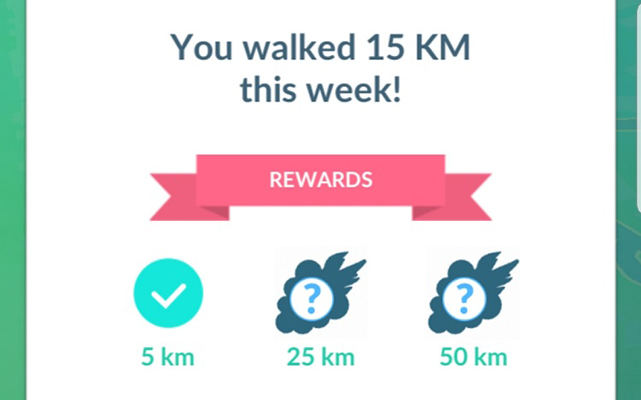 Here are some features and extra detail that assist you in availing of the walking rewards in the game:
1. Pokemon Go Adventure Sync
Did you know that you can link the Pokemon Go game with whatever health/fitness app you use to track how many steps you have accumulated in a day? Since the whole leveling up in Pokemon Go is based on how much distance you cover, this is an excellent initiative. You only need to enable the Adventure Sync feature in the game. This way, you can easily hatch your eggs and gain further rewards without ever opening Pokemon Go.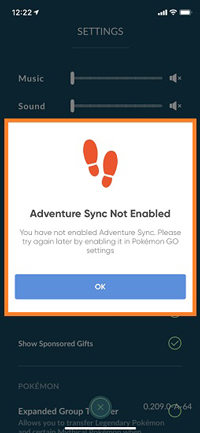 2. Walking Rewards & Weekly Rewards – How Much Can You Get?
We know that Pokemon Go walking rewards are considered and presented weekly on account of the distance you have covered over the past 7 days. 5KM is the minimum distance required to gain any recognition. Moreover, the Pokemon Go walk 5 KM reward is 20 Pokeballs. You can receive the highest reward upon completing 100KM, which is 16000 Stardust.
Similarly, Pokemon Go will gift you the following on covering 25KM and 50KM:
25KM: 10 Greatballs/1 Rare Candy or 5KM Egg/500 Stardust.
50KM: 5 Ultraballs/5 Silver Pinap Berries/1 Rare Candy/5KM or 10KM Egg/1000 Stardust.
3. Reset Time of the Pokemon Go Walking Rewards
Adventure Sync is straightforward to keep track of.
Pokemon Go game reset the walking reward every Monday at 9AM your local time. All the prizes for the previous week will be given before that. However, if you are not a level 5 player, then you can not enable the Adventure Sync feature. So make sure to reach that point in the game to earn or unlock additional rewards.
Part 2: How to Enable Pokemon Go Walking Rewards?
The Adventure Sync feature should be switched on from the Pokemon Go settings menu for you to utilize the game's weekly walking rewards. Make sure you already have a health app installed on your respective Android or iOS device:
Follow the steps below to enable Adventure Sync and the Walking Rewards on both platforms:
Android:
Launch Pokemon Go on the device.
Tap Settings and access the main menu.
Now, tap the Adventure Sync option and from the popup box, select "Turn IT ON" to activate it.
Select your Google Account and give permission to the game to access or read data from Google Fit.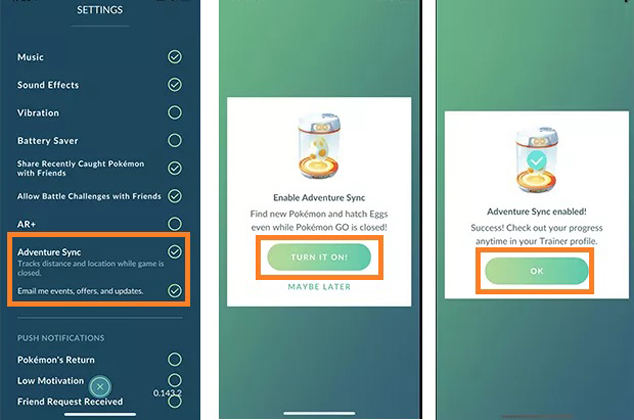 iOS:
First, run the Health app on your iPhone.
Tap Sources, and select Pokemon Go.
Hit the "Turn All Categories On" option. That's it!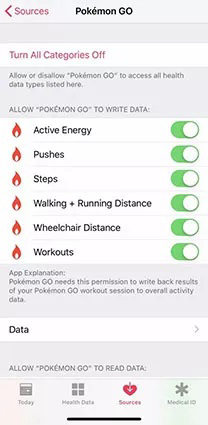 Part 3: The Easier Way to Get Pokemon Go Walking Rewards
We know how much work and effort is needed to cover 100KM in a single week to reap the highest weekly walking reward. For some, it is simply impossible. So, should you give up on pursuing that prize? Well, No!
There is a way where you no longer have to go outside to play the Pokemon Go game to unlock any specific weekly reward. How? Just use a spoofing software called iToolab AnyGo for iOS/Android. With this program, you can play it right from your home or whatever place of comfort. Just use the platform's virtual GPS spoofing feature to walk the specific distance needed to get rewards without actually walking around.
AnyGo – Simulate GPS Movement on Pokemon Go Walking
AnyGo allows you to set your walking pattern, distance, and speed so that it remains natural in the eyes of Niantic. Moreover, you can import and collect game GPX route files to further use. No matter which model of iPhone you are using, using this software, you can change multiple locations of the device simultaneously.
Download it on your Windows or Mac computer and follow the guidelines below to earn Pokemon Go walking rewards without effort:
Step 1 Access AnyGo on your computer. Also, connect the iPhone using a USB/lightning cable or Wifi connecting. From the Home interface, press the Start tab.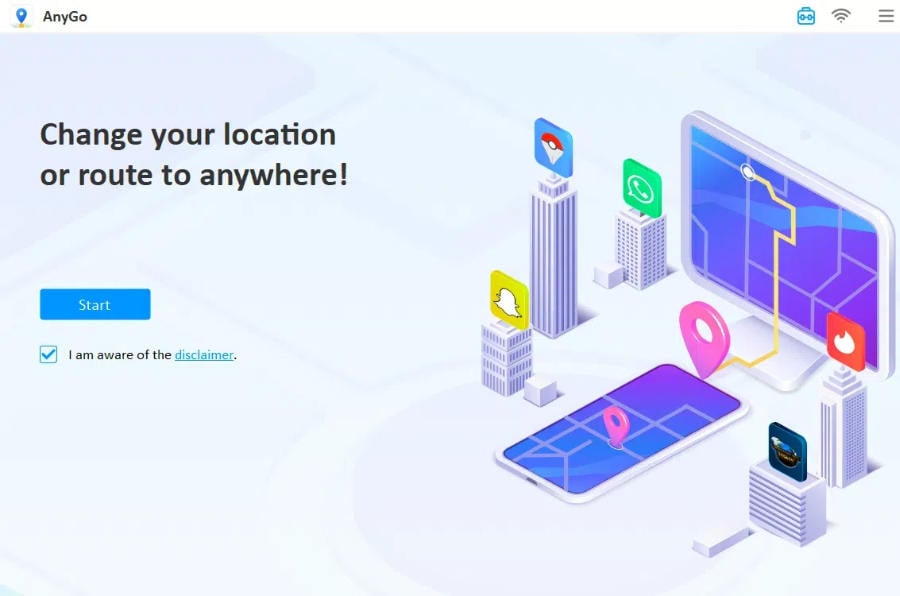 Step 2 Next, a map will appear onscreen, displaying the connected device's current location. Click on "Two-spot route" in the upper right corner. Select the place you would like to go to on the map.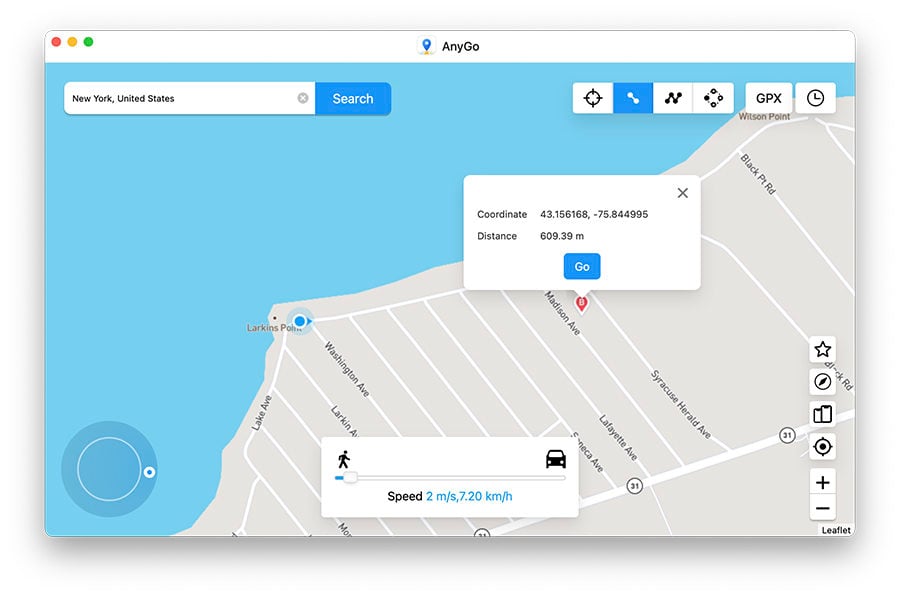 Step 3 Once AnyGo shows the location on the map, click the Go button. Drag the slider at the bottom to set the speed you would like to use. If you want an authentic experience, you can choose the "Realistic Mode" for a natural speed.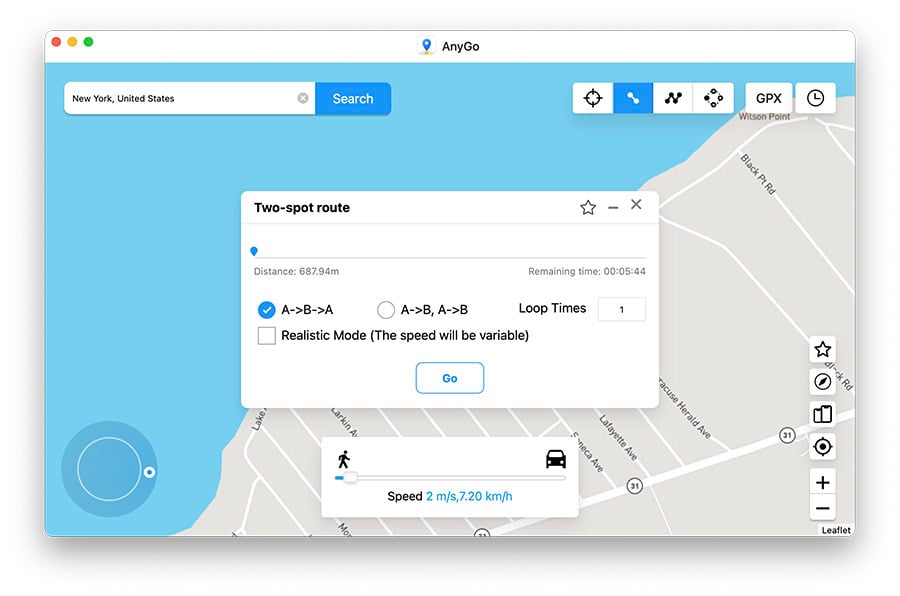 Step 4 Moreover, If you would like to pass through many places on the map, choose the multi-stop route.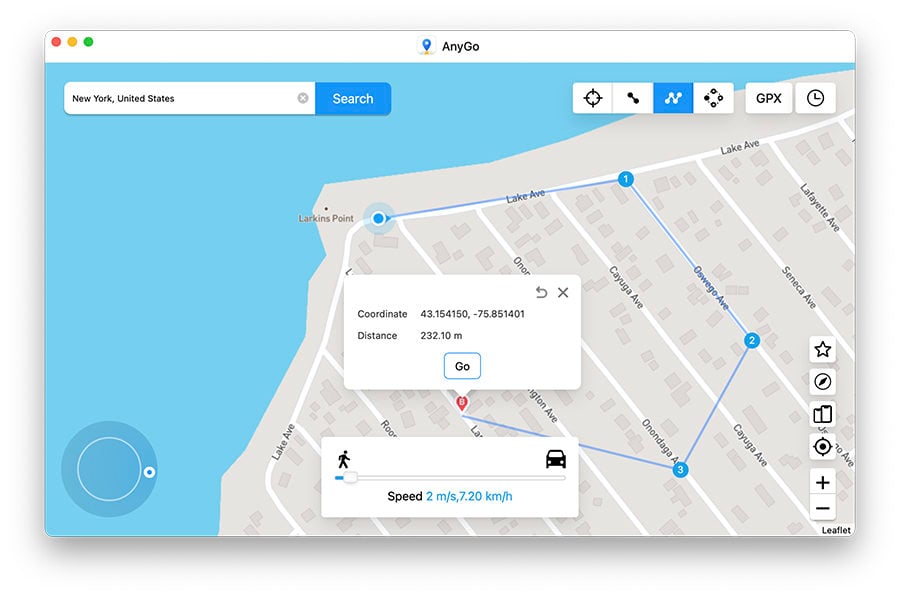 Just set your walking speed under Realistic Mode or pick the spots you wish to visit before clicking Go again.
Part 4: Troubleshooting About Pokemon Go Walking Rewards
xWith all the information on walking rewards in Pokemon Go out of the way, one more thing needs to be discussed. What if the reward system doesn't work and all the distance you have covered the entire week end up for nothing?
Here is how you can troubleshoot this specific problem:
1. Double-Check If You Have Adventure Sync Activated
Just head to the settings menu and verify whether the feature is switched on. Also, ensure you have followed the abovementioned steps to connect Pokemon Go with a fitness app.
2. Why the Adventure Sync Is Not Working?
Make sure you have given location services permission to your health app and Pokemon Go on the device. Otherwise, your walking reward won't be calculated.
3. Why the Adventure Sync Is Calculating the Wrong Distance
Your phone should be in the best condition for the Adventure Sync feature to work. It is better to disable the Battery Saver option in Pokemon Go when you are covering long distances.
Final Words
Pokemon Go walking rewards are an excellent way to level up and become the best Pokemon trainer in the game. However, some requirements to unlock the prizes seem a bit unrealistic, especially for adults. It is where a tool like iToolab AnyGo can help. Of course, the best part of all this is that you don't have to go outside to play the game to gain rewards. All you need to do is search any location, teleport to that spot, and walk around virtually.