Do you know that some of the features are inaccessible on your Samsung device unless you don't create a Samsung account? You can't use the apps like SmartThings, Samsung Pay, Smartswitch, and so on.
Once you finish creating a Samsung account, ensure to remember the credentials. Otherwise, your device will always ask the prompt "To continue, verify it's you" while trying to format your phone, remove or change the account.
But, if you have forgotten the password of your Samsung account, avoid being panic. There is still some hope. You can reset your password using your device and several methods. In this article, we'll tell you how to reset Samsung Account password regardless of how you forgot it.
How to Reset Your Samsung Account Password on Phone?
One of the ways to reset your Samsung account password is by using your phone. Yes, Samsung provides you the privilege to reset or get back the password of your Samsung account. No need for any tool or computer to break the Samsung device security. You can change or get a new password after forgetting the current one in just a few taps:
Reset Samsung Account Password With Settings
Step 1: Open "Settings".
Step 2: Tap on your name present at the top.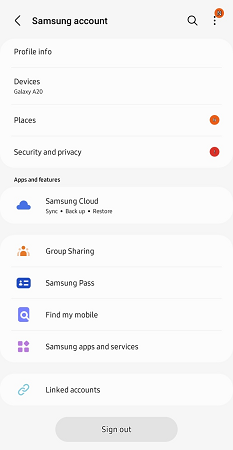 Step 3: Go to "Security and Privacy".
Step 4: Now, select "Password" and read the terms.
Step 5: You will get two options – "Delay 6 months" or "Change".
Step 6: Just choose "Change" and then enter your current and the new password you want to set.
Step 7: At last, hit the "Save" option to reset Samsung account.
If I Forgot My Samsung Account ID or Password, How to Retrieve It?
Restore Samsung account
To use your device without any trouble, it's important to have your Samsung ID to reset the password. In case you don't have it, then try to recover Samsung account ID. You can do so using the Samsung ID recovery page.
Step 1: Visit account.samsung.com on a browser, click on Sign in and Find ID options.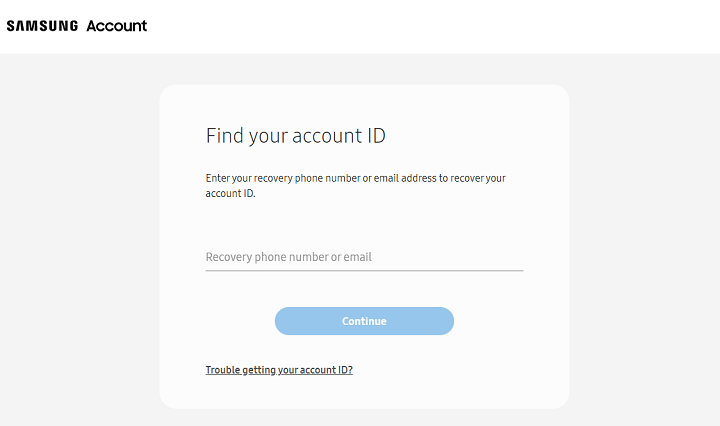 Step 2: You'll be direct to a page that requires your recovery phone number or email address. Then you should receive a message or email with verification code.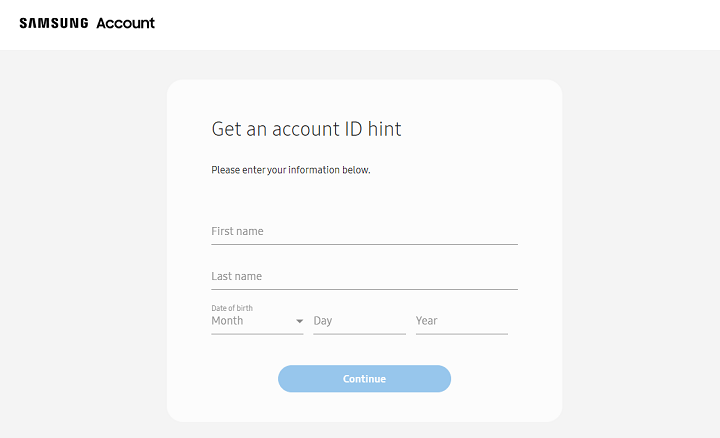 Step 3: If you have difficulties in filling recovery info, just click on the link of "Trouble getting your account ID?", which allows you find your Samsung ID with user information.
Step 4: Enter your first and last name along with your date of birth to get your ID back.
Reset Samsung account
Do you have the Samsung ID but forget the password? Of course, you could change password on Samsung account following last section. Also, you could complete it on the computer quickly. Just open the Samsung ID recovery page on your PC/MAC or any other device supporting a web browser.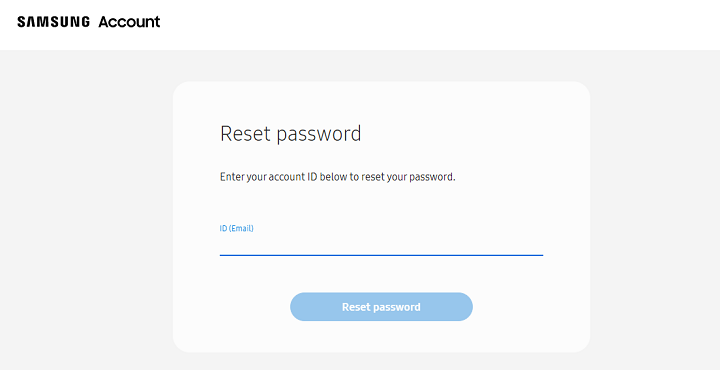 Step 1: Visit the page of resetting Samsung account password.
Step 2: Type your Samsung account ID or email to reset Samsung account password. The following instructions will help you in getting back to your Samsung account.
Does a Factory Reset Remove Samsung Account?
No, it's impossible. Even when you perform a factory reset on a Samsung device, the account stays even after that. This happens because of the FRP lock that triggers as soon as you reset your device or end up entering the wrong password multiple times. So, avoid resetting your device if you don't want to activate the FRP lock. It won't go ever unless you don't enter your Google account credentials.
Read More: Delete Samsung account without password/recovery phone number/email
How Do I Bypass Samsung Account Verification After Resetting?
Are you locked out of Samsung account at setup wizard? Did your Samsung device ask to enter your Google account email and password? If yes, the Google FRP lock is active now. To get past the FRP lock, you will need a third-party bypass tool.
Fortunately, there are many but the most effective with the highest success rate is UnlockGo for Android. It has been developed by the iToolab team that helps in removing any kind of screen lock. It is fast, secure, and harmless. However, you should take a backup of your Samsung phone or tablet because removing the FRP lock can erase the stored data.
Video Tutorial: 3 MIN Bypass Any Samsung FRP Lock
UnlockGo (Android) – Bypass Samsung & Google account
Perfect for any novice to remove screen and Samsung FRP lock
Helps in getting back access to all the device features
Completely risk free, secure, and fast in removing screen lock
Remove all Android screen locks
Save your data while removing the account from early Samsung models
Conclusions
To reset Samsung account password, you have to use your device smartly. As you read above, you now know that there are different ways to retrieve Samsung account. Pick the appropriate solution as the situation demands. And if nothing works, then you can always trust the iToolab UnlockGo for Android. Its intuitive interface and ability to bypass any screen lock will let you use your device seamlessly. Other than that, you can also use your phone or web to get back access to your device.