You have to set up a Samsung account for logging into your Samsung device to keep the data safe and use all of its features. Creating a Samsung account allows you to backup, restore, and sync data between multiple devices.
However, there are times when a user has to remove the account from their device like when you are planning to sell the phone and buy a new one. If that's the situation, you can't remove it without having the password of your Samsung account. Even trying to format your phone will ask the prompt "To continue, verify it's you".
Here you can find some methods about how to remove a Samsung account without a password, email, or phone number. You just have to follow the steps right reading this article carefully.
How to Remove Samsung Account From Phone and Tablet?
You are allowed to leverage the full potential of your Samsung device by creating a Samsung account. From using the apps like SmartThings or Samsung Pay and even backing up or restoring data becomes possible.
In case your phone is old and you had set up the account before, it's hard to remember the password. Unless the old Samsung account is not removed, it's impossible to set up any other account for the new owner of your phone.
So, you might be thinking to reset the password or simply remove the account without it before giving away your phone. If you have to remove your Samsung account without a password from your phone or tablet, go through the given steps: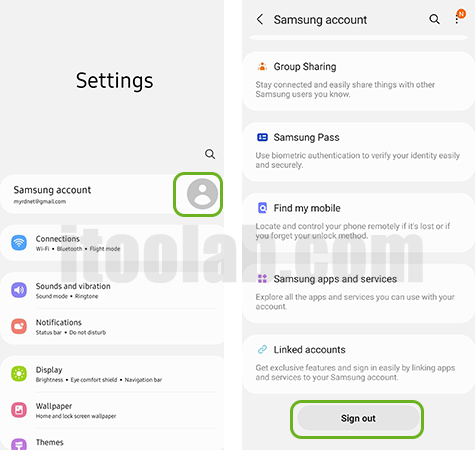 Step 1: Open "Settings" and tap on the top where your name is present.
Step 2: Swipe down to get the "Sign Out" option.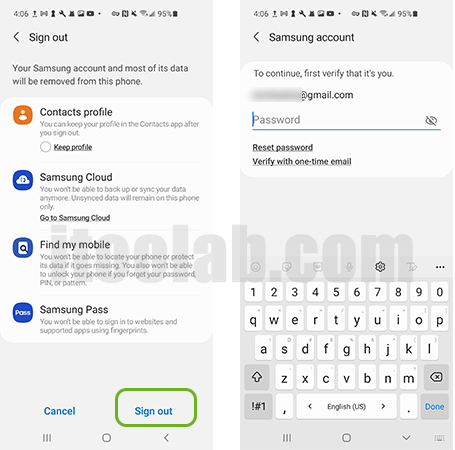 Step 3: Once again, tap the "Sign Out" and enter the account password.
Step 4: In the end, just tap "OK" and you are done.
How to Log Out My Samsung Account From PC or Mac?
Why only rely on your phone or table to log out from your Samsung account? You can do the same using a PC or Mac too.
Misplacing, losing, or while giving away your device, not removing your Samsung account might be misused by someone else. So, it's better to sit at a desk and turn on your PC or Mac to remove your Samsung account without a password.
Before doing that, you should know that no more sync data will remain available and new data can't be synced. Now, for removing the Samsung account, do the following: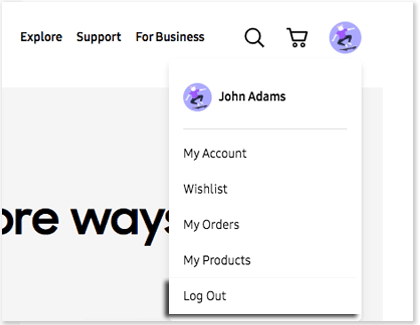 Step 1: Go to the official Samsung website.
Step 2: Click on the profile photo in the upper right corner.
Step 3: Slide down to click on the Log Out option.
How to Delete Samsung Account without Password?
If you are not having any PC or Mac, what can you do then? Don't worry. With the help of Knox security on your Samsung phone, you can still remove or delete Samsung account without password.
Knox allows you to remove Samsung account without your password, email or phone number. In many Samsung phones and tablets, it's preinstalled. You just have to check whether the Knox security is available on your Samsung device or not.
Step 1: Check Know Security
Tap on the "Settings" › "About Phone" › "Software Information".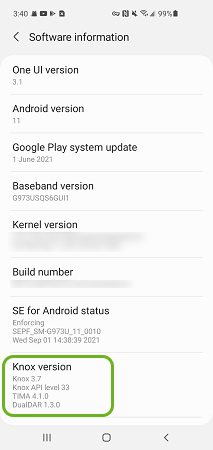 Step 2: Install Alliance Shield X App
Open the "Play Store" and search for the Alliance Shield X app. Install it on your Samsung device. Next, give all the permissions to run it properly. Hit the "Got it" button to open the login page.
Assuming you haven't registered yet, tap on the "Register" button and wait for the browser to open the registration page. Scroll down to click on the "I agree to these terms" before proceeding further.
Step 3: Create Alliance Shield X account
Start entering all the details when you are done with it, and open the "Alliance Shield X" app again. Choose your device name if you wish or else, tap on the "Next" button. Enable "Admin" and "Knox" by moving the slider right while accepting permissions and agreeing on the terms.
Step 4: Remove the Samsung Account without password
Tap on the "App Manager" and search for the "Samsung account". When found, choose it and then go to "Activities" › "Just One More Step". Click "Open" › "Change Email Address" › "Sign Out".
How Do I Permanently Delete My Samsung Account?
Fortunately, when you remember the password, deleting the Samsung account will be a lot easier. To delete a Samsung account without password permanently, you have to visit the Samsung login page on any browser of your choice.
Step 1: After the login page opens, enter your login ID and password.
Step 2: Choose "My Account Info" › "Profile" › "Samsung Account Settings" and at the end, "Delete Account".
Locked By FRP Lock? Remove It Now!
The worst mistake a Samsung device owner can do is trying to reset the device without removing the Samsung account and Google account. This will enable the FRP lock, which takes a lot of effort to remove. You will have to use a third-party tool to remove the FRP lock.
One such lightweight tool that we admire a lot is iToolab UnlockGo (Android). It helps in unlocking your device effortlessly without resulting in harm to your device.
When Do You Need to Remove Samsung account?
1. Before performing a factory reset
Suppose your Samsung phone is lagging, which can be fixed quickly with the factory reset. What if your device does not allow you to factory reset without entering the Samsung account password? That's why it's necessary to know how to remove Samsung account without password.
2. Before giving away your phone
Thinking of buying a new phone and giving your Samsung phone to your sibling? You must not do it without removing the Samsung account.
3. Before selling
Before selling your old Samsung device, it's of utmost importance to remove your Samsung account. Otherwise, the new owner can have access to all your cloud data and can't be able to set up his own Samsung account.
Conclusion
You can try whatever way from above as per your convenience, even if you'd like to remove Samsung account without password, email or phone number. These methods not only save your time but will also ensure that you can sell or give away your device without any worry, such as locked by Google account or Samsung account verification.