Snapchat is one of the most popular social media applications that allow users to send and receive messages & pictures. It offers various built-in filters for capturing images in a very different and captivating way. Undoubtedly, it is one of the most commonly used apps, but it shows that Snapchat keeps crashing issues at different stages on iPhones and other smartphones. Sometimes, Snapchat instantly crashes and stops working after the launch or while using it, and there can be various reasons for this problem.
All the solutions to this problem are going to be discussed in this article. We will have a detailed look at different causes and their possible solutions that can instantly help you overcome the Snapchat keeps crashing iPhone issue.
How to Fix Snapchat Keeps Crashing on iPhone
Here are 11 ways to teach you to troubleshoot problems one by one.
1. Delete and Reinstall Snapchat
Sometimes, minor changes in the backend programming of the software do not allow the applications to run smoothly, and it becomes difficult to identify the issue for resolving it. In this situation, it is always recommended to uninstall and reinstall a particular application like Snapchat in our case.
To uninstall Snapchat, simply tap and hold Snapchat for a few seconds. A menu will appear on the screen. Tap on the Remove App > Delete App options. Now, for reinstalling Snapchat. Go to the Apple store and search for Snapchat, then download it on your device.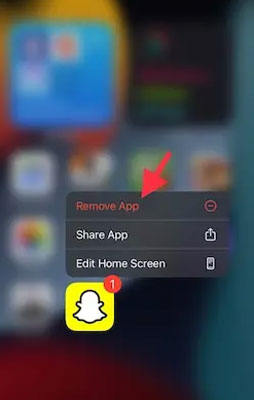 2. Clear Snapchat History
Cached or unwanted background files/data can become a hurdle for the proper functioning of the app. To avoid this problem, simply clear your Snapchat history or cached data. For this, open Snapchat > Profile photo > Setting icon. Now, go to the Account Action portion and tap on the Clear Cache > Clear button.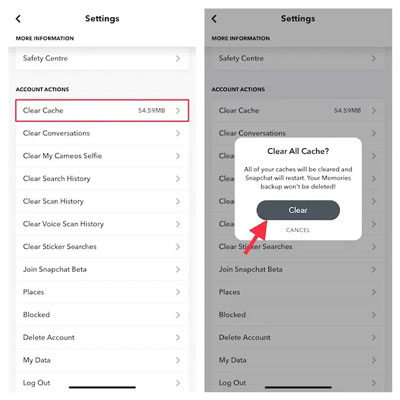 3. Hard Reset Your iPhone
Just like removing cache data from Snapchat, you can also remove unwanted files from your device in the same way. It can increase the ability of Snapchat to perform properly. To do so, just follow these simple instructions.
For iPhone 6s/ 6s Plus or earlier, press and hold the home button + the side button. Wait for a second, and the Apple logo will appear on the screen.
For iPhone 7 and 7 Plus, press and hold the volume down + side button simultaneously and wait for the Apple logo to appear on the screen.
For iPhone 8 and later, press and quickly release the volume. Do the same for the volume down button. Now, hold the power button and wait for the Apple logo to appear on the screen.
4. Enable Background App Refresh for Snapchat
Background app refresh is a feature of the iPhone that allows users to select apps of their interest for an automatic update process. Enabling this option may reduce the error in the application functioning on its own. For doing this, go to the Settings > General > Background App Refresh. Different apps will appear on the screen in the form of a list. Look for the Snapchat app and then enable this option by turning on the toggle in front of it.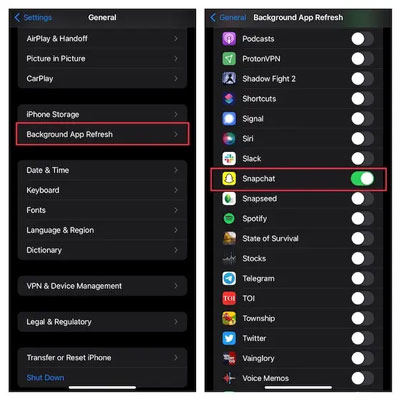 5. Update Snapchat
In the upper point, we have seen how to enable the automatic updating feature. If your mobile is not showing that option, then you can also manually update the Snapchat app on your iPhone to avoid Snapchat keeps crashing problem. Go to the App Store > Profile > Update All. You will find Snapchat in this list of outdated applications. Find Snapchat and tap on the Update button.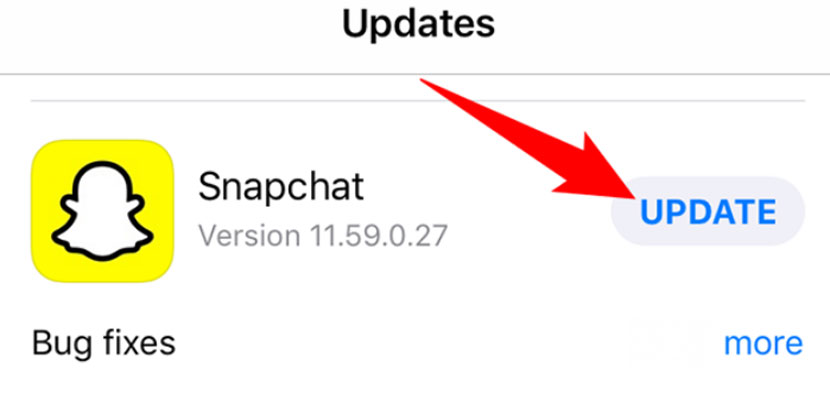 6. Check Snapchat Server
If you are continuously facing the fact that Snapchat keeps crashing iPhone issues, then you should also check the Snapchat server because any minute disturbance in social networking can cause inconvenience. To check its server status, go to Downdetector.com and type Snapchat in the search bar. Soon this website will show the status and health of the virtual networking system related to the Snapchat server.
7. Disable VPN
Using any VPN changes the device's location and server settings, so it can create issues with the connectivity of the Snapchat server. If any VPN is enabled on your device, deactivate it and then try to use Snapchat. To deactivate the VPN, head over to Settings > General > VPN & Device Management > VPN. If VPN is enabled, disable it and check again whether the Snapchat crashing issue is resolved or not.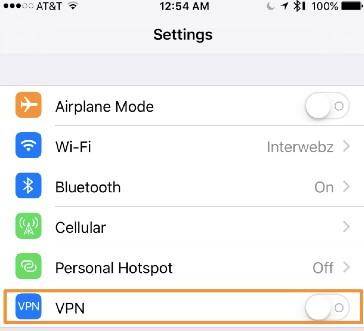 8. Delete Third-Party Snapchat Apps
There are some third-party Snapchat applications like "Swipe" & "Z: Make Friends on Snapchat". These third-party apps support Snapchat to offer extra features out of its algorithm, but meanwhile, they can cause disturbance in the normal functioning of Snapchat's real server. So, if you have any third-party application installed on your device, then uninstall it. Use the same method as we have discussed in Point 1 of this article and use only Snapchat on your device for smooth functioning without any error.
9. Update iOS System
All applications on your iPhone will show crashing or error in case of incompatibility with the system's software. If your iOS is not updated and compatible with Snapchat's updated version, then you can never use Snapchat or the application calmly on your smartphone. For updating the iOS, go to Settings > General > Software Updates. If any update option is present, then tap the Download and Install options after ensuring a good internet connection and more than 50% mobile battery.
10. Check WiFi Network Connection
A poor internet connection does not allow users to enjoy applications, software, and tools peacefully. If you are using the internet through WiFi, then check the connection quality. If it has some issue, try to cover it according to the situation. Using a good internet source can be a problem solver at the initial stages.
11. Turn Airplane Mode On and Off
If you are using mobile data to run Snapchat on your mobile, then there are chances that it may show that Snapchat instantly crashes because of poor internet, sim signals, or connection. To fix it, just turn off Airplane mode. After a few minutes, turn it on. This will refresh the catchment of sim signals on your iPhone which ultimately enhances the internet quality.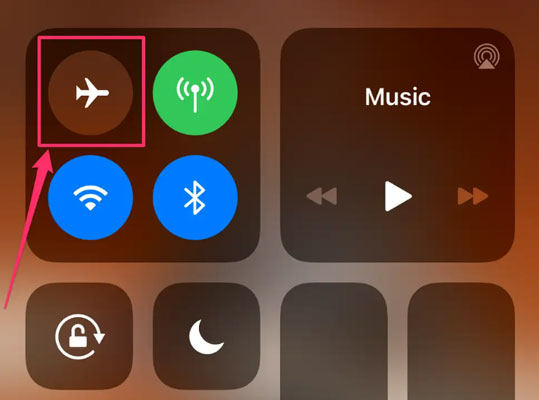 Also Read: How to Fix Snapchat Unable to Login Error on iPhone
Congratulations You Solved the Problem
Snapchat is a widely used app, and any disturbance while using it irritates a lot. We have discussed different methods of resolving the issue. We hope that following any of the above-mentioned steps will resolve your issue too. If you are still facing errors after all these manual fixations, then you can go with the iToolab FixGo. It is an iOS repairing software that can scan, detect, and resolve common errors in iPhone, iPad, and Apple TV devices. It is compatible with all device and software versions, including iPhone 14 and iOS 16. Furthermore, it is available free of cost to be downloaded and installed by the users. So, you can easily use it free of cost for all versions and iOS. That's pretty much it! Hope this article will help you to get rid of the iPhone problem.