It gives a peace of mind when you think your Android is protected by a screen lock and additionally a Google account that comes to rescue your phone in cases of theft or loss. But the situation turns worse when you forgot your Google account password or PIN code that you set up lately.
If it happens to you, don't worry! This guide brings you new techniques to bypass FRP and shows you how to use Apex launcher to bypass Google accounts efficiently. Can't wait for it? So let's get started.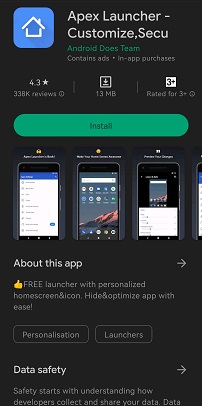 What Is Apex Launcher
Apex launcher is an Android launcher app that allows you to customize Android's home screen and hide apps (Android 4.4 and above). With efficiency and speed, the Apex launcher comes up with a spacious dock that contains icons, widget features, and app drawer customization to enable fancy transition effects. With Apex Launcher you can easily backup and restore settings and data.
With all of this cool stuff, you can now bypass your Google account using Apex launcher APK FRP by its settings and security features.
Hence, the app is ruling over millions of Android with its cool and unique features so let's see if it works for you.
Bypass Google Account FRP Lock with Apex Launcher
Here is a step-by-step guide to using Apex launcher for Google account bypass.
Step 1: Download the FRP APK on your device like VNROM, Addrom, and Pangu FRP APK.
Step 2: After that, go to Downloads and install the FRP APK. Tap on the Next option, select Install, and finally tap Done to finish the installation process.
Step 3: Using Chrome or any browser just download Apex Launcher.apk on your Android phone.
Step 4: Once downloaded, launch the app.
Step 5: Now you need to choose the Device Settings option, select Security > Other Security Options then select Disable Find My Device.
Step 6: Head back to the Settings menu and choose Apps, tap Google Play Services and deactivate it.
Step 7: Now, move back to Settings and add a Google account.
Step 8: Once you did it, then you need to activate all deactivated Security services and apps.
Step 9: Finally, restart your phone and set up the necessary settings for your screen.
Step 10: You successfully performed the Apex Launcher APK bypass.
Different Opinions of Apex Launcher FRP Bypass
If you get bored with your ordinary Android home screen theme and widgets, Apex Launcher is here to give you a better experience. But despite all these perks, some users give credibility and ranking to other launchers over Apex due to some shortfalls.
The biggest drawback is Apex launchers don't provide customer support which is crucial in cases of queries or recommendations if you are stuck somewhere. So you need to work under the supervision of a professional because you don't have any official representative from the company to help you.
Moreover, you may stuck while performing the Apex launcher APK FRP bypass method if you are a non-techy person. You should seek professional guidance if you don't know about dynamic controls.
So when it comes to bypassing your Google account you should choose a safe and risk-free option that protects your phone from software damage while taking care of your privacy. So for your assistance, I have a better alternative to share with you. Just check it below.
An Alternative Handy Way of Apex Launcher FRP Lock Remove
Apex Launcher has all the desired features you want to customize your phone with a free and paid version but to remove Google FRP lock Samsung you need a quick solution that unlocks your phone with little effort.
Try iToolab UnlockGo (Android), your all-in-one Android Unlocker tool. Normally, when you bypass FRP with ordinary methods you need another Android device, additional FRP bypass APK or files, a valid Samsung account, and much more but with UnlockGo you just need your laptop and the tool.
The best part which makes it superior to other Android unlocker tools is it needs three minutes and bypasses FRP in easy steps. So if you are stuck somewhere, contact the service center and they will assist you promptly.
One-click Samsung FRP bypass tool (Supports Android 5-13)
Easily remove screen lock on all Android OS
Unlock Samsung phones without losing data or factory reset (Before S7)
Free one-click factory reset feature on Samsung phones/tablets
No previous password or PIN codes required
Let's Bypass Samsung FRP in 3 minutes
Well! Now you are all caught up with UnlockGo (Android) and should come to the opinion that unlocking Android phones couldn't be that easier before this tool. Moreover, you can do it yourself without any technical assistance, additionally, you don't need to manage a visit to the Android service center to unlock your phone.
All you need to do is download and install iToolab UnlockGo (Android) tool on your Windows or Mac PC and remove Google FRP lock Samsung in three easy steps mentioned below.
Step 1 Connect Samsung device
Once you downloaded UnlockGo (Android), just connect your phone to your computer using a genuine USB cable. Launch the tool and choose the feature Remove Google Lock (FRP) and click the Start button.
Step 2 Experience a swift solution
At this step, choose our new and swift solution All Android versions option, and then click the Next button.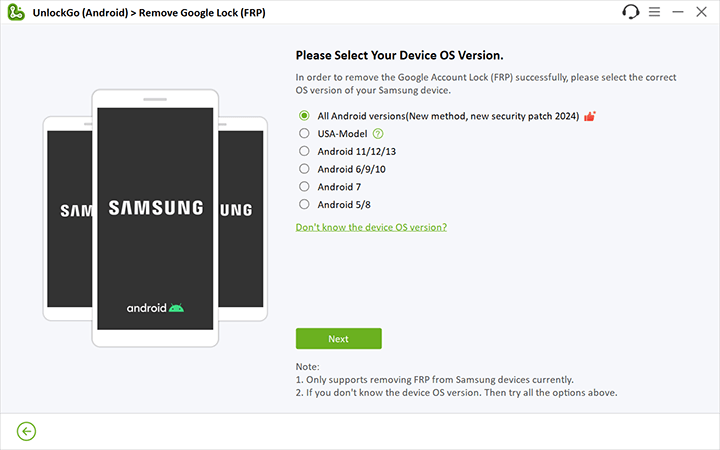 Step 3 Get ready to bypass FRP
You now need to wait for a while until you see a pop-up screen that comes up with instructions. This screen will ask you to enter the given code to access the Samsung Diagnostics Menu which is usually hidden. After this, UnlockGo (Android) will help you in activating USB debugging on your device.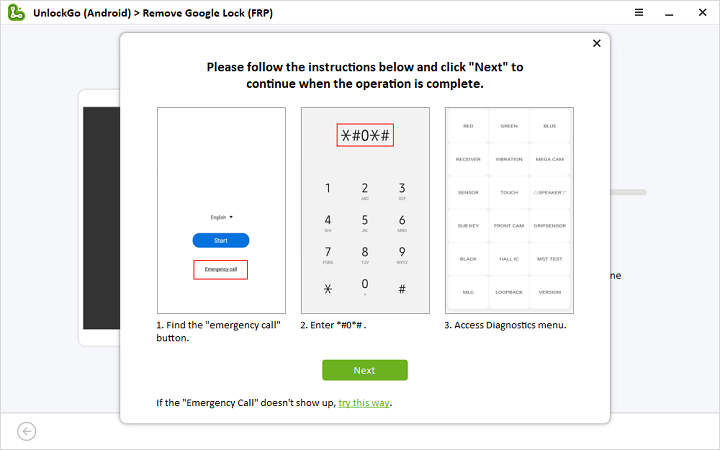 If the emergency call hasn't been shown on your device, click on the green link to try another option. Take it easy, UnlockGo is guiding you.
Step 4 You removed FRP
As you grant permission, the Google account verification screen will vanish in a few seconds and your Samsung device reboots automatically.
Video guide for Samsung FRP bypass (Android 5-13)
Conclusion
As we discussed above bypassing FRP via Apex Launcher APK FRP needs some technical skills or an Android techy for assistance. This is why UnlockGo for Android is specifically designed to meet your Android compatibility and give the best user experience with no hassle and less time.
So get your hands on our biggest new year sale to choose the best services for your Android device before it's too late.