When you buy a second-hand Samsung phone in excellent condition but are unable to access it makes you feel disappointed. FRP lock is an amazing feature because it puts your privacy and security at the forefront. But for Mac users, it is further disappointing when there is no tool to bypass the FRP lock. In this article, we will introduce you to the top 3 Samsung FRP bypass tools for Mac to unlock the Samsung device immediately.
iToolab UnlockGo(Android) is one of the best FRP bypass tool working on Mac to make FRP unlocking easy for your Samsung devices. The main aim of UnlockGo is to provide users with a seamless bypass service for Samsung devices. Not only can it bypass Samsung FRP, but you can also use UnlockGo to break through the screen lock on 2000+ Android phones from over 15 brands.
There are various subscription packages ranging from monthly to lifetime, suited for any type of user. There is no learning curve in using the software. It is tailor-made for everyone. If you are looking to bypass FRP using Mac, we highly recommend using UnlockGo(Android). This tool takes your privacy very seriously, and for users, there cannot be anything better than that.
Bypass FRP lock on Samsung devices up to Android 13
Bypassing takes only 3 minutes
Compatible with macOS and Windows computer
Just 4 steps to bypass FRP lock unlike general way
99% success rate with guide and support
3 minutes bypass FRP lock using Mac
Step 1 Connect Samsung device with PC
Download and install iToolab UnlockGo(Android) on your Mac. Then use the cable to connect the Samsung device to the PC. Open the software and select Remove Google Lock (FRP).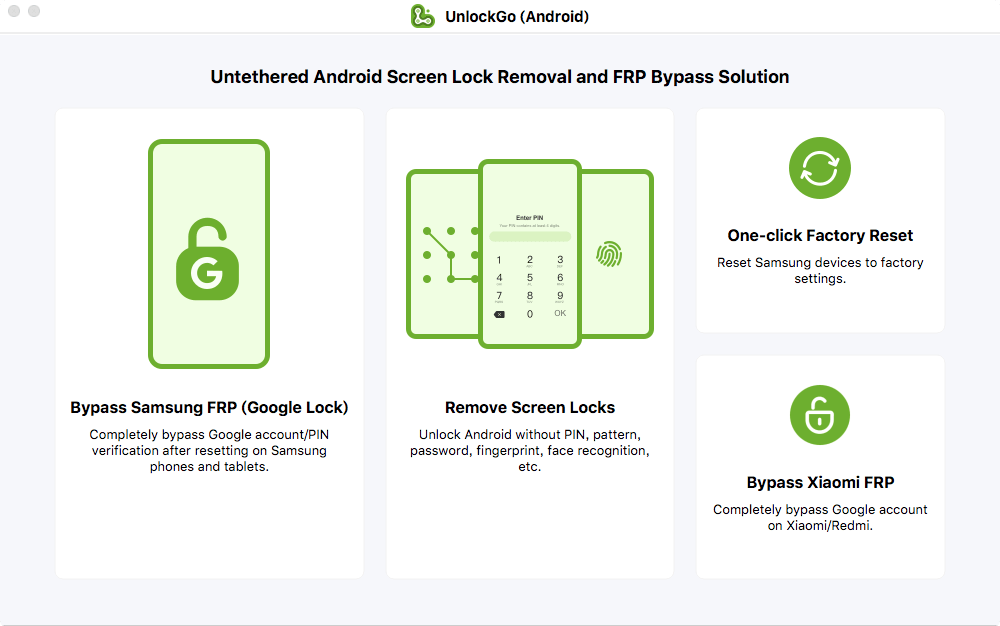 Step 2 Go ahead with the recommended solution
On the next screen, click the Next button to continue. You don't have to select Android OS here, the software will know.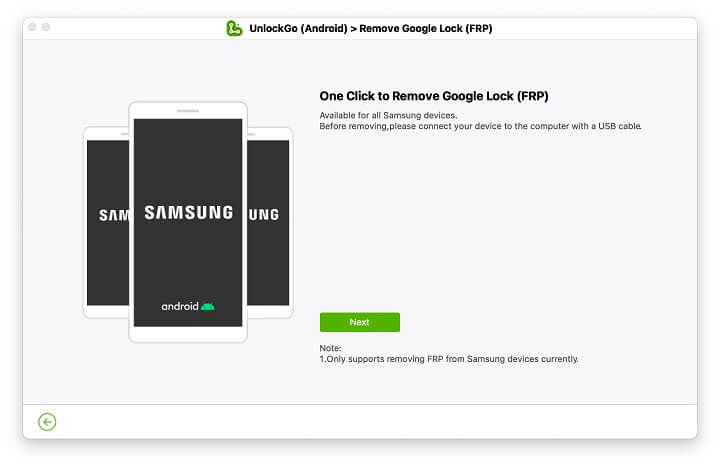 Step 3 Remove Google FRP Lock
Now go to the secret menu. This will help to allow USB debugging to remove previous Google accounts.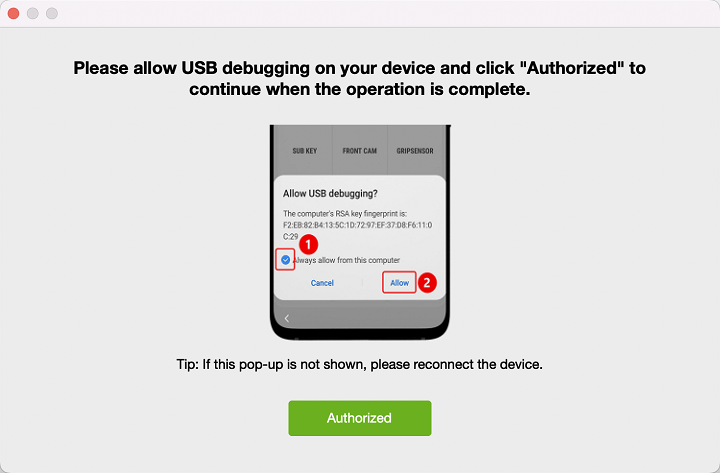 Step 4 Bypass Gmail verification after factory reset
Finally, phone will restart automatically once the process completes.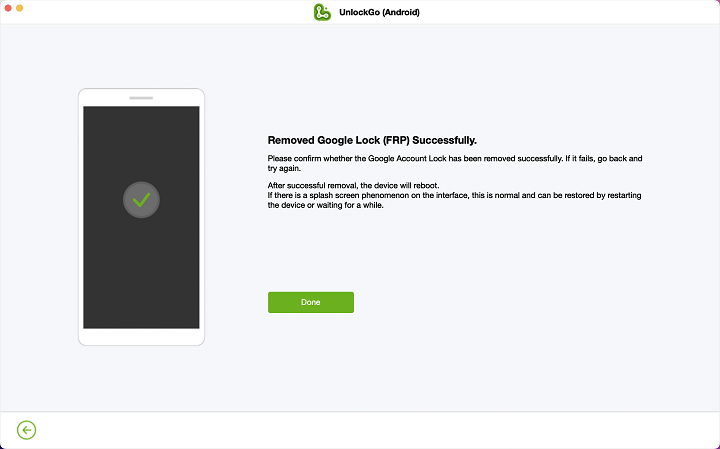 Top 2. UnlockJunky
UnlockJunky is an online Samsung FRP tool for Mac to bypass Google FRP lock. UnlockJunky states that it takes less than 15 minutes to unlock the FRP lock. It supports only a limited number of Android devices, including LG, Samsung, ZTE, and Motorola. Unlike iToolab UnlockGo (Android), it is not a direct bypass tool that can be used installed on Mac. It is made to run on Windows and Mac users; they need to install a third-party tool to mimic the functionality. To FRP bypass for Mac takes only a few steps and contact the UnlockJunky team to finalize the bypassing.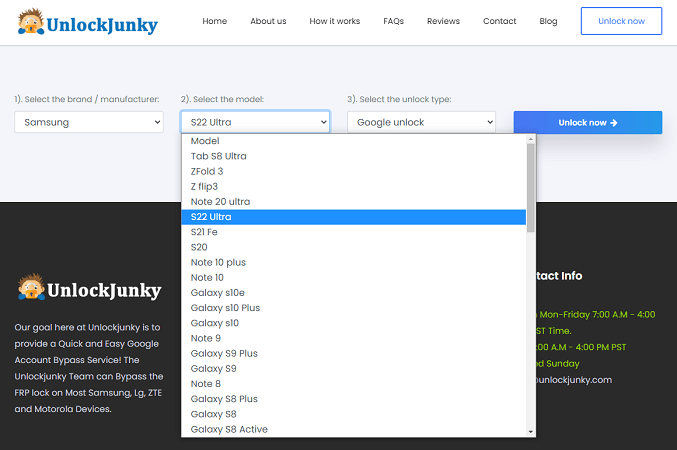 It doesn't provide any free trial, and users can purchase package with 7-day refund guarantee. Apart from bypassing the Google FRP lock, users can use Unlockjunky to remove Samsung account locks, PIN locks, IMEI repairs, carrier unlocks, etc. According to Trustpilot, it shows a 4.9 rating with a 97% success rate. It is a hassle-free bypassing tool that is easy and seamless to use. UnlockJunky supports over 3000 device models, which can save a lot of time.
Top 3. Dr.Fone (Mac) – Screen Unlock (Android)
Dr.Fone Samsung FRP bypass tool for Mac is a lock removal tool that helps users bypass various types of locks on Android and iOS devices. It bypasses the Samsung FRP lock on Android 6 to 12 versions without any issue.
So regardless of what Android device you are using, you must bypass the FRP lock with a few simple clicks with this lock screen removal software. It is one of the best Samsung FRP tool for Mac, with the option to remove a Google account with forgotten details.
Unlike both the tools we discussed, it is in the expensive Android toolkit with many features. If any user follows the traditional way, FRP bypassing takes 20-40 steps.
Pick an Easy Samsung FRP Tool for Mac
In Summary, let's compare all these 3 tools below to find the best tool that suits you.
| FRP Tool for Mac | Android OS | Mac OS | Time Spent | Price (USD) | Money-Back |
| --- | --- | --- | --- | --- | --- |
| UnlockGo (Android) for Mac | Android 5-13 | macOS 10.11 and newer | 3 min | $34.95/5 devices | 30 days |
| UnlockJunky | Android 6-12 | macOS 10.14.6 and newer | 15 min | $40/device | 7 days |
| Dr.Fone (Mac) Screen Unlock | Android 6-12 | macOS 10.10 and newer | 20 min | $39.95/5 devices | 7 days |
Thus, these tools provide a hassle-free FRP bypassing experience for Android users. All these top 3 bypassing tools are lightweight and suit any user. Each tool provides different features and suits seamless FRP bypassing. We highly recommend using iToolab UnlockGo (Android) easy Samsung FRP tool for Mac to bypass FRP lock on Samsung phones and tablets.