ZTE is one of the leading mobile phone vendors in the world right now. People using smartphones tend to put a lock screen security on their devices. This is to protect the data stored in your device. ZTE phone has tight security. Its screen lock protects all your personal data and prevents them from getting leaked if you lose your smartphone by any chance. But in some cases, you may lock it by accident and later be unable to unlock ZTE. You may also forget your smartphone's PIN, password, or pattern.
There are various ways through which you can bypass ZTE pattern lock. However, each method comes with its own upside and downside. Let us discuss each of them step wise and know what's best for us.
Unlock ZTE Phone Forgot PIN/Pattern/Password
Unlocking your ZTE phone is not as hectic as many assume it to be. However, to unlock your phone after losing the PIN or pattern, or password, you need to know about UnlockGo (Android) and its features. It will act as your next ZTE unlocker. Therefore, we shall discuss the tool, its feature, and the steps to remove the screen lock below.
iToolab UnlockGo (Android) is a beneficial software that enables removing any Android screen locks and bypassing the FRP locks on your Samsung device. It involves easy steps and complete security of your device. Also, you can unlock your device without losing data from your phone if you use Samsung's earlier models. The screen removal tool can remove all types of screen locks such as pattern, PIN, password, and fingerprints.
Android Unlocker
No password required to bypass ZTE screen locks
Regain full access to ZTE devices
All Android OS are supported easily
Helps remove FRP (Google lock) from Samsung
Covers over 15 mainstream brands, 2000+ Android models
Steps to remove screen lock with this ZTE unlocker
Here we shall discuss how to remove screen lock on ZTE phone using iToolab UnlockGo (Android). You first need to download and install the UnlockGo for Android and then follow the steps given below.
Step 1: Connect your device
Go to your desktop, open UnlockGo. Click on "Unlock Screen Lock", then click on "Start" and connect your phone with your pc.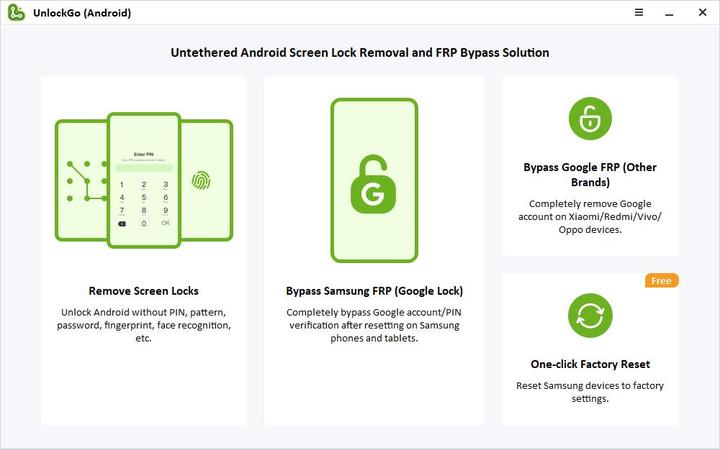 Step 2: Confirm your device information
Before you connect, always confirm your device information in the tool. Select your phone brand from the dropdown list and click on "Unlock" to proceed further. Take ZTE for example.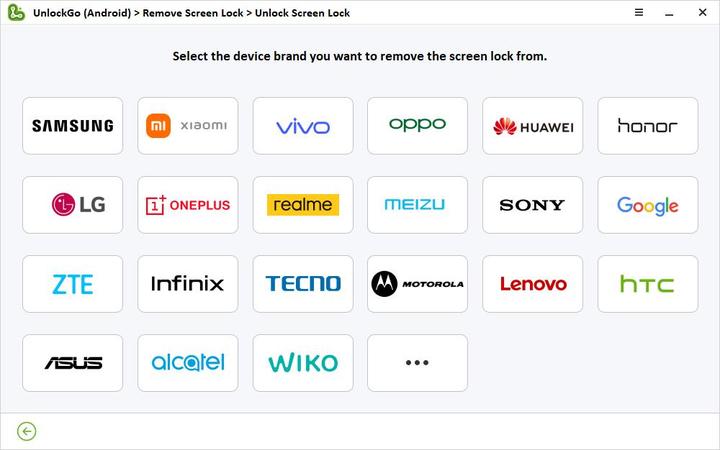 Step 3: Put your device on recovery mode
On smart phones with and without the home button, there are multiple ways to enter into the recovery mode. You can choose any method according to your comfort zone.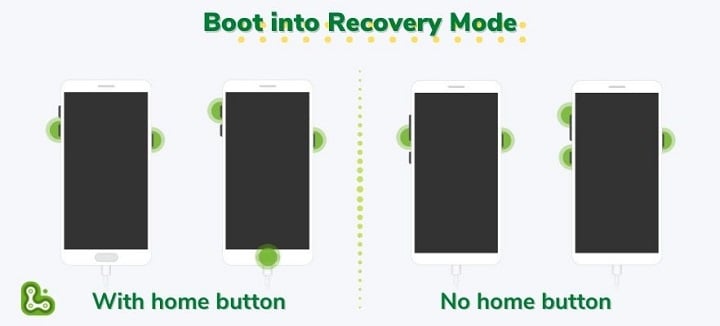 Step 4: Start the unlocking process
Once your device has entered Recovery Mode, you have to follow the on-screen steps to remove the screen password provided by UnlockGo depending on your device.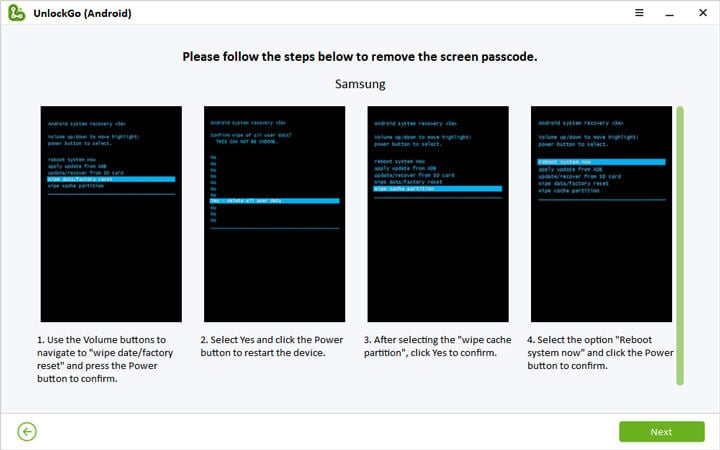 Step 5: Unlock successful
After unlocking of your phone is successfully done, restart your device. Now you can reset your phone with a new password.
Bypass ZTE Pattern Lock via Forgot Pattern
You might not prefer using an external software and still wish to learn how to unlock ZTE phone pattern without losing data when you fail to unlock your device. Here are the steps to unlock your ZTE device using forgot pattern. Do as follows:
Step 1: After you have already tried to get into a locked ZTE phone multiple times, there pops up a window saying "Incorrect pattern". Tap on the "Forgot pattern" option given there.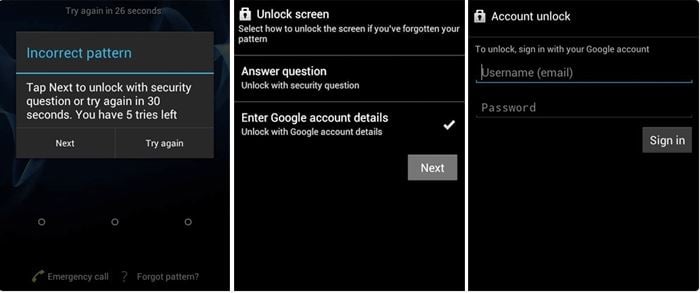 Step 2: Click on the Enter Google account details option.
Step 3: Now, enter the Google Account username and password. Remember to put in the username that is already added account to your device.
Step 4: After signing in, you will receive an email to that Gmail account. From there you can draw a new pattern passcode, or you may directly draw a new pattern lock for the device.
Bypass Lock Screen on ZTE via Find My Device
It is very simple and requires zero technical knowledge to bypass password on ZTE device via find my device. All you need to do is use Google's "Find my device" feature and bypass your ZTE lock screen. Remember, it is important to have your Google account linked to your ZTE device. Although all devices nowadays require connection with your Google account. Follow the steps below to bypass your lock screen:
Step 1: Google the term "Find My Device" on any other device from a browser.
Step 2: Sign into Google using your Google Account info that is connected with your ZTE phone, assuming you are not already in.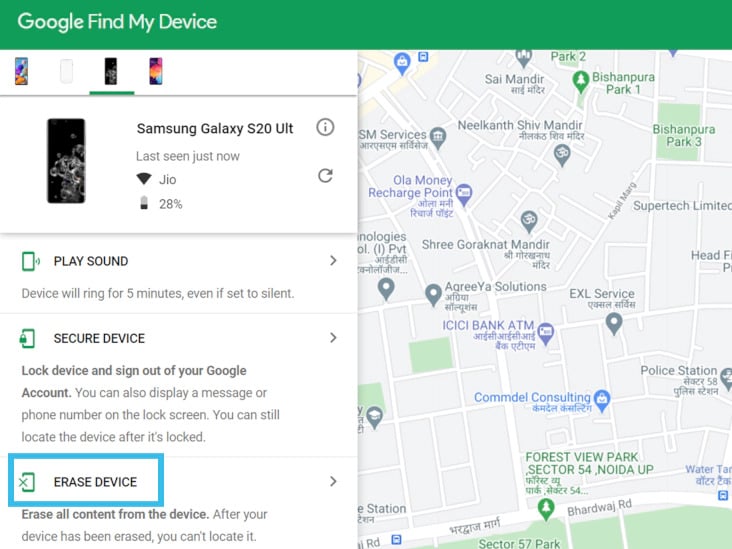 Step 3: A list showing all the devices linked to that Google account will come up. Select your locked ZTE device. Then click on the "Erase Device" option.
After trying this method, you will find your device's lock screen has been erased and from the list of devices belonging to that Google account. Your data remains safe.
Unlock ZTE Screen Lock via ADB
The Android Debug Bridge or ADB can be used to unlock ZTE screen lock. The procedure is technical and highly effective for bypassing screen lock. This feature will work only when the USB Debugging mode is turned on in your smart phone.
Follow the steps to know how to unlock a ZTE phone via ADB:
Step 1: Visit the official site and download the Android Debug Bridge on your computer.
Step 2: Now, launch it and get the relevant files downloaded corresponding to your mobile version.
Step 3: Now you need to connect the Android phone to the computer via a USB cable. Remember, it will only connect if USB debugging mode is turned on.
Step 4: After it gets connected, launch the command windows at the installation directory on ADB. Write in the command very carefully and press Enter.
ADB shell rm /data/system/gesture.key

Step 5: Reboot your ZTE phone and it will be unlocked.
Conclusion
There are different ways to unlock ZTE smart phone. The best method is by using iToolab UnlockGo (Android) and bypassing your ZTE lock screen without evening losing your data. You can refer the steps from the article and get your phone unlocked today.