FRP (Factory Reset Protection) does fantastic regarding your phone security until it locks you out of your device when you've forgotten your Google account. As you are stuck on the Google account verification page, you start searching for a suitable FRP bypass tool for your phone. Here GSM Flasher ADB bypass tool comes into play.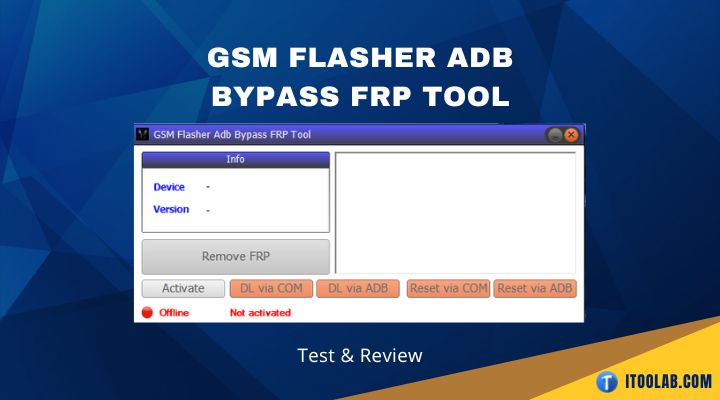 Don't trust free or paid Android unlocker tools until you learn the tech and specs carefully and are fully satisfied with whether it works for you or not. I have done some research, and here is a review to show you the pros and cons and detailed usage steps. If it doesn't work for you, you could have another new choice that removes FRP magically. So let's get started.
What Is GSM Flasher ADB Bypass FRP Tool?
GSM FRP bypass tool is a renowned tool that gives the flexibility to bypass FRP on Android devices as you come up with the requirements criteria. GSM flasher tool deactivates Google locks using ADB Mode.
ADB (Android Debug Bridge) is an essential command in your Android OS that enables you to connect to your phone. You can use ADB for FRP removal, app installation, Android debugging, Emergency Sideload flash, Modify System files, backup and restore system, and more.
GSM Flasher ADB Bypass FRP Tool At A Glance
Let's discover a little more about the features of this tool.
Bypass FRP on Samsung, Motorola, ZTE, Lenovo, and LG.
It can remove screen locks like PINs or patterns.
It supports Android devices from Android 5 to 12.
This tool has some requirements, but it's free to download and use.
You need to know that,
Antivirus programs do not allow it to be installed on the computer.
The software program has a rough interface.
A little tricky is required when you use the GSM FRP tool, especially for non-tech savvies.
You must download and install other APK or files to achieve your purpose.
How To Remove Google FRP With GSM Flasher?
GSM flasher tool claims to bypass FRP in minutes, but to use this tool, you must have:
Deactivate the Antivirus software installed on your Windows or Mac PC before downloading the GSM flasher tool.
Start downloading and extracting the GSM Flasher ADB Bypass FRP tool on your PC.
Download and install ADB Drivers.
Open the extracted folder and start the exe.tool.
Choose the GSM bypass tool and activate the ADB mode on your locked phone.
Plug a USB cable to connect your PC with your Android phone. As you connect your phone with a PC, the tool must show that the connected device is online or activated.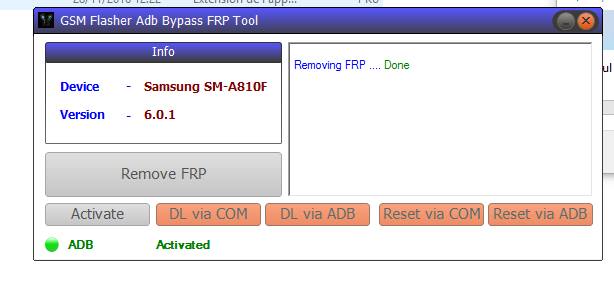 Now, click "Remove FRP" to unlock your phone.
[One-Click] Easier Choice Than GSM FRP Bypass Tool
If you are non-tech savvy, the above GSM FRP bypass tool may create some issues. Moreover, you need to download ADB drivers. It may test your patience if you are in a hurry. If it were me, I would never dive into such technical processes that required turning off antivirus software. Hence it increases the chance of malware attacks on your phone.
Instead of GSM FRP bypass tool, I will go through the better trustworthy option that bypasses FRP quickly without asking to download ADB drivers or else which upsurges privacy threat. Let's see how iToolab UnlockGo (Android) does this work.
UnlockGo (Android) – One-Click FRP Bypass Tool
Safer, easier, faster
3 minutes bypass Samsung FRP in just (Android 5-12)
Simple steps with clear guidelines to save your time
Lifetime update, works on the latest OS
Unlock Samsung screen locks without reset or data loss
Now, you might be thinking, why do I pay to bypass FRP if I can remove it for free? Remember! Every free software is not 100% safe to use as it comes with issues that sometimes damage your software or breach your privacy.
But UnlockGo (Android) is designed to bypass FRP just in 3 steps without any hassle, you don't need to download FRP bypass APK files, and no Android Fastboot mode or ADB USB driver is required.
All you need to do is download and install UnlockGo (Android) tool on your PC and follow the steps to regain Android access.
Step 1 Connect the Samsung device with the PC
Have you finished downloading UnlockGo (Android)? Great! Now connect your Samsung phone with your PC via USB cable and choose Remove Google Lock (FRP) and click the Start button.
Step 2 Pick our latest Solution
At this step, you need to pick our latest included option All Android versions, and click Next.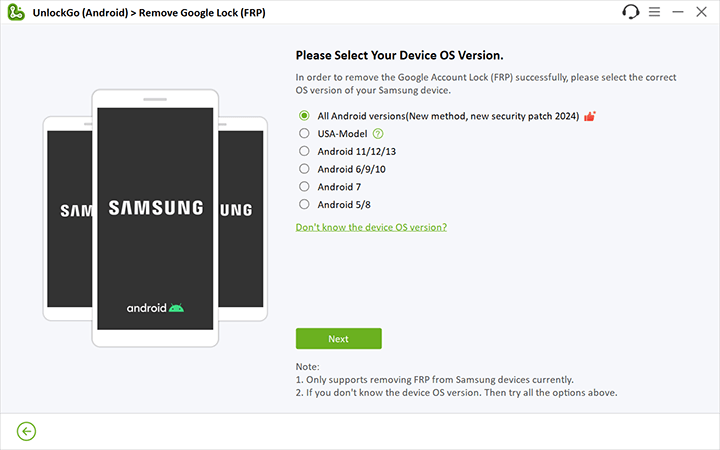 Step 3 Bypass FRP in 3 minutes
Just wait for a moment and you will see a pop-up window that brings some instructions for you. As you find the Emergency call button, enter the secret code used to access the hidden Samsung diagnostics menu.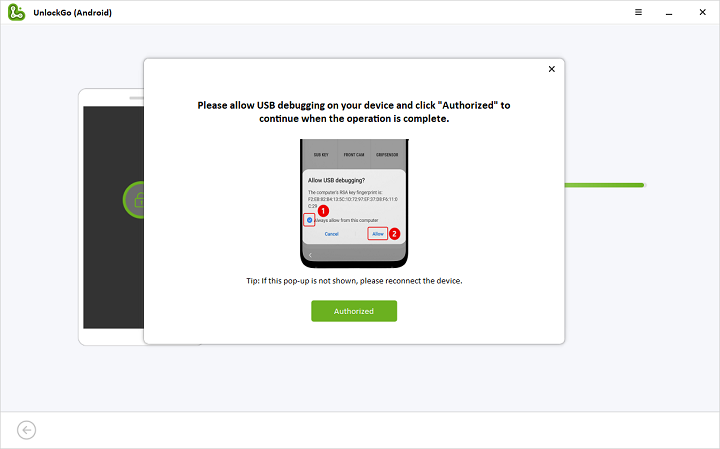 Then, UnlockGo (Android) will assist in activating USB Debugging on your Samsung phone.
Step 4 Success! FRP removed
Once you grant permission to UnlockGo (Android), it will bypass the Google account for just in few seconds. The Samsung device will reboot automatically.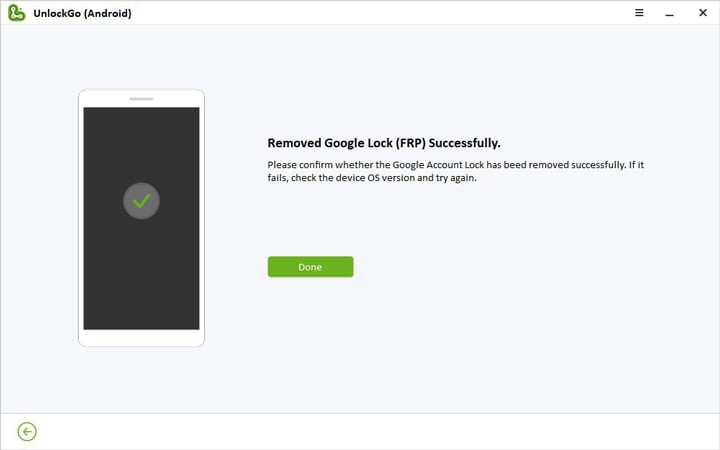 Conclusion
It is desperate when you have a locked phone in your hand and you are on a PC Googling for the best tool to bypass FRP swiftly. As we discussed, GSM Flasher ADB Bypass Tool claims to remove Google lock, but you have to download ADB driver to run the tool. But UnlockGo (Android) removes FRP without asking you to download additional APK files or drivers. Experience the powerful one-click FRP bypass tool of UnlockGo (Android) right now!