Our mobile phones are integral parts of our daily life, and it is undoubtedly the component without which we will seldom be able to lead our lives as smoothly as we do. From educational purposes to office meetings, from scheduling our everyday work to entering us, we need our mobiles. Thus, it becomes considerably difficult for us when our mobiles cause trouble or are down with some issues.
Android phones can be susceptible to various problems. It includes being unable to unlock the phone, losing data, and the like. But, to safeguard and solve all the Android phone issues, we have the perfect software for you- the DroidKit. It is the all-in-one solution tool for any and every android issue. So that you can use this tool most effectively, we have put forth a quick overview, price details and alternative options about the iMobie DroidKit tool in the below discussion. So, let us begin the discussion of DroidKit review without any further longing.
Quick Overview of iMobie DroidKit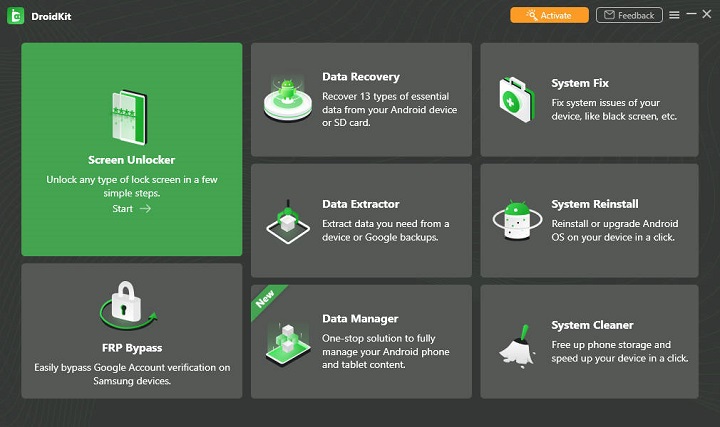 Let us start with a quick overview of iMobie DroidKit. This is one of the most proficient tools for solving any android issues, and its features include the following.
It removes screen locks and Google accounts from Android phones.
Save all your important data and information on your PC or Mac in a few effortless steps.
Retrieve all your lost images, WhatsApp chats and other data without any roots.
Solve all the issues in your device systems and reinstall as well as upgrade your OS versions.
You just need little prior knowledge or skills for working with DroidKit features.
Is DroidKit Safe?
One of the most asked questions is whether the DroitKit is a safe tool to use or not? Well, it is the most reliable and secure tool that can solve all your Android phone issues at once. The software consists of a set of seven safe and secured features. It ensures that you do not have to undergo strenuous processes to ensure the safety of using this tool. Thus, when you have iMobie DroidKit, you need not resort to unreliable methods for solving your android issues when this tool can readily solve them in no time.
Is DroidKit a Scam?
While purchasing any tool online, people often look into the reviews of the tools by customers who have already purchased the tool. But, despite DroitKit being the most trusted tool, there have been few negative reviews about the refund policy seen online. But, the truth is that this tool is not at all a scam. It has kept its promise of refunding the customer(s) who have cancelled their subscription. Customer support readily helps and reaches out to all the customers facing issues regarding the tool. And it has also been noted in the reviews section that the customers reflect their gratitude towards the customer support and the optimum refund policy and customer satisfaction quality that DroitKit software effortlessly maintains.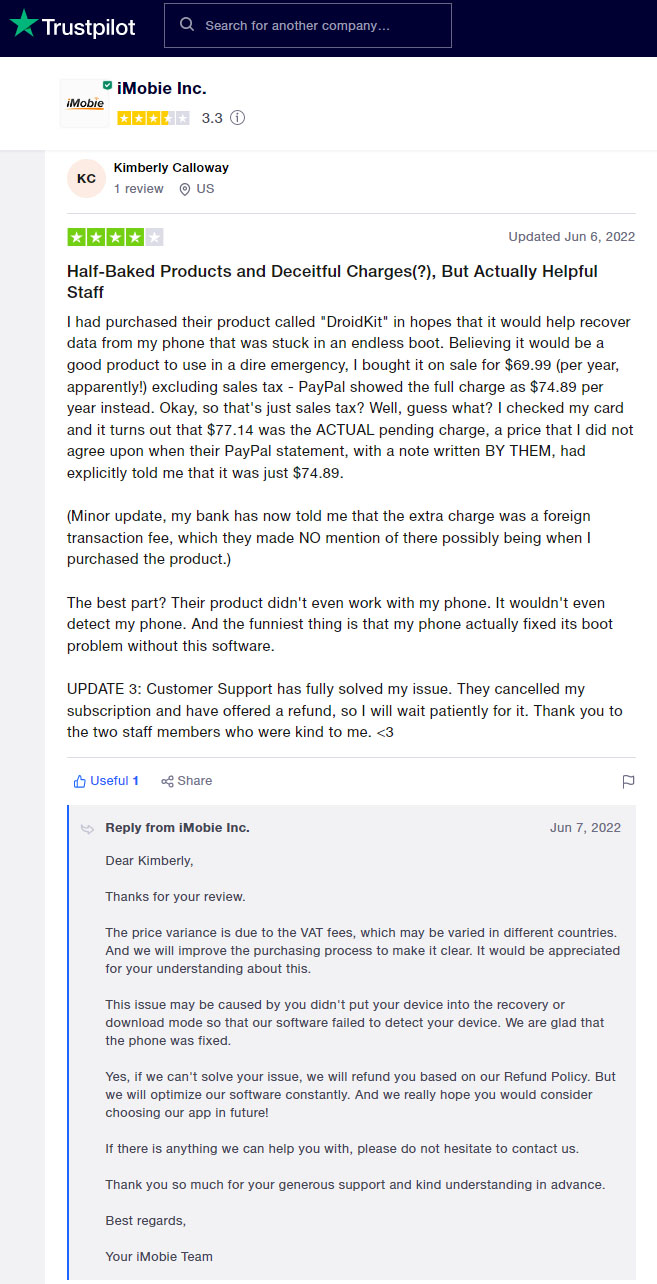 Is DroidKit Free?
Let us now talk about the pricing details of DroidKit. You can definitely get the DroidKit free download version of it. But, once you use the features, you will have to purchase to use the tool and its features, so only a part of it is free. But, the DroidKit full version is actually priced, and affordability is available.
Looking For Any DroidKit Free Alternative?
You can effortlessly find DroidKit crack online. However, it may not always be safe and secure. So, it is applicable to look for some alternatives to DroitKit that are available for free. One can be Odin. When you are equipped with intermediate computer skills, Odin can be the ideal alternative. This software is fundamentally used for any issues with Samsung Android. However, other than Samsung, it can be readily used for bringing any other android devices.
But, if you are not so well-equipped and, at the same time, want to solve the android issues in no time, then iToolab UnlockGo (Android) is the perfect tool for you. It primarily emphasises on FRP bypass and removing screen locks on your Android phones. The best part is that it takes the least time, and with this tool, you get a vast number of services.
Price of DroidKit: The cost of the full DroidKit for a year is $69.99, which includes use in 5 devices/ 1 PC. The features include one year of free updates, 24/7/365 customer support and all the advanced features to solve any issues on your phone. Also, you can cancel or change your plans anytime.
Price of DroidKit – Screen Unlocker or FRP Bypass: $35.99, which is a 3-month plan but only includes 1 devices/ 1 PC. You have to pay for each single feature. Maybe $29.95 for 5 devices from UnlockGo (Android) is more cost-effective.
What Is the Best Android Phone Unlocker & FRP bypasser?
Whether it is phone unlocker or FRP bypass that you choose to retrieve the information or solve the issues on your Android phone, either of the options is highly effective. But, what is essential is that you choose the correct application for the processes. As we have discussed above, you can readily find many tools like iMobie DroidKit, and how they offer their services makes it clear that you must opt for the most trusted tools. And for that, iToolab UnlockGo (Android) is one of the best fit. So, if you are facing any issues on your android phones, readily reach out to this application for the fastest solutions.
Video Tutorial: How to Bypass FRP on Any Samsung Device