Having your favorite Realme phone always excites you to do something new to level up the performance, if you are fascinated by the possibilities of custom ROMs and kernels and want to try them on your phone.
Make sure you beware of Realme bootloader unlock to root in your smartphone because once you unlocked it you will be allowed to install third-party custom ROMs, root, and custom recovery on your Realme device.  
So read the complete guide because it comes up with all answers for Realme bootloader unlocking on Android 11/12/13. So, let's begin!
Part 1: Does Realme Allow Bootloader Unlocking?
Yes, Realme allows its users to unlock the bootloader on their devices. In fact, the company organized a specific page for users where they can apply for bootloader service.
Once their application has been approved, users can follow the instructions provided by Realme to unlock the bootloader on their device.
Part 2: Is It Safe to Unlock Bootloader on Realme?
Unlocking Bootloader on Realme devices is not entirely safe as it potentially leaves the device vulnerable to malware or other security threats if not done accurately.
Once the Bootloader is unlocked, it allows users to install custom firmware that will not undergo the same level of security testing as official firmware.
Moreover, it is important to note that Realme warns users regarding the serious impacts of unlocking the bootloader as the process makes many useful features such as system updates or secure payment broken or unavailable. And the process can void your phone's warranty and your phone will stop receiving the latest OTA updates.
Part 3: How to Unlock Realme Bootloader on Android 11/12/13?
Realme Bootloader unlocking has benefits too if done properly like you may install custom ROM and kernels and other firmware that opens additional features and other customization options beyond what is available on the stock firmware.
However, if you have Android OS 10 or below, you may visit Realme officials to avail bootloader unlock tools and tutorials.
For Android 11/12/13, you can get the method to unlock bootloader on Realme here. But here before diving into the process, make sure you back up your Android data and enabled USB debugging and OEM unlocking because Realme bootloader unlock on Android 11/12/13 requires both of these features activated.
If you don't know how to unlock these options, just follow the steps below.
Go to Settings of your Realme phone.
Check for the About Phone option.
After that, tap the Version option. Locate the build number and tap on it seven times and return to the Settings page.

Go to Additional Settings, and tap the Developer option.
Open the Developer option and turn on the toggle bar of OEM Unlock.
Then turn on USB Debugging from the Developer option.
Unlock Bootloader Realme Android 11/12/13
Download Deep Testing App and install it on your Realme phone.
Application Process
Open Deep Testing App and tap Start Applying.
Check out the agreement that appeared on your screen and then click Submit Application.
Now, the Realme server will review your application in a minimum of 1 hour, please wait until the application is reviewed.
As you received a message Review successfully, you can move to the process of unlocking the bootloader.
Now, tap Start the in-depth test.
As you select this option, it will automatically reboot your device in Fastboot mode.
Procedure to Unlock Bootloader
Before proceeding, download the ADB and Fastboot Drivers on your laptop or PC.
Connect your Realme phone to your PC using a USB cable.
Now, go to the folder where you downloaded the ADB and Fastboot drivers and open the command window. You can open the command in the following ways:
Press the Shift key+right mouse, then click on any blank area and choose Open Command Window. If this method doesn't work, try another one below.
Type CMD in the search field and then press Enter, it will open CMD.
To make sure your device is connected successfully, type "fastboot devices", it will show the connected devices.
Next, enter the following command: adb reboot bootloader
Then press Enter and type another command: fastboot flashing unlock
Press Enter, this command will unlock the bootloader on your Realme smartphone.
Now press the Volume Down key to choose Unlock the bootloader option and the press Power key to confirm the choice.
Now, your Realme bootloader is unlocked successfully.
Extensive Reading: How to Unlock Realme Screen Lock without Password?
You often came to the situation when you forgot your Realme phone password and locked out of it. A lock screen block access to your device until you input the correct password, PIN or pattern. But now, you have iToolab UnlockGo (Android), a powerful Android unlocker tool specifically designed to remove screen locks in just a few simple steps.
The tool is simple and uses intuitive interfaces that make the unlocking process much easier even for non-techies. When you manually unlock your Realme device, there is no guarantee that the process is compatible with your device or not, you need to download multiple tools, drivers, or zip files to unlock the phone which may eat up your device space.
While UnlockGo (Android) is a lightweight program that saves your time by simplifying the process and ensuring the user's device safety and privacy.
UnlockGo Android – All-in-one Unlock Tool
Bypass PIN, pattern, password, fingerprints and face recognition successfully.
No password or other credentials required.
Time-consuming, effective and easy-to-use.
Compatible with all Android OS smartphones/tablets.
Let's unlock Realme phone with iToolab UnlockGo (Android) now.
To remove the screen lock of your Realme smartphone you need to download iToolab UnlockGo (Android) program on your laptop or PC and follow the steps below to remove the screen lock.
Step 1 Launch UnlockGo (Android) tool on your PC, select Remove Screen Locks, then click Start button and connect your Realme phone to your PC.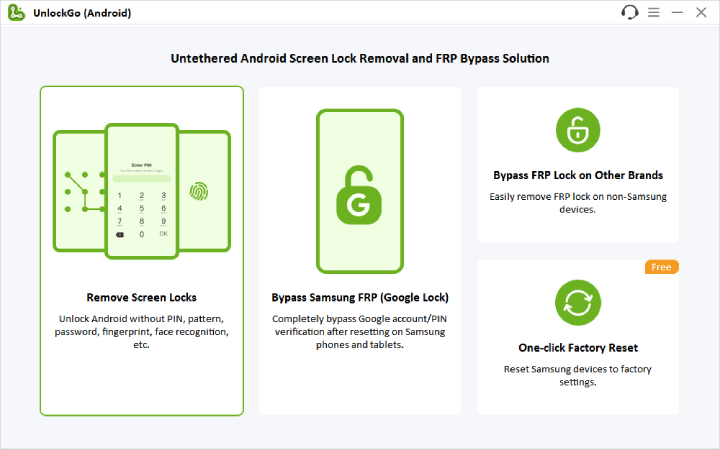 Now, before proceeding further, choose the correct phone brand you are using from the provided list.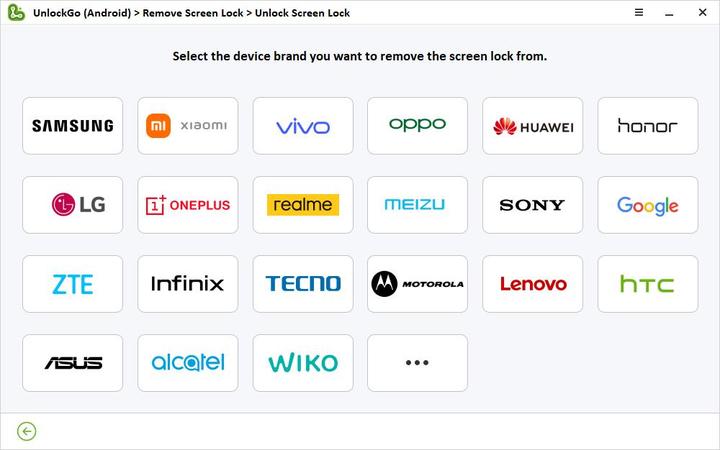 Step 2 Follow the steps provided by UnlockGo to put your device in recovery mode. As your phone successfully entered recovery mode, attempt the steps appear on your screen to remove the screen lock.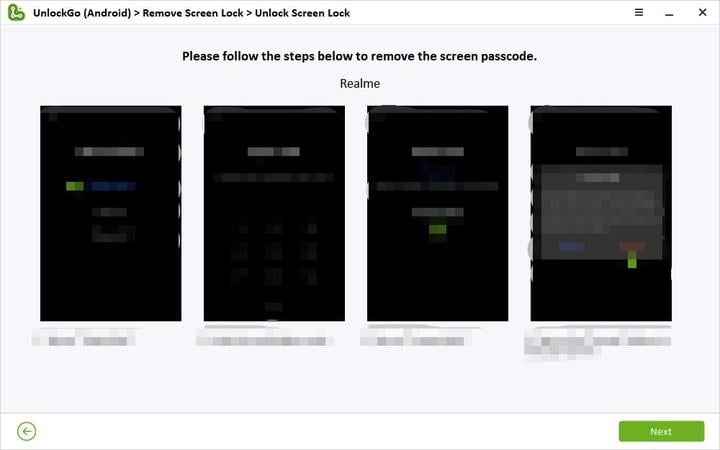 Step 3 Congrats, your Realme is unlocked. Now, just restart your phone to set up a new password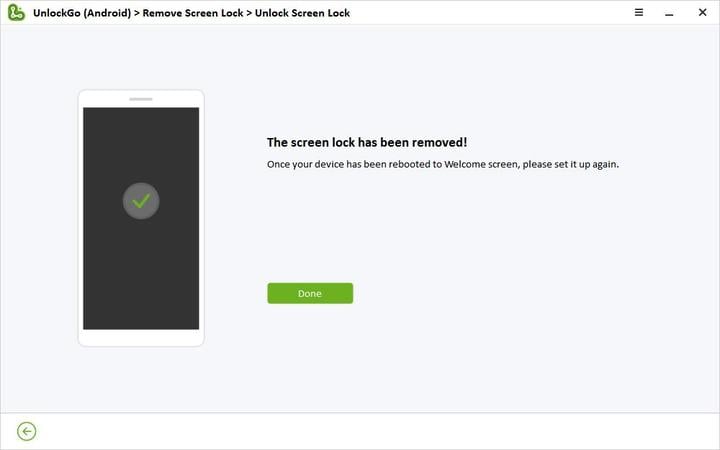 Conclusion
Realme bootloader unlocking opens multiple customization features and options but it is essential to follow the instructions provided by Realme carefully. Moreover, you need to proceed with caution when attempting to unlock the bootloader and be aware of the resulting potential risks or security threats.
Besides, if your Realme device has been locked try iToolab UnlockGo (Android) to remove any type of screen lock in simple steps with ease.