Yesterday I was in a hurry and as I picked up my phone it freezes and stops functioning, so I decided to resolve it quickly with a factory reset. When I restart my phone expecting it ready to use, it activates Google Lock, I tried verifying it using my correct ID and password but the screen keeps asking "Please sign in using one of the owner's accounts of this device". Hence, it's a used phone and I don't know what to do.
Is this query relates to you? If so, then this article will clear your concept about Google activation lock, and provide you with the most advance yet authentic way to bypass Google activation lock without a previous owner. Let's get started!
What Is Google Activation Lock on Android Devices
Google Activation lock, also Factory Reset Protection (FRP) has been implemented by Google ensuring to combat fraudulent activities that seek to destabilize factory reset options. It is a security feature on Android OS lollipop 5.1 or higher which is specifically designed to protect encrypted data and sensitive information of your devices in lost or theft scenarios which are very common.
Before Google locks, anyone can breach your data by just performing a factory reset but once Android was protected with activation lock, no one can access your information without your login credentials.
When you set up a Google account on your new or secondhand phone, the Google activation lock activates automatically. So if you want to bypass a Google activation lock, check first, why you locked out.
You reset your Gmail password before factory resetting your device.
Someone remotely erases your device data using Find My Device.
You perform a factory reset on your phone without removing your Google account.
You bought a used phone with its owner's login credentials that you don't know.
Remove Google Activation Lock without Previous Owner
If you reset your Gmail password before factory resetting your phone, you need to wait for around 48-72 hours. This limit is a Google feature that helps you to regain complete hold over your device after resetting the Google account followed by a factory reset.
So when your phone restarts automatically, it will ask for a Wi-Fi connection to generate syncing between your device and Google. If you skip this step, you can't unlock and access your device.
I know now you are expecting a quick solution that cut your waiting time and swiftly allows you to access your phone, right?
So, get your hands on iToolab UnlockGo (Android) a powerful Samsung Google account lock removal tool that will assist you to bypass the previous owner's Google account in just three minutes. You don't need to perform long complicated steps or sit in front of your screen while browsing to download multiple heavy FRP bypass APK files to bypass the activation lock.
UnlockGo (Android) gives you the authority to unlock your phone in the comfort of your home using your laptop it means it unlocks your phone in less time as you finished your coffee.
Want to check out more features? Scroll down!
UnlockGo (Android) – One Click Google Activation Lock Removal
3-minute Samsung Google lock removal (up to Android 12/13)
No previous owner account required
No complicated steps included or tech skills required
Secure, user-friendly tool, bypasses FRP remotely
Compatible with all Samsung phones /tablets models
With all the unbeatable features you must try UnlockGo (Android) which is providing secure and smooth services in affordable and custom plans. But right now! Let's bypass the previous owner's Google account by installing iToolab UnlockGo (Android) on your PC and following the steps accordingly.
Step 1 Connect the locked Samsung phone
Open the tool on your PC, and connect your locked Samsung device to your computer running Windows or Mac via the original USB cable. Choose the feature Remove Google Lock (FRP).
Step 2 Our new method is your solution
Now you need to choose our first option All Android versions and click Next. Make sure you don't disconnect your PC or Mac.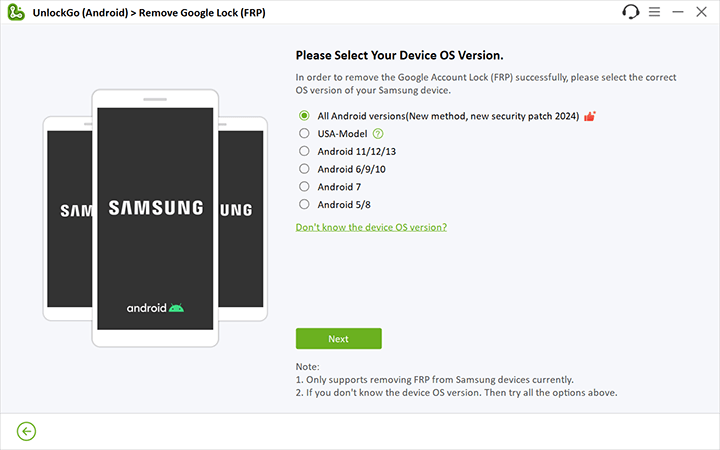 Step 3 Activate USB Debugging on your device
Next, a window popup with a secret code to access Samsung's hidden Diagnostics Menu. Enter the code and the tool will help you activate USB debugging on your phone.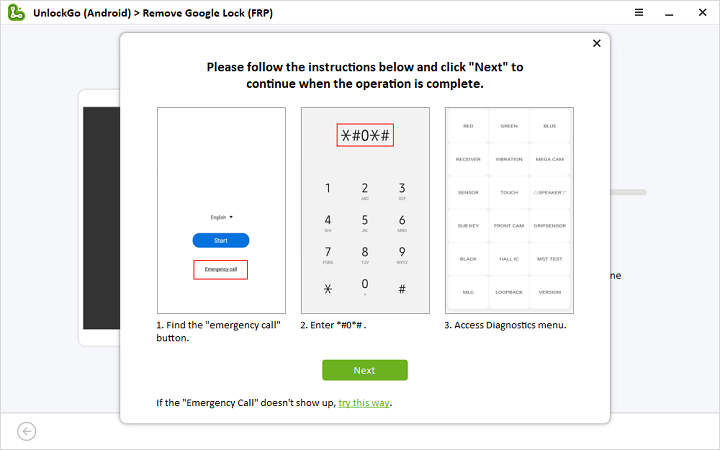 If the emergency entrance disappeared on your device, click the green link on screen to try a new method.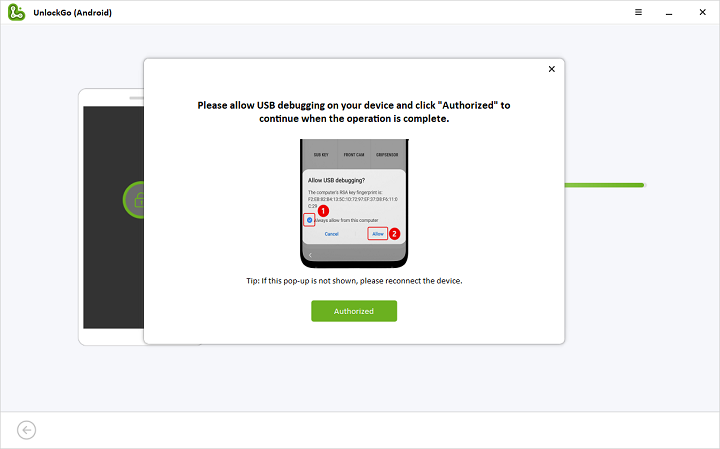 Step 4 Previous owner's Google account bypassed
Success! Now your phone is free from the previous owner's account, your device reboots automatically and is ready to use.
The Bottom Line
While summing up whole article I have a suggestion for you, whenever you intend to buy a secondhand phone, always ask the owner to remove his Google account from the device before resetting and handing it over to you. Because it triggers FRP and you can't remove it without his help.
But if your phone is trapped by FRP this article is just at your figure tips with the proven solution iToolab UnlockGo (Android) that helps bypass the previous owner's Google account in just three minutes hassle-free. So choose a smart and innovative way to unlock your phone in 2023 and try it right now!