I know you are struggling with Samsung A10/A10S FRP bypass hassle, so here is the best solution on 2023, which could help you remove Google lock in 15 mins only.
Preparation – Download FRP Bypass Tool
Before you get started, you need to understand that Android is updated with security patches for each system version, so we usually use different methods to unlock it. So, is there a tool that is compatible with all versions? You're lucky. In recent years, iToolab has introduced solutions for Android Screen Lock and Google Lock. Before the official release, several regular users were invited to do internal testing in order to make it easier to understand and operate.
The software is called UnlockGo (Android), which make a big role in the process. So firstly, download it on your Windows or Mac computer.
Step 1. Start to Remove Google FRP Lock
1. Once you done, launch UnlockGo (Android). On the home screen, 2 options should appear, click on "Remove Google Lock (FRP)".
2. Follow the guide to select the Android OS version on your FRP-locked Samsung A10/A10S. If you are not quite sure about the Android version, it's not a big deal. Just choose the first solution from the list, which works well on Android OS 5-12.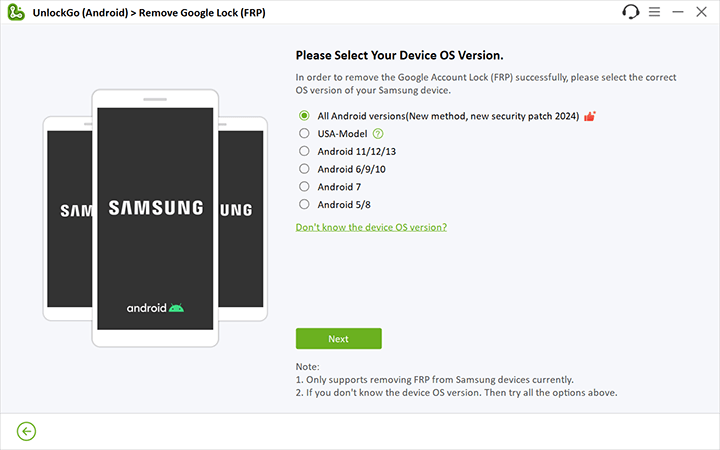 3. Now UnlockGo will send a program to your phone to help it jump to the specified page automatically. In this way, you could bypass FRP on Samsung A10/A10S without SIM card or network.
Step 2. Complete FRP Bypass on Samsung A10/A10S without PC
In this step, follow the on-screen instructions to complete the setup. As the video below shows.
Video Tutorial: 3 MIN Bypass Any Samsung FRP Lock
Step 3. Reboot the Samsung phone
Now, you have already gotten past of FRP lock. After restarting, you will be able to get into the homeland without any hassle.
Other Ways to Bypass FRP
Well, we don't want this to be a complicated process, when your time deserves to be spent doing something more meaningful. Of course you can also explore other methods of Samsung A10/A10S FRP bypass, such as:
Just take the one suitable for yourself, hope these help.