Equipped with decent specifications and impressive features, Samsung J3 is a perfect mid-range phone series that provides users with utmost convenience. Like almost every other modern Android device, FRP is an inbuilt data security feature in this handset. It shields phones from unauthorized access. However, in some scenarios if you forget the most recent active Gmail account that was in use on your phone, you must need to find a way that will allow you to access your smartphone.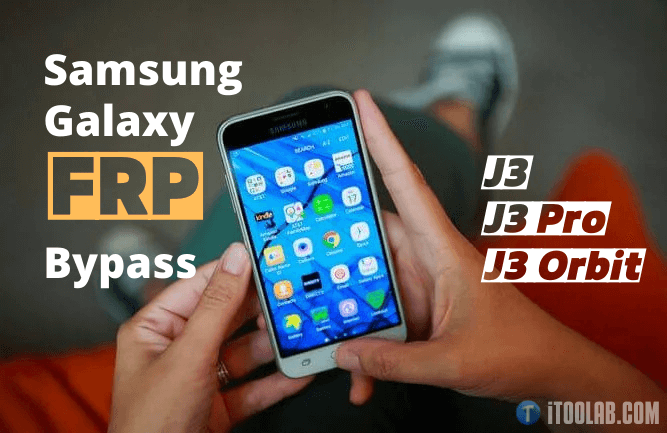 If you are looking to bypass FRP on Samsung J3, in this article, we will show you how to bypass it on your Samsung device easily using simple methods.
Method 1. Bypass Google FRP Lock on Samsung J3 with SIM Card
Let's start with the first method to set up Samsung J3 after factory reset without Google account. Just follow these easy steps to bypass Google locked Samsung J3.
Step 1: Access to Google Chrome with SIM card
First of all, you will need to connect your Samsung phone with an active WiFi connection.
Now, go back to the start screen and insert your pin locked sim card.
If your sim is not secured with a pin, set a pin code for it. After you insert it, again you will see a dialogue box that says to insert pin lock.
After inserting, quickly press on the power key button to turn your phone off.
You just need to turn it on again.
Next, swipe the window to the left and press on the bell icon.
Then, hit on notification settings.
Tap on the three dots and select Help and Feedback options respectively.
In the search bar, type User Morse Code and tap on it.
Next, tap on Video Play Icon and wait for other options to be appeared.
Tap on Share arrow icon, and then, click the three dots to access YouTube.
If your operating system needs any updates, simply tap on Not Now.
Now, drag down the video and tap on the three dots to access Terms and Privacy Policy option.
You will get to the Google screen, tap on Accept and Continue > Next > No Thanks.
Step 2: Download FRP tools to bypass Google lock on J3
Next, you will need to download FRP removing tools to continue in this process of bypassing FRP lock.
Firstly, you need to download three Google account remove files or tools from browser:

👉🏼 Quick Shortcut Maker
👉🏼 Google Account Manager
👉🏼 Account Login

Wait for few minutes until the download gets completed successfully. After that, tap on the three dots button and go to Downloads.
Here, in the downloads folder, you will see a list of all the downloaded apps. Tap on Quick Shortcut Maker and install it. You will see a pop up window, tap Allow From This Source option.
Go back and then press Install > Open.
Once you're in the Quick Shortcut Maker app, go to Samsung Experience Home option.
Tap on the option to expand result, and from the next window, select the very first Samsung Experience Home option, and then, tap Try.
Step 3: Install Google Account Manager and Account Login
Next, you will need to the other 2, Google Account Manager and Account Login, to successfully bypass FRP lock on Samsung J3. For this:
Go to chrome, and from the downloads tab, select Google Account Manager and install it.
Likewise, now in the downloads section, tap on Account Login > Install > Open.
Here, if you encounter any blocking popup notification, then simply go to Settings and enable the "Allow from this sources" option.
After you've opened the Account Login app, you will see Retype Password window.
Hit on the three dots buttons located at the top right corner, and then, select Browser Sign-in.
In the last step, enter your valid Gmail account here and you will be able to permanently bypass FRP lock.
Method 2. Bypass Google Account with Computer Remove Tool
Now if you are looking for a much simple and effective method to bypass FRP using your computer, then you need to install a third-party software. Compared with the previous method, this method does not require downloading multiple apps or using SIM card. iToolab UnlockGo for Android empowers you with the ability to bypass Samsung J3 FRP with PC in just 10 minutes. No Gmail or passcode needed and that is useful on Android OS 5-12.
With the help of UnlockGo Android, you will also be able to remove screen locks without difficulty, regardless of whether the device is new or second-hand and stuck on the screen with any type of locks, such as PIN, pattern, fingerprint, face recognition and complicated password.
Pro Samsung FRP Remove Tool
Bypass FRP lock on Samsung J3 with just a few clicks
Conveniently remove all type of Android screen locks
100% reliable and provides seamless experience with lifetime update
Compatible with a wide range of Android devices including all the popular mobile phone brands
Guide to Bypass FRP Lock on Samsung J3, Pro, Orbit via UnlockGo
The primary steps to remove Google locked Samsung j3 using iToolab UnlockGo for Android are the following:
Step 1 Connect Samsung J3 to PC
Begin with the Installation on UnlockGo Android in your personal PC.
After that, connect your Galaxy J3 to your PC through a USB cable. After that, select the option "Remove your Google Lock (FRP)".
Step 2 Select the OS Version of Your Samsung Device
Be sure to uninstall the Google Lock(FRP) by pressing the "Start" button and then selecting which OS Version of the device.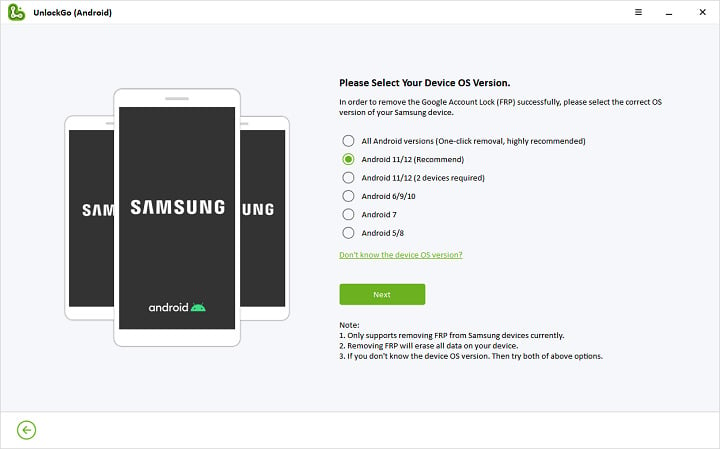 Make sure you've chosen the correct version number or the removal of your account might not be successful.
Step 3 Send Notification to Samsung J3
At present, UnlockGo for Android will send a command to your Samsung phone. Connect your device to your phone as you go through the process.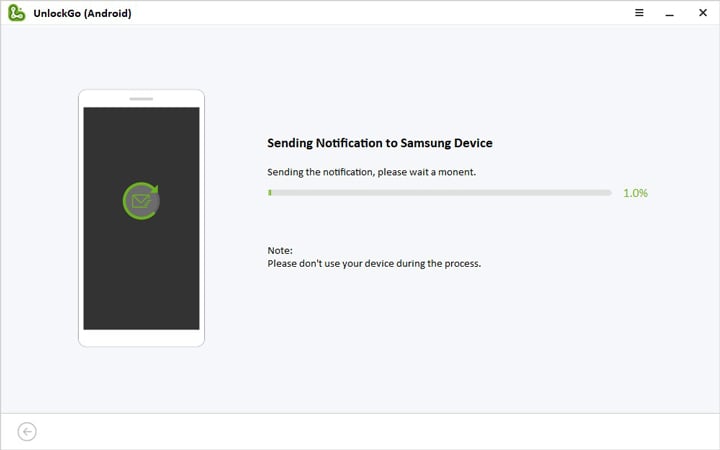 Step 4 Set Up Samsung J3 Pro Orbit
Lastly, set up your Samsung J3 phone to bypass FRP lock. To do that, the process will be different based on the Android OS version currently running on your device.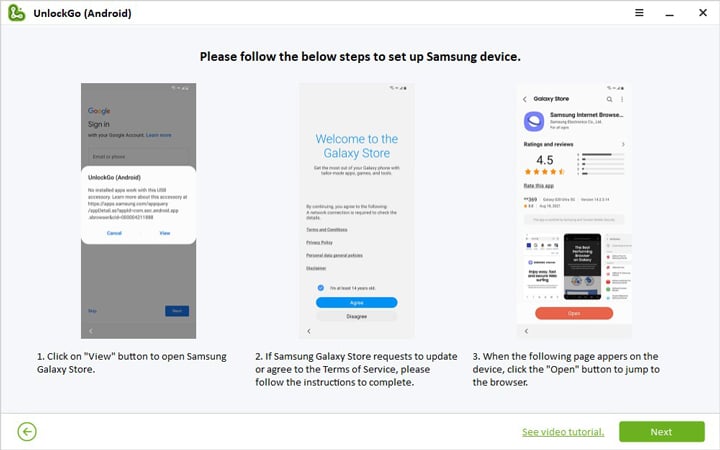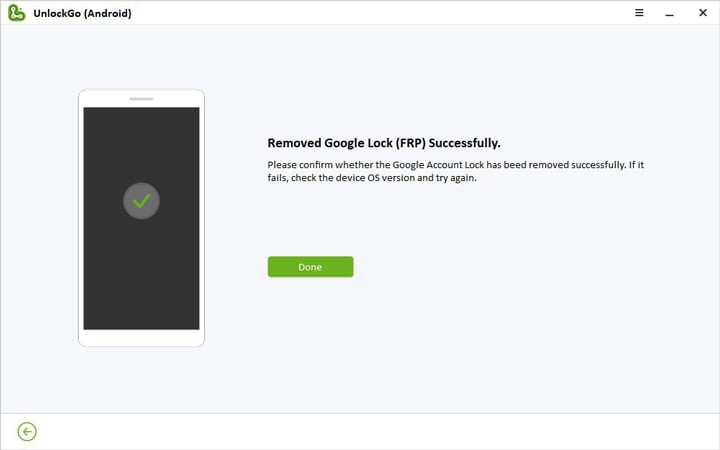 Video Guide: Bypass FRP Lock on Samsung J3 [Android 9]
Final Thoughts
Now you are familiar with how easily you can perform Samsung J3 FRP bypass. However, we recommend you to take the safest route and try Pro Samsung FRP remove tool. UnlockGo Android. Not only it helps bypass FRP but it can also remove all kinds of screen locks which also keeps the security of your device intact.