It has been seen in recent times that a lot of people complain when they simply forget their passwords and go into recovery mode to wipe all the data. By choosing factory reset, they receive an error "Samsung MDM does not allow factory reset". It won't be wrong to say this is a terrible predicament where you feel helpless when you encounter this. However, there is no need to feel frustrated. There are ways to remove MDM control from Android. We will discuss all the ways in this article, so buckle up!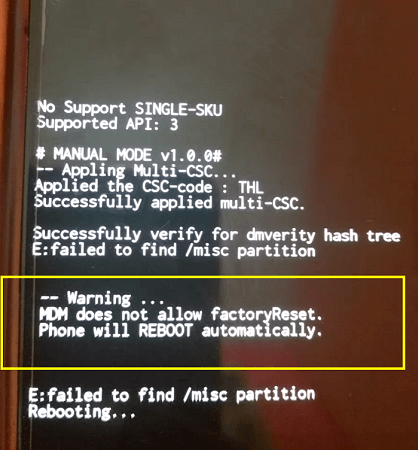 What Is Samsung MDM and Remove Tools
1. What is MDM?
MDM (Mobile device management) refers to the procedure of increasing the security of corporate data by monitoring, managing, and protecting mobile devices, such as tablets, smartphones, and laptops that are employed in companies. Mobile device management tools allow administrators and IT teams to manage and distribute security guidelines for mobile devices that are accessing sensitive corporate data within their companies, making sure that the security of the corporate network.
With increasing numbers of employees using all or some mobile devices, companies of all sizes and shapes are using mobile device management to improve the security of networks and data and increase employees' productivity. MDM solutions allow IT, administrators, to establish enterprise-grade security policies on mobile devices that make them corporate-ready.
2. What is Samsung MDM Remove Tool?
Samsung MDM Removal Tool is a small, unofficial, and free GSM software developed by the company PLUK GSM. It is being operated by ROMThai center.com. This tool can remove the factory reset security lock as well as the security lock for Samsung devices that are in emergency download mode. Not only that, it also offers additional features like Read Info, Factory Reset and FRP Reset etc.
How to Remove MDM Control from Android?
For anyone suffering from this issue, the following are the steps to bypass MDM Android lock:
First of all, create a password for the device.
Make sure that your device is charged to an 80% or greater charge.
Next, you'll need to go to Settings and Security Encrypt Device tabs respectively.
Set a PIN/password for your device.
After you have secured your device and it's gone through. Reboot the device, and when it boots, it will ask you to enter a password in order to access your device to view encrypted data. If you type the wrong password 15-20 times (it depends on your device), it'll wipe your device of any information and will restart and then appear like you're registering as a brand new device after a factory reset.
After a factory reset, if there is an FRP lock, you will need to bypass it. Also, if a PIN code locks a Samsung device, you need to remove the screen lock first. For this, you need third-party software UnlockGo (Android) to bypass the FRP Lock.
Bonus Tips of FRP Bypass on Samsung
Are you stuck on Google account verification following a reset of factory defaults on your Samsung device? Don't worry, iToolab UnlockGo (Android) lets you remove FRP lock on Samsung within a couple of minutes.
Have forgotten your PIN, password, pattern, or any other type of screen lock on an older device? And you're not certain how to deal with facial recognition and fingerprint recognition. With UnlockGo on Android, it's possible to get rid of all these locks, including a Samsung FRP bypass with a single click. UnlockGo for Android lets unlocking be easier than ever before, and that with just a few clicks.
Key Features
Utilize Samsung device without restrictions after bypassing the FRP lock
No gmail and password required to get around Samsung FRP locks
You can gain full access to your Samsung devices with no data loss
You can unlock all types of screen locks using Android phones
Apart from Samsung, it is compatible with more than 15 other major Android brands
Secure Download | Windows
How to bypass Google Lock (FRP) on Samsung Device?
Step 1: Link Samsung Device to PC
Install and download UnlockGo for Android on your computer. Then, connect your Samsung device to the PC via USB cable. Then, choose the option "Remove Google Lock (FRP)".
Step 2: Select Samsung Device OS Version
You must confirm that you wish to get rid of Google Lock(FRP) by clicking the "Start" button, then select the version of OS you have on your device.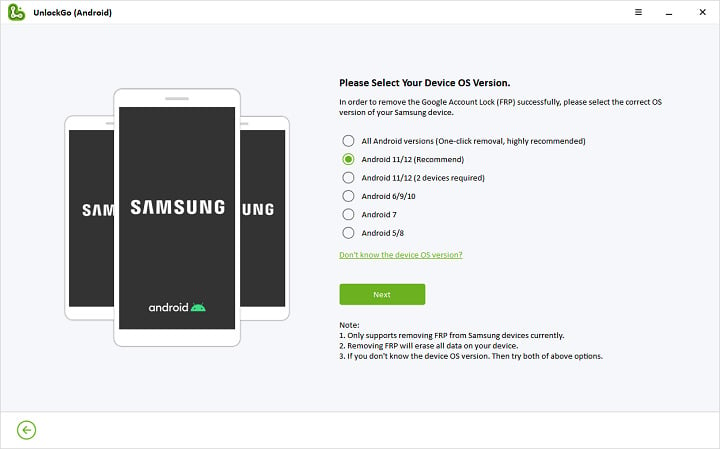 Note: Be sure to select the right version number, else the deletion of your account could be unsuccessful. Don't disconnect Wi-Fi in the process that follows.
Step 3: Send Notification
Right now, UnlockGo for Android will notify you via the Samsung phone. Make sure to keep your device connected to the internet throughout the process.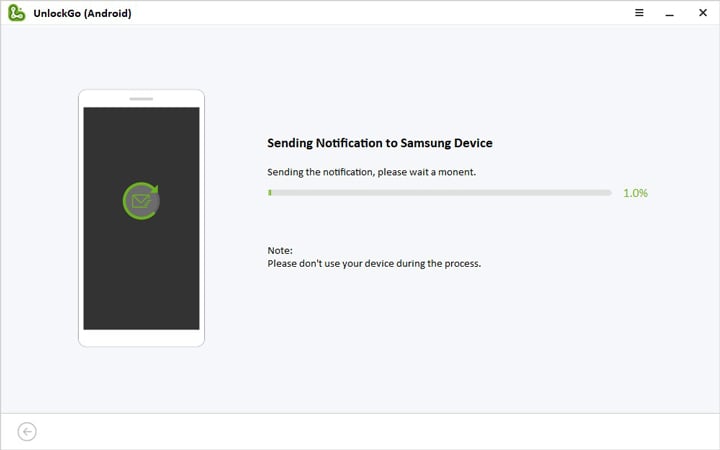 Step 4: Set up your device
Lastly, you will need to set up your Samsung device.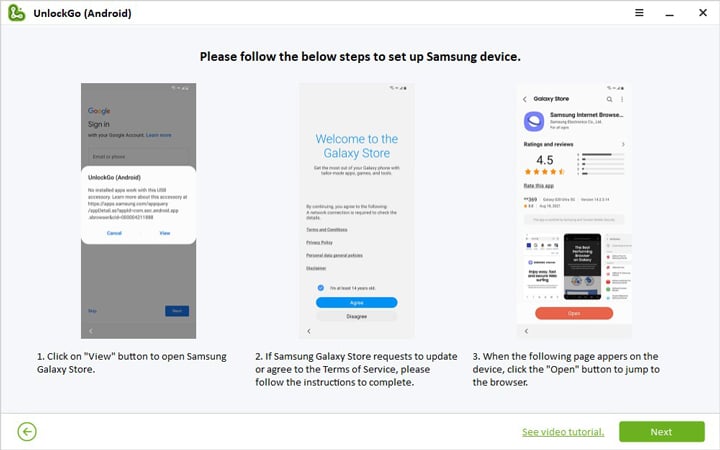 Top 3 Samsung MDM Remove Tools in 2022
Now, here are some more top-rated Samsung MDM remove tools you can use. So, let's see which Samsung MDM removal tools you need.
1. Samsung MDM remove tool – PLUK – GSM
The PLUK GSM runs on ROM Thai Center. It is possible to remove Factory Reset Protection (FRP) lock and factory reset and MDM, mobile device management (MDM) etc., by using the PLUK GSM Samsung MDM remove tool. Apart from that, it offers several unique functions that involve studying the data and eliminating MDM and factory reset, and FRP reset. It can be used with various Samsung models, such as SM-J415F and SM-J610F. It also supports SM-J415G and SMJ610G.
2. Samsung MDM removal tool – EDL Mode
Samsung MDM Unlock Remover tool is another tool that can be useful to use on Samsung devices. As an owner, you are able to disable the security lock that is factory reset and unlock MDM remove it with one click, and so on. The Samsung MDM Unlock tool supports Windows PC such as Windows Vista, XP, 10 8, etc. You can also use the free versions of Samsung J415G and J415F as well as J610F and J610G. It comes with some incredible options – unlock monthly stick, unlock the full and replace missing data.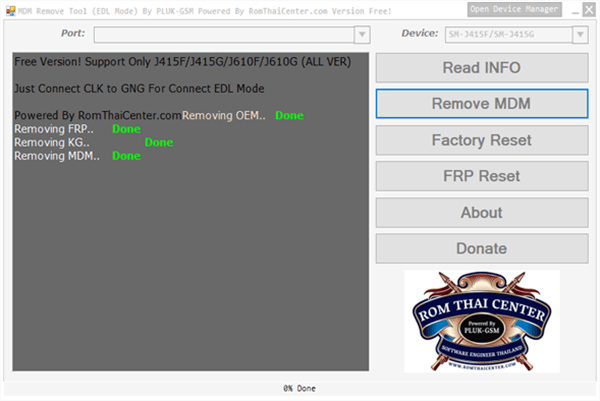 3. Samsung MDM bypass tool – Apkation
Apkation provides an MDM bypass program that allows you to make flashing possible on to your Samsung Android device and remove MDM. In addition to taking out MDM lock from the Samsung MDM lock, it can also perform a factory reset and also take away the standard device lock. It is compatible with the majority of Samsung phones (free) as well as it works with the iOS system.
The Final Verdict
Now you know what the Samsung MDM Remove tool is and how to get rid of Samsung MDM does not allow factory reset issue; you can easily use your Samsung device again. However, we recommend you to use iToolab UnlockGo for Android with its easy and quick process; you can easily get rid of any additional lock issue.
Android Lock Screen Removal
Bypass Samsung FRP lock on Android 5~11
Remove all Android screen locks, PIN, password, pattern, fingerprints, face lock
Unlock Samsung screen lock without data loss
Covers over 15 mainstream brands, 2000+ Android models