We have heard many people saying "I forgot my Tecno phone password and now I am not able to use or unlock it".
For the Tecno phone owners, it becomes a great deal of struggle to unlock forgotten password/pattern. It can happen in any model like T528, Tecno Spark, and so on.
If this problem also exists on your device and you are looking for Tecno mobile password unlock solutions, we are here to help. We are sharing some effective ways to fix your Tecno device.
Trick 1: Unlock TECNO Phone Password without Losing Data
While trying to fix forgotten Tecno pattern lock problem, you also need to make sure that your personal and app data remains safe. This is only possible when you are using your Google account to reset the pattern lock.
Nowadays, majority of the Android phones even Tecno devices come up with a Google account prompt when you switch on the device. They ask you to enter the password of your Google account to sign in again. At that moment, simply signing in to your account will help you if have forgotten pattern lock of Tecno.
The steps we are going to share here will work for all Android devices. Go through them and try them on your device.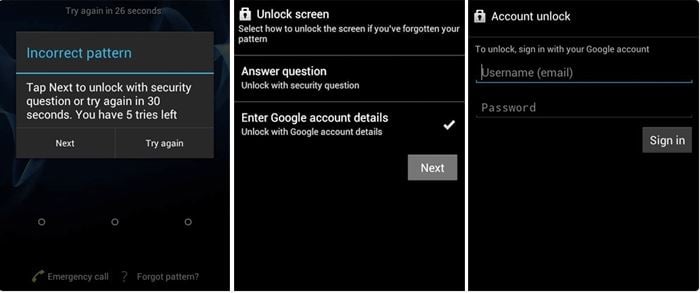 After 5 incorrect attempts, tap on the "Forgot Pattern" to open the Google account option.
Enter your Google account credentials on your device and tap on the "Sign in" option to avoid data loss.
Next, set up a new password or pattern that you can remember easily.
Trick 2: Unlock TECNO Password/Pattern without Google Account
The above method only works when you remember your Google account password. So, what can you do after forgetting that one too? This is when the Tecno unlock tool is the only hope for you.
There are many Tecno unlocking software available online but to avoid confusion, we want to recommend you the best one to date. It's none other than iToolab UnlockGo (Android) because this software carries all the features and functions required in any Tecno unlocking software.
UnlockGo is easy to use professional, and secure tool for unlocking your device. No matter the make or the model of your Tecno device, it will unlock it in a fast and simple way.
TECNO Screen Unlocker
Unlock your phone in a few clicks without taking much of your time
Works on all types of Tecno models including Tecno 528, Spark, etc.
Compatible with the majority of the android phone models – 15 brands and 2000+ tabs
Need no additional tool to run
Steps to Unlock Tecno Password/Pattern With UnlockGo Android
Step 1 Install the tool
To begin, install the Tecno unlocking software on your PC and run it. Select "Unlock screen lock" from the home screen.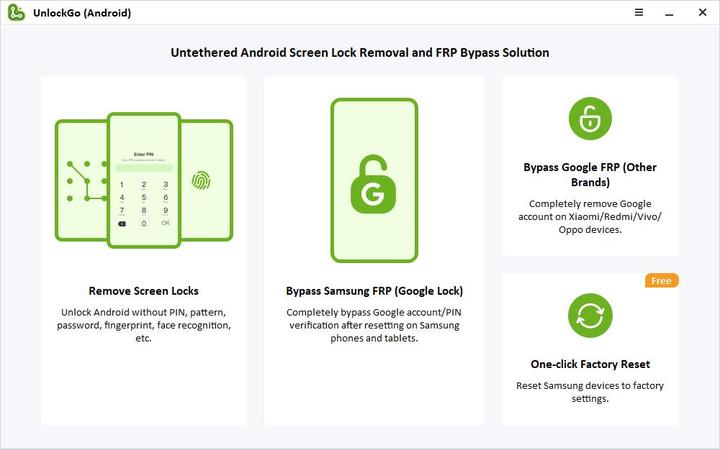 Step 2 Verify Device Information
Now, connect your device and verify the device information like the phone brand and android version. Hit "Unlock" to proceed further.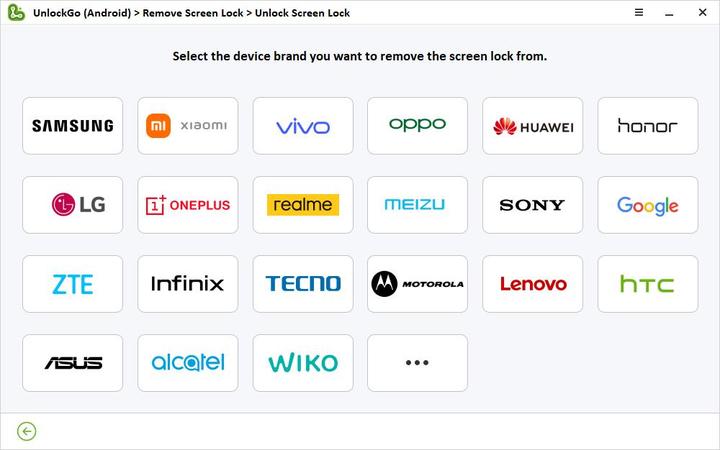 Step 3 Enter into Recovery Mode
For entering into the recovery mode, you have to follow the on-screen instructions. This is because all Android devices have different processes to enter into the recovery mode.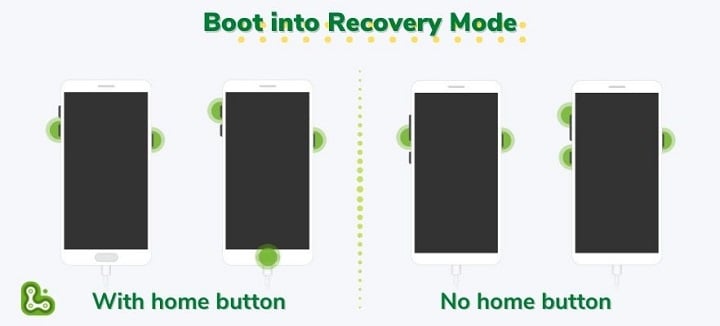 Step 4 Start Unlocking
Similarly, as the above step, keep following the on-screen steps for eliminating the screen password from your Tecno phone. In the end, restart your phone and you will be able to set up a new password.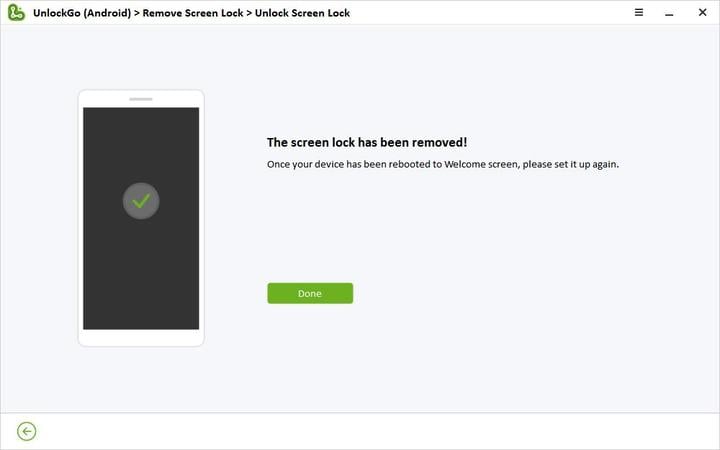 How to Avoid Forgetting Your Password or Pattern?
Tip 1. Always Set an Easy to Remember Password/Pattern
Password is the first line of defense against intruders. If you are bad at remembering passwords, avoid making them complex for you. Make sure to set a password or pattern that you can remember easily. This way, you can keep your data safe from unauthorized access.
However, the password you set shouldn't be an easy one to be guessed by others like your birthday, family member, or name. Avoid using this thing as your screen password. Moreover, do perform a Tecno phone password reset after a certain time such as a month so that it will remain fresh in your memory.
Tip 2. Activate Smart Lock on Android
Google Smart Lock feature in Android devices provides full control over screen unlock. As a result, there are certain situations when your Techn phone will unlock automatically. But, you have to activate this feature on your phone through settings. And after that, you can unlock your Techo device without even entering numbers or swiping for pattern unlock. Under this smart lock, you can find the following options: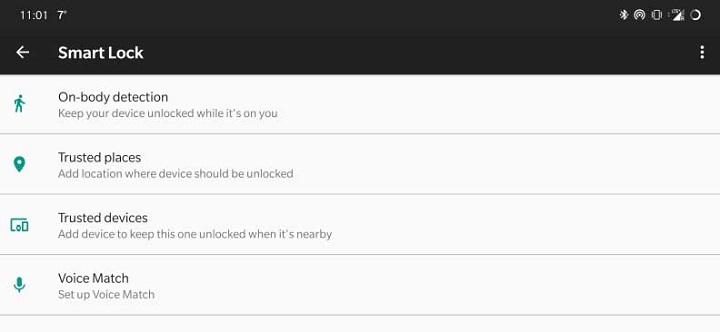 On-body detection
Trusted Places
Trusted Devices
Trusted Face
Voice Match
For activating the smart lock, first make sure that you have set a password, pin, or pattern lock. And then you have to follow the steps given here:
Step 1: Open "Settings" › "Lock Screen & Security" › "Advanced" › "Trust Agents".
Step 2: Move the slider to the right for activating the Smart Lock.
Step 3: Come back to the Trust Agents and tap on the "Smart Lock".
Step 4: Type the password that you can use for modifying the settings of the smart lock.
Step 5: Choose the smart lock type and activate it according to the instructions given.
Tip 3. Backup Phone Data Regularly
You never know how far your data will remain protected and secured in your Tecno device. Forgetting the device password can erase all the data while trying to reset it. This can happen even during using a professional tool because your device can malfunction. To make sure that you don't lose any data, it's best to back up your phone data on regular basis.
Unfortunately, if you are thinking to store them on Google Drive or any other cloud software then be prepared to pay a hefty amount. Rather than that, move all the data to a PC without any cost. This RecoverGo can help you in doing it in the easiest and fastest manner.
It's an amazing tool to recover deleted files from Tecno and other android devices. It can scan them and restore all deleted photos, contacts of all types, videos, call logs, and over 11+ file types. RecoverGo is the only data recovery app by iToolab that can recover photos even when you have a broken screen.
Video Tutorial: Recover lost/deleted files from Android phone
Conclusion
Hope you are aware now of the various methods to unlock Tecno phone. Whenever you are stuck in accessing your device or worry about losing the data, iToolab's UnlockGo for Android and RecoverGo will solve your problem. Try these tools today to test and experiment if you are facing the same problem as shared here.