iToolab UnlockGo (Android) is an advanced & 100% secured tool for removing screen locks like PINs, pattern locks, passwords, fingerprints, etc. It can also unlock Samsung/Xiaomi/Redmi/Poco devices locked by Google (FRP).
You may search for the free iToolab UnlockGo (Android) registration code everywhere. Unsurprisingly you may find some. Is it safe to use the so-called free license key? You'll find your answer in this article. For more details, start reading now!
Part 1: Is It Possible to Get UnlockGo Android Free Registration Code?
iToolab UnlockGo (Android) doesn't officially offer any free registration code. However, this Android unlocker tool offers a free trial version. It allows you to factory reset Samsung devices within 5-10 seconds. It's truly convenient if you need to format large-scale Samsung phones and tablets.
Using the so-called free code that can be discovered on many websites is not a good idea. These websites carry a lot of dangerous malware and viruses that will negatively affect your device. We have listed some of the big issues that may arise with these websites.
It will slow down your device's performance.
The high risk of being infected with viruses.
Containing malware that will ultimately damage your device.
There is a higher risk of a privacy breach.
Part 2: What Can You Get After Buying UnlockGo Android License Key?
After buying your preferred UnlockGo Android license key, you will enjoy the following benefits. Keep reading!
💎Enjoy The Full Version
After purchasing the UnlockGo Android License Key, you will get the full software version with all its latest features and functions. In addition to the free function we mentioned in Part 1, you can also enjoy the remaining functions, like bypassing FRP lock on Samsung/Redmi/Xiaomi/Poco devices, removing all screen locks, etc.
💎Free Lifetime Update
iToolab team frequently updates the program to make it perform better and satisfy users' different needs. You will get free software updates for a lifetime after getting the official license code.
💎7/24 Customer Support
It has a dedicated one-on-one customer service team that is open for 7/24 (twenty-four hours a day, seven days a week) to help users with their questions and problems. The users get technical support from the UnlockGo team whenever needed. Also, your data and information will be kept secure and private.
Part 3: How Much Does iToolab UnlockGo Android Cost?
iToolab's UnlockGo Android is now available to buy as an individual license plan, so Android users can use it as often as needed.
Let's have a quick look at the following plans that can meet your needs within your budget.
One-Month Plan
With a license validation for 1 Month, supporting 5 devices and 1 PC, a one-month plan is charged at $29.95 for windows users and $34.95 for Mac users.
One-Year Plan
With supporting 5 devices and 1 PC, a one-year plan is currently priced at $39.95 for Windows and Mac users.
Lifetime Plan
With a one-time fee, supporting 5 devices and 1 PC, and providing lifetime license validation, a lifetime plan is valued at $49.95 for Windows and Mac users.
Business Plan
iToolab UnlockGo (Android) also provides a business plan in case some users need to unlock 5 more devices.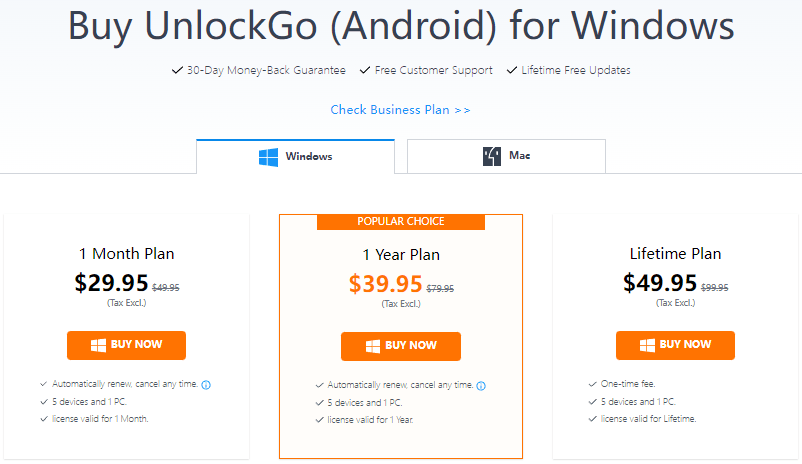 Note: All of the plans mentioned above also include the following benefit: 30-Day Money-Back Guarantee.
Bonus: 10% Off to Get UnlockGo Android Registration Code
Do you want to save some money on the iToolab UnlockGo software? If yes, it's a great opportunity for all users. iToolab UnlockGo (Android) offers a 10% off coupon code. Using this coupon, you can take 10% off when purchasing your desired license plan.
iToolab UnlockGo Android
10% OFF iToolab coupon code for FRP bypass tool
-10% 100%
Now, we will talk about how to purchase your preferred product plan with a coupon code. Just look at the following step-by-step guideline:
Step 1: Go to this official purchase page.
Step 2: Now, choose your desired license plan. Then click on the "BUY NOW" button.
Step 3: You will then see the product in your cart. Next, click on this "Redeem Coupon Code." Enter the coupon code into the update box. You will see that you've won a 10% discount.

Step 4: Enter your billing and payment information appropriately. Then finally, click on "Buy Now". You'll receive an email with registration code after confirmation.
Congrats! You've successfully purchased your license plan with the 10% off coupon code!
Conclusion
iToolab UnlockGo (Android) is a strong and reliable program to unlock all Android locks. It has been recommended and reviews by many leading tech sites and users all over the world. Don't hesitate to try it. It's now or never.